Want a 7-day meal plan for kids that includes meals for breakfast, lunch, snack, and dinner time? Find these easy, do-able, and healthy recipes inside that are perfect for the whole family!
Another day, another dinner to make. Does anyone else feel that way?
Because the truth is, I do sometimes, and if I don't have a meal plan for kids at the ready, I am DEFINITELY feeling that way. I specify "for kids" because even though I want kids to learn to eat a large variety of foods, the truth is, what we eat is almost always altered when we have kids. Especially if pre-kids you loved to eat sushi most nights.
If you're like most parents I know, you love the idea of a meal plan, but have a hard time finding time to actually do the planning, so let me help you out! I'm combining my real life mom AND feeding therapist experience to this 7-day meal plan for kids and the adults that gather around the table with them.
So, yes, "for kids". But, also for you.
But, What If My Kid is a Picky Eater?
Well, I'm glad you asked, because cooking for picky eaters is my specialty, even very picky eaters! And, no matter what foods your child eats, you can still use a menu plan. You can still use this menu plan.
How?
You'll need to make some adaptations. As you look at the meals listed, make sure there's at least one food that your child typically eats. If you don't see one listed, add one to the meal OR make a substitution.
For instance, if I have meatballs, noodles, and carrot sticks listed for a meal, and your child eats none of those, add the side of garlic bread that your child does love and eat.
Or, swap out carrot sticks for sliced apples instead.
For any meal with a picky eater to be successful, and to avoid short order cooking, which I don't recommend, ALWAYS serve at least one food your child eats. If your child only eats 3 foods, rotate between them at every meal.
To learn what I believe are the 3 Keys to Turn Around Picky Eating, get a seat in this free workshop.
What's the Age for This Meal Plan for Kids?
Some of the meals below will work great for toddlers, but this meal plan was designed with kids 3 and up to teenagers in mind. Head to this specific meal plan for a 1 year old or toddler if you want ideas for the younger crowd!
Easy Meal Plan for Kids – You Got This!
I tend to cook simple, with as many whole foods as possible. A special recipe here and there, and that makes this meal plan for kids below easy, do-able, and healthy!
If you're new to meal planning, I recommend grabbing some of the ideas below and writing them on your calendar or putting them in your phone. Get the free printable and highlight what you want to try. If focusing on a whole week is too much, then focus on a couple of nights when getting a meal together is especially hard.
Maybe that's the end of the week, when you're exhausted?
Or, maybe it's a night you have to work late or get your kid to soccer practice?
Whatever it is, start with what feels manageable for you. And, know that the effort will likely give you less stress and have your child trying new foods because you aren't just serving the same thing over and over again (we all do that when everybody's saying they're hungry and you haven't even thought about what dinner is going to be yet.)
I've been there many times!
With that said, here is a weekly meal plan that's perfect for kids:
Monday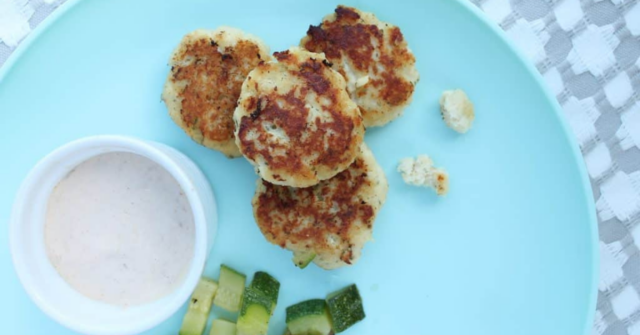 Breakfast: Pumpkin pancakes with sliced bananas
Lunch: Carrot cake smoothie with peanut butter crackers
Snack: Plantain chips and diced avocado or guacamole
Dinner: Fish cakes (see recipe below) or homemade fish sticks (cut cod into strips and dip in beaten egg, then breadcrumbs and pan fry), baked potato skins, and peas (try serving some frozen for picky eaters).
Helpful Recipes:
Tuesday: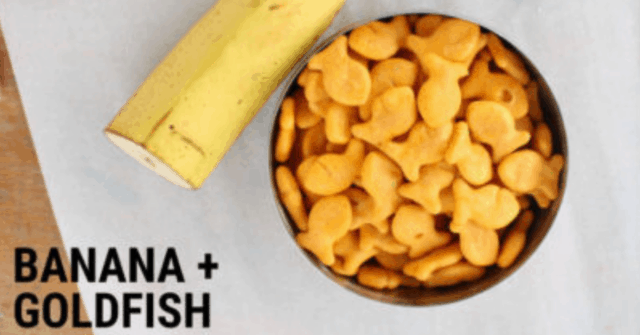 Breakfast: Yogurt parfait. Layer yogurt and then diced berries in a mason jar or glass and top with granola or dry cereal
Lunch: Peanut butter and jelly on whole wheat bread and a banana
Snack: Banana and goldfish crackers
Dinner: Taco bar with hard and soft shell tortillas, taco meat or seasoned shredded chicken, diced avocado, salsa, and shredded cheese
Helpful Recipes:
Wednesday: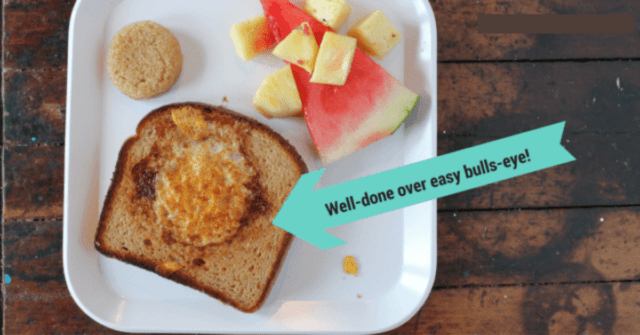 Breakfast: Bullseye egg in the center of toast, diced mango, and strawberries
Lunch: Pepperoni, cheese, and crackers with raw snap peas (add a granola bar or yogurt tube for older kids)
Snack: Trail mix with nuts, raisins, and popcorn
Dinner: Chicken tenders on skewers (kids love to eat food on sticks) grilled or roasted in oven; dilly green beans (learn more about why these are important in the link below) and corn bread
Helpful Recipes:
Thursday: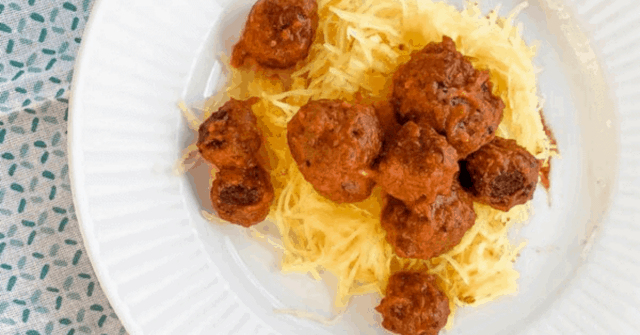 Breakfast: Sausage patty diced, sliced apples, and an English muffin
Lunch: Homemade hot pockets with leftover taco meat, cheese, and salsa
Snack: Yogurt tube and watermelon
Dinner: Small meatballs cooked in spaghetti sauce (see recipe below) with your child's favorite noodles on the side and roasted green beans. See the roasted green bean recipe my kids love below.
Helpful Recipes:
Friday: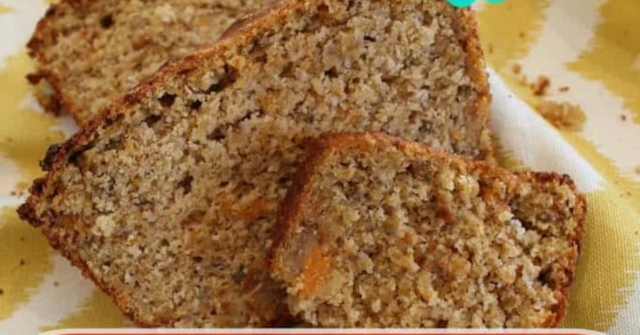 Breakfast: High fiber banana, pumpkin, and sweet potato bread (recipe below). Make ahead of time and serve with nut butter to spread on top and a side of sliced pears.
Lunch: Hotdogs on a bun or cut into slices with potato chips and leftover roasted green beans from Thursday's dinner. (*Choose uncured no additive hot dogs that are minimally processed with potato chips without preservatives for healthier alternatives.)
Snack: Clementine orange and whole wheat pretzel twists
Dinner: Homemade pizza bagels. Slice bagels, top with spaghetti or pizza sauce, cheese, and other toppings like pepperoni, ham, mushrooms, or spinach. Serve with raw veggie platter of cucumbers, carrots, and celery with ranch, French onion dip, or hummus. (Make extra for Sunday lunch leftovers)
Helpful Recipes:
Saturday: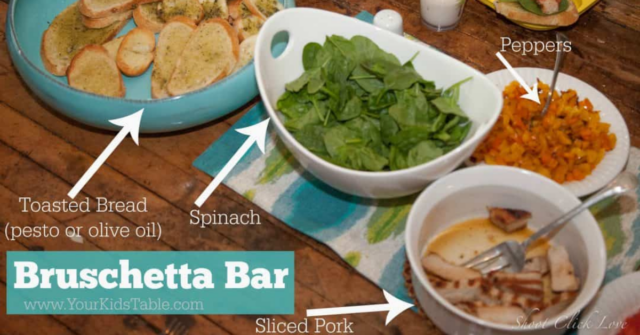 Breakfast: Breakfast burrito with eggs, optional cheese, and diced leftover veggies or peppers
Lunch: Grilled cheese in a waffle iron with fresh baby spinach (see the waffllewich recipe below) and grapes
Snack: Roll a slice of deli ham/chicken/pastrami around a pickle and apple chips
Dinner: Sliced, oiled and seasoned baguette of bread toasted, sliced pork, diced peppers, diced tomatoes, and shredded parmesan cheese, sliced nuts. (Substitute any of these ingredients, just keep the staples of sliced meat, garlic bread, and some cooked veggies. Set this up like a bar, see the pic below. And allow your child to make their own "bruschetta".)
Helpful Recipes:
Sunday: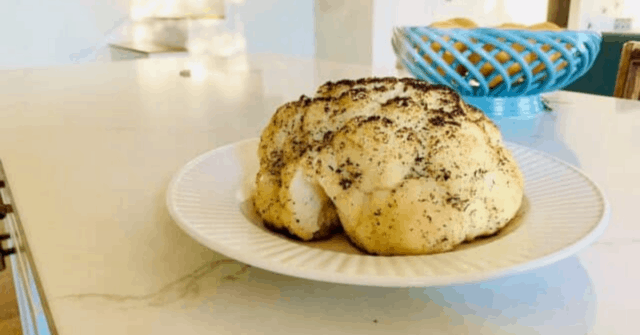 Breakfast: Bacon, hash browns, and sliced melon
Lunch: Leftover pizza bagels and cut up vegetables and dip from Friday dinner
Snack: Tortilla chips and salsa
Dinner: Homemade chicken nuggets, slice potatoes into large wedges and season with olive oil, salt and any other seasonings. Roast at 425 until crispy. Whole roasted cauliflower (see recipe below).
Helpful Recipes:
Get This Meal Plan as a Printable!
Want to download the list? Print it out? Heck yes, that would be so helpful. That way you can highlight and make any needed adjustments, plus have it all handy so you aren't keeping tabs open on your phone. Click below and we'll send you the entire weekly meal plan for kids right to your inbox!
Click here to get the free meal plan for kids printable!
Leave a Comment and Get a Chance to Win a 50$ Amazon Gift Card – *GIVEAWAY NOW CLOSED*
We're giving away 2 different Amazon gift cards to 2 different people that leave a comment on this post! Once you leave your comment, you're automatically entered to win! This is a giveaway on behalf of Your Kid's Table. Only one entry per person. The winner will be randomly selected and notified via the email address used to leave the comment below.
They will also be notified by a reply on this post. Contest ends on March 24th, 2021 at midnight EST.
Entering is EASY. Just leave a comment below telling us either:
What you're excited to make from the menu plan above
Any meals/foods your kid loves that aren't listed above so we have even more ideas to pass around!
Scroll down to enter and a chance to win!
---
Alisha Grogan is a licensed occupational therapist and founder of Your Kid's Table. She has over 15 years experience with expertise in sensory processing and feeding development in babies, toddlers, and children. Alisha also has 3 boys of her own at home. Learn more about her here.