Forget that gluten free meatball recipe that tastes like cardboard and try this juicy delicious recipe that you'd never guess is GF! It's perfect for kids and you'll find tips for picky eaters, toddlers, and babies too.
Meatballs are a great table food for babies/toddlers, and they are sometimes one of the first meats that a picky eater will agree to eating. But, what if you're gluten free, which is my situation after moving to a Paleo diet nearly 2 years ago.
Or, maybe your child is GF or needs to be?
Some gluten free recipes leave a lot to be desired, I should know, I eat a lot of them! And, when you try to serve them to your kids, you quickly find that they think it tastes a little weird and don't eat them either!
Not the case with this gluten free meatball recipe that I've been crafting for months. These meatballs are moist and have the right amount of flavor. They're good plain or with sauce!
Plus, I'm sharing some tips on how to serve these meatballs so that your picky eater will actually give them a try!
Affiliate links used below. See our full disclosure.
Making the Gluten Free Meatball Recipe!
I like to add all of my ingredients to the bowl first and get them all mixed well together before I add the meat. That means, I beat the egg and add in the salt, onion powder, garlic powder, thyme, oregano, basil, cassava flour (other GF flours will work well too), coconut aminos (soy sauce works here too). Once I add the meat, and use both my hands to combine as quickly as possible so I don't over work the meat, I start forming my balls, usually around 1″ in size unless I've got a baby/toddler or picky eater I'm cooking for.
(See the tips on best way to approach this for babies/toddlers and picky eaters below)
As I roll my meatballs, I either line them up on a greased cookie sheet or large frying pan, as they can be cooked either way. This time I cooked them on the stove and then added prepared spaghetti sauce when they were halfway through cooking so they were nice and moist and didn't get scorch marks on them.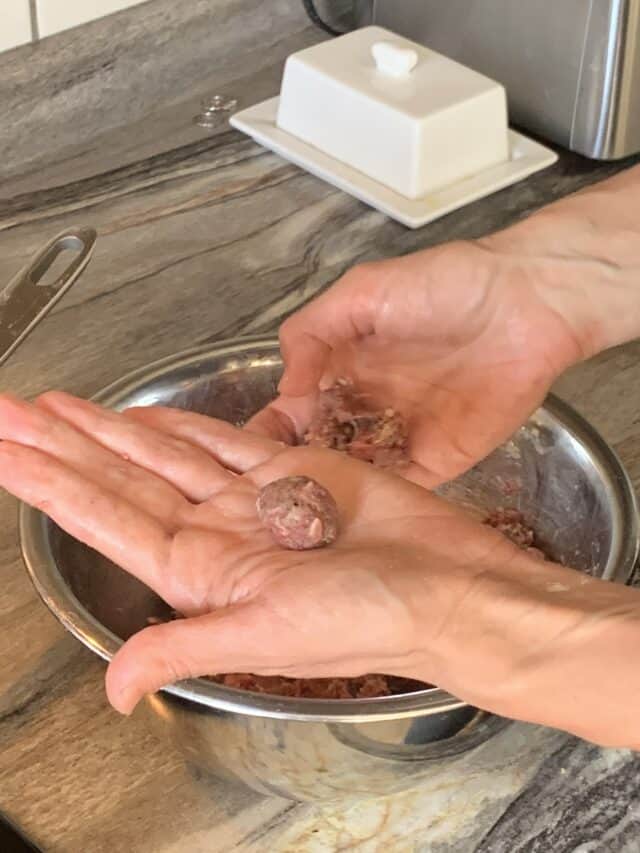 But, as you'll learn below, sauce on meatballs can be difficult for picky eaters and there's nothing wrong with making them plain, they just might not be as juicy.
Also, cooking them in the oven is SUPER easy. To avoid a crusty mark where the meatball touches the pan, you'll want to rotate them once or twice though.
Cooking Your Meatballs on the Stove:
Use about a tablespoon of coconut oil or oil of your choosing to coat your pan. Heat until hot and then add your meatballs to a pan on medium heat. I don't want the pan to get too hot or I'll have burnt patches on the meatball, which is fine for me, but some of my kids don't always appreciate that and therefore won't eat.
Place your meatballs in the pan turning every few minutes. After 5-7 minutes, you can add spaghetti sauce, cover with a lid and turn to low-medium and allow them to simmer for 20-30 minutes. Of course you can speed this up on a higher heat, but if you have the time, the lower heat lets the meat retain some of it's juices and incorporates some of the sauce so they're soft and juicy.
Or, you can skip the sauce and continue to turn over and cook all the way through for another 10-15 minutes.
When meatballs look thoroughly browned all over, they are probably done, but always cut one open to check!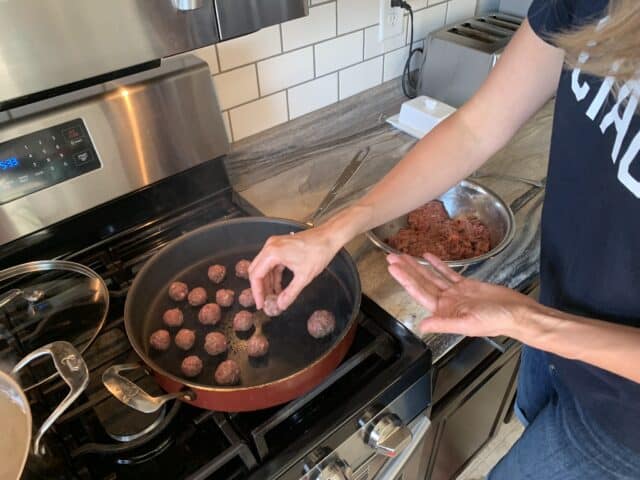 Cooking Your Meatballs in the Oven:
Preheat your oven to 400 degrees and cook your 1″ meatballs for 20 minutes, turning them over once half way through. Since all ovens cook a little differently, always sacrifice one meatball by cutting it open to make sure they're done all the way. If you made your meatballs bigger or smaller, make sure you adjust the time needed for cooking accordingly.
Helping Picky Eaters Eat Gluten Free Meatballs
Meat in general can be difficult for picky eaters because of the texture.
But, if your picky eater tends to go for soft textures, meatballs can be a great food to start regularly offering them. But, to get the most bang for your buck, think about how you're presenting them. Head over to How to Get Picky Eaters to Eat Meat for more ideas.
Most picky eaters do better with a smaller size, smaller size means less texture! When I made these meatballs, I made a bunch of 1/2″ size ones so they were easier to manage. They're also cuter, which is a draw for kids, and can be eaten from a toothpick. Read other ways to use "sticks" to get picky eaters eating here.
However, cutting even the small ones into 2 or 4 defined pieces is something I'll try if they aren't eating the whole meatball. Make sure you cut the pieces cleanly and don't crumble it – when it's messy and in a bunch of pieces, a picky eater will be far less likely to eat it!
You'll also want to consider if serving them plain without any sauce is a better option for them.
Most picky eaters do plain foods better because no sauce means one less texture to overcome. However, using dips is super powerful, but requires a lot of attempts. So, think about serving the sauce on the side or use a dip your child loves. It doesn't matter at all if it's honey or ranch, it doesn't have to make sense if it's a vehicle to get them to eat!
Head over to Dips for Picky Eaters to learn more.
Lastly, you may want to overcook the meatballs a little so they're a bit crunchy on the outside. I'd try this if your picky eater likes crunchy foods!
To summarize all those ways to present meatballs to picky eaters:
Make baby sized meatballs
Leave meatballs whole and serve with a toothpick (depending on age) or cut into a few pieces that aren't crumbly
Skip the sauce or serve it on the side
Over cook them a little so their crunchy!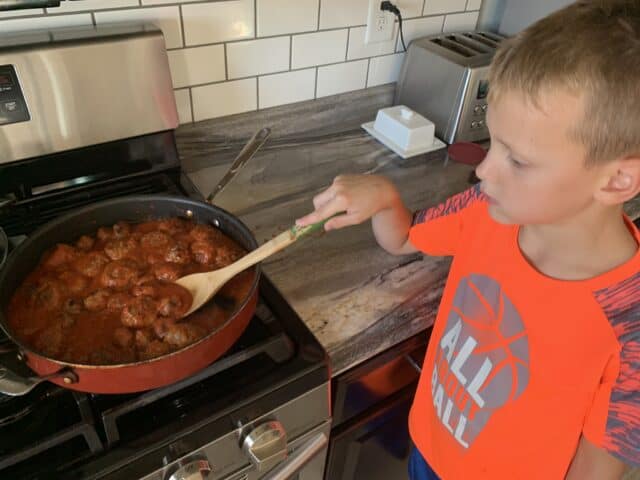 These Gluten Free Meatballs are Perfect Table and Finger Foods for Babies and Toddlers Too!
These gluten free meatballs can also be a great table food for babies and toddlers, if they're already eating some of those meltable crunchy foods like puffs.
For babies and toddlers, you'll definitely want to prepare the meatballs in a certain way so they're easy to eat. That means making them soft and a little bigger so you can easily cut them into nice cube shapes that are small enough for them to chew, but easy to pick up.
Of course, with any table or finger food you serve a baby, observe them closely and make sure they can eat it well.
If your baby won't eat the meatball, you can try without sauce, but generally I love sauce because the more messy a baby gets while eating the better. And, I'm not saying that because it's cute, but because it improves their sensory processing. Check out Why Babies Should Get Messy Eating to read more.
One more tip is to stick a toddler fork into a cube of meatball and they can practice bringing it to their mouth on a utensil. You'll likely have to help them the first couple of times!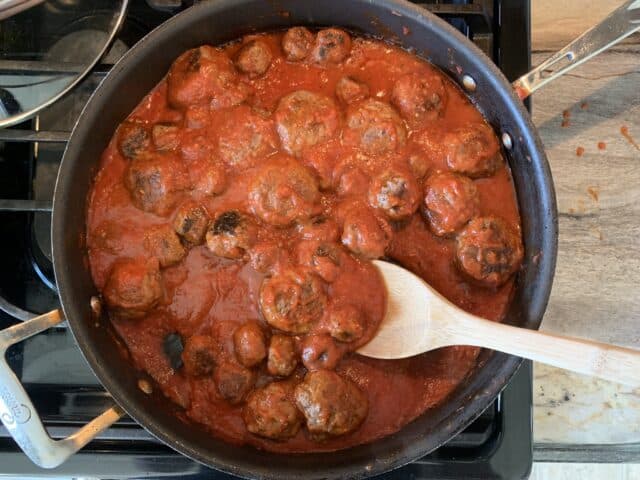 Don't Need Gluten Free?
Hey if you don't need gluten free that's no problem! You can simply substitute cassava flour for regular flour or even breadcrumbs. They'll still be delicious!
How are you going to make your meatballs? Tell me in the comments, I LOVE to hear from you!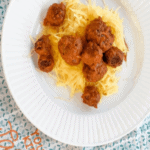 Scrumptious Gluten-Free Meatball Recipe
This is a gluten free recipe that the whole family will love. Plus, you can easily substitute other ingredients if you're not gluten free!
Ingredients
2

lbs

ground meat

1

egg

1/3

cup

cassava flour

Almond or rice flour works well too. Or, if you're not gluten free, regular wheat flour.

1&1/2

tsp

sea salt

1

tsp

thyme

1

tsp

oregano

1

tsp

basil

1/2

tbsp

garlic powder

1

tbsp

onion powder

1

tbsp

coconut aminos

1

tbsp

coconut oil

24

oz jar

spaghetti sauce
Instructions
Mix all ingredients except the coconut oil and sauce in a bowl until well combined

Form into 1" balls or your desired size

Melt coconut oil in a skillet over medium heat

Brown meatballs by turning frequently for 10 minutes

Cover with spaghetti sauce, turn heat down to medium-low, and simmer for 20-30 minutes until cooked through
Recipe Notes
Alternatively cook meatballs without sauce in oven at 400 degrees for 20 minutes or until cooked through. Grease your pan or use parchment paper. 
Want More Food Ideas?
Well, I've got you covered! If you've got a baby or toddler, you can grab this awesome toddler food printable that will give you a ton of ideas.
Click here to get the Toddler Food Printable
Or, if you've got a picky eater, you can score this picky eater printable.
Click here to get the Picky Eater Food Ideas Printable
More Recipes for Kids
Mega List of Vegetable Recipes for Kids
The Easiest Homemade Mild Taco Seasoning Recipe
Low Sugar Snacks That You Can Feel Good About Serving
---
Alisha Grogan is a licensed occupational therapist and founder of Your Kid's Table. She has over 14 years experience with expertise in sensory processing and feeding development in babies, toddlers, and children. Alisha also has 3 boys of her own at home. Learn more about her here.