Yes, I know it is January and I'm posting about pumpkin bread, but it has been far too long since I have shared a recipe with you! Besides, pumpkin is a wonderful, immune boosting food that you can easily get in a can year round. See my pumpkin waffles/pancakes recipe if you are looking for more inspiration.
Unfortunately, we had a major setback in our constipation woes around here after a nasty little virus made it's rounds among the kids. That got me thinking about two things: Fiber and Immunity. I wanted to serve up a bread that I knew my kids would gobble up and would help both of the issues. In light of our recent potty troubles, I will be revisiting the constipation issue again in a post soon. To see last year's post, click here. Also, stay tuned for an in depth post next week on how to build your child's immune system!
UPDATE: Here are Helping Constipation Part 2 and Building Immunity.
Since I'm not a baker by trade, or by hobby for that matter, I, of course, turned to Pinterest for some inspiration and pulled together a recipe from a few others. I made some pretty big adjustments, especially to up the fiber, but was mostly inspired by the vegan version of this pumpkin recipe from Lunch Box Bunch.
I think fruit/veggie breads are a great strategy for getting nutrients into picky eaters and they are also fantastic for babies and toddlers eating their first finger foods. However, far too many times, I think they are basically glorified cakes. Not this recipe, it his healthful, fiber full, and immune boosting! Best of all, it doesn't taste healthful, fiber full, or immune boosting. It is light and delicious. My 5 and 3 year old LOVED it and I will be sure to make it again in a few months when baby is ready. Heck, I might even make it again today because it is already gone – didn't even last a whole day! The sweet potato, in particular, added a unique, but yummy taste.
I don't just want to slap the "high fiber" and "immune boosting" labels on this recipe. I put a lot of thought into each ingredient and what I wanted to include to make this a power packed bread. This is what I was thinking:
High Fiber Foods:
Oat Bran
Whole Wheat Flour
Pumpkin
Sweet Potato
Chia Seeds
Ripe Bananas
Immune Boosting
Olive Oil
Sweet Potato (A vitamin A powerhouse!)
Pumpkin
Chia Seeds (Loaded with antioxidants!)
Life is wonderful here, but a little crazy with a 3 month old, so I didn't get any pics of us preparing the bread. There isn't anything tricky in this recipe though, so you should be fine! I include any appropriate substitutes in parentheses. Use any combination of the banana, sweet potato, or pumpkin, depending on what you have on hand.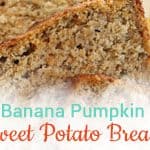 Banana Sweet Potato Pumpkin Bread
High Fiber Immune Boosting Banana Sweet Potato Pumpkin Bread Recipe
Ingredients
1

and 1/2 cups white whole wheat flour or oat flour

regular whole wheat will be fine but will give a denser quality to the bread

1/2

cup

oat bran

1

generous tbsp baking soda

3/4

tsp

salt

1

generous tsp pumpkin pie spice

can use combination of cinnamon and nutmeg

3

tsp

of chia seeds soaked in 3 tsp of water for 10-15 minutes

1

cup

milk

1

and 1/2 tsp of vanilla

1/3

cup

of olive oil

canola oil, vegetable oil, or applesauce

3/4

tsp

apple cider vinegar

lemon juice

1/2

cup

maple syrup

honey, brown sugar, sugar

1/2

cup

of ripe banana*

about 1 medium banana

1/2

cup

of unsweetened canned pumpkin

if pumpkin is watery add 1/4 to 1/2 cup more

1/2

cup

of mashed cooked sweet potato**

canned sweet potato
Instructions
Preheat oven to 420 degrees.

Mix all of your dry ingredients so they are thoroughly combined.

Mix all of the wet ingredients together. Make sure the pumpkin, sweet potato, and banana are combined.

Pour the wet mix into the dry and combine by folding together. Do not over mix.

Pour into a greased bread pan and bake at 420 degrees for 20 minutes. Then turn down to 400 degrees for 20 minutes. Depending on your oven you could potentially need another 10 minutes, but check after 40 minutes with a toothpick.

Cool for 30 minutes before removing from pan. The longer it cools the more solid the bread will become. We only waited 20 minutes and it was a bit crumbly.
Recipe Notes
*If you use a banana that still has green on it or is totally yellow, it could have a constipating effect. Only ripe banana will be helpful for elimination. 
**I used a left over baked sweet potato, but you could also boil ahead of time or use canned. The small pieces of orange you can see the picture are the sweet potato. As I mentioned above you can use omit the banana and sweet potato and use all pumpkin.
I hope you enjoy this as much as we did!
More Immune Boosting Recipes
---
Alisha Grogan is a licensed occupational therapist and founder of Your Kid's Table. She has over 17 years experience with expertise in sensory processing and feeding development in babies, toddlers, and children. Alisha also has 3 boys of her own at home. Learn more about her here.