Get quick and easy ideas for a healthy meal plan for 1 year olds, toddlers, and babies that are learning to eat table foods! 7 days of ideas for breakfast, lunch, and dinner.
It can be tricky figuring out what to feed your baby and toddler once they are eating table foods and aren't just relying on a baby food pouch. In fact, you might rely on that pouch too much if you don't have a plan. A meal plan with some ideas about how to get 3 meals a day in front of your little eating machine!
Even though I'm a pediatric occupational therapist that helped a lot of babies make the transition to table foods, this was still an overwhelming time for me with my own 3 kids. It was a transition, and while I was working towards having my baby or toddler eating the same exact foods as the rest of the family, that wasn't always possible.
If we were having steak, nachos, or other very hard to chew foods, I needed to think about something different for the baby! But, having that meal plan for 1 year olds also helped me not make different meals most of the time, which is such a benefit to your tot that's learning to eat.
Let me help take the overwhelm out and give you a 1 week meal plan for your baby or toddler!
Who's This Meal Plan for Exactly? What Age? What If They're Still Eating Baby Food?
The meal plan is perfect for most 1 year olds. BUT, it works for 2 year olds and babies as young as 9 and 10 months old if they are already eating table foods.
One thing I know very well as an OT is that a lot of babies and toddlers are struggling with learning to eat table foods. Ideally, we want to see them learning to chew and swallow a variety of foods by the age of 11 months and phasing out pureed baby food. See more feeding miletones by age.
However, because of a variety of underlying causes, some babies and toddlers need more help figuring out how to chew. That's okay. What's important is that you start to teach them. Yes, this is VERY possible.
If your child is 10 months or older and is refusing table and finger foods or having difficulty eating, then check out our free workshop to learn what to avoid and what you can do instead to help them learn to eat well. Grab a seat here.
If you're in that transition period of baby food to table food, then just adapt the meal plan for your 1 year old as needed!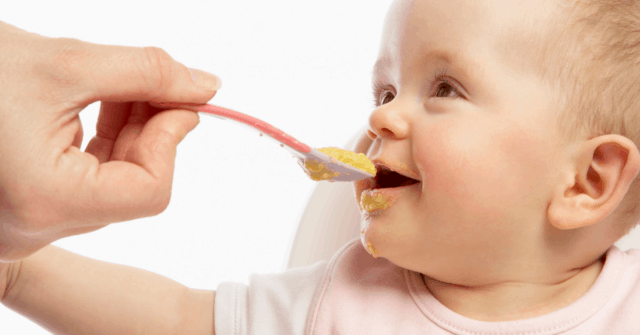 Tips for Using a Meal Plan for 1 -2 Year Olds
Feeding toddlers is not for the faint of heart. They are messy, fussy, and sometimes wild as meals. Remember that this is a phase and most of the behaviors that are making you crazy or exhausted will pass with some patience and using these tips:
Tip #1: Serve a variety of foods
Babies can start to become picky eaters sometime around 1 year old. This is a totally normal part of development. However, it's important to not overly cater to them. It's so important, especially at this young age, that children are repeatedly exposed to foods.
Tip #2: Don't worry too much about throwing food on the floor
Nearly every child throws some or all of the food on their high chair onto the floor. Got a dog? Throwing food can be even more motivating as they watch their pooch gobble it all up. Know that it's a phase. Toddlers will often throw food simply because they're learning cause and effect. They're fascinated that when they pick up a food and let go of it, that it falls all the way to the floor.
Of course, sometimes toddlers throw food to communicate that they don't want to eat too.
There's a few strategies you can use though to help your baby or toddler curb that food throwing, check them out in: 6 Tips to Get Babies and Toddlers to Stop Throwing Food!
Tip #3: Follow a schedule
If you're weaning from the breast or bottle at the same time, it can get overwhelming trying to figure out when your child should eat. But, by a child's first birthday, strive for 3 meals a day and at least one snack. By 15 months old, this is a schedule you'll want to have adopted so they get a variety of foods because after their first birthday, milk is no longer their primary source of nutrition. Now it works in conjunction with their meals to meet their nutritional needs.
Check out a sample feeding schedule for 1 year olds.
Avoid snacks or even small handfuls of puffs in between these meals because that little bit of food can affect their appetite in a big way!
Tip #4: Have Babies and Toddlers Eat at a Table with You
It can be a big adjustment as an adult to eat at certain times, but the more you can eat with your baby, the better eaters they will become. Eating at the table is also important, although toddlers may resist it. Being supported in a high chair or booster helps ensure much safer swallowing and better chewing skills.
It also teaches babies and toddlers that meal time is important. You'll also have the opportunity at a seated meal to work on new and different foods. That's really hard to do if your child is wondering around the house while they eat.
If you need some help keeping your toddler in their chair, then head to 8 Steps to Keep Your Child Seated for Meals

A One Week Meal Plan for 1 Year olds
While I encourage you to serve your child foods they don't like, and demonstrate eating them yourself, make substitutions to the meal plan as needed. This menu plan can easily be adapted for a 9 month old that's just learning to eat table foods.
I've included 3 meals a day in this meal plan for 1 year olds, but remember, most kids at this age also need at least one snack a day. You want to make sure your child is fed every 2.5 – 3 hours. That means if they start breakfast at 7 am, they'd have a snack at 9:30 or 10 am. A snack can be simple with some diced fruit and a handful of cheerios.
Just remember to rotate your snacks too so your child doesn't become dependent on eating the same exact thing every day!
Here's the one week meal plan for 1 year olds:
Monday
Breakfast: Pumpkin waffles with sliced bananas
Lunch: Grilled cheese cut into sticks, dice and peeled cucumbers, and applesauce in a bowl
Dinner: Diced meatballs, elbow noodles with sauce, and steamed broccoli broken apart into small pieces (make enough for leftovers)
Helpful Recipes:
Tuesday:
Breakfast: Plain whole fat yogurt (optional: add a little honey or fruit puree to yogurt), toast cut into strips, and quartered strawberries
Lunch: Quiche cut into chunks and served with sliced pear and crackers or rice husks
Dinner: Ground chicken or pork quesadillas with mild seasoning on soft tortillas. Melt cheese and taco meat in a soft tortilla, cut into strips and served with diced cherry tomatoes and guacamole as a dip.
Helpful Recipes:
Wednesday:
Breakfast: French toast sticks cut into strips, diced cantaloupe
Lunch: Leftover meatballs, noodles, and steamed broccoli
Dinner: Fish cakes, fruit/veggie baby food pouch, and baked potato. Dice the inside of the potato, season, and serve
Helpful Recipes:
Thursday:
Breakfast: Simple omelet with egg and finely diced sweet peppers, cut in small squares. Leftover potato sautéed in pan with butter and seasoning to make "home fries". Diced avocado
Lunch: Peanut butter/almond butter/sunflower butter spread thinly on crackers with sliced banana
Dinner: Homemade breaded chicken nuggets, steamed green beans cut into bite sized pieces, and corn bread
Helpful Recipes: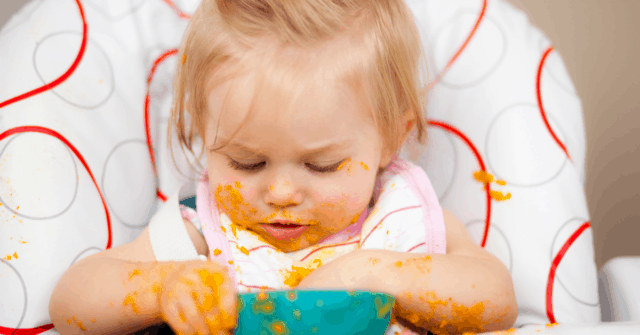 Friday:
Breakfast: Diced super pancakes with halved blueberries
Lunch: High calorie simple smoothie and crackers
Dinner: Homemade pizza on flatbread or pita shell (soft breads that are easy to chew). Include shredded spinach in sauce and optional diced onions, peppers, kale. Serve in strips or diced.
Helpful Recipes:
Saturday:
Breakfast: Mild sausage patty diced, diced hash brown patty, and diced peaches
Lunch: Leftover chicken nuggets (heat in oven, may get soggy in microwave), garlic bread cut into strips, and sliced cooked carrots
Dinner: Diced veggie burger (I like Dr. Pragers, but have no affiliation with them), creamy risotto or rice, and whole roasted cauliflower cut into chunks
Helpful Recipes:
Sunday:
Breakfast: Bowl of oatmeal, diced apples (cook apples if too crunchy for your child).
Lunch: Banana bread with nut butter spread on top
Dinner: Diced meatloaf, homemade french fries, and boiled diced beets
Helpful Recipes:
Enter our EASY Giveaway + Win a 50$ Amazon Gift Card
***GIVEAWAY IS CLOSED***
There is a sample week of meals for you and your baby or toddler! Feel inspired? Awesome!
We'd love to hear from you in the comments. If you leave a comment on this post below, you'll automatically be entered for a chance to win a 50$ Amazon gift card from us here at Your Kid's Table! Only one entry per person. The winner will be randomly selected and notified via the email address used to leave the comment below. They will also be notified by a reply on this post. Contest ends on November 11th, 2020 at midnight EST.
Entering is EASY. Just leave a comment below telling us either:
What you're excited to make from the menu plan above
Any meals/foods your baby or toddler loves that aren't listed above so we have even more ideas to pass around!
Scroll down to enter and a chance to win!
Free Printable of Food Ideas for 1 and 2 year olds
If you liked the meal plan for babies and toddlers, there's a lot more where that came from! Grab our free Mega List of Toddler Foods printable to get a ton more ideas. This printable is so helpful for quickly grabbing ideas when you don't know what to feed your child next.
Click here to get the free printable!
More Meal Ideas for Babies and Toddlers
49 Quick Finger Foods for Toddlers to Make Meals Easy
The Greatest Toddler Breakfast Ideas, Easy + Healthy
The Most Awesome Toddler Lunch Ideas You Can Find!
The Ultimate List of Baby/Toddler Meal Ideas
---
Alisha Grogan is a licensed occupational therapist and founder of Your Kid's Table. She has over 15 years experience with expertise in sensory processing and feeding development in babies, toddlers, and children. Alisha also has 3 boys of her own at home. Learn more about her here.