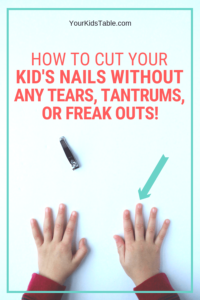 Learn how to handle your child's sensitivity to nail cutting without an epic meltdown with these 10 tips. You'll know exactly what to do the next time you have to cut their nails!     When I walked into their house, Jane* looked at me as their occupational therapist...
read more


In my online classroom I teach you exactly what you, as a parent, need to know, simply, but thoroughly.
Organized by category for your convenience search the article vault for exactly what you need.
Not sure where to begin or want to approach this systematically? These guides will give you perfect direction

REVIEWS FROM PARENTS LIKE YOU
You gave me the confidence and renewed determination to take this on and make a new start. It has not been without its set backs and challenges. I sense that this, like most goals with children, will not just be linear movement forward. However, the last two days she ate all three meals at the table. She is eating more volume wise, and is even eating some things she was not before.  I am working hard to be consistent and not to move forward too quickly. I am very encouraged at her progress and that helps keep my commitment level high… It is working!!!!! You are awesome!!!! We are VERY happy parents!!!
Jamie
I found Your Kid's Table blog about 1.5-2 months ago, and it has been a savior. I loved the strategies, and immediately jumped in…  I prepared a variety of foods, made sure one or two of them were something that my daughter would definitely eat, put the plate in front of my child at dinner time – AND LEFT HER ALONE! And I never looked back. Now, I won't say that my daughter just started eating everything she didn't eat, but the tremendous, relentless stress that used to be our "dinnertime" fell off like a weight of world off my shoulders. My husband says he got his wife back, and I started seeing my precious child smile and laugh and be goofy more often than ever. And for that alone – I am eternally thankful to you, dear Alisha. Thank you for your website and all the advice – they were the most helpful resources I've ever come across.
Tatsiana
My son had a very limited diet, most of the time only eating bread products. He was very resistant to trying anything different. Alisha was the only person to offer me concrete suggestions that actually helped. No one provided me the tips, advice, videos, and examples the way she did. My son made more progress in 2 months after following her advice than he did in two years working on my own. For the first time in two years, our whole family is enjoying all of the same dishes. My stress level during meal times has dissipated completely. If you're challenged by your child's eating habits, don't hesitate to contact her!
Joleen
Get insider strategies, updates, and free bonuses!