Learn how to make a delicious whole roasted cauliflower recipe that kids, and even picky eaters, will love. It's unique, easy, and only has a few simple ingredients!
Not too long ago, my husband was flipping through a recipe book a friend had passed along to us. He stopped on one page in particular and stared. He pushed the book towards me and said, "We have to try this!" I knew immediately why he was interested, it was cauliflower recipe, his favorite vegetable.
But, my feeding therapist mind was already spinning for another reason. This recipe was different and unique. I wondered if it would help 2 of my kids who have never actually tried cauliflower to give it a go.
And, it did!
What made this recipe so special was the way the cauliflower was cooked: whole. I had never heard or seen this done before. We took the whole roasted cauliflower concept and created our own recipe that's become a family favorite.
Why THIS Recipe Works for Kids + Picky Eaters
Cauliflower is a popular vegetable. If your child doesn't eat it, they've likely seen it at least a few times. It's typically served cut up, in florets.
When you make this recipe, you'll be making the WHOLE head of cauliflower, only cutting out the stem at the bottom. The presentation, in and of itself, immediately demands attention.
Then, you slice into it like a cake and serve it.
The first time I served this, my kids came running, and my then 5 year old who is still a bit of an average picky eater, immediately looked into the pot and said, "I want to try some".
Another factor that I made sure to include is that I broiled the cauliflower after it cooked in a Dutch Oven for nearly 45 minutes. It made the top all crispy, which immediately appealed to my son. In fact, the first couple times he ate it, I'd cut thin slices of just the crispiest parts right off the top. He called it "the breading". At one point, I nonchalantly let him know – it wasn't breading.
By the 4th or 5th time of serving this unique cauliflower, he was gobbling down big florets!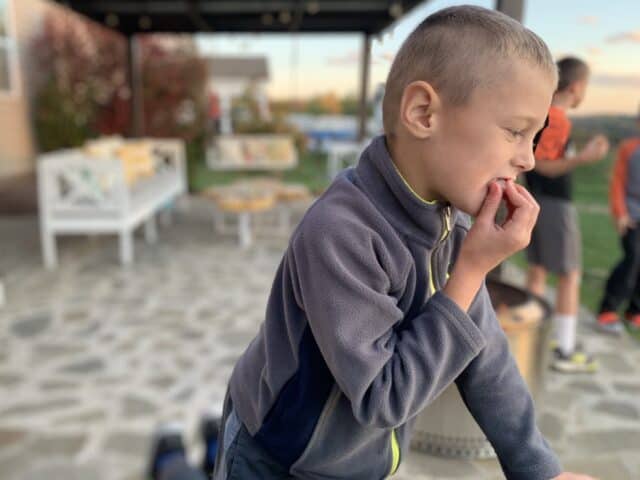 How to Make the Whole Roasted Cauliflower Recipe
Preheat your oven to 400 degrees. Wash off a whole head of cauliflower and cut away any of the leaves at the bottom. Then, remove the stem, cutting up into the head a little, but be careful not to cut away too much or you won't have a whole head of cauliflower anymore. Then, place it into a Dutch Oven or large oven safe pot.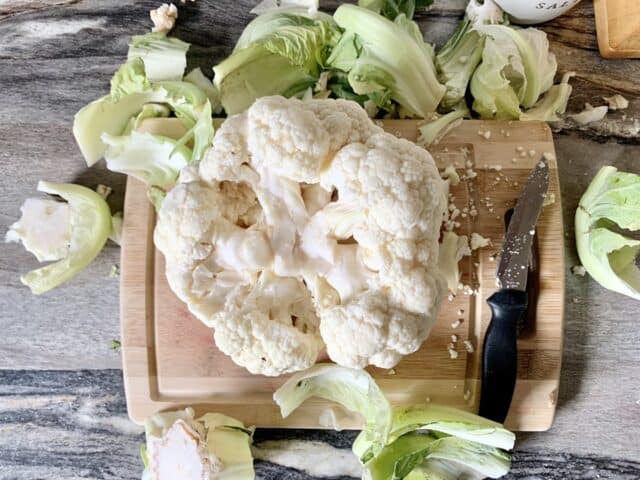 Next, prepare your sauce. Mix 1/3 cup of butter or ghee, 1 tsp of sea salt, 1/2 tsp of thyme, 4 diced garlic cloves, and pepper to taste, together. If your child is sensitive to chunks of food, consider using garlic powder or omitting. Once all the ingredients are mixed together, dump them over the top of the cauliflower in the pan and use your hands to rub it all over the whole head, including the bottom.
We are a mostly dairy free home, so we didn't add cheese to the top after spreading the sauce. But that could be a great addition, especially if crispy crusted over cheese would motivate your child to eat some.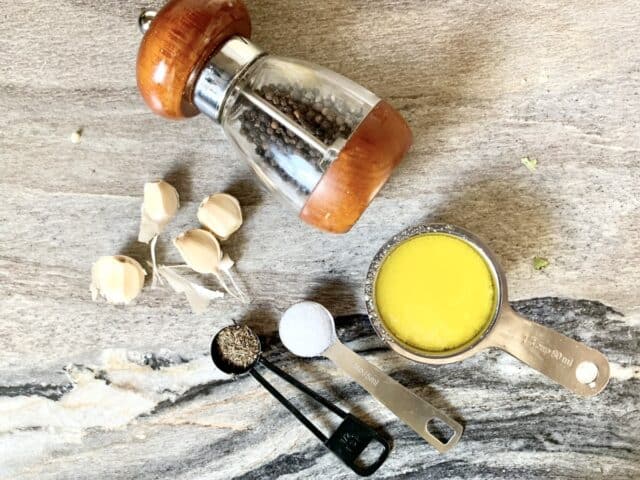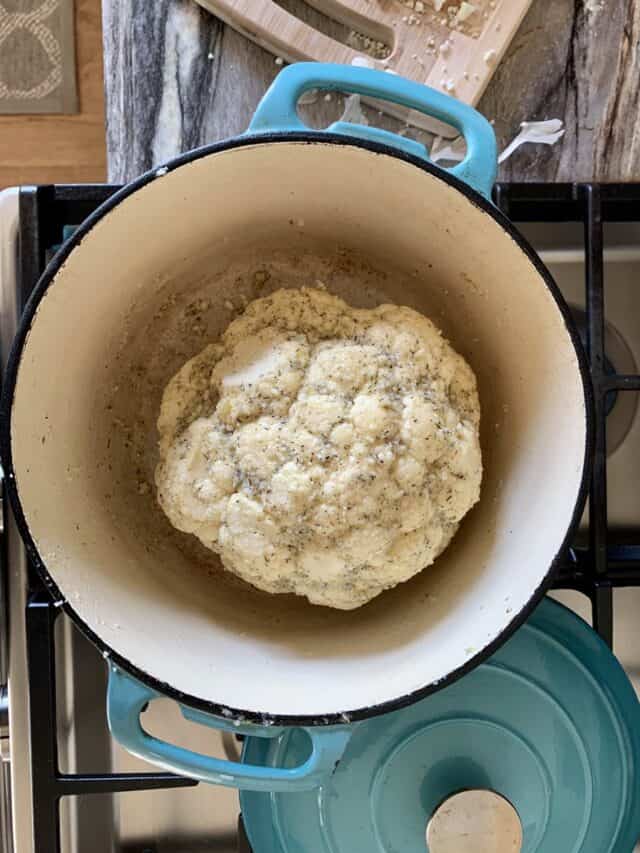 Put the lid on your Dutch Oven and place it inside to roast for 40-50 minutes or until fork tender.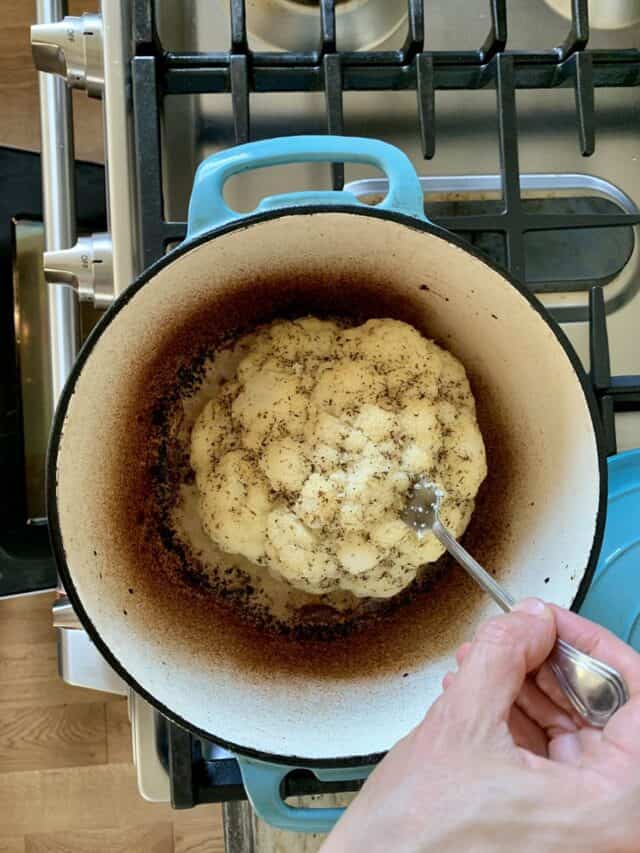 Turn the broiler on high and place the pot underneath for about 5-7 minutes or until desired crispiness!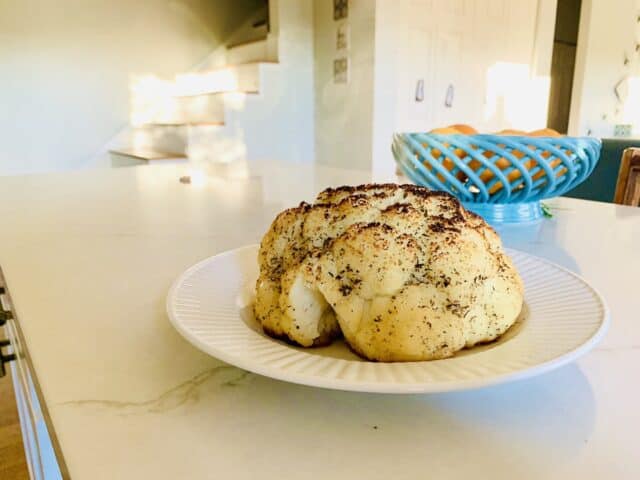 It is so easy! The first time I served it, I pulled it out of the pot and left it whole on the plate to draw as much attention to this "new" and exciting food as possible. I acted super casual about it and just encouraged exploration, acting like I was curious about the food as well. I also served it during a few dinners we made over a bon fire. Read more about that fun meal in 3 Dinner Ideas That Will Get Kids Eating New Foods
This cauliflower recipe is delicious, and while it's kid friendly, it's also loved by adults. Friends we had over for dinner raved about it and begged us for the recipe.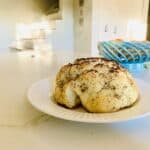 The Crispy Whole Roasted Cauliflower Recipe
Crispy roasted cauliflower recipe
Ingredients
1

head

cauliflower

1/3

cup

butter or ghee

1

tsp

sea salt

1/2

tsp

thyme

4

cloves

diced garlic

1/4

tsp

pepper
Instructions
Preheat oven to 400 degrees

Wash off whole head of cauliflower and cut away any of the leaved at the bottom

Place in Dutch Oven or oven safe pot

Prepare sauce by mixing remaining ingredients together and pouring over the head of cauliflower

Using hands, rub sauce all over cauliflower head, including bottom

Place lid on Dutch Oven or pot and roast for 40-50 minutes or until fork tender

Turn broiler on high and place pot underneath for 5-7 minutes or until desired crispiness

Cut into pieces and serve
And, join me for a special live lesson to learn about other picky eating tricks you can use to help your picky eater try new foods, especially vegetables, meat, and fish!
Join me here on Thursday, November 12th at 3:30 PM EST
Click the link above so you can get a reminder once I go live!
More Recipes for Kids and Picky Eaters
No Trouble Baked Potato Skin Recipe for Picky Kids
The Picky Eater Approved Chicken Nugget Recipe
Natural Weight Gain Smoothie Recipe for Kids
Scrumptious Gluten Free Meatball Recipe for the Whole Family
---
Alisha Grogan is a licensed occupational therapist and founder of Your Kid's Table. She has over 15 years experience with expertise in sensory processing and feeding development in babies, toddlers, and children. Alisha also has 3 boys of her own at home. Learn more about her here.