This chicken skewers for kids recipe is not only delicious, it's kid-approved. Even picky eater approved! This recipe has a few special tricks that will get kids asking for more…
One thing I hear from Your Kid's Table followers ALL THE TIME is that they want their kids to eat more protein.
And, I know why.
So many kids these days, even the ones that aren't picky eaters, are obsessed with carbs and sweets. Some kids will eat chicken nuggets and hot dogs, but struggle to eat any simple whole proteins that haven't been processed.
See our homemade chicken nugget recipe that kids love.
Why Protein and Chicken Are Difficult for Kids, Especially Picky Eaters
Processed meats are usually juicy and easier to chew. Whole meat can require some more chewing, it can also get dry in their mouth. For kids that prefer different textures due to their sensory processing, or have a hard time chewing food due to their oral motor skills, meat often isn't worth the effort.
Although that's frustrating, understanding why they don't want to eat meat can help you work around those challenges.
Why Your Kid Might Just Give Chicken Skewers a Try…
That's what I love about this recipe. First of all, the meat is marinated so it gets more tender and juicy. Second, we're using thin meat so that it isn't too thick and difficult to chew.
But, the big motivator for kids is that the chicken is on a stick! Kids love eating foods on sticks. So do adults for that matter.
It's fun. It's a hook, and as parents, we should totally use it to our advantage.
How to Cook Chicken Skewers for Kids – EASILY!
You know my recipes are always about E-A-S-Y, so you can whip these up in a short amount of time and throw them on the grill or in the oven.
These skewers are great for a BBQ on Memorial Day or the 4th of July or just a regular week night dinner.
To get started, pull out your chicken tenders and cut them into strips so they're about 3/4 – 1″ wide and about 2 – 3″ long. You can use chicken breasts as well, but you'll want to filet them so that you have thinner pieces.
If you have time, the next step is to brine your chicken. While you can skip this step if you're in a rush, I'd highly encourage you to make it happen if at all possible. Because brining the chicken makes it moist and flavorful.
Lots of picky eaters have trouble with chicken because it's dry and hard to chew. This step prevents that!
All you have to do is put warm water and salt in a bowl. Then, place your chicken inside for 30-60 minutes and refrigerate.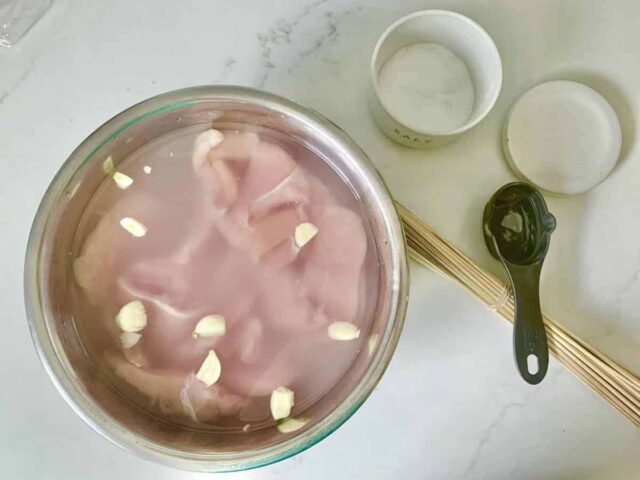 Affiliate links used below. See our full disclosure.
Remove the chicken from the refrigerator and drain away the brine. Pat it dry. Put the chicken back into a dry bowl and coat with olive oil and salt and pepper to taste. (Some picky eaters hate pepper, so you may want to avoid using it the first time you try this recipe).
For the next step, you have a choice. You can either thread the whole tenders onto the skewers. Or, you can cut them in half long ways so they're thin. You can see in the pic below that I have two full tenders on the left, and the rest have been sliced smaller.
Smaller is almost always better for picky eaters. My youngest son devoured these when I served them. He never eats plain chicken without breading.
My older kids, who love chicken, easily ate the larger skewers.
Whatever size you decide on, begin to assemble the chicken by pushing it all the way onto the wooden skewers. As far away from the point end as possible. (You can see in the pic, I forgot to do this so my kids kept trying to eat off the sharp end).
Push 2-3 chicken tender pieces on each stick.
You can stock up on wooden skewers here.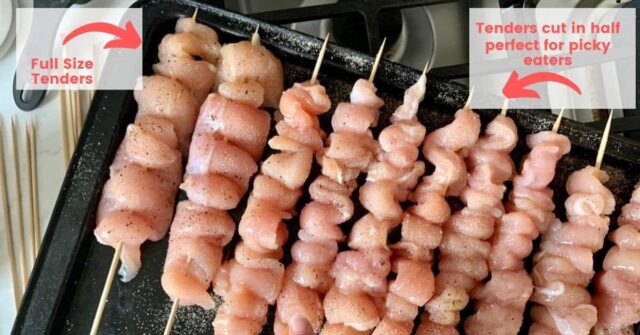 Whenever possible, I love to throw these on the grill for a few minutes on each side. Keep a close eye on them because they cook fast. But, you can also arrange them on a baking sheet and pop then into the oven at 425 degrees.
Remove from oven/grill and allow to cool for 10 minutes.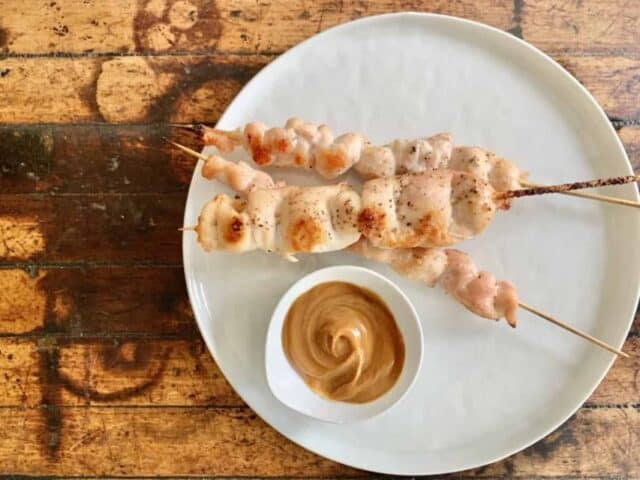 Then, allow your child to choose their own chicken skewers as you give instructions to hold the point end of the stick carefully in their hand, while they bite off pieces of chicken at the top. Use your own judgement about the age of your child and comfort level with them holding the skewer.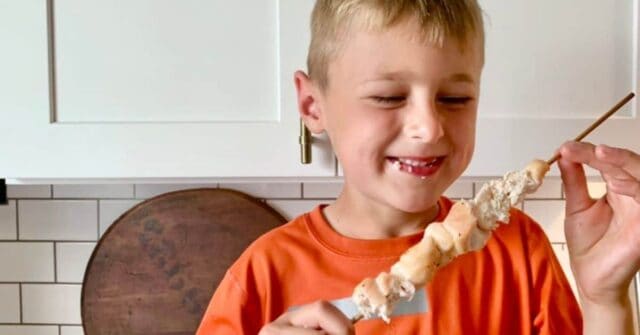 You can also slide the chicken off the skewer and serve it to them. This will not be as motivating for some picky eaters to eat though.
If you're nervous about serving skewers to young children, you can also use bento box picks as a utensil, which is another stick shape that's fun to use!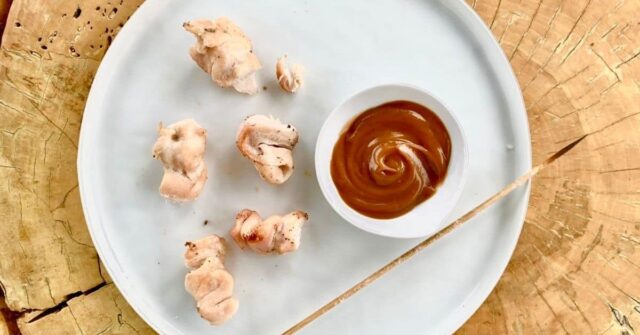 Consider Pairing Your Chicken Skewers for Kids with a DIP!
Parents of picky eaters tell me all the time, "my kid will not eat dips." A lot of picky eaters initially refuse to eat dips, but it's so worth working on dips with your child by serving them often and demonstrating how to use them.
Dips help mask difficult textures and make food juicier and easier to chew. If your child has a favorite dip, serve it along side these chicken skewers for kids, because dipping the stick into the dip is even more fun. You can use ranch, ketchup, barbeque sauce, whatever.
Optional Peanut Dipping Sauce for Chicken Skewers
But, if you want to try something new, you can serve this delicious peanut sauce. Tell your kid it's similar to peanut butter, but it's thinner and has a little bit of a different taste. Better yet, have them help you make it.
This optional peanut dipping sauce is so easy. My kids couldn't believe how good it was.
While you're waiting for your chicken to cool, prepare your peanut butter sauce.
Mix peanut butter, soy sauce or coconut aminos, honey, lime juice, and water in a bowl until smooth.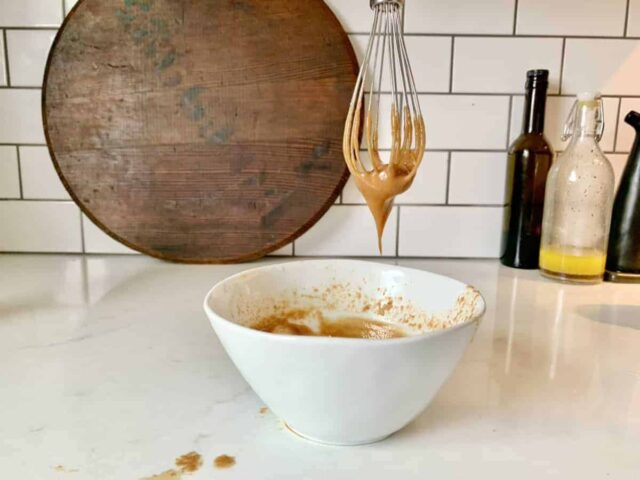 I kept the ratios of these ingredients to favor a taste that kids are familiar with: peanut butter. If your kid likes lime or soy, you can add more of those to give it more of a punch.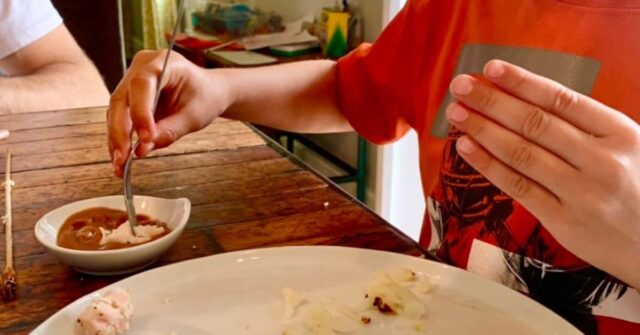 Yum!
See the full recipe below, and pin it or print it out!
What to Serve with Chicken Skewers for Kids
Wondering what goes well with chicken skewers? I served them alongside potato skins and whole roasted cauliflower – two other picky eater approved recipes. The roasted green beans would work well though too!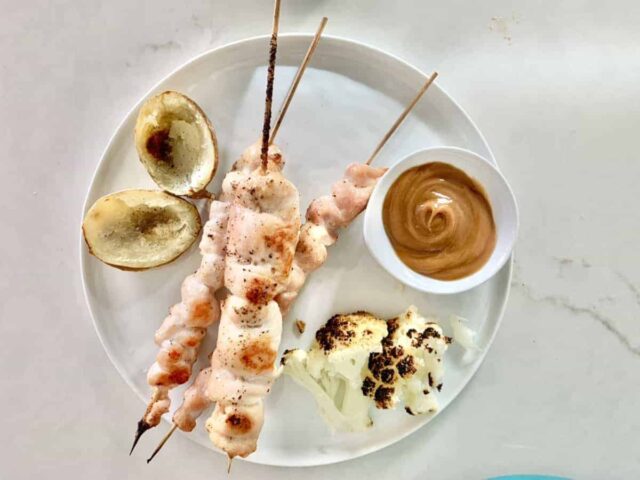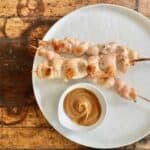 Chicken Skewers for Kids
Ingredients
4

cups

Warm Water

1/4

cup

Salt

3

Cloves

Cracked Garlic

Optional

2

lbs

Chicken Tenders

3

tbsp

Olive Oil

10-12

Wooden Skewers

Salt and Pepper to Taste
Peanut Butter Sauce
1/4

cup

Peanut Butter, Almond Butter or Sunflower Butter

2-3

tbsp

Water

1

tbsp

Soy Sauce or Coconut Aminos

1

tbsp

Honey

2

tsp

Lime Juice
Instructions
Brine the chicken by mixing salts, water and garlic (optional) together until it's dissolved and then placing the chicken in mixture for 30-60 minutes. Cover and place in the fridge.

Preheat the oven to 425 degrees or fire up the grill

Drain the chicken from the brine and pat dry. Then place chicken into a dry bowl and coat with olive oil, salt and pepper.

Cut chicken tenders in half or leave whole if desired. Then thread 2-3 pieces onto each wooden skewer.

Lay on a baking sheet and cook for 20-25 minutes or until the internal temperature is 170 degrees.

Remove from oven and let cool for 10 minutes.

While cooling, mix Peanut Butter Dipping Sauce together. Combine all ingredients and mix together until smooth.
This post has been included by Twinkl among their top picks for 10+ Healthy (and delicious) lunch ideas for the whole family.
Are you excited to try these chicken skewers for kids? Do you have another protein that your kids loves, or a clever way of serving it. Please share it with us in the comments below so that we can all get more inspiration!
More Protein Recipes for Kids
Scrumptious Gluten Free Meatball Recipe for the Whole Family
7 Day Easy Peasy Meal Plan for Kids + Families
The Picky Eater Approved Chicken Nugget Recipe
Incredibly Easy Fish Cakes for Kids and Babies
---
Alisha Grogan is a licensed occupational therapist and founder of Your Kid's Table. She has over 17 years experience with expertise in sensory processing and feeding development in babies, toddlers, and children. Alisha also has 3 boys of her own at home. Learn more about her here.