Try this crazy simple way to cook green beans for kids! Learn the special twist to preparing green beans so that your kid comes back for more. Perfect for picky eaters too, with just 5 minutes of prep time.
If you're like most parents, you wish your kids would eat more vegetables. Or, any vegetables at all. The truth is, vegetables are hard for kids. They're bitter, often green – a color most other foods are not, and they tend to be mushy.
There is so much working against vegetables from a kid's point of view. But, as a pediatric occupational therapist, I know that how you prepare (and present) veggies can make all the difference.
I like to focus on E-A-S-Y though, so no elaborate food creations or complicated recipes. If you're like me, you need quick ideas that don't add time to meal prep.
Enter the roasted and crispy green bean.
Green Beans for Kids: Roasted
Two of my sons had never eaten cooked green beans, at least since they were babies. A few years ago, a friend of ours introduced us to fermented green beans that tasted just like a pickle. They both loved them, but I couldn't make the transition to cooked green beans. I wasn't too concerned, and honestly didn't work on it very much.
Thanks to quarantine, we had Easter dinner alone, just the 5 of us. My kids saw the wedding china we registered for all those years ago for the first time as we set the table all fancy for the holiday meal.
Because it was a holiday, I didn't sauté the green beans in the pan at the last minute like I normally do. This time I roasted them, and of course, left them in a little too long so some of them were pretty crispy.
In all my preparations, I didn't think much about it, since we weren't serving company. But, when we started dinner, I realized I might have an opportunity with the accidental crispy green beans. I served the crispiest green beans to my kids because I knew the crunchy texture would likely be more appealing. Maybe they'd pick them up? Perhaps try a bite?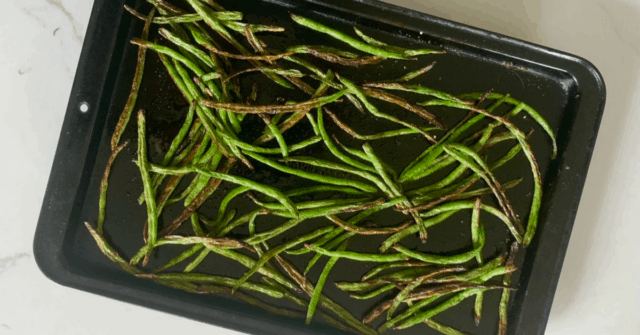 I was shocked when…
…halfway into dinner I noticed my 5 year old reaching onto the serving dish for more crispy green beans! He ate two whole servings and actually said, "I like that they're crunchy."
I was reminded that kids need to see food presented in different ways. A lot of times, as crispy or crunchy. While some kids prefer that crunchy texture, for others, it takes away the uncomfortable "mushy" texture. This was an easy change up for a vegetable I usually serve once a week, but I was just stuck in the rut of sautéing them all the time. For no other reason than it was my habit!
Roasting them was just as easy, if not easier.
Of course, I tried to just sauté them the next time we had green beans and he ate none. I know that day will come, but my son made a point to say,
"Make the 'china green beans' next time."
My husband looked at me and asked what the heck he was talking about. It took me a minute, but then I couldn't help but laugh. He was calling the roasted green beans, "china green beans" because the first time he had them was on our good china. He was clearly communicating, he wanted those green beans.
That crispiness made all the difference.
And, it did for my other son too. After serving them a few more times, I was shocked to see him having a second helping of the crispiest green beans on the pan!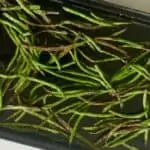 Crispy Roasted Green Beans
Crispy Roasted Green Bean Recipe
Ingredients
1

lb

Fresh Thin French Cut Green Beans

3

tbsp

Olive Oil / Avocado Oil / Coconut Oil

1/2

tsp

Sea Salt

1/4

tsp

Garlic Powder

Pepper to Taste

1/4

cup

Bread Crumbs or Almond Meal

(Optional)
Instructions
Preheat oven to 425 degrees

Rinse and trim green beans as needed

Place into a bowl and pour all ingredients on top of green beans

Using your hands or large tongs, toss the ingredients together until coated

Spread out in a single layer on rimmed baking sheet

Roast for 25-30 minutes until green beans around the edges are a little crispy
How to Make Roasted Crispy Green Beans
This doesn't get any easier!
You can use any amount of fresh green beans you have on hand. But, I'd highly recommend looking for long thin green beans. They're often called French green beans or Haricot Verts. Sometimes, at the store, I'll see short, thick green beans that have a rougher skin on them. Avoid these. That is so much texture and no matter how crispy you make those green beans, they'll still be hard to chew.
More importantly, your kid will eye up that texture a mile away and refuse to eat them. The thin French green beans are less texture, and they're actually more flavorful too.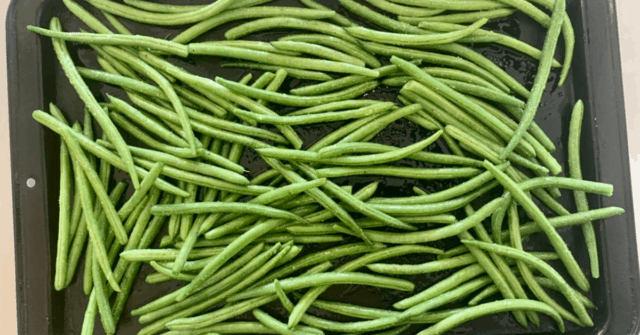 Getting Started
Rinse the green beans and cut off any ends that still have the vine attached. I leave the other end, but you can cut them off if you prefer. Pat the green beans dry and place in a large bowl. Pour in your melted coconut, avocado, or olive oil, sea salt, pepper, and garlic. If your child is sensitive to garlic or pepper, omit those seasonings.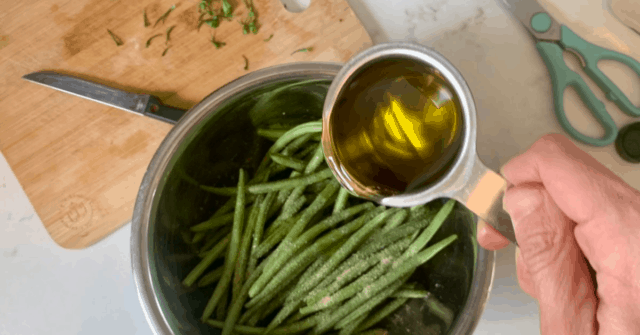 An optional ingredient is bread crumbs or almond meal. I did not use this when serving to my kids, but they had a lot of green bean exposure eating the picked green beans. Some kids may benefit from adding some breading. This breading will stick loosely. It will not cover the green bean. That's okay. For some kids, the crispy bits of breading they see sticking to the green beans will look appetizing.
Find a quick way to fully bread green beans over at A Weird but Effective Trick for Picky Eaters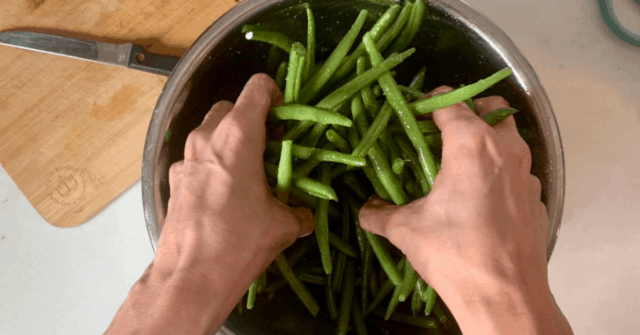 Use your hands or large tongs to toss the green beans with all the ingredients until they're well coated. Spread onto a large baking pans so that the green beans are mostly in a single layer. Roast for 20 minutes at 425 degrees and allow the green beans around the edges of the pan to get crispy. Remove and serve.
Easy!
If you want to increase the chances of your child eating these green beans, have them help or make the recipe. This one is perfect for toddlers through teens.
Leave a comment below and tell me what other vegetables you want your kids to eat? And, if you have any other ways of getting veggies into your kid's diet, please share!
More Vegetables for Kids Recipes
Mega List of Vegetable Recipes for Kids
How to Get Your Child to Eat Vegetables without a Battle or Tricking Them
Crispy Whole Roasted Cauliflower Recipe: A Perfect Veggie Recipe for Kids
---
Alisha Grogan is a licensed occupational therapist and founder of Your Kid's Table. She has over 15 years experience with expertise in sensory processing and feeding development in babies, toddlers, and children. Alisha also has 3 boys of her own at home. Learn more about her here.