Want your picky eater to eat meat or chicken? I've used this recipe to get my own kids, and many others, eating meat because of a special, but easy, technique. Find out what it is and the best way to serve your picky eater.
There are two types of food that most parents of picky eaters want their child to eat more of: meat and vegetables. In this post, I'm going to share with you my own recipe, designed from a feeding therapists perspective to help your child learn to eat meat, or at least start eating other types of meat besides frozen or fast food chicken nuggets.
I used this recipe with my own son, when he was an extreme picky eater, and hundreds of students inside of Mealtime Works have used it successfully too. Because this is one of the recipes we share inside the online program.
This chicken nugget recipe for kids is easy and homemade. But, make sure you pay attention to the way it's prepared, there's a special technique, and a few ways I suggest serving it, that can make or break your kid eating it.
And, we're just about ready to kick off the picky eating video series. This is a special event where I teach parents how to leverage the most successful strategies to move their child from picky to healthy eater. Make sure you grab a spot and we'll send some free printables your way too.
Why This is the Best Chicken Nugget Recipe for Picky Eating Kids
Picky eaters have such a hard time with meat because it has a ton of texture that's usually dry and hard to chew. Or, it's mushy. Most picky eaters like some crunch to their food.
This recipe is different that other chicken nugget recipes because it focuses on making the nuggets thin.
That's right, I said thin.
That may sound like an odd point to make, but it's an important one because thin foods have less texture. They're easier to chew and swallow.
This chicken nugget recipe specifically created for kids also takes into account the size, texture, and breading. These are all important factors for picky eaters, and often how they decide if they eat a food or not.
Have you ever noticed that a picky eater decides if they're going to eat a food or not the second they look at it?
They're not just being a pain in the butt, they quickly look at the food and analyze what they think the texture and taste will be like. When they look down and see a crispy, thin, small chicken nugget you made from this recipe, they're far more likely to be open to it.
Tips for Getting Your Picky Eater to Eat This Homemade Chicken Nugget Recipe
Before you start cooking this easy chicken nugget recipe, there's a couple of tips to keep in mind:
#1. Keep the size small. The smaller, the better actually. In general, kids love smaller sized foods, but it's often essential for the picky eater. Smaller also means less texture. Look at the picture below, you can make some nuggets extra small. They don't all have to be that size, but use the smallest pieces for your picky eater.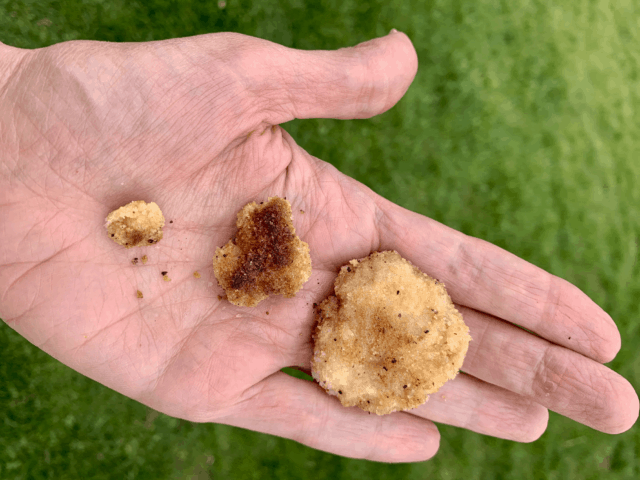 You get to control these details that make a difference for picky eaters when you make your own chicken nuggets.
#2. Don't skip the thinning out step! Tenderizing the meat makes it thin, juicy, and easier to chew. Read more in the instruction below.
#3. Let your child serve themselves. Put the chicken nuggets on a platter they can manage passing and ask them to take some. Let them know they can take as little as they want. If they look unsure, point out one of the small nuggets and make sure it's easily accessible for them to grab and not buried under a pile of bigger nuggets.
*If you serve your child, only put 1-2 small nuggets on their plate. We tend to overload plates with the portion sizes we would eat, but this overwhelms many picky eaters and will cause them to become upset or refuse to eat.
#4. Be very careful not to burn these chicken nuggets. Some picky eaters will freak out at any dark spots. That's an issue to overcome a different day. For now, it's important that they feel comfortable enough eating this chicken nugget.
#5. Choose the best breading. A lot of picky eaters like breading, which is another reason this recipe is so effective. You'll see in the recipe below that you have several options for breading your chicken nuggets. Flour and breadcrumbs are often the best choice, but you can also use crunched up cereal, cornmeal, or pretzels!
If you need it to be gluten free, use almond or coconut flour
Choose the breading that is most like other foods your child eats. If your child loves McDonald's chicken nuggets, then using flour is better because it simulates that breading better than breadcrumbs. But, if your child loves bread and eats anything else that's breaded. Use breadcrumbs!
And, if you've got a picky eater that really loves crunchy and/or breaded food, then double batter the nuggets. To do that, just dip in the egg and the breadcrumbs/flour again before placing in the pan. This will make a very crunchy breading, BUT it does make the nuggets look thicker, which could be a turn off. Make a wise choice about what you think your child will respond the best to.
#6. Do not just try this recipe one time. Try it a bunch of times. Serve it regularly, and serve it with any dips your child likes. Sometimes picky eaters need to be exposed to foods many times over.
Affiliate links used below. See our full disclosure.
How to Make This Chicken Nugget Recipe for Kids
Now for the easy step-by-step instructions for making this homemade chicken nugget recipe for kids a reality!
First, get two shallow bowls. In one bowl, you'll beat 2 eggs. In the other, you'll mix your breadcrumbs or flour, salt, and optional garlic powder. I didn't use pepper because a lot of picky eaters complain of the taste, but if your child likes pepper, add some into the mix.
Keep these bowls nearby, and get out a non stick skillet. Put 4 tablespoons of butter or oil of your choice in the pan.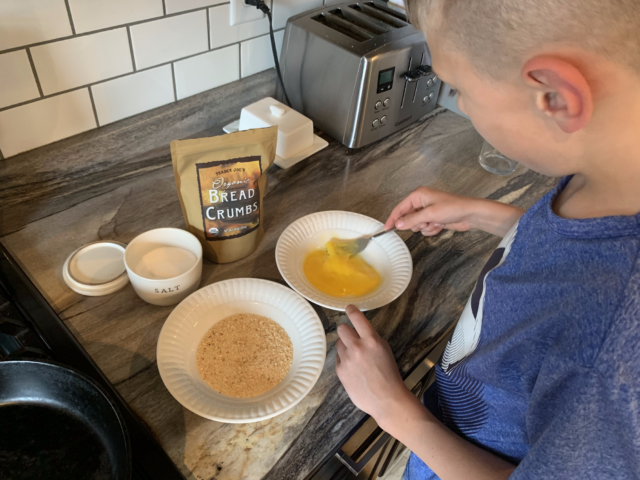 Next, get out your fresh chicken breasts, tenderloins, or thighs. You'll need about 2 lbs for a family of 4. I recommend using breasts or tenderloins the first time you make these chicken nuggets because the texture is a little more even. We did use thighs in these pics and they taste delicious, but they have more sinewy pieces in some spots.
If you're using breasts, you'll want to filet them in half so they are thin. Cut all the chicken into small pieces. Remember to make some extra small sized pieces too.
Then, lay a sheet of plastic wrap down on top of the chicken and use a meat tenderizer or the back of a large serving spoon to pound the meat thin. My grandmother's old wooden meat tenderizer just broke, so we used a large spoon and it worked well. But, a meat tenderizer is handy, you can grab one on amazon here.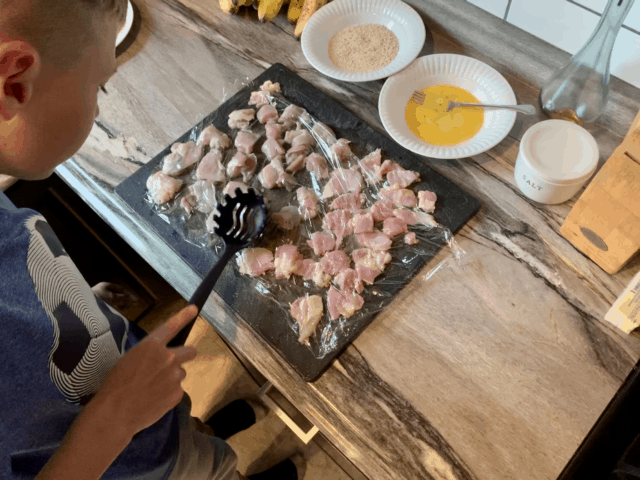 Turn a stove burner onto medium and let the butter melt as you dip the chicken pieces you cut into the egg and then into the breadcrumbs. Roll around the chicken well in the breadcrumbs, flour, or whatever breading you're using so that it's well coated.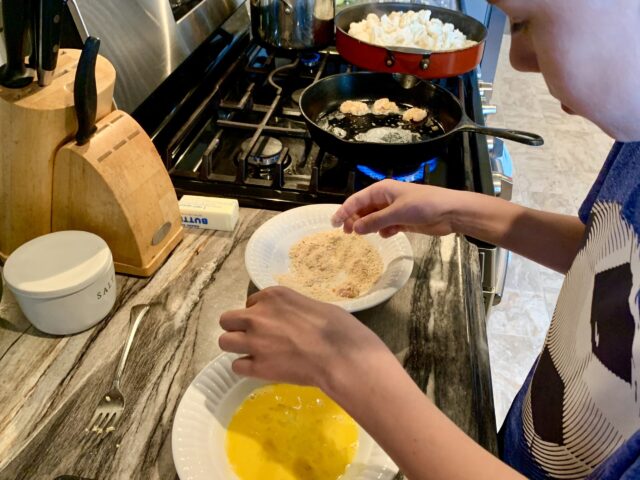 Place breaded nuggets into pan and cook until lightly browned on both sides.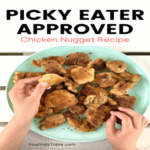 The Easy Homemade Chicken Nugget Recipe for Kids
Chicken nugget recipe for kids
Ingredients
2

lbs

Chicken breasts or tenderloins

2

cups

Breadcrumbs, flour, almond flour, or cornmeal

2

Eggs

1

tsp

Salt

1/2

tsp

Garlic Powder

(Optional)

4

tbsp

Butter
Instructions
In one bowl, beat together eggs.

In second bowl, mix together breadcrumbs (or flour), salt and optional garlic powder

Cut chicken into small pieces

Cover chicken with plastic wrap and pound chicken until thin

Heat skillet on medium heat and let butter melt

Dip chicken into egg and then into breadcrumbs or flour mixture

Place breaded chicken into pan and cook until lightly browned on both sides
You got this! Let us know if you plan on making this recipe and what type of breading you'll use in the comments below. And, if you have any other foods you'd like your picky eater to eat, let us know that too so we can share more recipes!
Don't Miss the Special Picky Eating Video Series for Parents
We're about to release 3 free videos where you'll learn the tools I use as an occupational therapist and mom to overcome picky eating and end mealtime battles! It's packed with info that goes way beyond anything you'll find in a blog post or Google search. It's only available for a limited time, so make sure you sign up.
Click here to get the free video series!
More Picky Eating Recipes
No Trouble Baked Potato Skin Recipe for Picky Kids
Scrumptious Gluten Free Meatball Recipe for the Whole Family
Mega List of Vegetable Recipes for Kid's
---
Alisha Grogan is a licensed occupational therapist and founder of Your Kid's Table. She has over 15 years experience with expertise in sensory processing and feeding development in babies, toddlers, and children. Alisha also has 3 boys of her own at home. Learn more about her here.