Come get this big list of easy and healthy breakfast ideas for kids that will fill up their tummy. Creative and classic ideas that will pique your child's interest. Plus, tips to help kids eat new breakfast foods, yes even for the picky eater!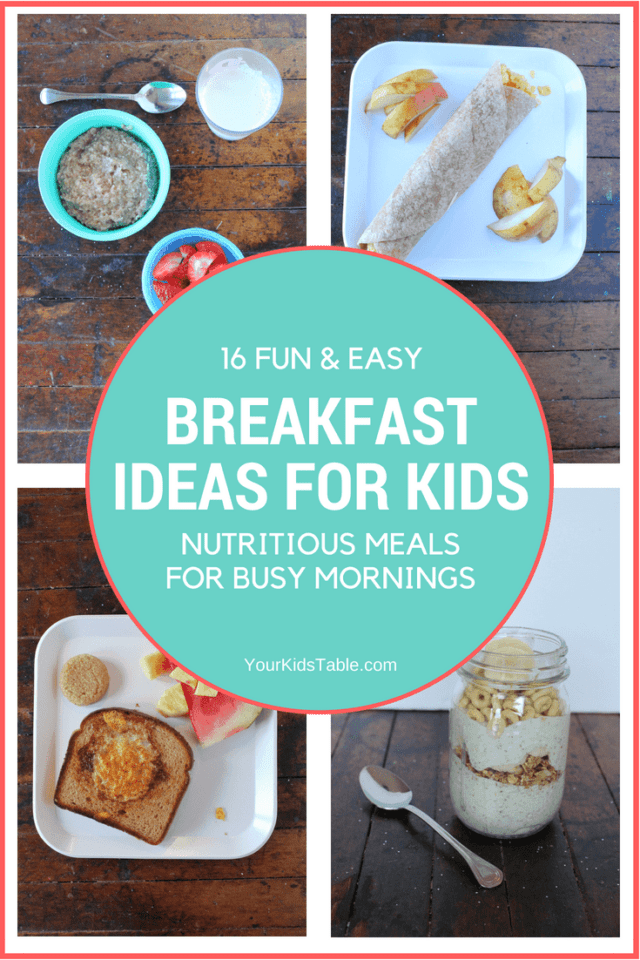 You know the old adage… "Breakfast is the most important meal of the day." I'm all for going against the grain, but this cliche definitely holds true. The problem is, most of the common breakfast ideas for kids are fairly light meals and don't pack much nutrition or protein to keep them feeling full for long. Not the best for long school mornings with a late lunch or hot active summer days.
No matter what time of year it is, the bottom line is, breakfast IS important for kids.
But, you probably already know, the key is not only finding healthy breakfast foods that kids are interested in, it's also about keeping it do-able for us parents.
As a feeding therapist and momma to three boys, I've curated this list with my top breakfast ideas for kids, but if you'd like more inspiration, check out toddler breakfast ideas (I've got some bonus tips for those little one's too!)
Awesome + Yummy Breakfast Ideas for Kids
You may be tempted to be discouraged when offering your child new and different foods, especially healthy ones. Kids are often quick to voice their preferences with a slew of unhelpful statements like, "I don't like this", "Why did you make this", or my favorite: "This smells gross."
I get it. It's hard not to take it personal. Learn about what to do if your kid won't eat breakfast before school.
If you have a picky eater, just head into the new breakfast you're preparing for them with the expectation that they're going to give you some resistance. Then, get them involved ahead of time by picking some items from this list and include at least one food you know they enjoy as a side. (Get more picky eater tips here.) For that matter, while I've suggested complete meals, don't hesitate to mix and match the breakfast ideas below:
1. Bacon sandwich on toast with smashed avocado (optional sliced tomato)
Don't have time to fry bacon in the morning, pick a time to make it in advance and have it ready to go in the fridge. Store bought guacamole works too, or if your child doesn't like smashed textures, try serving an avocado diced with a little sprinkle of sea salt.
2. Yogurt + granola + berries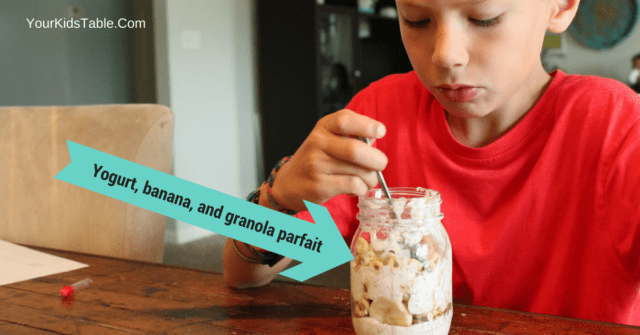 Serve it all separately, or mixed together in a bowl or fancy cup for a surprising fun parfait one morning. Heck, even let your kiddo help assemble! My kids had the genius idea to put it in a mason jar.
3. Banana chocolate chip peanut butter breakfast quesadilla (get the recipe here)
This recipe is high on the list for easy breakfast ideas for kids. Simply spread your ingredients on half of a whole wheat tortilla shell, fold over, and pan fry until crispy!
4. Breakfast sausage links with hash brown patties and cantaloupe
Kids love eating little links and picking up formed hash brown patties!
5. Made-to-order omelet with fruit
Think cheese, ham, peppers, and whatever other veggies you have on hand to have your kid make their own quick omelet with you. It doesn't have to be anything fancy, but seeing eggs prepared in different ways helps them learn to try new foods.
6. Cottage cheese + english muffin + an orange
Filled with tons of protein and a little crunch from the english muffin.
7. Blueberry silver dollar pancakes
The small size makes these easy to pick up and eat quickly. Simply add blueberries to your favorite batter or get this high protein recipe. If your child refuses chunks of blueberry, try pureeing them first, it will turn the pancakes blue and won't leave any mushy surprises when they bite in.
8. Bulls-eye (egg and toast) + cherry tomatoes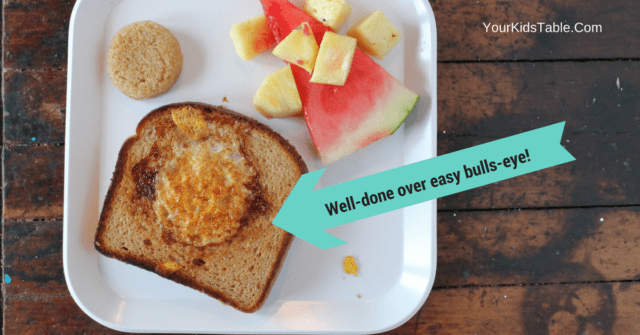 Kids can't resist the fun bulls-eye when you cut a circle out of the middle of a piece of bread (use a shot glass) and break an egg into the opening. Most kids will prefer this cooked through, but some might like the dippy liquid from an over-easy cooked egg. We served it with some fruit we had on hand, but a side of cherry tomatoes would be yummy too!
9. French toast bake with fruit topping
I love this yummy recipe that calls for layering cream cheese in between slices of bread before pouring the egg mixture over and baking in the oven. You'll need to prep this recipe ahead of time, but it's worth it.
10. Teddy bear toast
Spread toast with peanut butter (or some other nut butter) and add raisins and bananas to make his mouth, nose, eyes, and ears. This is super simple folks, I'm not into complicated kid's art. Get more simple toast ideas here.
11. Scrambled eggs on a whole wheat bagel with sliced apple
This kid friendly breakfast can easily be wrapped up in foil for a sandwich on the go!
12. Crepes with cream cheese filling and raspberries
You got me, this isn't the easiest breakfast. For years, my husband has made this for me on Mother's Day and the occasional special holiday. My kids have started to look forward to it as much as me. You'll need to make the batter ahead of time and refrigerate, but I like giving some unexpected ideas to try when you do have a little more time. This is a recipe similar to the one we use.
13. Egg burritos and pears
Another great breakfast idea to serve deconstructed. Kids love assembling their burritos! You can put out home fries, cheese, and veggies to add inside, or just keep it simple with scrambled eggs.
14. Frozen yogurt fruit bark + dry cereal
Who says breakfast can't be frozen? I love this ingenious recipe for freezing yogurt on a baking sheet and adding your fruit to it, especially during hot summer months.
15. Sheet pan pancakes
Kids love novelty because it's fun. Presenting pancakes in this new way – also on a sheet pan – and cutting them up like brownies is easier than flipping them over at the stove and will have your kids eager to try the banana and blueberries you've mixed in.
16. Oatmeal + banana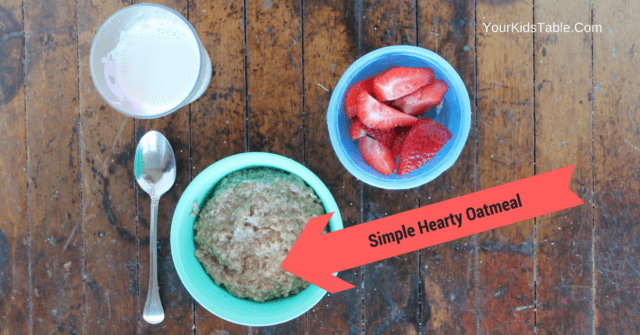 A classic, simple breakfast that can be prepared quickly from an instant single serving. Or, try this simple overnight recipe so it's ready in the morning. If your child isn't used to oatmeal, it may take some time to get them used to the texture. Try adding some honey or maple syrup to the top. And, don't be afraid of some extra special toppings like coconut flakes, nuts, chocolate chips, or sunflower seeds.
17. Blueberry breakfast balls
This kids breakfast will definitely be a nice change of pace. This recipe uses rolled oats, peanut butter (or any nut butter), and frozen blueberries to make nutritious little balls!
Now I'm getting hungry, come to think of it, a lot of these breakfast ideas for kids would be perfect for adults too! So pull up a chair and enjoy these easy and healthy breakfasts with your kiddo.
And, if you're new here, don't leave without grabbing one of our most popular free printables: 9 Steps to Improve Your Kid's Eating. I'll send it to your inbox with my weekly newsletter where you'll find a lot more freebies inside!
More Food Ideas for Kids
Mega List of Vegetable Recipes for Kids
Unbelievably Easy Healthy Meals for Picky Eaters (+Free Printable)
The Easiest Homemade Mild Taco Seasoning Recipe
19 Nutritious Bedtime Snacks For Kids
Did you pin this?
You know you're going to want to see this list again, pin it to your recipe or kid board so you know where to find it!
---
Alisha Grogan is a licensed occupational therapist and founder of Your Kid's Table. She has over 14 years experience with expertise in sensory processing and feeding development in babies, toddlers, and children. Alisha also has 3 boys of her own at home. Learn more about her here.