Easy kid's pizza ideas that are quick and fun. Get more than 10 pizza recipes for kids that are specially designed with them in mind and include ingredients you already have in your fridge! Of course, tips for picky eaters are included.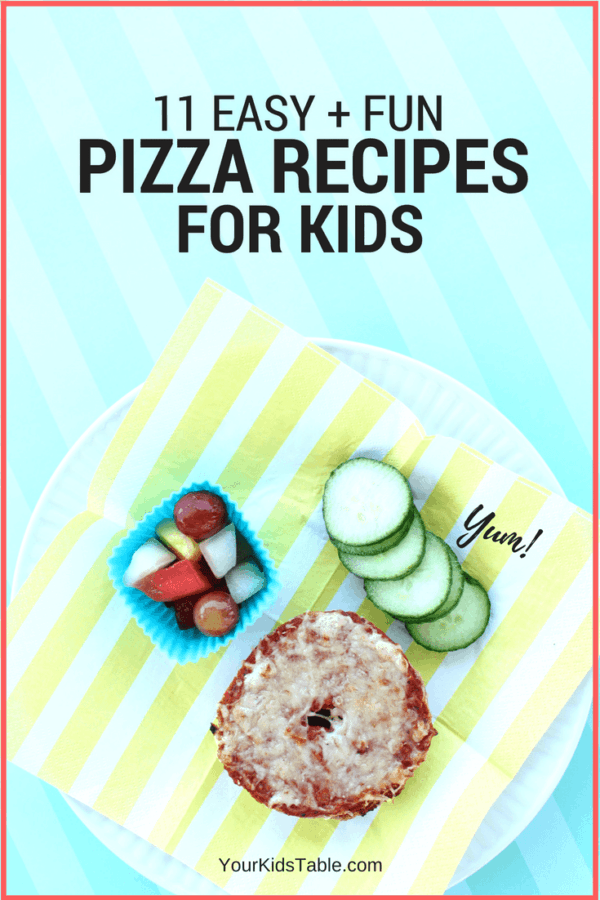 If you ask any of my three children what their favorite food is, they will probably say: pizza. And, they're not alone, right? Lots of kids (and adults) love pizza.
In my house, we typically have pizza once a week, and while it is often from one of our favorite pizza shops, there are lots of simple, quick, and creative ways to not only get pizza on the table fast, but also use it to help your kid try new foods! Seriously. If your child is a pizza lover, even if it's a specific type, there are ways to build on that.
And, without being super sneaky, you can also get some veggies in that they'll readily accept! Lastly, I'm sharing some grain-free, dairy-free, and gluten-free options too, in case you or your child could have special dietary restrictions.
*Look for the easy printable pizza recipe at the end!*
Using Kid's Pizza to Your Advantage
As a feeding therapist, I'm always looking for ways to maximize the nutritional value of foods that my kids eat, especially ones they want to eat on a regular basis. But, pizza can also be a gold mine for kids struggling with picky eating because there are so many ways to change pizza up and anytime a picky eater sees a food in a new way and accepts it, it's a win!
Having said that, these are some of my top tips to make the most out of your kid's pizza:
Make your pizza together! If you're making your own crust, this is a great way for kids to get messy and feel a different texture, which is important for any child's development, but critical for picky eaters that don't like certain textures of food. Cooking your kid's pizza together also allows them to touch, smell, taste, and participate in the meal. All of which are super valuable.
Try new and different types of pizza, you're getting lots of inspiration below. It's incredibly easy to keep serving a food the same way all the time because it's simply what our kids expect. However, when they see one of their favorite foods a new way, but can still recognize some of the key components they love (i.e.: bread, cheese, sauce, etc.), they're more willing to eat it. This creates a little mindset shift for them that ultimately allows them to be open to other new foods, ones that might not be as similar.
Don't be afraid to pull out new ingredients, after all, you're making the pizza here, you're in control. Allow your child to come "dress" their pizza, even if it's a larger pizza, give them a little section to add toppings of their choice. Have a topping out that they may not normally eat. Many kids could use more veggies and protein in their diet. Keep in mind, you don't need to have a smorgasbord available, but 2-3 options is plenty.
Cut new toppings into small or thin pieces. Kids are way more likely to try a small piece of pepper for the first time, not a whole slice.
Avoid hiding foods in the pizza if your child is old enough to catch you. While this is super tempting, some kids will pick up on the change and feel "tricked," which can lead to them distrusting you with other foods. Having said that, I do share a "hidden" recipe below because they can work, just let your kid know what's under the cheese if they ask or you think they might find out!
Using pizza sauce, spaghetti sauce, olive oil, pesto, alfredo sauce, marinara sauce, or even a can of pureed tomatoes will do the trick for any of the recipes below, use your preference or what you have on hand.
Affiliate links used below. See our full disclosure.
Easy Kid's Recipes You Can Make Today
You'll find a lot of the ingredients for these recipes below, already in your fridge. You can whip out what you have on hand and have a mini-pizza recipe in less than 10 minutes, depending on the pizza recipe. It's time to get inspired…
1. Pizza Bagel Recipe – I love to use a whole wheat or multigrain bagel for this recipe. Simply slice in half, add some of your favorite sauce, we always use a jar of spaghetti sauce, shredded mozzarella or italian cheeses, and your favorite toppings, if any. Bake at 450 for 5-7 minutes or until cheese is melted.
And, if your kid likes their pizza crispy, use the toaster to pre-toast the bagels before adding the sauce. If you don't have bagels on hand, english muffins work great too!
2. French Bread Pizza Recipe – Use a whole loaf of un-sliced bread and cut it in half crosswise to make two long halves. Take a fork and scoop out some of the bread from the middle, leaving a border or crust around the edges. Then, spread your sauce over all of the area that you scooped out. Next, you have the option to add your toppings before the cheese or simply put the cheese on top and then add any extra toppings. Bake at 450 for 10-20 minutes or until cheese is melted.
3. Hot pocket Pizza Recipe – Use pre-made refrigerated pizza dough to make your own pizza hot pockets. Roll out your pizza dough, cut it into large rectangles. Spread sauce all over the rectangles, leaving a little room at the edges to seal, and then place cheese and toppings on only half of each rectangle. Fold over and pinch closed with a fork. Bake at 400 for 15-20 minutes. Head over to my hot pocket recipe for more details.
4. Gluten Free Pizza – You can grab a pre-mixed blend of pizza dough mix, this is my favorite, and follow the package instructions for making the crust. Since you're making from scratch, this will take a little more time. With your crust complete, you can add your sauce, cheese, any additional toppings.
5. Personal Pan Pizza – Kids LOVE making and having their own individual pizzas. You can definitely use a pita shell for this, but we'll usually grab the Boboli Party Pack from Sam's Club. Of course, making your own dough is an option too, here's a recipe for pizza dough.
6. Pesto Pizza – You don't always have to use a red sauce to make your pizza. Think about buying or making pesto sauce. Other options could be a simple white pizza with just olive oil, alfredo sauce, or barbeque sauce (think BBQ chicken pizza). For some picky eaters that don't accept pizza at all, this could be a good first step. You can spread your pesto on any type of pizza crust, either pre-made or store bought, then add your cheese and any other toppings.
7. Grain Free Pizza – Personally, I've been grain free for over 6 months as part of an anti-inflammatory diet. More and more kids are also starting similar diets because of health concerns and allergies. This grain free pizza crust is one of my favorites. It's fairly simple to make, but does require some specialty flours. Make sure you pre-bake the crust and then add your toppings.
8. Roll-Up Pizza Pinwheels – Take any homemade or refrigerated pizza crust and roll it out into a rectangle. Then add a thin layer of sauces, cheese, and any finely mined toppings. Roll up the entire pizza crust tightly so it makes a huge log, then with a sharp knife cut 1″ sections so that you have individual circles. Place the pinwheels you just made onto a parchment lined baking sheet and bake for 7-12 minutes on 450.
9. Pita Pizza – Another easy kid's pizza idea with pitas you have on hand in the fridge. Just spread your favorite sauce, cheese, and toppings on the top. Bake on 450 for just a few minutes and you're set. If you're really in a pinch, you can even microwave, although the texture might not be as appeasing.
10. Dairy Free Pizza – Being dairy free can make pizza seem impossible, but you can skip the cheese and still have sauce and lots of toppings instead. Any one of the kid's pizza recipes above will work! Think about bacon, sausage, and pepperoni as they pack lots of flavors and can make up for the absence of cheese. Or, you could also try nutritional yeast as a substitute. It's flaky and doesn't melt, but can be shook all over the pizza to give a some-what cheesy taste.
11. Hidden Veggie Pizza – I already told you I didn't like tricking kids by hiding veggies, but that doesn't mean you can't add them to the sauce and not keep it a secret. For instance, if they're helping you cook, let them chop or puree the veggies that you're mixing in. Keep in mind, chunks of veggies may or may not be tolerated.
Sometimes pureeing that spinach, mushrooms, cooked carrots, peppers, or onions is a better bet. Try not to go overboard, add just a half a cup or so of the veggie to your sauce for a whole pizza. Head over to vegetable recipes for kids, if you're looking for more kid friendly ideas.
---
Now you've got 11 kid's pizza recipes, which one are you going to make first? If you have a different type of kid's pizza that I didn't share here, then tell us what it is in the comments below!
And, if you're new here, I've got an awesome printable you'll want to stick on your fridge: 9 Steps to Improve Your Kid's Eating. I'll send it right to your inbox, get signed up here.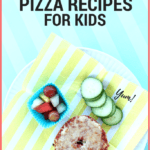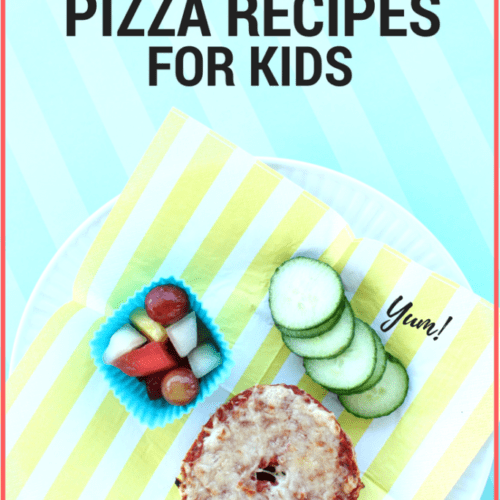 Easy Kid's Pizza
Use this as a base recipe for making pizza on bagels, english muffins, pitas, buns, or even toasted bread.
Ingredients
1

Whole bagel, English muffin, pita, etc.

1/4

cup

Pizza, spaghetti, or marinara sauce

1/3

cup

Mozzarella cheese

2

tbsp

additional toppings

Suggested toppings: bacon, peppers, pepperoni, sausage, tomatoes, onions, olives, pineapple, ham, etc.
Instructions
Cut bagel in half and if desired pre-toast in the toaster for a crispier crust.

Spread sauce smoothly over the entire surface.

Sprinkle cheese on top of the sauce.

Add any additional toppings.

Bake for 4-10 minutes or until cheese is melted.
More Kids Food Ideas
19 Nutritious Bedtime Snacks For Kids
Unbelievably Easy Healthy Meals for Picky Eaters (+Free Printable)
Brilliant Breakfast Ideas for Kids that are Nutritious too!
The Easiest Homemade Mild Taco Seasoning Recipe
Did you pin this?
Hey hey, don't want to forget these ideas? Pin this to your recipe board!
---
Alisha Grogan is a licensed occupational therapist and founder of Your Kid's Table. She has over 14 years experience with expertise in sensory processing and feeding development in babies, toddlers, and children. Alisha also has 3 boys of her own at home. Learn more about her here.