Healthy, safe, and easy finger foods for toddlers that will make putting a meal in front of them a snap.
Steak salad topped with pomegranate seeds and Gorgonzola crumbles.
Chicken fajitas with spicy peppers and onions.
Roasted lamb with cucumber sauce.
These are all dinners I served once upon a time before I had kids. I'd stand over one of my Rachel Ray cookbooks on any given night and whip up something new and tasty for my husband and I. And, while I was determined to not change my foodie ways when feeding my kids, the fact is, if you don't want to make 2 separate meals, and I'd recommend that you don't, I had to cook foods that were more toddler friendly.
It's easy to hit a wall with different finger foods for toddlers and get stuck serving them the same types of food over and over again. But, variety is important. It exposes kids to new flavors and textures. Read more about how much variety your kid should eat.
Because part of my job as an occupational therapist is helping families with eating, I've got lots of ideas on foods your toddler can eat on their own, finger food style!
Tips for Feeding Finger Foods to Toddlers
But first, we've got to talk about some important tips and advice for giving toddlers finger food:
Shape matters: Although I love to encourage spoons and forks from an early age, to keep your sanity, you'll want to have your toddler feeding themself as often as possible. That means giving them their food in a stick or diced up so they can easily pick it up with their fingers. Keep in mind that the diced pieces shouldn't be too large to choke on or too small that it can't be picked up. Talk to your child's doctor about their recommendations if you're not sure what your child can handle.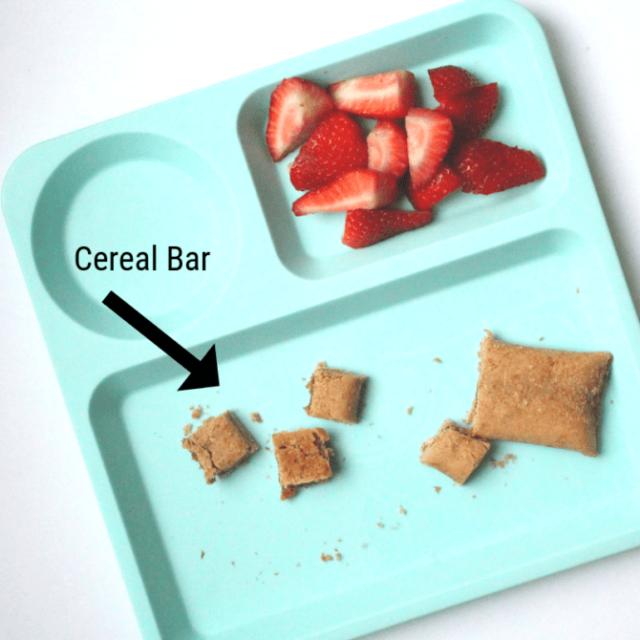 Avoid Choking Hazards: My toddlers always wanted popcorn when they saw someone eating it, but it's a big choking hazard. So are whole hot dogs, whole grapes, lettuce, raw vegetables, whole nuts, and large clumps of nut butter. Pass on offering these foods for a couple of more years.
Stay Strapped in: If toddlers could have their way, they'd love to just eat on the go (aka graze). But, this sets the stage for bad eating habits that are hard to break and it also increases the risk of choking. Keeping them in a high chair or strapped booster seat is the best bet. Get tips on how to keep them seated if they cause a fuss here.
Have fun: I know, it sounds cliche, and mealtimes with toddlers can be like the wild wild west with full blown meltdowns and food being whipped across the room. But, this time will pass and many toddlers can and do love to eat. Encourage them to explore and even play with their food!
Tons of Finger Foods for Toddlers to Gobble Up!
Toddlers can self feed all of the foods that you find on this list, that's the beauty of finger foods. Of course, at this age, stay close by, monitoring how well they're chewing or if they're shoving way too much in their mouth. I've included a ton of ideas and there's often an option for homemade or store bought, depending on what you prefer:
Quesadilla (Fold a tortilla shell over in your skillet with some cheese, diced peppers, and shredded meat inside)
Waffle (Cut into strips)
Diced Cheese (think Cheddar, Mozzarella, or Monterrey Jack)
Chicken Nuggets (This recipe is for a simple homemade version)
Pizza Muffin (Spread cheese and sauce on an English muffin and put in the broiler for a few minutes until warm. Cut into squares.)
Meatballs (try with ground chicken and turkey too)
Mini Muffins (This is my favorite healthy recipe)
Fish Sticks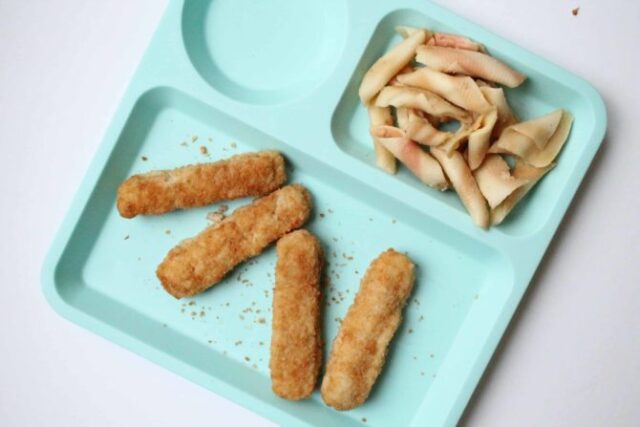 Broccoli Tots
Meatloaf
French Fries
Zucchini Squares (if your toddler likes eggs, these will be a hit. You'll love them too!)
Buttered Macaroni Noodles (leave them plain if your child can't pick them up)
French Toast Sticks
And, if you're looking for some whole meal ideas head over to Toddler Meal Ideas.
Healthy Finger Foods for Toddlers
Everyone's definition of healthy is different, but this specific list of healthy finger foods is all about whole fresh foods. You'll find lots of fruits and vegetables here, but also some healthy recipes that take only a little effort:
Sweet Potato Fries (or other root vegetables like parsnips and beets)
Pancakes (I love these pumpkin ones for added nutrition!)
Fish Cakes (These are brilliant! A great way to get fish into your toddler)
Whole Wheat Crackers (Even the popular Goldfish crackers have a whole wheat variety)
Frozen Yogurt Dots (Spoon drops of yogurt onto a baking sheet and freeze. Get a recipe here.)
Peas (Serve them warm or cold!)
Diced Cooked Apples
Hard Boiled Egg
Beans (Rinsed straight from a can works great)
Mango
Strawberries
Watermelon Sticks
Green Beans
Broccoli
Cauliflower
Cantaloupe/Honeydew/Other Melons
Sliced Banana (roll them in crushed puffs or cheerios if they can't pick it up)
Kiwi
Papaya
Diced Tomato
Diced Cooked Carrot
Diced Butternut Squash
Zucchini Sticks (here's a recipe for a baked breaded version)
Salmon Croquettes (mashed potatoes and salmon rolled together and breaded, easy to make and tasty!)
Diced Grapes
Pear slices
Soft Pita Pockets with Hummus (spread hummus inside and serve this diced or in strips)
Cucumbers
Easy Finger Foods for Toddlers
Easy is all about the store bought, and while I love healthy, there's no judgement. Sometimes we need quick. And, all of these foods are available with "healthier" ingredients:
Cheese Curls (Look for natural or toddler varieties to skip the artificial food coloring)
Soft Pretzel Bites
Fruit/Cereal Bar (similar to a granola bar but filled with a fruit puree)
Pepperoni (some toddlers like a little bit of pepper)
Bacon Crumbles (make sure it's thin bacon and is crispy)
Diced Hot Dogs (hot dogs can be safe if they are diced into quarters)
No Hull Popcorn (similar to a cheese curl and not a choking hazard)
Hash Brown Patties (I like to cook these in the oven a little long so they have a little crisp to them and are easier to hold)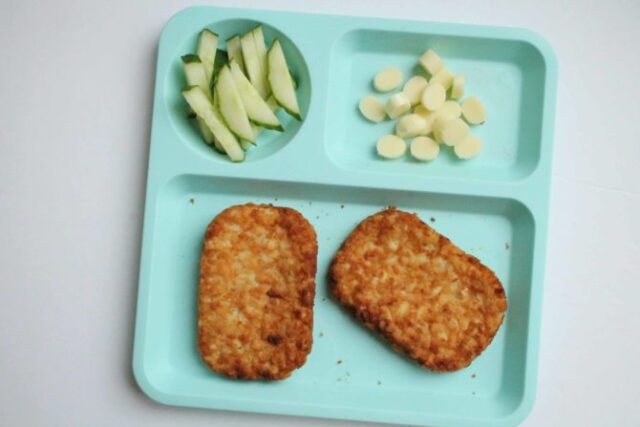 ---
While that's a list of over 50 different finger foods for toddlers, know that even though your eating does change with kids around the table, you don't have to sacrifice the foods you love – even if your kid isn't ready for them. Think about having a few finger foods at your meals with a side dish that you love. Before you know it, they'll be eating everything right along with you.
Get the Free Toddler Meals and Food Printable
If you want to have all the ideas from this post, plus a bunch more grab my Toddler Meals Free Printable Pack, and I'll send it to your inbox. Parents love having this to hang on their fridge when they're tempted to pull out the chicken nuggets for the third day in a row.
Click here to get the Free Toddler Meals Idea Printable
---
Alisha Grogan is a licensed occupational therapist and founder of Your Kid's Table. She has over 14 years experience with expertise in sensory processing and feeding development in babies, toddlers, and children. Alisha also has 3 boys of her own at home. Learn more about her here.
More Finger Foods for Toddlers
Mega List of Table Foods for Your Baby or Toddler
The Greatest Toddler Breakfast Ideas, Easy + Healthy
The Most Awesome Toddler Lunch Ideas You Can Find!
The Essential One-Stop Guide for Easy Toddler Meals