Easy and healthy snacks for picky eaters that they'll actually eat! Get inspired and learn how to get out of the rut of serving the same foods everyday.
You know the drill, it's snack time and your picky eater wants the same crackers or pretzels or yogurt tube that they eat most days. To be honest, it can be hard to think of other alternatives because every time you try something new, they don't eat it. Oh, I know how these picky eaters roll. I've been there as a mom, and more often, as a feeding therapist, as I'm choosing foods for other kiddos that I'm working with. You can get out in front of this though.
I've pulled all my picky eater tricks together and am sharing my favorite healthy snacks for picky eaters with you. And, you know I'm going to give some extra tips to give them every shot at actually eating them!
Make sure you check out 25 Healthy Meals for Picky Eaters, too (and snag the free printable when you're there!)
Tips for Serving Healthy Snacks to Picky Eaters
There are few extra tips that you can get in motion before you even put a morsel of food in front of your picky eater. These tips may seem small, but they are mighty: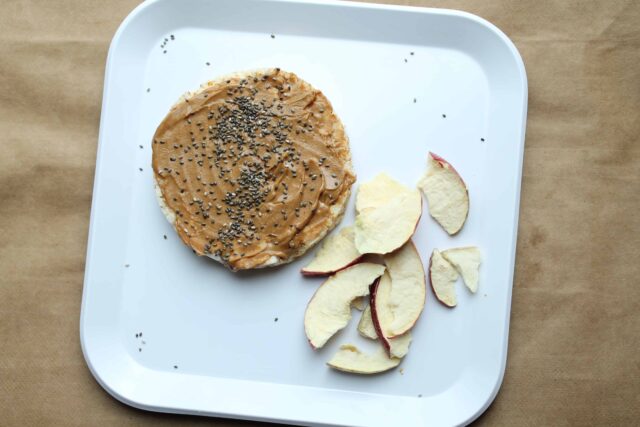 1. Have Snack Ready – Before you ask those words that I think should be banished, "What do you want to eat?," think about choosing something for them. I know the reason you ask is because you want to give them something they will actually eat, but trust me on this, picking what is for snack time is your job not theirs. But, this only works if you follow tip #3. I'll also add, this tip is especially helpful for older kids who like to barge through the door after school and raid the pantry, instead you can just cut them off at the pass!
2. Offer 2-3 Foods – So step #1 isn't going to work if they sit down to a bowl of something they've never eaten. It's really important that they see a few options to feel comfortable enough eating. I really like to focus on offering a fruit/veggie, protein, and/or carb. Sometimes, all three of these are combined in one snack, as you'll see below.
3. Always Serve a Preferred Food – In order for them to be willing to try something new or different, especially for the pickiest of eaters, it's really important to make sure you're offering something they eat at least 50% of the time. If you don't, they will usually just shut down or throw a total fit. Find out more about why this is important in Eating Basics, these are my top tips that will improve any child's eating.
4. Get Involved and Play – Oh, I know, this sounds like the opposite of what we "should" be doing, but let's live a little and think outside the box! I'm telling you, the risk will be worth the reward because when we sit down for snacks with our kids, it makes it an experience together and we can (without pressuring) talk and learn about the foods they're avoiding! Read more about how to use play to expand your child's food variety.
*Come learn the 3 Keys to Turn Picky Eating Around in my free workshop! We'll send you a free workbook too!*
Affiliate links used below. See our full disclosure.
Healthy Snacks for Picky Eaters
I'm listing the main snack item below, remember you can combine several together or pair with a side of one of their favorites!
Mini Muffins
Maximize the nutrition by going for low sugar and adding in veggies like carrots, pumpkin, sweet potato, zucchini, banana, or blueberries. This recipe is one of my favorites and is loaded with vitamins and fiber!
Mini is almost always better. Picky eaters are less overwhelmed by small sizes, but are a good option if its all you have on hand.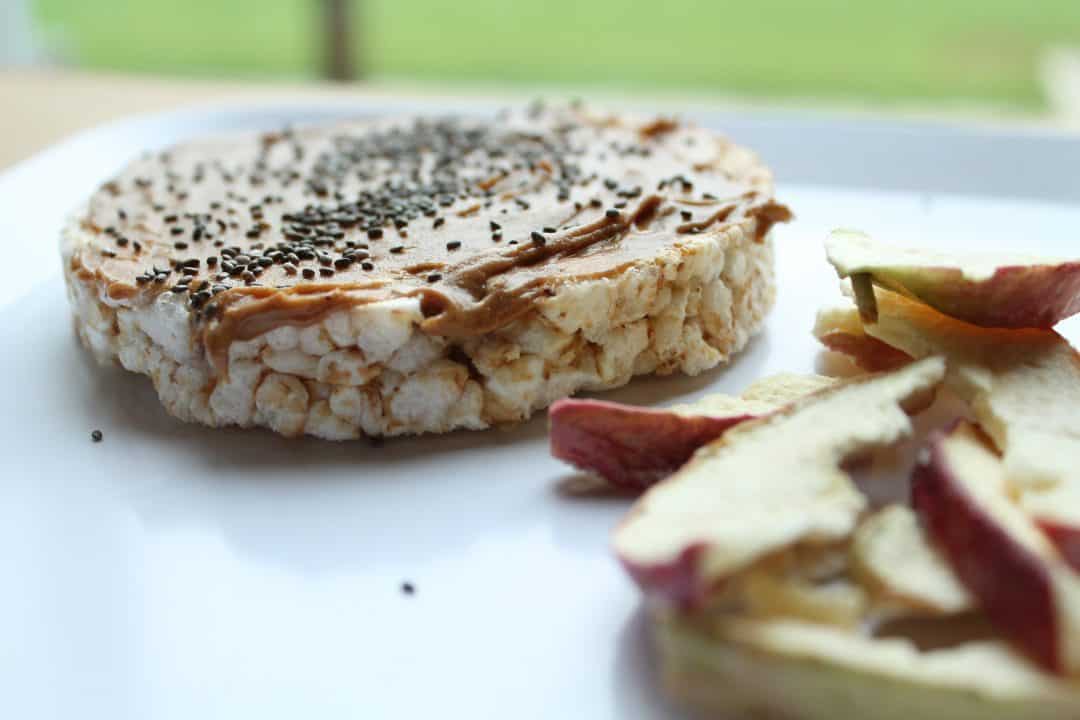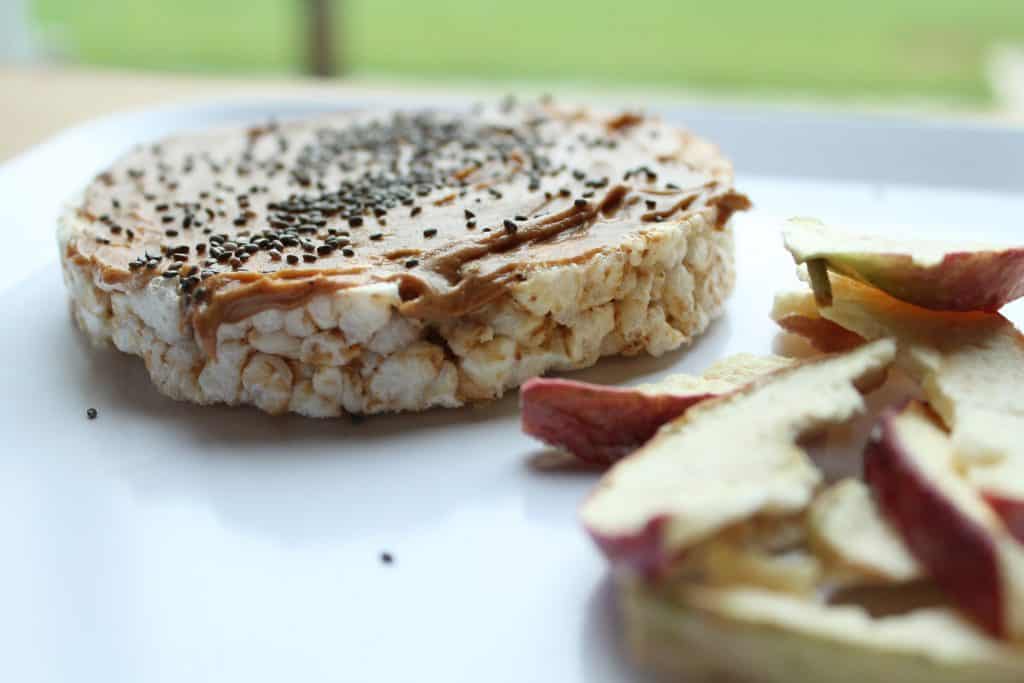 Rice Cakes with Peanut Butter
Popcorn
Yup, good ole' fashioned popcorn. Get some fresh kernels and pop them in a pan or do it the "healthy" way with this hot air popper that we use, for some added fun and interest!
Experiment with different seasonings and toppings.
Caution, high choking hazard for children under 4!
Apple Sandwich
One of my favorite Pinterest finds that has become a regular in my home. All you have to do is core an apple, slice it across so the slices look like tires, spread with peanut butter, sprinkle with granola and add another apple on top to make an apple sandwich!
These are straight up fun, and sometimes that's enough to pique a picky eaters interest.
Perfect for making together. Although having everything prepared in advance is great, cooking together can be just as powerful. Learn how to get the most out of cooking with your child.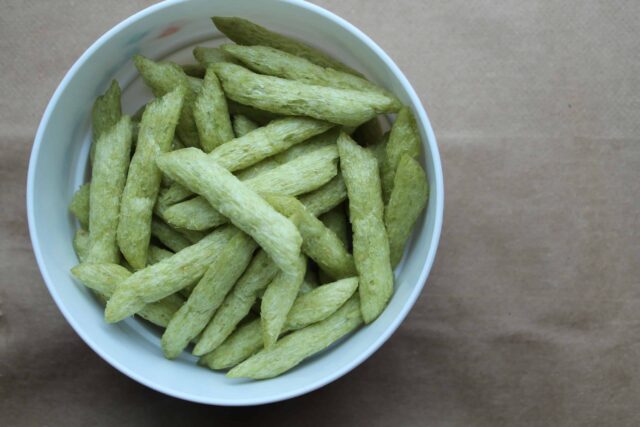 It doesn't get any easier than this! I love these because they are totally made from beans, they have a good flavor, and are crunchy. We usually get ours at Trader Joes, but you can snag them here. And, if yours usually refuses them. Find out how to use dips for picky eating.
Homemade Yogurt Popsicles
One of my kids favorites! Blend up some yogurt and puree fruits and veggies so there aren't any pieces (picky eaters hate that!) Stick in a popsicle mold, like this simple one, freeze, and serve. You really can't go wrong here because once it's frozen, it's so cold a lot of the flavors leave.
If you need some inspiration, try these strawberry or peach popsicles.
Trail mix
This is another snack that picky eaters can help prepare in advance and enjoy later. It can be really fun for them to assemble the ingredients and mix together. You might want to include some motivating chocolate chips among some of the healthier options for added motivation.
Don't know where to start, check out this healthy version.
Fruit Kabobs
Listen guys, food on a stick is HUGE for kids, especially picky eaters. I know it sounds strange, but this requires little effort and the options are endless. In fact, here are over 50 ideas!
Check out this recipe for dipping the fruit in chocolate
Nuts/Seeds
Crunchy, need I say more!
Try lots of varieties: peanuts, almonds, hazelnuts, cashews, walnuts, etc.
Don't give whole nuts or seeds to children under 4.
Protein "cookies"
Cookies don't have to be full of sugar and can taste really good. Try these protein cookies and feel good about giving your picky eater this special treat!
Fun snack tray
On a daily basis, this is probably too much variety, but I love this as a special, once-in-a-while, idea. Kids will eat this up, pun intended!
Get an awesome tutorial on how to set one up for fruits or veggies.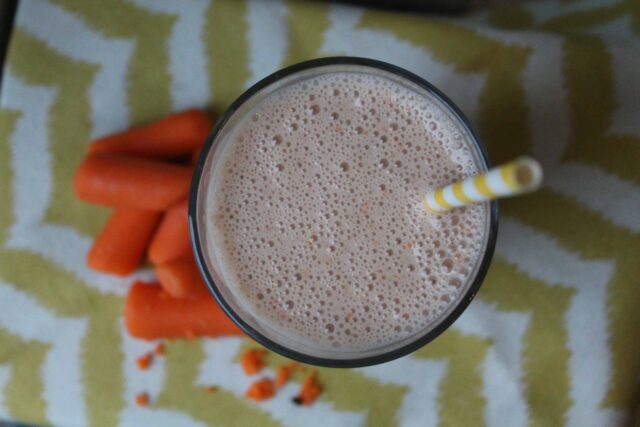 Smoothie
Make sure your smoothie is actually smooth. Picky eaters usually detest chunks and if they get one when they aren't suspecting it, well, they could just shut the whole thing down.
Keep it simple and use frozen or regular yogurt. Add in some fruits like strawberries, peaches, mangoes, and bananas. All of these blend up really well.
If you prefer a recipe, check these awesome ones out for kids!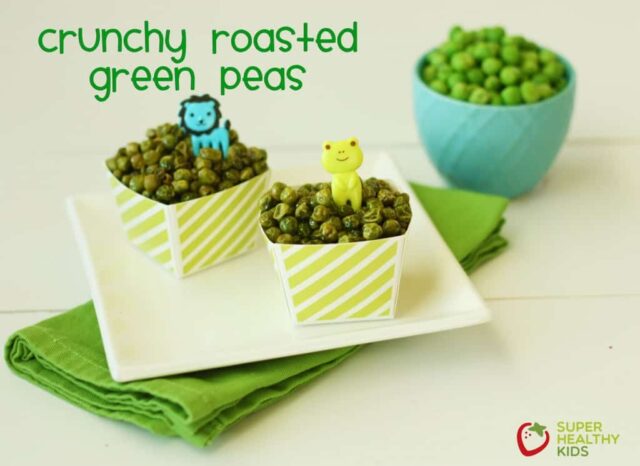 Roasted Chick Peas or Peas
More crunch and full of nutrition. My picky eater didn't even blink when I offered him these roasted chick peas for the first time. He could tell they were the "right" texture and went right for them. Here's a super simple recipes for roasting chick peas and one for peas.
Not up for cooking, here are ready made chick peas in 4 different flavors and some roasted peas too!
Homemade Fruit Leather
Alright so this takes some extra effort, but the store bought varieties are filled with sugar, not too healthy. If your child loves fruit leather, it may be worth the effort. Check out this healthy recipe.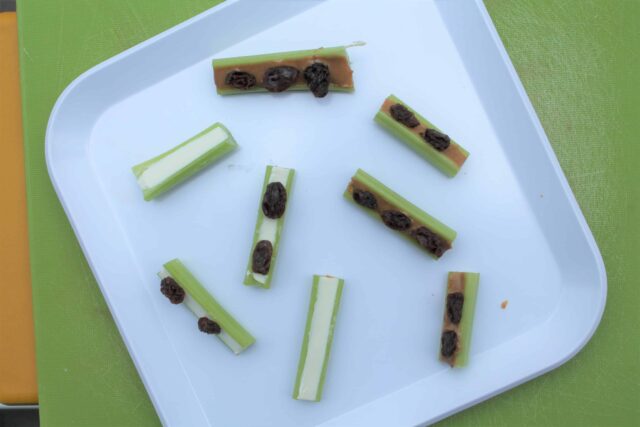 Celery Logs
Super simple and old school, this is another favorite in my home that my picky eater used to ignore and now eats!
Use your child's favorite filling: peanut butter, cream cheese, hummus, or even Nutella!
Veggie Chips
These are readily available in many stores and you can buy them here, but you can also try your hand at making beet, carrot, or sweet potato in your own kitchen. These are a winner for picky eaters because they are crunchy! Just give them a few times to get used to them!
Tricks for More Healthy Snack Ideas
This is just the tip of the iceberg, you can maximize your efforts and even think up more healthy snacks for your picky eater with these extra tricks:
Look at what your child is already eating, and find foods similar to them, building off from there! This is one of my favorite feeding therapist tricks, read more about building a bridge to new foods.
Make it fun! I gave you lots of examples in the snack list above, but one of my favorite tools to have on hand is this Funbites cutter. We've used these many times in our home, and you can get a bunch of different shapes here. Kids love using these!
I also really like fun plates and utensils. These get kids excited to come to the table and can be pulled out in a pinch when a meal is headed south. This construction set is awesome for boys and they finally have a set for girls.
Keep the Healthy Snack Ideas Coming
If you want even more healthy snacks for picky eaters, then you'll find a huge cache of them on my Pinterest Boards. I probably pin food ideas for kids more than anything else. Follow along here and be sure to check out the Picky Eater Kids Tips and Recipes and the Food Ideas for Kids boards.
Oh, and did you pin this, in case you want to check this list again!
Also, get the totally free printable: Healthy Meals for Picky Eater Meal Planner! I'll send it right to your inbox.
More on Picky Eater Kids
Turning My Picky Eater Around: An Easy to Follow Plan
Mega List of Vegetable Recipes for Kids
How to Cook One Family Meal with a Picky Eater
---
Alisha Grogan is a licensed occupational therapist and founder of Your Kid's Table. She has over 15 years experience with expertise in sensory processing and feeding development in babies, toddlers, and children. Alisha also has 3 boys of her own at home. Learn more about her here.