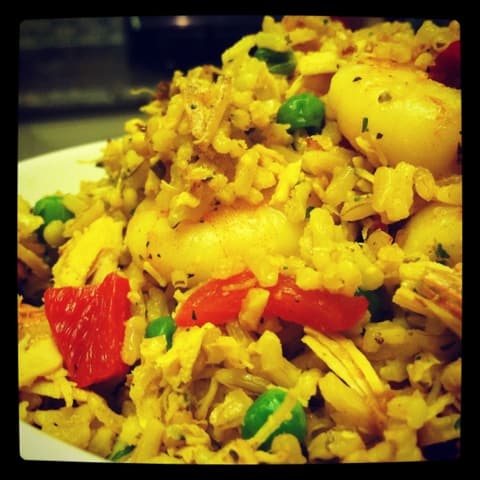 So I wasn't planning on posting anything about tonight's dinner, but it was such a success I thought it would be helpful to share it. As a result of this impromptu nature, I was only able to grab a last minute picture of the finished product. I hope you will forgive me and chalk it up to me still getting my blogger legs underneath me!
I am going to share the recipe for this Paella, which I made up as I went. That means there are no hard and fast rules here, because I don't really even measure. I am pretty comfortable in the kitchen and just add what seems right. Then I do a lot of tasting along the way to make sure I am on the right track. I was really pleased with how this turned out and it was very simple.
I wasn't sure Sam was going to help me cook tonight, he was busy playing and I thought I might just take the moment to pull dinner together quickly and with less mess. As I was pulling out the ingredients, I paused as I grabbed the jar of roasted red peppers. I wanted to add them in the paella, but new it was risky. Would Sam shut down the whole meal if all this stuff was mixed together even though he likes everything else in it? He had barely been exposed to it in the past, so I decided to put my money where my mouth was and have him help me cook! He was happy to help and the first step was dicing the roasted red peppers. I pulled a large pepper out of the jar, commenting on it's size and texture. This is my first hook in getting him interested, most kids are naturally curious when the pressure of having to eat is off. I gave him a butter knife and helped him hold it correctly, and then put my hand on top of his to show him how to dice it up. It didn't take long before he said "I'll do it by myself now," which of course was fine. Now I have Sam touching a new food, great, another step closer to getting him comfortable with the peppers. Honestly, I would have been satisfied if he didn't move beyond this point, sometimes these things take time. Since things were going so well I asked him what the peppers smelled like. He took a couple of sniffs and didn't answer (he was still busy cutting). Because he took a smell I took this as a good sign to move a little further and said, "Maybe we can give a piece a kiss?" Again, not much interest because he was still cutting, but I gave a little cube a kiss and then held it up for him and he followed suit. Terrific! We were doing great. The therapist in me pushed a little further because he was receptive. I took a piece and said, "Look, Sam, Mommy is chewing a piece." I know this is gross, but I left my mouth open so he could see what it looked like to chew it. This helps them see and hear if it is crunchy, how hard it is to chew, and how I manage it in my mouth. Ultimately, your kid will feel less unsure of what to expect when they take a bite. Sam stopped cutting and watched me intently for the few seconds it took for me to chew it, and then he said "I am going to have a piece." Yeah!!! He proceeded to eat 3 more pieces and I was a proud Momma. I know I just went into a lot of detail here, but I thought it was really important because I want to illustrate to you how it's a process. This whole interaction was only a few minutes.
When the meal was presented to Sam he dug right in, scooping up bites with the roasted red pepper mixed in. I was sure to say, "I really liked that you ate something new! I am proud of you!" However, I didn't go on and on about it because I want him to understand that we expect him to eat what we are eating, end of story!
The peppers were something new for Sam. Maybe your kid already likes peppers? Maybe a pepper is too big of a leap? Try some of these strategies for a food you would like to expose your kid to. Be patient with your child and don't expect too much.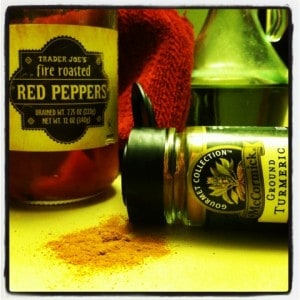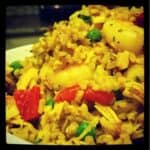 Paella With Roasted Red Peppers
Roasted red pepper paella recipe
Ingredients
2.5-3

cups

Cooked Brown Rice

(Prepare in chicken broth instead of water for more flavor)

2

large

Roasted Red Pepper, Diced

1

large can

Shredded Chicken

20-25

Large

Uncooked Shrimp

2

tbsp

Oil

3/4

cup

Frozen Peas

1/2

tsp

Tumeric

1

tsp

Garlic Powder

1

tsp

Onion Powder

2

tsp

Oregano

Salt & Pepper to Taste
Instructions
Place shrimp in a bowl and add seasonings.

Heat oil in skillet and begin cooking shrimp.

After 2 minutes add chicken and continue cooking until shrimp is nearly pink all the way through.

Add rice, peas and roasted red peppers to pan. Stir well.

Salt and pepper to taste.

Cook until heated through and peas are defrosted, about 2 minutes.

Optionally, drizzle a little olive oil and some more seasonings to the finished product.
Tips:
Add sweet Italian sausage in addition to or instead of shrimp or chicken.

I use minute rice and cook it in the same pan I will use the shrimp in to save on clean up and time.

Throw left-over chicken instead of canned if you have it in the fridge anyways.

Pre-cooked shrimp or any other seafood is a great substitute. Traditionally paella is made with a variety of seafood.
Most of the recipes I am going to share with you are meant to be adjusted to whatever you have in your cupboard, very easy, and something your kid can help you cook. This recipe is simple, but satisfying. Ultimately, I want to give you quick and easy recipes that help encourage your kid to try new foods.