Try this delicious and easy healthy dessert for kids… chocolate dipped fruit pops. Two different ways to make them and only 2 main ingredients, you probably have what you need to make them right now!
Kid got a sweet tooth, and you want some healthy dessert options?
Or, maybe your kid isn't too interested in fruit and you want to get some into their diet. I've got you covered with this delicious and super easy dessert that's great anytime of year, but especially in the summer when fresh fruit is abound.
The recipe is healthy chocolate dipped fruit pops!
This Recipe is Perfect for Picky Eaters!
These chocolate dipped fruit pops are an awesome way to get your kid eating some new types of fruit because we aren't just dipping strawberries (although you totally could if that's all you have on hand).
This recipe is particularly a home run for picky eaters because it's served on a stick. Even the pickiest of eaters can't resist a stick. It's too enticing, too much fun to eat.
As you read through the post, I'll share some other tips and tricks to have your picky eater give these pops a try if you're working on them eating any new fruits.
*Learn more about helping your picky eater in my free workshop: 3 Keys to Turn Around Picky Eating*
Have Your Kid HELP Make These Chocolate Fruit Pops!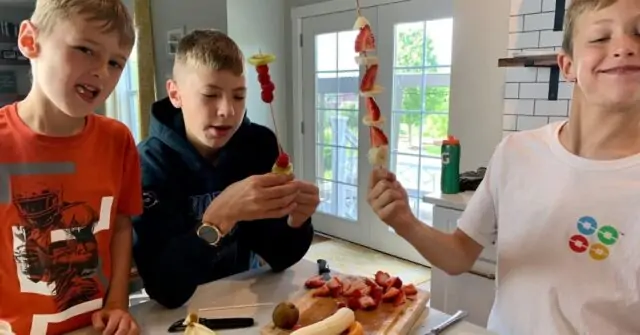 Affiliate links used below. See our full disclosure.
If at all possible, I highly recommend allowing your kid to help you make these pops. It's a perfect kid recipe, and when they cook it with you, they'll be even more likely to eat it.
Give them some control of choices, like do they want to use chunks of banana or slices? Or, what order do they want the fruit to go on the skewers. Of course, you'll have to show them how to push the fruit on the sticks or skewers.
If they're really young they can just help wash the fruit, cut bananas with a butter knife, dictate which fruit should go what stick, and then dip the assembled fruit pops into the chocolate.
Here's some tips to keep your sanity while cooking with your kid!
How to Make Chocolate Dipped Fruit Pops
I'm all about easy and this recipe doesn't get more simple. There's a lot of options with this recipe, but only 2 main ingredients, not counting the optional toppings. The first ingredient is fruit. So many fruits are delicious dipped in chocolate. You could use:
Bananas
Sliced apples
Sliced pears that are still somewhat firm
Strawberries
Blackberries
Blueberries
Raspberries
Kiwi
Star Fruit
Orange segments
Cherries
Apricots
Pineapple
Grapes
Mango
Papaya
Peaches
Choose a few fruits you would like to use, or even just one if that's all you have on hand. If you have a picky eater, make sure you choose at least one fruit they eat, have had some exposure to in the past, or is somewhat similar in texture or color to other foods that they eat.
Wisely selecting the fruit for a picky eater will increase their chance of eating it.
We choose to use banana, kiwi, strawberry, raspberry, pineapple, and orange.
Wash and cut all the fruit you'll be using if needed.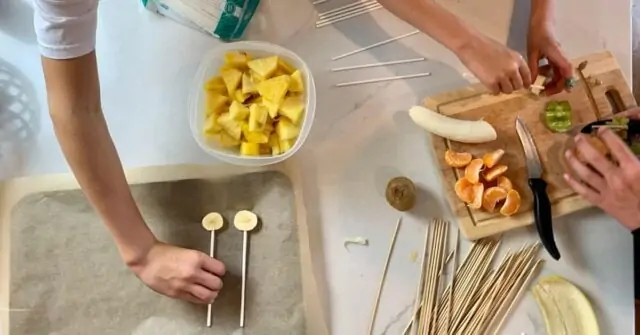 Make your Chocolate Dipped Fruit Pop Plan
Decide if you want to make singular pops, with just one piece of fruit, or maybe 2-3 on the end of a lollipop stick OR if you'd like to make a fruit kabob on a skewer stick.
The skewer stick does have a sharp end, so decide if you're comfortable giving that to your child or snip off the sharp end before serving. You can also slide the fruit off the stick and they can eat it with their hands.
Although that may take out the fun factor for some kids.
We decided to use a combination of both. I'd recommend the lollipop method with just one piece of fruit for picky eaters because they're likely to be less overwhelmed or leery of a single piece of fruit. We want to set them up for success as much as possible!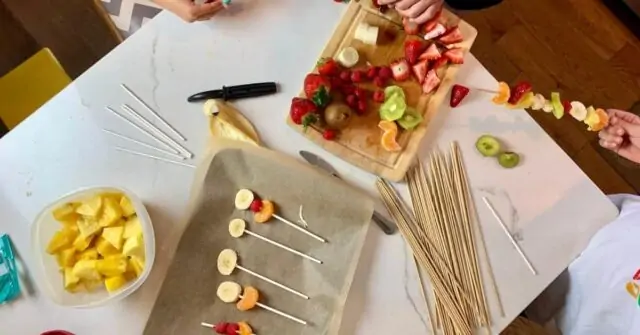 Assemble Your Pops!
The next step is to make sure all the pops are assembled. When cutting bananas, make sure you use large chunks or even a half of a banana. Thin banana slices will get mushy and may break apart while you're dipping them in the chocolate.
Use lollipop sticks or skewers to push the fruit on. With a lollipop stick, you can just push a piece of fruit on the top, not all the way through, or thread them on. If you do the latter, it does make a big hole so make sure you're using a sturdy fruit. Raspberries, for instance, might fall apart.
When assembling the skewers, push the fruit all the way through to the other end so the fruit is away from that sharp end. That way, your child can hold the pointy side in their hand, not put it in their mouth.
Continue to slide fruit on the skewer until it's 3/4 of the way full.
Melt Your Chocolate
Line some baking sheets with parchment paper and place all your pops on top and set aside. Next, set up a double boiler on the stove. You can get one here on Amazon, or use a small pot with just a little bit of water in it. Place a stainless steel or glass bowl on top so that it covers the whole opening, but isn't touching the water.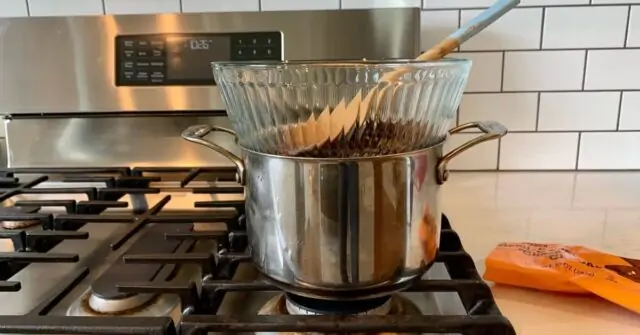 Once the water starts to boil, turn it down to low so it's just simmering and drop all but a handful of the chocolate into the bowl. Stir the chocolate until it's totally melted. And then, remove the heat.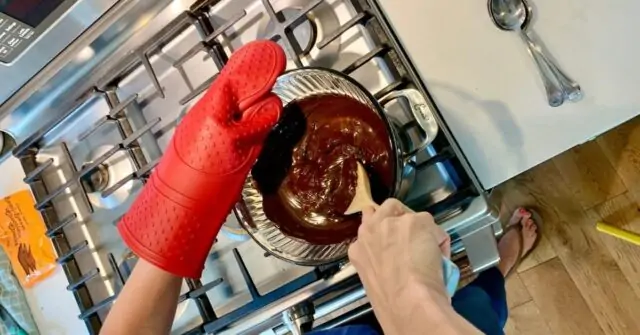 Now add in your last handful of chocolate baking chips. Stir until this last bit is melted. This tempers the chocolate so that the texture is smooth and the color is rich, not streaky.
Get Good Melting Chocolate
The quality of the chocolate matters here. Not only does it taste better, it also melts better. I've tried to do this with regular old chocolate chips before and it sometimes gets clumpy and doesn't melt smoothly.
Ghiradelli's baking chocolate or Baker's baking chocolate are both reliable choices and are often in larger grocery stores. I like to use semi-sweet chocolate, or dark chocolate because it has less sugar in it. Not all kids will be readily receptive to dark chocolate though. We used Trader Joe's semi-sweet baking chocolate.
You can also use white chocolate as well, especially if that's your kid's preference!
Once your chocolate is melted and tempered, now it's time to get dipping. Work quickly so the chocolate doesn't harden up. You'll likely need to use a spoon to dump chocolate on the skewers and fully coat them.
Hold the pops up above the bowl and let all the excess drizzle off before returning them to the parchment lined tray.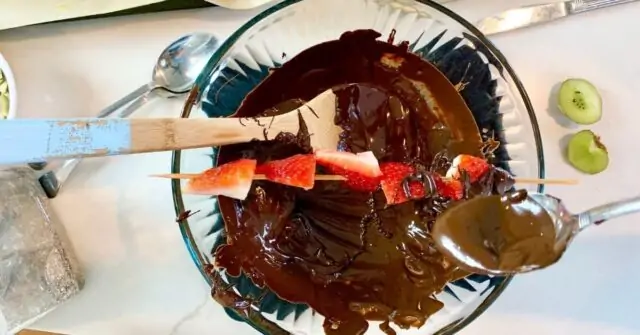 Optional: Add Some Healthy Toppings
While the chocolate is still warm, try sprinkling some of the pops with some healthy toppings like unsweetened coconut, chopped nuts, chopped seeds (pumpkin or sunflower), or sprinkling with chia seeds.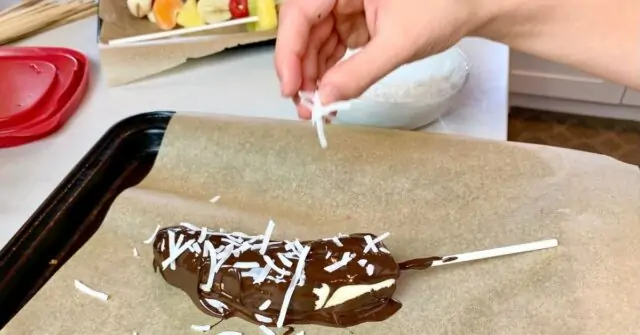 When all the fruit is dipped and any desired toppings are added, put the tray in your fridge until hardened, usually around 15 minutes. Then, they're ready to eat!
Or, you can place these pops in the freezer and serve them as a frozen fruit chocolate covered popsicle (that's what we did!). They'll hold up in the freezer if stored in a storage container for a few months. It's a perfect snack or treat on a hot summer day or for after school!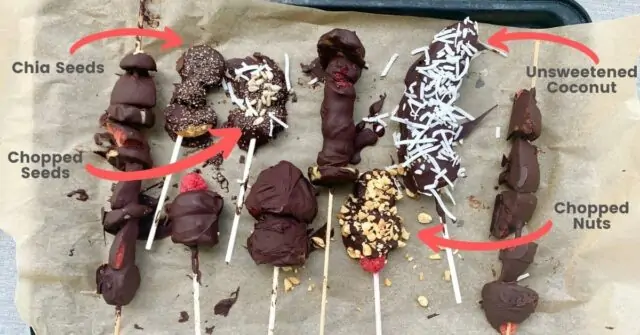 So, make up a batch now to have them on the hand. Print out the whole recipe below.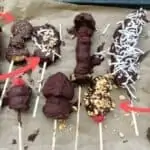 Chocolate Dipped Fruit Pops
Chocolate dipped fruit pops recipe
Ingredients
12

oz

Baking Chocolate (dark, semi-sweet, milk, or white)
Assorted fruit that's cut and washed (Banana, Sliced apple, Sliced pear, Strawberries, Blackberries, Blueberries, Raspberries, Kiwi, Star Fruit, Orange segments, Cherries, Apricots, Pineapple, Grapes, Mango, Papaya, Peaches)
Lollipop Sticks
Wooden Skewer Sticks
Unsweetened Coconut

optional topping

Chopped Sunflower/Pumpkin Seeds

optional topping

Chopped Nuts

optional topping

Chia Seeds

optional topping
Instructions
Wash and cut fruit if needed

Assemble onto lollipop and/or skewer sticks.  For lollipop sticks don't push the fruit to the other side of the stick. For skewers push fruit all the way through until the stick is 3/4 full and at the end furthest from the sharp end. Put all assembled pops onto a parchment lined baking sheet and set aside.

Set up a double boiler with an inch or two of water. Once it starts to boil, reduce heat so it's just simmering. Make sure the bowl isn't touching the water.  Then add about a handful of chocolate into the bowl. Stir until it's melted.

Remove from heat and add in the last handful of chocolate. Stir until melted. This is tempering the chocolate and keeps the texture and color of the chocolate smooth and thick.

Dip assembled pops into the chocolate. Shaking off excess as needed.

Lay on the parchment lined baking sheet and sprinkle with desired toppings, if any.

Chill in fridge for 15 minutes or place and store in freezer for a frozen pop, picky eaters may respond better to the latter! Enjoy!
I hope you enjoy making and eating this fun treat with your kids. I did, even though it got a little messy! Tell me in the comments what fruits you're going to try or how the recipe turned out for you!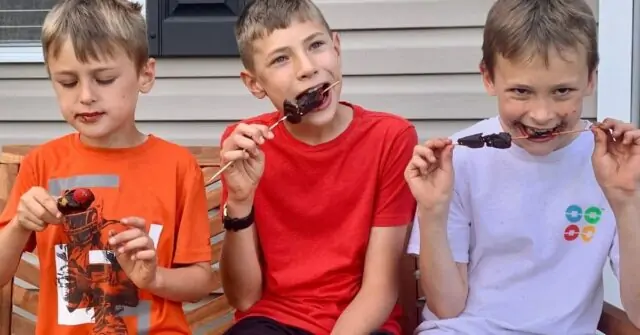 Pin this here so you can find the recipe again if you need it!
More Easy Recipes to Make with Your Kids
Natural Weight Gain Smoothie Recipe for Kids
No Trouble Baked Potato Skin Recipe for Picky Kids
High Fiber Immune Boosting Banana Sweet Potato Pumpkin Bread
Crispy Whole Roasted Cauliflower Recipe: A Perfect Veggie Recipe for Kids
---
Alisha Grogan is a licensed occupational therapist and founder of Your Kid's Table. She has over 17 years experience with expertise in sensory processing and feeding development in babies, toddlers, and children. Alisha also has 3 boys of her own at home. Learn more about her here.