Learn dozens of ways to set up and encourage your child to play with their food so that they eat new and different foods! Playing with food is one of my favorite strategies as an occupational therapist…
Are you cringing at the thought of your child playing with their food?
I get it.
Playing with food is an awesome developmental activity for kids, even though parents tend to shy away from it, because it can get messy. But, YOU are here. You're open to new ideas and having some fun. I like that!
This is a special post here on Your Kid's Table, because this is a powerful strategy I've used with countless kiddos. It's also a tool that students inside my picky eating program, Mealtime Works, know how to use well. You'll find it's packed with totally do-able ways to get your kid playing with food!
Why Should Kids Play With Their Food?
As a pediatric occupational therapist that has literally helped thousands of families all over the world that are stressed about their child's picky eating, hands down the biggest benefit to allowing and even encouraging your child to play with their food is it helps them actually EAT new foods.
Seriously.
Most parents I know would love for their child to eat a few more foods, even if they aren't that picky. Well, playing with food is a strategy that a lot of therapists and professionals use to do just that.
The good news is that YOU can do this at home too and reap the rewards.
Isn't Playing With Food Bad Table Manners?
I know, there's a sticking point. We've all been taught that playing with food is bad table manners. And, technically, it is if you look up any rules of etiquette.
But, etiquette is just a cultural norm. And, I believe kids can still learn table manners while they're given the freedom at times to play with their food. See my recent post on 11 Table Manners Kids "Should" Have to learn more.
You'll have to make a personal choice about whether or not you're comfortable with encouraging food play for your kid, but I'm cheering you on!! Because the pay off is worth it. That food play also fosters a spirit of exploration with food for many years to come.
Fair warning, you may need to ignore some comments from friends and families that get judgy about your kid's food play.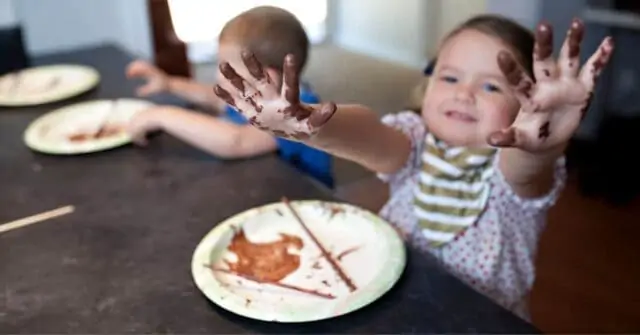 3 Ways to Play with Foods
There are 3 ways you can give your child a chance to play with their food. Here's a quick snapshot, but I'll explain each and give you lots of examples in the following sections:
During play time
While cooking together
During meals.
I think all three are important, but you can dip your toes into playing with food with any of them. If you have a picky eater, then using any of these ways to help your child get comfortable eating new foods is great.
In fact, that's my hope.
But, be careful to make sure it stays playful. Kids can smell hidden pressure tactics to try a bite of food during food play a mile away. If they feel like you have another angle, you likely won't make any progress with them trying new foods.
When you use any of these methods of playing with food, focus on play and exploration. Nothing more.
Anything eating that happens is icing on the cake!
#1: Set Aside Time for Playing With Food Away From Meals
The first way to get your child playing with food is to set it up just like any other play activity. In between meals, you'll pull out some food just for the purpose of play.
Depending on your child's temperament and your schedule, you can either assemble the ingredients together, or make any necessary preparations ahead of time and then casually show your child the food play that you've set up.
Also, if your child doesn't have siblings, consider playing alongside your child, at least initially, so that they'll be more likely to engage. Remember, the goal isn't for your child to eat any of these foods, but if they do, it's a bonus.
Within the next day or two, you'll want to serve the food your child played with as part of your child's meal. If you have a picky eater, then focus on foods that they typically refuse or don't consistently eat.
However, if they express an interest in playing with a food they love, there's still value in that. It's okay to play with some food they usually eat too.
The following is a list of playing with food ideas to inspire you, but don't stop here, think of your own ideas too:
Real Life Food Molecules – Use grapes and/or marshmallows and toothpicks to build structures and molecules. Make sure your child is old enough to safely handle a sharp tooth pick, and then take one grape and push the toothpick into the grape, but not all the way through. Then, put a grape on the other end too.
From there, you'll stick another toothpick into a different side of the grape, until you have a building, structure, or some sort of molecule.
It's helpful to play at a table with the few materials your child needs in front of them.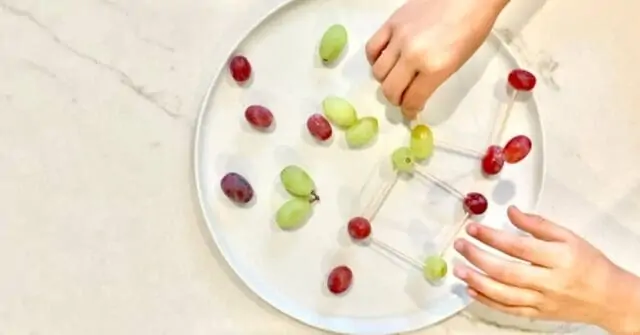 Painting with Food – Whipped cream, pudding, yogurt, baby food, applesauce, and any other pureed food can be used as finger paint. If the food you're using is heavy or clumpy, try dumping some on a plate or a baking sheet and letting them paint shapes, letters, and designs. Otherwise paper can work too!
If your child is scared to touch the food with their fingers, give them a spoon or a paintbrush to use. Again, modeling this goes a long way in helping them try this food play activity
Dough Free Play – Make some pie, biscuit, or bread dough and let your child roll it, knead it, and then create shapes and letters with it. You can also bring out cookie cutters. When they're done playing, bake a few of their creations and serve it at an upcoming meal.
Cooked Noodle Bin – Use a couple pounds of cooked noodles or cooked rice and put them in large plastic bin. A shoebox size works, but if you have a lot of noodles, you can certainly use larger bins. Add some toys your child likes to the mix that are easy to clean like plastic dolls, matchbox cars, or action figures.
Hide them in the noodles and see if your child can find them.
If your child is unwilling to touch the cooked noodles, then give them a spoon or measuring cup to move the noodles.
Or, use muffin tins, measuring spoons, and other age appropriate cooking utensils for them to "bake" with.
Encourage them to play in the noodles for 10-15 minutes and then store in the fridge for a few days of use.
Cheerio or Noodle Necklaces – You can also use cooked noodles and or cheerios to make necklaces. Obviously, they won't be able to wear a cooked noodle necklace for long, but it's a great way to get them to touch that texture. You can also use dry pasta too.

#2. Get Your Kid Playing With Food While You Cook Together!
Cooking is a wonderful time to engage your child with playing with their food. Ask them to help you gather ingredients, wash fruits and veggies, and smell spices as they're added to recipes. Not only does all this exposure to different foods help them eat new foods, it also creates a level of investment.
Plus, once they've helped with the meal, they're more likely to try the food when they sit down to eat.
Of course, this is no guarantee, especially for extreme picky eaters. But, it's still immensely helpful in their seeing how foods are prepared and then they're better able to understand what the food looks like once it's set down in front of them.
Any recipe you're making can potentially involve your child. Of course, if you have a young toddler, you'll want to avoid having them touch raw meat or eggs, as well as handle any sharp kitchen tools.
But, toddlers and preschoolers can still help with simpler aspects of the cooking.
I encourage you to use a variety of recipes, but below are some my favorites:
Pack a Pillow (Homemade Hot Pockets) – You can continue the food play set up, and tell your child that you're going to "pack a pillow" while they make these homemade hot pockets. The dough is the pillow and they'll need to roll it out, cut it into rectangles, fold them over, and crimp them closed. As you'll see in this recipe, you can use a wide range of ingredients inside, which is what they'll use to "pack" their pillow up.
Make a Smoothie – Making a smoothie is fun. Kids love to throw fruits, ice, or milk into the blender and watch it turn into a drink. Smoothies can also be used to "paint" with if you end up with un-eaten leftovers. This recipe is simple, dairy free, and high in protein.
Bath and Dry Off (Breaded Chicken Nuggets) – If you're comfortable with your kid touching raw milk and eggs, this is a great way to play with food. You can use any veggie or protein you'd like to bread or put a crust on. Simply set up a bowl of beaten egg and bowl of breadcrumbs, flour, or almond meal.
Take your Veggie (think broccoli, green beans, or zucchini) or meat and have your child give it a bath in the egg by dipping it in. Then they roll it around in your dry breadcrumbs to dry it off!
Food Art Recipes – Food art looks really cool, but a lot of what I see on social media is very time involved. If that's something that interests you, then great, you and your child can create it together and then eat it. But, if you want to keep it manageable, try having your child create any of these simple food art recipes:
It can be quite motivating to give new foods a try when they're part of the design, especially when they created the design!
Chocolate Dipped Fruit – Does your child have a sweet tooth? You can leverage that. Pick a fruit your child doesn't eat all the time, and together, melt some chocolate and dip banana, strawberry, pineapple, or apple into it. You can then sprinkle some diced up nuts or chia seeds on top if you like. Put them in the freezer to chill and serve as a fun snack or dessert.
Simple Soups from Scratch – Soups are a perfect way to get your kid handling a bunch of different vegetables! Have them clean, peel, and if age appropriate, dice up those soups. Keep in mind that mixed foods like soups and casseroles are the most challenging for picky eaters because they're having to eat a variety of textures at once.
Banana and Other Fruit/Veggie Breads – Many picky eaters are able to get some vegetables, fruits, and other nutrients into their diet with fruit/veggie breads. This banana, pumpkin, and sweet potato bread has been a hit on Your Kid's Table for years. Give it a try, it's another great activity for measuring, dumping, and mixing.
Perfect for all ages of kids!
Pizza Faces – Make your own pizzas, even on a bagel, and assemble some toppings and have your child make faces or designs on the pizza!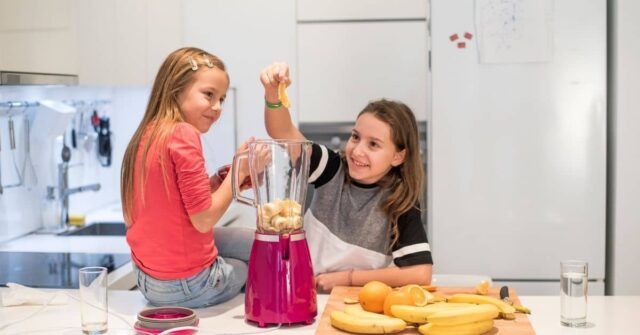 #3. Encourage Playing With Food During Meals
Last, but certainly not least, is encouraging your child to play with their food AT meal time! Playing with food during a meal should not include pressure, and you should model playing with food for your child. Don't pick their food up and play with it for them. Pick up your own food and wait for them to imitate.
Start with easy ways to play, the list below is in order of easiest play to most challenging! Using this way to play with food is particularly helpful for kids 6 and under, but my 9 year old would still totally engage in this type of play.
Some older kids will think this is baby-ish though. But, older kids that aren't too picky may give the last activity listed a try.
Peek-a-boo – If your child won't even look at the food, then that's where we've got to start. Hide your food under a napkin or a big piece of food like bread and have it play peek a boo. It's silly, but kids love silly. Try to be engaging and maybe name the food your playing peek a boo with to create more interest. Remember, the goal is for your child to repeat this action on their own plate!
Vroom! (Or, Gallop) – Use your fork to have a food your child is ignoring vroom around the edge of your plate, like a car. Or, gallop like a horse. Use whatever interests your child more.
It's a Plane! – Have your food take flight either on a fork or in your hands, as you pretend to fly it around your head and in front of your face.
A Peck on the Nose – Pretend the food hopped up and gave you a peck on the nose! Or, maybe the plane bumped into your nose.
It Landed on your Lips – Next, you can have the food land on your lips! Maybe just for a second. We're now moving into harder steps for picky eaters, so if they don't follow along go back to easier steps until their comfortable.
Dinosaur Teeth – If your child is comfortable with food being on their lips, overdramatically open your mouth and say you're going to chomp it all up like a dinosaur or a favorite animal of your child's. Show them how you put it way back on your back teeth!
Taste Test – Lastly, if your child is comfortable, you could create some taste testing at meals. You each can give a score for how sweet/salty/hot/cold it is. Notice I didn't say "how good it is". With a picky eater, we always want to keep labels on food neutral so they don't develop deeper negative associations.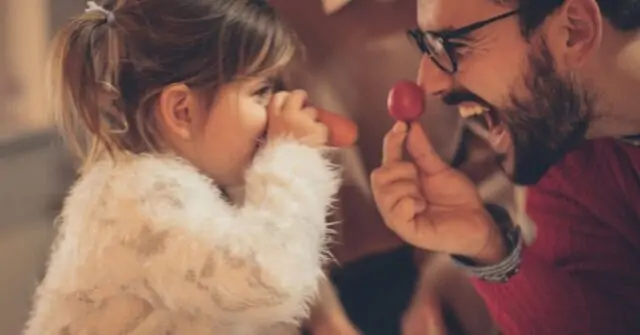 9 Steps to Improve Your Kid's Eating Printable..
Playing with food is a useful strategy for picky eaters. But, it's important to have some key foundational strategies too, so that you can see even bigger progress with your picky eater. Hit the link below and we'll send 9 quick steps you can take to improve your kids eating:
Click here to get 9 Steps to Improve Your Kid's Eating
More Strategies to Help Kids Try New Foods
My 5 Favorite Gateway Foods for Picky Eaters
How to Help Teenage Picky Eaters Eat Different Foods
Her Picky Eater Ate New Foods Because of This Surprising Trick
---
Alisha Grogan is a licensed occupational therapist and founder of Your Kid's Table. She has over 17 years experience with expertise in sensory processing and feeding development in babies, toddlers, and children. Alisha also has 3 boys of her own at home. Learn more about her here.