A complete feeding schedule for 8, 9, and 10 month old babies. Plus tips for transitioning to finger foods. This guide will give you total peace of mind.
Your baby is getting bigger, and they are approaching their first birthday. So… what, when, and how much should they be eating at this point. What should the feeding schedule for an 8 month old look like? Well, actually, not too much should change from their 6-7 month old schedule, in terms of timing, at least. And, this feeding schedule will continue for 9 and 10 month olds, too.
Hopefully, by the time your baby is 8 months old, you are getting into a bit of a routine and having regularly scheduled meals. However, that doesn't mean that your baby is necessarily consuming large amounts of either baby food or table foods. Some babies are still warming up to this eating thing, and breast milk/formula continue to provide the bulk of their nutrition. It is important not to focus on volume, but a positive experience. For my third son James (11 months), the pureed foods were done half way into the 8th month except for normal pureed foods like yogurt and applesauce and the occasional pouch while we were out.
From that point on, he was completely on table/finger foods. I know that may sound shocking to some of you, because many American parents like the safety net of baby food. While I get that line of thought, as an OT, I strongly encourage you to not rely too heavily on baby food. It is one of the biggest mistakes I see parents make. Sometimes parents are worried that they will choke or don't like seeing that occasional gag. Other times parents keep offering the baby food because they can really quantify how much their child has actually eaten. Although this may seem harmless, in my practice, I have many times seen children end up transitioning poorly to table foods because parents pushed baby foods for too long.
Having said that, there certainly are times when babies are having difficulty transitioning to table foods despite their parent's best efforts. If you need help with this process, I have two very detailed tutorials that you can find here and here. The schedule that you find below is created with the assumption that your child is transitioning well. If they are not quite at this point, you will want to see the 6-7 Month Feeding Schedule for the foods I suggest for that age, but the timing of meals listed here will still be appropriate.
Affiliate links used below. See our full disclosure.
8, 9, &10 MONTH OLD FEEDING SCHEDULE
The schedule you see here may look a little different for you, that's okay, but you want to see some similarities and patterns similar to this one because this sets the stage for that easy transition to eating meals with the family. Don't get too focused on specific amounts of times, the intervals are what's important. You'll find more of my best tips for nailing a feeding schedule for your 8 (or 9 or 10) month old below the actual schedule
6:30-7:00 AM: Wake-Up – Breastfed/Bottle upon waking
7:00-7:30 AM: Breakfast – Water available in a straw cup**, table foods (include a fruit/veggie, carbohydrate, and protein), and optional side of baby food
9:30 AM: Nap
11:00 AM: Breastfed/Bottle upon waking
11:30-12:00 PM: Lunch – Water in a straw cup, table foods (include a fruit/veggie, carbohydrate, and protein), and optional side of baby food
1:30-2:00 PM: Nap
3:30 PM: Breastfed/Bottle upon waking, immediately followed by an optional small snack such as fruit and crackers/dry cereal/rice cake. (If your child takes a longer nap, there will likely not be time for this, this snack time will probably only happen occasionally.)
6:00 PM: Dinner – Water in a straw cup, table foods (include a fruit/veggie, carbohydrate, and protein), and optional side of baby food
7:30- PM: Breastfed/Bottle before bed
7:45-8:00 PM: Sleeping for the night
*Times are given in a range of possible start times, not duration. Also, note that by the end of this age range, your child will mostly, or totally, be eating table foods. In most instances, they will still not need baby food any longer by their 10th month. If you are concerned about how much your baby needs to eat, see this post on Portion Sizes.
**Babies are capable of being taught how to drink from a straw cup at 9 months of age, sometimes earlier. Start giving your baby opportunities to drink out of one at least once a day while they are learning, and find complete instructions here on how to teach them. Currently, this is my favorite straw cup.
*Learn 5 Big Mistakes that Parents (Unknowingly) Make When Feeding Their Baby or Toddler Table Foods in my free workshop. And, learn what to do to help them eat well!*
Tips for Successful Meals
Your baby may start to show some preferences for certain types of food, that is normal. Although, you'll want your child to eat something, you also have to be careful to balance not over catering to them either. Make sure you have one preferred food at each meal and continue to offer new ones. It can take many times and many different presentations for a child to try something. Don't let this discourage you. There will be meals, even at 10 months old, where your baby just has a few bites of food. That is okay, and it can happen for a variety of reasons.
Eat together! Your baby needs to have a sense of a meal being an event, not something that has to get squeezed in. This also gives them an opportunity to see you eating new things.
Start thinking about weaning. Babies may start taking less milk in this period if they begin to eat more at meals. Follow their lead. However, you should continue to use formula or breast milk until their first birthday. If you want to get your weaning plan in place, check out How to Wean from the Bottle and How to Wean from the Breast.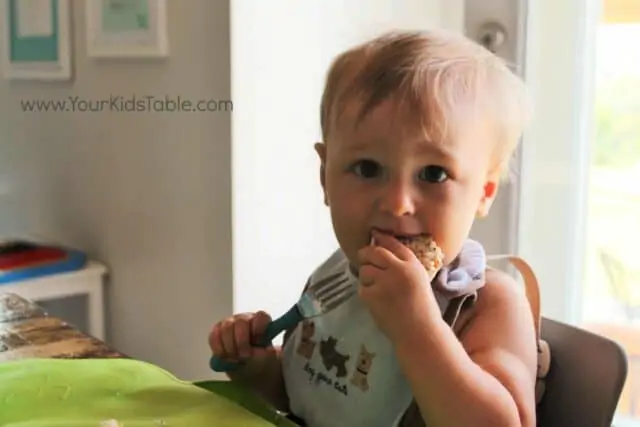 Don't forget to let your baby get messy while eating! Let them feed themselves as much as possible. Most babies will still need a lot of help using a spoon by the end of this stage, but let them try. I start giving a fork with rounded prongs and pierce the food for them. They should be mostly finger feeding, but it is a good habit and skill to promote.
What if this eating thing isn't going well?
If you feel like your baby isn't getting the hang of table foods or is consistently eating very small amounts of food at 10 months of age, then I would strongly suggest scheduling an evaluation through early intervention (if you live in the states) or seeking out a private or outpatient therapist.
Unfortunately, many times pediatricians advise to wait it out, but trained feeding therapists (usually OT's and SLP's) are able to catch early signs of underlying sensory or motor difficulties. The earlier these problems are addressed, the easier they are to overcome. Read more about what to expect from feeding therapy.
More about Feeding 8, 9, and 10 Month Olds
Ultimate List of Mealtime Must Haves for Baby
What You Need to Know About Baby Gagging
How Much Sleep Does Your Baby Need?

---
Alisha Grogan is a licensed occupational therapist and founder of Your Kid's Table. She has over 14 years experience with expertise in sensory processing and feeding development in babies, toddlers, and children. Alisha also has 3 boys of her own at home. Learn more about her here.