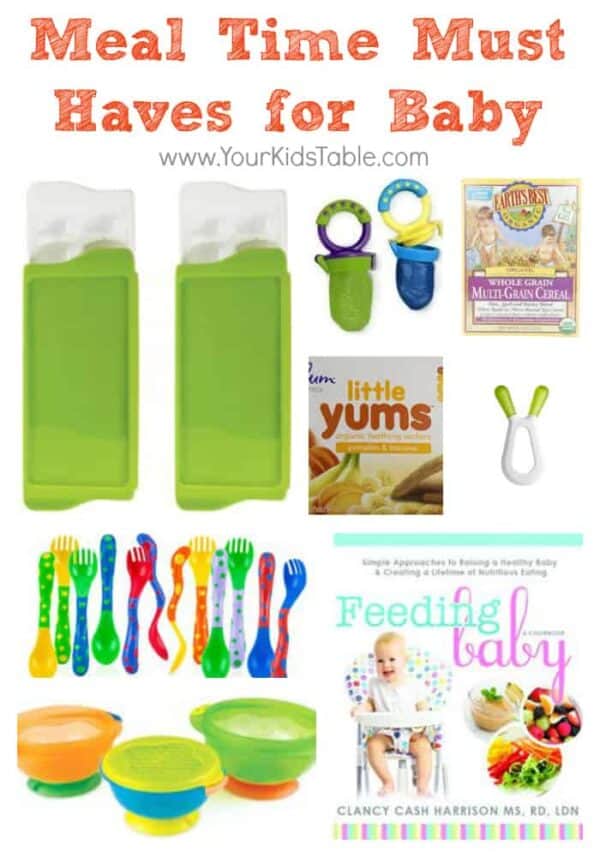 Since I have started feeding my third child baby and table foods about 6 weeks ago, I've really fine-tuned what I actually need for mealtime. With the added experience of working with lots of families with young children, I have tried lots of products, and well, let's just say some are better than others. Taking both my clinical motivations and Mommy experience, I thought it would be helpful to share my ultimate list of mealtime must haves for babies and toddlers. I'm going to cover it all, from food to bibs to storage containers. Of course, where it is applicable, I will also share the "why" behind my recommendations, so you can be informed about your choices. Please note that all of the products listed below are Amazon affiliate links and help to support Your Kid's Table. To view the item click on the actual picture.
I would also like to thank FunBites for sponsoring this post! Their continued support is such a good fit here because their cutters are perfect for babies and toddlers that are eating table foods. The budget friendly cutters, which are available in a variety of cutters and shapes allow parents to quickly cut food into easily managed pieces. In addition, picky eaters respond really well to FunBites cutters. In either instance, FunBites could be a thoughtful gift for a mom in your life this Mother's Day. Use the coupon code "SpringFun" to make any one cutter $9.99 vs $12.99 when purchased directly from FunBites.com Click here to read my full FunBites review.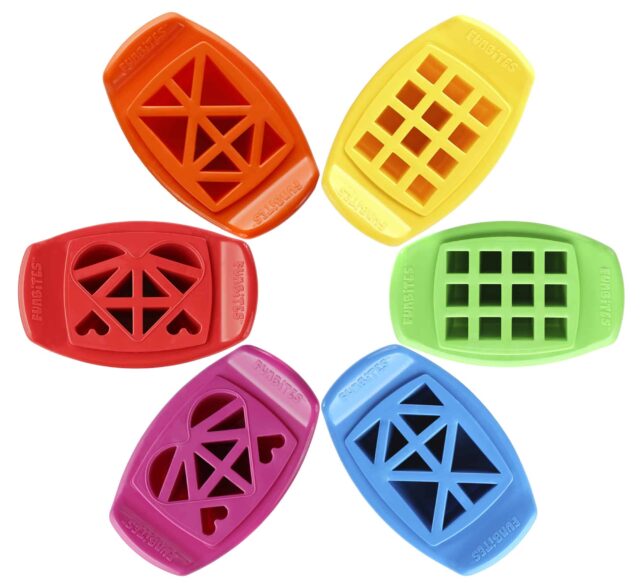 Teethers
I know that teethers aren't really a mealtime item, but they are often an important tool in helping your child learn how to chew and decreasing their gag reflex. I particularly like the ones that vibrate, like this First Years star, when they are bitten down on because they give loads of sensory input and help to soothe sore gums.
I love the texture and shape of the Zoli Baby Bunny teether which really helps to get the molar area
.
My kids never used these a whole lot, but I have used them in therapy with success. You can stuff whole pieces of various foods into these Munchkin Fresh Food Feeders which allows your baby to safely chew, taste, and experience the texture of different foods. Fruits, even frozen, work especially well in here. Click here for more ideas from Cando Kiddo.
Baby Food Etc.
Don't let the idea of making your own baby food overwhelm you. It can be really simple, especially with a Magic Bullet. I actually have a generic version of this (not available online) and it works great. It isn't cumbersome to pull out and has lots of containers that allow me to stick what I've pureed right into the fridge. After three kids I have tried several methods and this is has worked the best for me. Plus, I will have use for this long after I'm done making baby food. Click here to read more on the benefits on homemade baby food and here for my How-To guide.
If you make your own baby food in bulk, which I do with some foods, then having these OXO storage containers with a lid makes freezing really simple. I take them out of here after a few hours and then place in freezer storage bags.
Down the line if you need to make extra ice cubes these trays will come in handy.
When I microwave the frozen cubes, I use these 1 cup Anchor glass containers. They are the perfect size, stack easily, and can go from freezer to oven to dishwasher.
When I'm on the go, I use organic food pouches. In my opinion, Plum Organics consistently has good tasting baby foods (even the veggies) and interesting combinations.
I don't rely heavily on baby cereal, but add it to some meals. In light of new information on arsenic levels in rice products, including rice cereal, I skipped it at all with this baby and went straight for this multi-grain blend from Earth's Best.
These teething wafers from
Plum Organics are my favorite beginning table food. They don't break easily in babies hands, but still melt almost instantly making them quite safe. Because of the texture, once they get a little wet with saliva, they do get pretty sticky.
I also love Gerber's lil'Crunchies, and all of my boys have too. A lot of different brands sell these now, but I like how these one's are a little bit longer and skinnier, which make it easier for babies to feed themselves. They also come in a range of flavors and melt very easily, while still giving the crunch new eaters need to help give them feedback about their chewing.
High Chair
The Stokke TRIPP TRAPP
is the gold standard for a babies high chair because it ensures that your baby is in the optimal position for eating. Many high chairs have a slight recline to them and leave babies feet dangling, which can make swallowing and chewing difficult or even dangerous. This high chair has two wooden pieces, one to sit on and one to place feet on (look at James' feet in my picture), that are fully adjustable. Even more awesome is that this chair holds up to 300 pounds so it will work as a booster seat for many years and possibly even a desk or play chair throughout childhood. The link you find here does include the infant insert, straps, and a tray. The insert and straps will be necessary for younger babies. Although the chair comes with a tray it is designed to be pulled right up to the table so that the baby is eating meals with you at the table, you know I'm loving that! If this chair is out of your budget, there are a few other similar more affordable options (Keekaroo
, Hauck
), but I haven't tried them personally.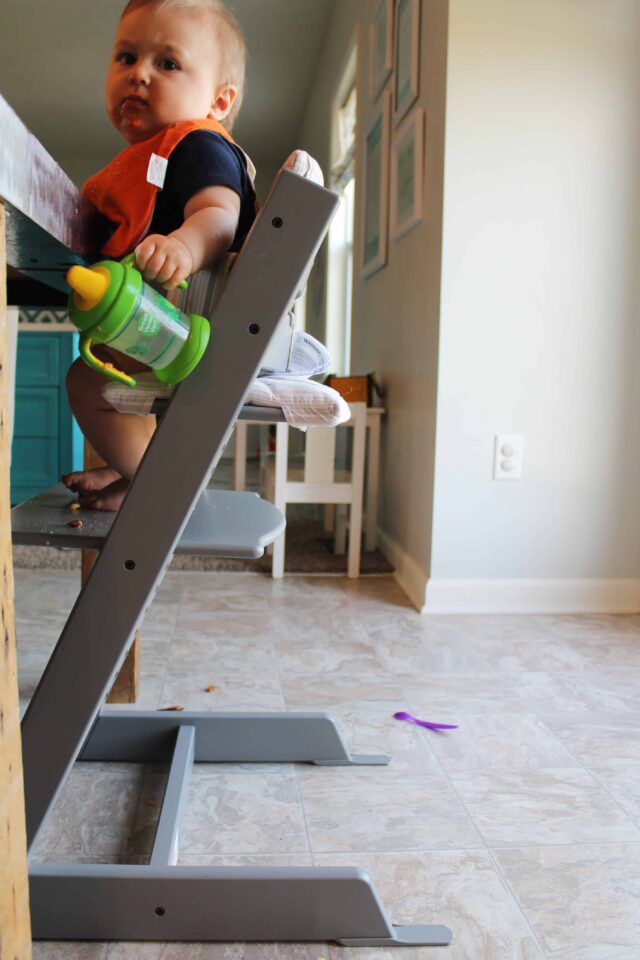 If you are using an adjustable height high chair and are pulling it right up to the table, then you may want a placemat. These dishwasher safe silicone Sili-Stick's fit the bill. Although, the baby can get these up with some effort most of the time it isn't an issue. Keep one in your diaper bag too, they are great for restaurants!
Cups
If you've read How to Teach Your Baby to Drink From a Straw then you know how I feel about these simple cheap straw cups from Take and Toss. They are a great tool to teach your baby to drink from a straw once they are 9 months old because you can squirt the liquid right into their mouth by squeezing these on the side. Once they get the idea and begin to suck you can move onto one of the other two cups listed below. You will find a use for these again though, as my older two boys (5 and 3) still use these every day, now that they don't spill so often.
The Playtex Training Time Cups are another option, but they have a valve in them, making them no spill. A favorite of many toddler parents! I switch to these once my baby has mastered drinking form a no valve straw cup. However, some babies are able to learn how to drink from these right off the bat.
I have to admit that I haven't tried one of these Lollacups yet, but I will! There is no valve, so again, great option for a beginner. Besides being super cute and coming in a variety of colors they also have a weighted straw and little brush for cleaning the straw.
From 6-9 months old it is important to give your baby some water at mealtimes. Having a simple small spouted sippy cup with two handles will support independent drinking and encourage new skills. Once your child is able to drink from a straw they no longer need a sippy cup.
Spoons, Forks, and More
I'm keeping it really simple and cheap with these Take and Toss baby spoons. I like the thicker handle and small bowl of the spoon. Long spoons or skinny shaped handles make some other brands more difficult to use.
Once your baby is feeding independently or trying to, I recommend giving them these curved thick handled spoons and sporks from Nuby. For more on teaching your child self feed click here.
Although Munchkin's suction bowls aren't a 100% guarantee that the bowl won't hit the floor, it does drastically reduce the likelihood.
We have gone through a lot of plates over the years, but I love these durable divided ones from Re-Play. They are thick and sturdy, not to big, and have enough of a lip on them that you can serve a puree or spoon-fed foods like rice in one of the sections. Your baby won't be ready for this until they are self-feeding well, which may not be until they are over one, but you will get lots of use out of them.
The Munchkin To-Go Bib
can get washed quickly after each use and a Velcro pouch built-in for easy transport. I like having a washable bib on hand to help keep down on laundry.
Wash Clothes!
Let your baby get messy (read why here) and wait until the end of the meal for clean up with a warm washcloth!
Read more about Feeding Your Baby
Eating Milestones for Babies and Toddlers
How to Transition to Table Foods