Complete sample feeding schedule for 6 month old babies with helpful tips to use and adjust for your baby through their 7th month. And, grab some bonus feeding tips that will help you safely and confidently feed your baby!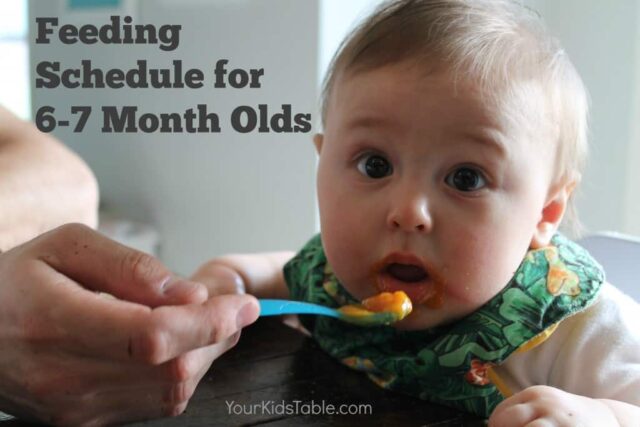 I know how fast the first year goes as a mother of three, but I am still in disbelief that my baby just turned 8 months! Feeding each of my three babies have been completely different experiences, as they are all unique little beings. James (the 8-month old) is loving meal times and is quite an eater, for now anyways.
I think at least part of his success in eating has been due to the 6 month feeding schedule I've had him on with eating since he was initially introduced at 5.5 months with traditional home-made baby food. Read about how I introduced baby food for the first time if you're looking for some tips and tricks. Note that I'm also a licensed occupational therapist that has specialized in feeding babies and children.
*These 6 and 7 month old feeding schedules are also the ones I've recommended to the families I work with as a licensed occupational therapist that specializes in feeding babies and children.
As we begin this 8th month, I can see our schedule evolving, and I thought it might be helpful if I shared how I created his feeding schedule for 6 months old through 7th months old. During these last two months, I've reflected a lot on how much James is benefiting from slipping into an already very established eating routine (there are some benefits to being the third child!).
I've always strongly encouraged parents to do this, but when it is your first or even second child, it can be challenging to make this transition from just bottle feedings. In my experience, parents often have a lot of questions about how to set up these routines, and while I think there is value in that, this schedule is not a hard and fast rule for every baby. We all know that every baby is unique, but as parents, it's hard not to compare. Try to avoid that with these feeding milestones, as long as you're giving lots of positive opportunities for interactions with food.
I should also note that James is breastfed, and only takes an occasional bottle when I'm away from the house (find help for getting a breastfed baby to take a bottle). However, he doesn't eat frequently like some nursing babies do. If your baby has lots of mini meals, this schedule may look a little different. This schedule is great for bottle babies, too!

And, if you're starting to think about those table foods and what ages specifically you can start giving them to your baby, then check out When Can Babies Eat Cheerios? (you'll find lots of other foods besides cheerios!)
*Update: Get feeding schedules for 8-10 month olds and 11-14 month olds at the end of this post.
Affiliate links are used below. See our full disclosure.
6 Month Old Feeding Schedule (works for 7 month olds too)
*Times are given in a range of possible start times, not duration. Also, you'll find some links throughout the schedule for my favorite cups and foods.
6:30-7:00 AM: Wake-Up – Breastfed or bottle upon waking
7:30-8:00 AM: Breakfast – Water available in a sippy cup, about 1/4 cup of various homemade baby food, and a meltable crunchy food like puffs and/or soft cubed food (see note below).
9:00 AM: Nap
11:00 AM: Breastfed/Bottle
12:00 PM: Lunch – Water available in a sippy cup, meltable crunchy foods like rice husks. (I don't look for James to consume much here and don't offer baby food, but I like him sitting with us and "snacking" a little so that he can get used to the schedule he ultimately will have.)
1:00-2:00 PM: Nap
4:00-4:30 PM: Breastfed/Bottle
5:30-6:00 PM: Dinner – Water available in a sippy cup, about 1/4 cup of various homemade baby food, and a meltable crunchy food like these wafers and/or soft cubed foods (see note below).
7:00-7:30 PM: Breastfed/Bottle
7:30-8:00 PM: Sleeping for the night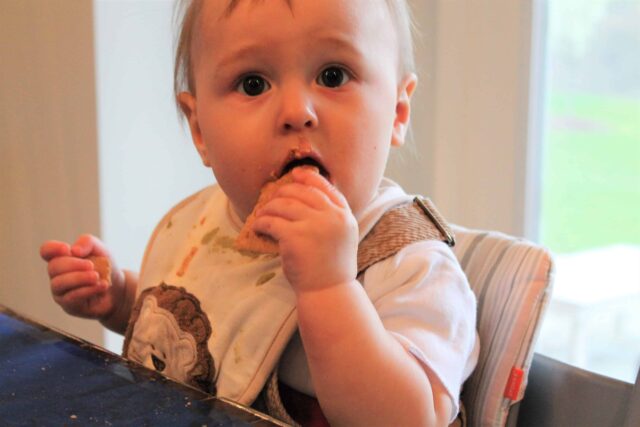 Feeding Tips for 6 Through 7 Months Old
All meals are at the table in his Tripp Trapp chair (that I love and didn't have for my other two) so he is pulled up to the table eating with the rest of us without a tray. The majority of the time it works out that he is able to eat at the same time as the rest of us. It has been wonderful to watch how he loves being part of this family time, even at such a young age. He gets excited to come to the table when everyone is there and will actually fuss if he sees everyone at the table without him! Of course, any high chair works just fine, the important thing is to have them consistently eating there.
When I say "meltable crunchy" foods, I am talking about all of those first table foods you find in the baby food aisle like Biter Biscuits, Puffs, Rice Husks, Crackers, etc. In the beginning of the 6th month, you are going to just let them mouth on some of these things, and help them put small pieces into their mouth. Watch them closely, but keep in mind some gagging is normal. If this feels too soon for you to introduce "real" foods, you can wait 1-2 months, but want to begin around 8 months.
By the end of the 7th month, they will likely be feeding themselves some easy to pick up pieces and chewing a variety of these well. Once they are eating these well, they can begin to have soft pieces of foods cut into cubes like ripe bananas, cooked zucchini, and banana bread. See my post on transitioning your baby to table foods.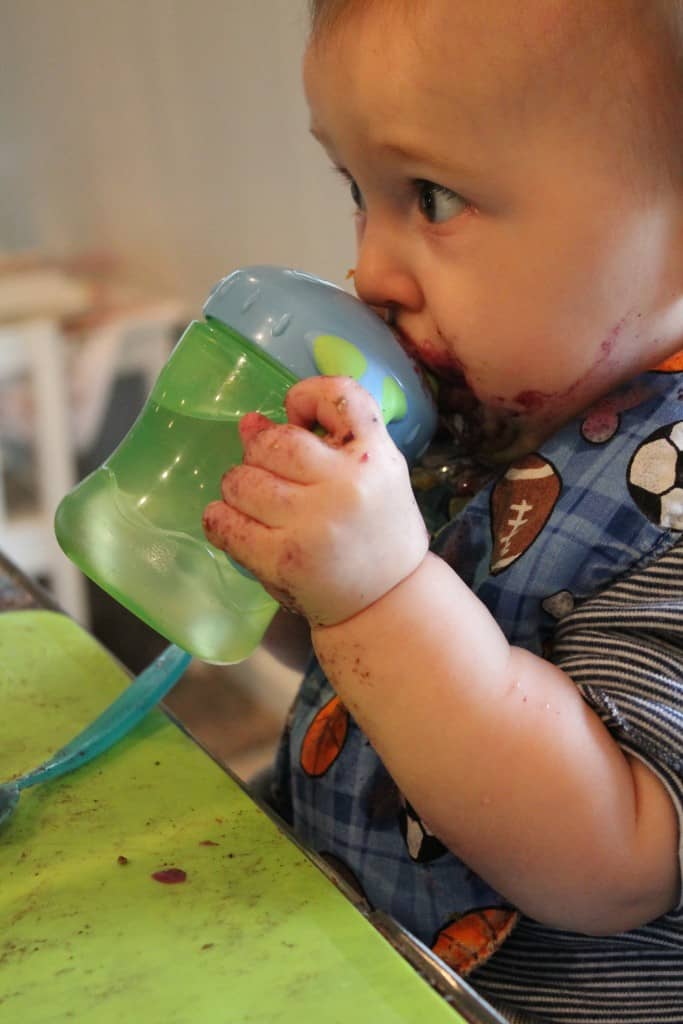 Most babies will be drinking water during their meal from a sippy cup until around 9 months. This is one of my favorite sippy cups to start with. James did start doing this at 7 months, and at that time, I switched him to a straw cup at meals (learning to drink from a straw at this age is very early though, most babies learn around 9 months old). A sippy cup is totally fine at this age, but look for your baby to be using a straw by one. If you are ready, learn how to teach your child to drink from a straw (if they don't pick it up on their own).
You will see that many people recommend 1-2 feedings a day at this age, and that is totally fine. While there were a few times we couldn't squeeze in two meals on a busy day, I made it a priority to do two meals a day from the time he turned 6 months. This consistent exposure was very beneficial, and I think is best for most babies. It can seem like a pain at times, but it is worth it if you can make it work.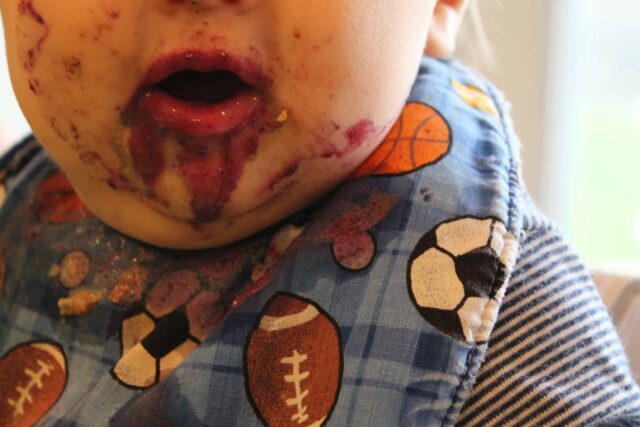 While this is a time to just explore foods, if your baby is underweight and you're trying to beef up the calories you're giving them, then check out these high calorie baby food combinations and some extra tips to maximize what your baby is eating.
Take note of how well your baby eats in relation to how tired he is, how much time he has had to play, and when he had his last milk feeding.
Set your expectations low, and focus on a pleasant experience during meals not volume of food. It is completely normal to have a meal where your baby only has a few bites. This is NOT his main source of nutrition right now.
These months are very important for establishing good eating skills, and can go a long way in how your child eats throughout childhood. This feeding schedule for 6 and 7 month olds, and all the tips you've read are a fantastic foundation for continued happy eating
However, if your baby is stressed at mealtimes or is rarely consuming any food during meals by the end of the 7th month (don't panic, its more normal that you may think), then I would discuss your concerns with your doctor, and consider setting up a feeding evaluation through early intervention (free if you are in the states) or with an occupational therapist or speech therapist through feeding therapy. Some babies just need a little extra help, and that help can make a world of difference and really ward off major picky eating problems in the future.
You can also check out Feeding Red Flags, which will help you pin point if there's a problem, or if your baby is gagging a lot, head to the baby gagging guide for tips on moving past it.
Don't miss the next feeding schedules for your baby below, I've covered all ages from 6 to 14 months and beyond here on Your Kid's Table!
More Baby Feeding Schedules and Tips
Feeding Schedule for 8, 9, and 10 Month Olds
Feeding Schedule for 11-14 Month Olds
Mega List of Table Foods for Your Baby
You're going to want to save this, you can get to all the other feeding schedules here as your baby continues to grow!
---
Alisha Grogan is a licensed occupational therapist and founder of Your Kid's Table. She has over 14 years experience with expertise in sensory processing and feeding development in babies, toddlers, and children. Alisha also has 3 boys of her own at home. Learn more about her here.