Yummy baked potato skins that your whole family will love, even picky eaters. Simple and nutritious as a side dish or appetizer! Print out the recipe…
A lot of people assume that my kids gobble loads of veggies and lean proteins at every meal because I'm a feeding/occupational therapist. I get it, I write about picky eating a lot on Your Kid's Table. But, the truth is two of my kids went through the average picky eating stage, and one went through some extreme picky eating.
While my kids do eat a large variety of foods, they still have preferences.
Up until a few years ago, my oldest two kids rarely ate a potato that wasn't a french fry. I knew it was time to work on building a bridge to potatoes because they'd be able to enjoy so many other kinds of food.
It sure as heck would make menu planning easier!
Often times, the easiest way to get our kids eating a new food is to connect it somehow to foods they already like and enjoy.
That's what building a bridge is all about (read more about this picky eating strategy here).
I wanted my kids to eat baked potatoes, mashed potatoes, hash browns, and soft mushy parsley potatoes.
Of course, I had served those foods dozens of times. Most of the time, they hardly ate more than a bite or two.
Which is okay, because they did have a lot of other foods in their diet, but I wanted to help them eat even more. And, with potatoes being such a universal food that can be prepared 10 different ways, I wanted to put in some effort, although just a little.
I had to think about what I did know about the potatoes that my kids did like. The french fries were always crispy. In fact, they liked a lot of crispy foods. And, the fact that my oldest had gagged on mashed potatoes a few times as a baby told me that soft potato texture was going to be the hardest to overcome.
I had to take baby steps in introducing them to new types of potatoes.
My first thought was home-made french fries. Then potato wedges. My kids didn't hesitate and ate full servings of both over the next few months when I periodically served them.
But, they couldn't make the leap to any different types of potatoes. It was too big of a jump for them.
I still needed another food that would help bridge the gap. One day it hit me, the next potato recipe I needed to make was homemade baked potato skins. As with any new food we offer our kids, I had no idea if it was going to work or not, but I had a hunch it would.
I knew I could make the skins crispy (a win for my potato refusing kids) and sprinkle some cheese on top (a food my kids love).
Plus, I'd be exposing them to a totally different shape and some bits of soft potato on the inside of the skin. Having these more controlled experiences with a food that has some textures they're used to, and some they're not, is incredibly valuable.
They're able to see that this new food is okay and are more willing to step further outside of their dietary comfort zone the next time.
Even though each child's food preferences are unique, a lot of kids and picky eaters struggle with any kind of potato that's not served as a french fry. That's why I want to share this easy baked potato skin recipe with you!
It also can be adapted to include ingredients your child prefers or can/can't eat. Even if your kid loves potatoes, it's a great side dish to rotate into your meals.
How to Make Baked Potato Skins
Scrub your potatoes as clean as you can get them.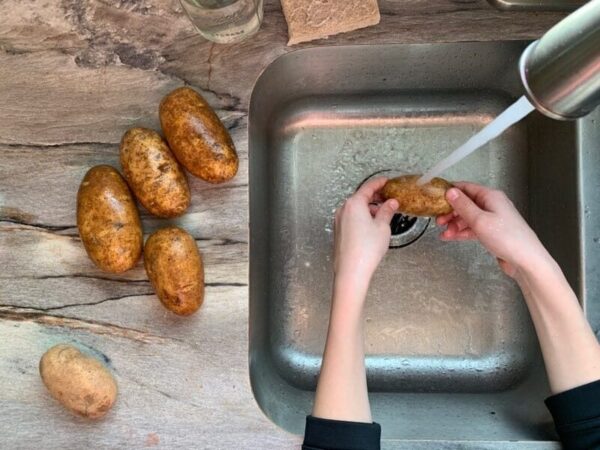 Pierce with fork 4-5 times. Place directly on an oven rack or baking sheet.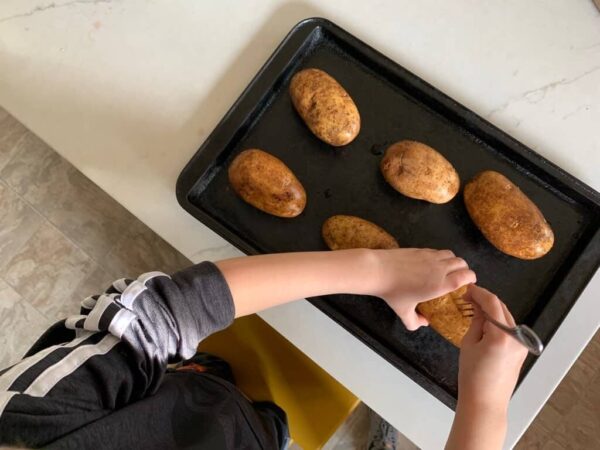 Roast in oven for 45 – 60 min at 400 degrees.
Allow to cool for 5-10 minutes. Then slice them straight in half.
Carefully scoop out the middle of the potato leaving just a thin layer of potato, if you want them crunchy. If your child likes soft textures or already loves potatoes, you can leave a thicker shell of potato in the skin.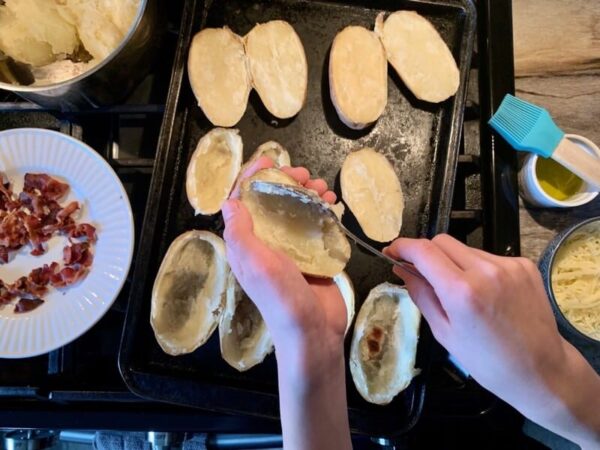 Place the inside of the potato in a pot for an additional side dish. Season with butter/olive oil and seasonings to your liking. Stir, heat, and serve. Or, save the inside of the potatoes for another meal.
Brush the inside of the potato with olive oil, butter, or ghee and sprinkle with sea salt (regular table salt works too).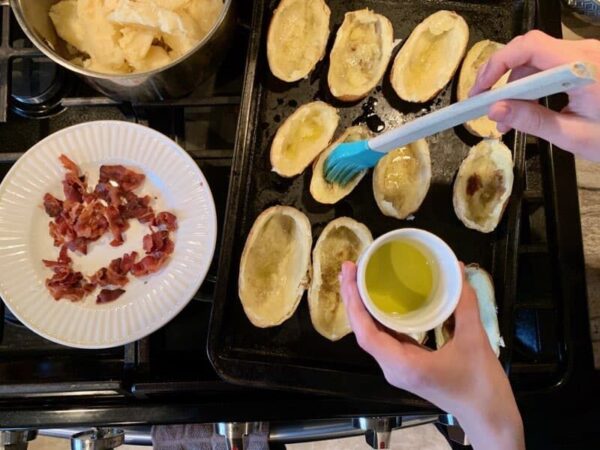 Depending on what your family likes, you can also sprinkle shredded cheese, bacon, sausage, or ham on top. Occasionally we'll use bacon, and even less often, cheese now that my kids readily eat them. I'm dairy free and my kids are as low dairy as possible because of a history of constipation.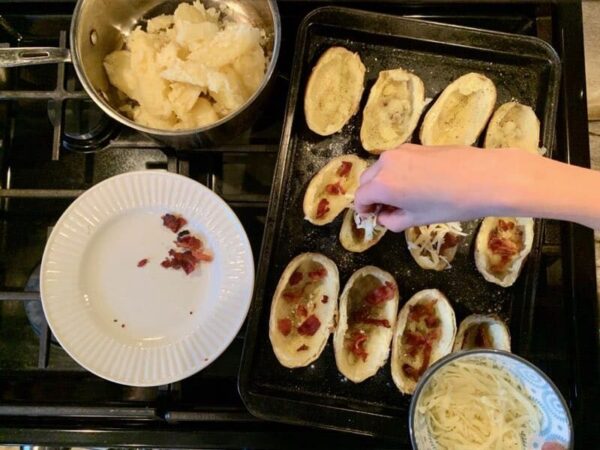 Pop the potato skins back into the oven at 400 degrees (you can turn on the broiler if you're in a rush, but watch them, they'll crisp up quickly), and cook until your desired crispiness, usually around 5-7 minutes is perfect. *If you have a baby or toddler that is learning to eat table foods, you'll want to cook these skins to be a little on the softer side, pull them out after 3-4 minutes. This is also recommended if your child tends to like softer foods.
Remove from oven. I love scallions on top of mine, but my kids would pass on that so I just top a few with those or chives. Sour cream is an option too, some kids may partake if it's served on the side as a dip.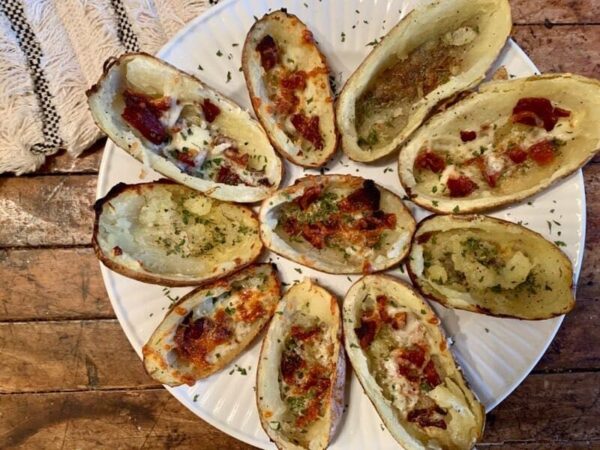 2 Ways to Serve Baked Potato Skins
One way I like to serve these crispy baked skins is as a side dish. It's become a favorite of all three of my kids. I always serve them mashed up and seasoned inside as a side dish too. Most of the time my kids will eat both. But, even if they don't, the skin of the potato holds the most nutritional value, so it's a win for me either way.
Sometimes we have an appetizer night, and baked potatoes is a fun food to include. The night we cooked these we also had mini wieners and raw veggies with dip. Easy and the kids had a ton of fun eating this appetizer meal family-style together!
Beyond Potato Skins for Picky Eaters
After my kids had several experiences eating these baked potato skins, in the coming months they began to eat baked potatoes, mashed potatoes, and parsley potatoes. They'll now eat any type of potato dish I serve up and it's all thanks to the baked potato skin recipe for creating the breakthrough they needed.
Print out the recipe below!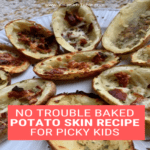 Baked Potato Skins
Easy recipe to make crispy baked potato skins your way!
Total Time
1
hour
20
minutes
Ingredients
4

large

Potatoes

Russet potatoes are perfect, but other varieties work well

1/4

cup

olive oil

Can substitute melted butter or ghee

1/2

tsp

salt

We used sea salt

1/4

tsp

pepper

1/2

tsp

granulated garlic powder

4

slices

cooked bacon

optional

1/2

cup

shredded cheddar cheese

optional

1/4

cup

diced scallions or chives

optional

1/2

cup

sour cream

optional
Instructions
Preheat oven to 400 degrees

Thoroughly wash and scrub potatoes

Poke potatoes with fork 4-5 times

Place potatoes in oven directly on rack or baking sheet for 45-60 minutes, until you can easily push a fork into them.

Remove from oven and allow to cool for 5-10 minutes.

Slice each potato in half and scoop out the middle of the potato, leaving the desired thickness coating the skin. The more potato you scoop out, the crispier it will get.

Brush potato skins with olive oil and sprinkle with seasonings. Add cheese and bacon, if using them as toppings.

Place back into oven for 5-7 minutes. Or, put under broiler for 1-2 minutes.
Did you like this recipe, find it helpful, or want more ideas, then leave a comment below. Your ideas give me so much inspiration and help others too!
Don't forget to pin this to your recipes board to so you can find it in a pinch.
More Recipes for Kids
Scrumptious Gluten Free Meatball Recipe for the Whole Family
Mega List of Vegetable Recipes for Kids
The Easiest Homemade Mild Taco Seasoning Recipe
The Magic Foods I Got My Picky Eater to EAT!
---
Alisha Grogan is a licensed occupational therapist and founder of Your Kid's Table. She has over 15 years experience with expertise in sensory processing and feeding development in babies, toddlers, and children. Alisha also has 3 boys of her own at home. Learn more about her here.