Snag these 3 easy and fun dinner ideas to use with your family on a summer day for dinner. They're clever and may just have your child reaching to try a new food.
It can be tricky to get kids to try new foods, especially picky eaters. But, we can leverage an unexpected meal to help kids be open and curious about a totally new food!
In this post, you'll find three different easy dinner ideas you can make for your family this summer. And, even if you've got an adventurous eater, these meals are fun and could create a new favorite!
Affiliate links used below. See our full disclosure.
Summer Dinner Idea # 1: Cook Your Meal Over the Fire
One of my family's favorite summer pastimes is having a camp-style fire we can sit around in our backyard. S'more's are often at the ready, but I realized I could avoid the normal dinner prep by cooking dinner on the fire, too. My kids loved the idea of helping prepare their own food with close supervision over the open flames.
I like to make a station of food that we'll cook and eat around the fire. There's usually a combination of both. I encourage you to be creative about what you'll cook around the fire. The first time it might be helpful to cook something your child usually eats, because it will taste a little different being cooked in this new way.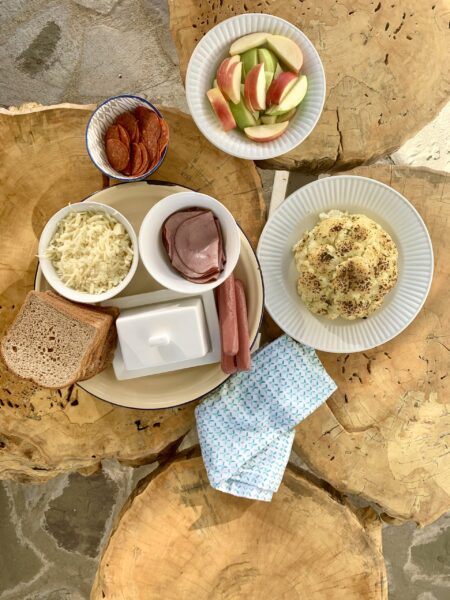 Hot dogs, sausages, and even chicken all cook well over a fire. We made old school mountain pies with a cast iron mountain pie maker that was my grandmother's, and we had a new one we just scored because we're making them so often over the summer and fall.
You can usually find one in stores this time of year, but Amazon has them here.
Mountain Pies, a Fun Surprise!
If you've never had a mountain pie, it's basically a grilled sandwich. That might not seem too special, but it's a great opportunity to offer new and different foods.
Often, if kids like sandwiches or grilled cheese, they don't want you making changes to them. But, they won't equate mountain pies as the same as a grilled cheese so you can offer different toppings. Besides cheese, think about serving deli meat, shredded chicken, or pepperoni to also place in the sandwich.
If your kid likes grilled cheese, but doesn't eat sandwiches or mixed foods, this is a great way to slowly introduce it to them.
It's important to have them help make the mountain pie. This is fun, because you've created a station with all your sandwich fixings in bowls or plates. Even the youngest kids can pick their ingredients and lay them inside.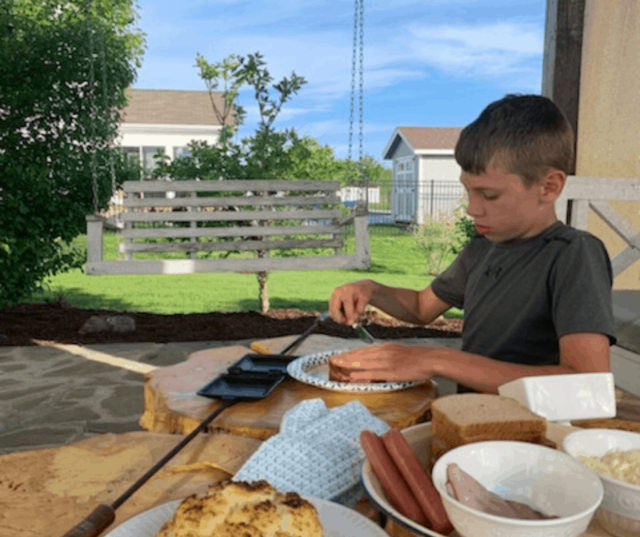 This gets your child interacting with the food without having to say, "Help me cook dinner." That's a turn off for some kids, but cooking a mountain pie outside, well that's different!
Then, you'll need to spread butter on both sides of the outside of the bread. This can get messy. Then, lay it inside the mountain pie maker. Use the side of knife to hold the bread in place as you close the handles together.
Encourage your child to help even with this step, remember that getting messy is good for them. Have a damp washcloth or paper towel nearby so they can wipe off their hands if needed.
If your kids are old enough and you're comfortable, they can stand at a safe distance and hold it over the fire. What often happens is that my kids don't want to wait long enough for it to cook and they hand it over to my husband, Scott. (He's cooking on a Solo Stove, I love that thing!)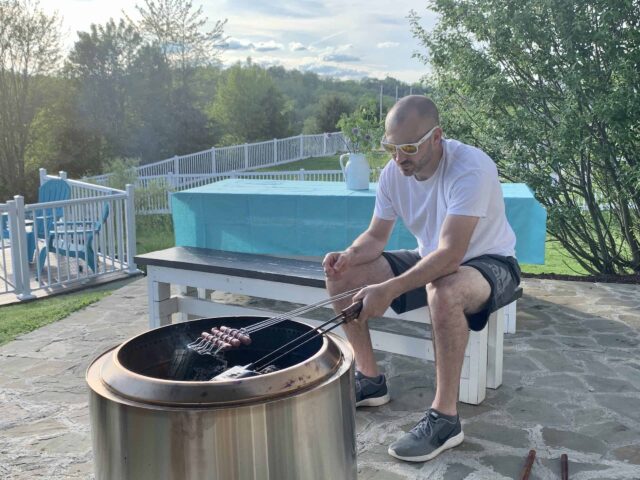 I also like to cut up fresh fruits and veggies, and I serve those as the same time. Kids will often eat more of them while they're waiting for their mountain pie to cook. Hint: If you serve chips or another carb side that your kids love, they'll be more inclined to ignore the fruits and veggies.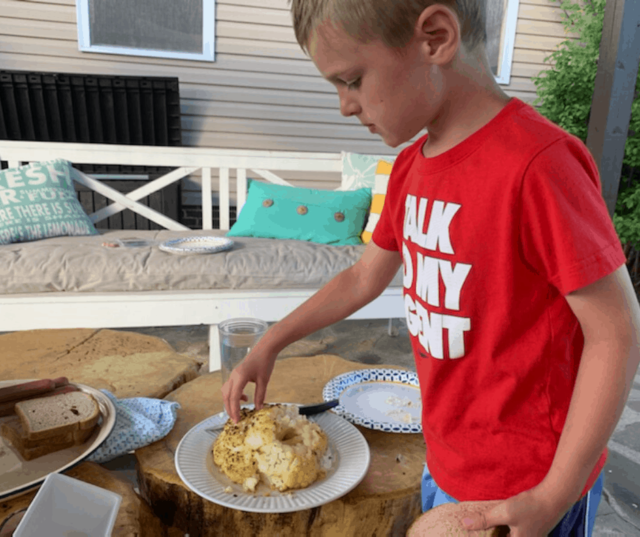 My Kids Went Crazy for this Easy Vegetable Dish!
When we had this summer meal last week, I also made a whole roasted cauliflower.
Have you tried this yet? If you scroll back up, you can see it in the spread pic. But basically, you carefully cut out the core, season it (we used garlic, thyme, and butter), and roast it in the oven – whole. When it's finished, you put it under the broiler so it gets toasty.
Serve it whole. Kids are intrigued at the giant cauliflower and are more likely to engage. We skipped adding cheese on top, but this could be very motivating for some kids.
I let my 5 year old pick little pieces off, but had a knife handy and cut some small sections off for my other two.
This was crazy effective! My 5 year old son hasn't touched cauliflower since he was a baby, but he loved it and and ate an entire serving of the charred top pieces.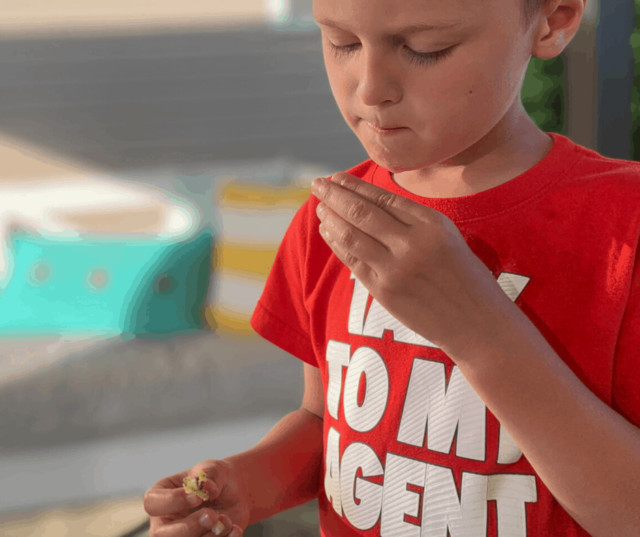 My oldest, who sometimes eats this veggie, devoured the extra buttery bottom pieces. And, my middle son (the former extreme picky eater), tried it 3 different times! This is the recipe we used.
If Having a Fire is a Challenge in Your Space
If you don't have an outdoor area, you can head to a local park that has fire pits or grills and create the same effect. Or, if you've only got a small space outside, you can use a small Chiminea or a fire pit that is designed to be used on wooden decks and patios.
We invested in the Solo stove last year. It's amazing because it keeps smoke from pouring out and you can sit it on any surface. They have a small size available for tight spaces.
What You Need to Replicate this Meal
If you want to put together the same exact meal, this is what you'll need:
Sliced sandwich bread
Butter
Mountain pie maker
Fire or gas stove burner (use close supervision)
Fixings for inside your sandwich (any of the following:)

Cheese
Spaghetti sauce
Pepperoni
Cream cheese
Ham or other deli meats
Shredded chicken, beef, pork, or fish
Roasted veggies like zucchini
Fresh spinach, kale, or arugula

Sliced apples
Roasted whole cauliflower
S'more's dessert (optional)

Marshmallows
Chocolate bar
Graham cracker
Summer Dinner Idea # 2: Kabobs
Put food on a stick and kids are interested. Years ago, my picky eater ate steak for the first time because it was on a kabob! There's no denying the fun advantage they have.
And, there's a ton of ways you can make them. My neighbor just shared some pepperoni, tomato, basil, and mozzarella kabobs. My good friend Adrienne loves fruit kabobs and always has them at her parties, my kids reach for them immediately. One of my kids tried their first blueberry this way and another tried mango!
It's simple. And, you can get your kids to help you make these kabobs! Get wooden kabob skewers here, which are perfect for fruit and other no-cook foods. Use these metal sticks for the grill or oven.
There are tons of foods you can use for kabobs, but these are some of my favorites for kids:
Chicken and Waffle Kabobs
Use your own waffle maker, store bought waffles, frozen chicken nuggets, or homemade (this is our favorite recipe) to assemble these super simple kabobs.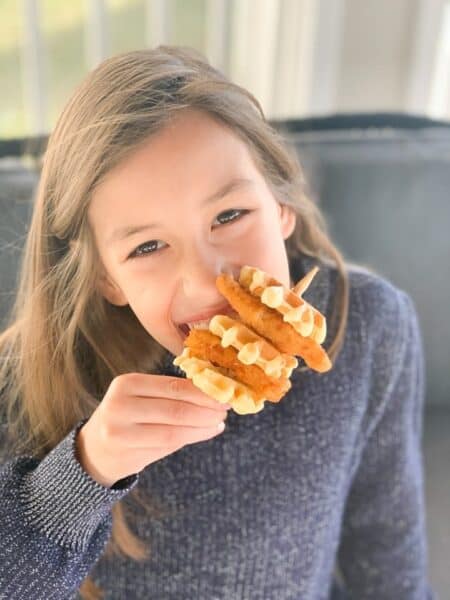 Source: Lola and Lampchops
Cheese, Deli-Meat, and Fruit Kabobs
I love this combo of different foods. They're colorful and easy to assemble.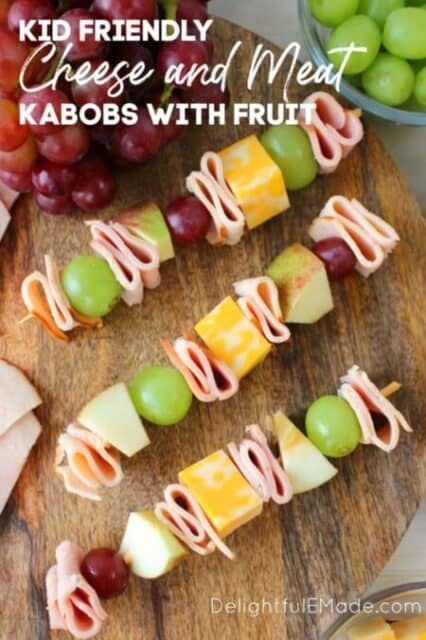 Source: Delightful E Made
Melon Kabobs
Picky eaters will love the smooth, even texture of these melon balls, even though they aren't a meal on their own. Consider adding some berries or another fruit you'd like your child to try. Make a whole kabob meal with the chicken and waffle kabobs, plus these!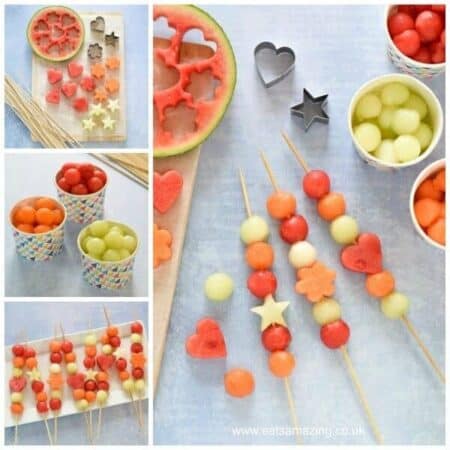 Source: Eats Amazing
Sausage, Fruit, and Pancake Kabobs
This is a complete meal! Can anyone say breakfast for dinner?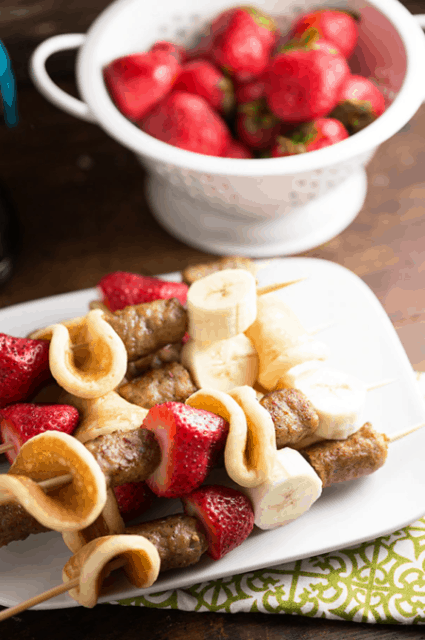 Source: Coupons.com
I love these ideas, but don't be afraid to try more traditional kabobs with meat and veggies for a family dinner too!
Summer Dinner Idea # 3: Grilled Pizza and Other Foods
Fire up the grill and think beyond hamburgers and hot dogs. Cook the unexpected on the grill and talk it up to your kids: "We're making something special on the grill today!"
If you've got an extreme picky eater that loves "their type" of pizza and you're planning on grilling pizza, make up a silly name for it. They will be UPSET if you make their beloved pizza on the grill.
Another option is to also make their regular pizza, but get them involved in making the grilled pizza.
You can buy pre-made pizza shells (easiest option) or make your own from scratch. See a recipe here. Then spread sauces like pizza sauce, oil and garlic, pesto, or ricotta cheese on top. Finally, add and toppings you have on hand.
Think about having a few options your child doesn't typically go for. With this fun dinner idea, they'll be more likely to step out of their comfort zone.
Besides pizza, you can also experiment with grilling:
Chicken tenders on a stick
Potatoes
Pineapple
Corn on the cob
Chicken wings
Avocado
Peaches
Shrimp
Asparagus
Watermelon
You can even pop fresh corn kernels to make your own pop corn on the grill! See how here.
No matter what you choose to grill, remember to have your child help with the prep, if possible. And, to see it cooking on the grill! Up the fun factor even more and eat it picnic style outside!
---
There you have it! 3 super fun family meals to have this summer! If you like this post, take a screenshot and tag us on instagram (@yourkidstable) with your favorite idea. We'll feature your post by sharing it to our stories to inspire other parents!
Look in our story highlights on Instagram too, for more clever food ideas to help kids try new foods!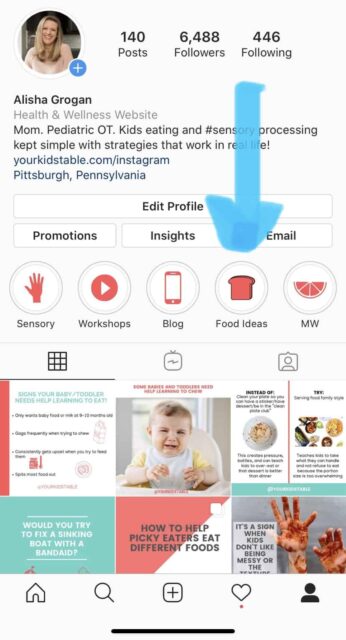 More Food Ideas for Kids
Clever Foods to Try With Picky Eaters
The Picky Eater Approved Chicken Nugget Recipe
No Trouble Baked Potato Skin Recipe for Picky Kids
Scrumptious Gluten Free Meatball Recipe for the Whole Family
---
Alisha Grogan is a licensed occupational therapist and founder of Your Kid's Table. She has over 15 years experience with expertise in sensory processing and feeding development in babies, toddlers, and children. Alisha also has 3 boys of her own at home. Learn more about her here.