Super easy, healthy, and filling evening snacks for kids. Get new ideas and maybe even have your child eat something new with these fun ideas that kids will get excited about.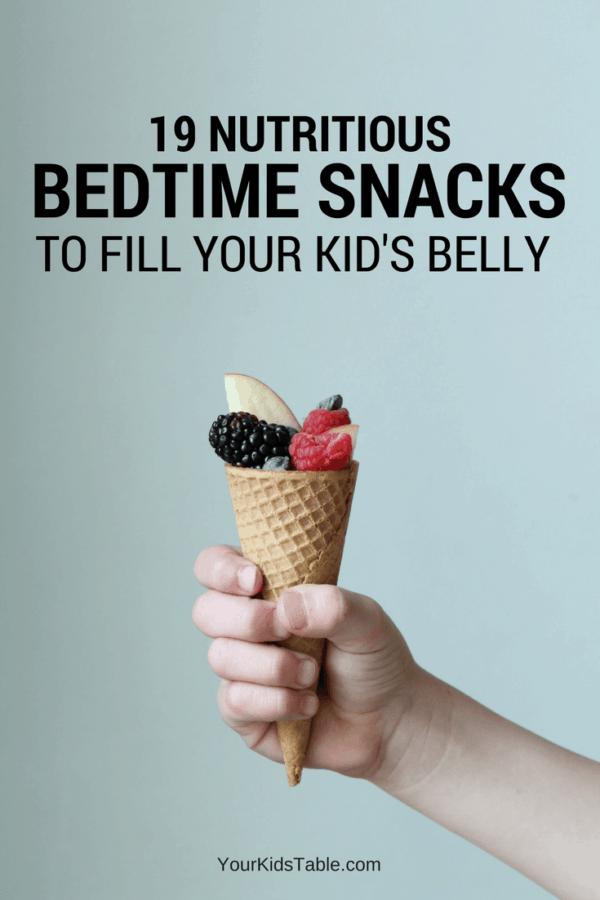 Ahh, the evening snack for kids. As parents, it makes us feel good to fill their little belly's up so they have a nice deep long sleep – or so we hope. But, if we're being honest, it can be a bit of a pain in the butt some nights.
The kitchen is cleaned, or even if it's not, pulling out food for yet another meal isn't always at the top of my fun-things-to-do list.
But, a well-timed and wisely planned evening snack can help kids that didn't eat enough of their dinner or may need those extra calories (more on some pitfalls for these kiddos later in the post). As a feeding therapist, I know it can bring peace of mind. So, let's talk about some easy evening snack ideas that are nutritious to give to our kids before they head off to bed.
The Best Evening Snacks for Kids and Toddlers
What makes an evening snack stand out from a snack in the afternoon? I think about a couple of factors:
Is it easy?

Yes, I'm back to the mess. I try really hard to get that kitchen clean after dinner, even though it doesn't always happen. I don't want another full-on production shortly after dinner for a snack.

Is it filling?

If my kids had a very light dinner, or I tried a new recipe that was a total miss, then I want a filling evening snack for them.

Is it nutritious?

Sometimes I offer a bedtime snack when they've had a ton of noodles or bread and little else at dinner. In that case, I'm focused more on balanced nutrition and I want to give them some fruits and/or veggies.

Is it going to wind them up or down?

We know that some foods can actually help us get to sleep. Think turkey, milk, and even avocado. But, foods high in sugar can cause kids to have a spike in energy.
Good news, you'll find lots of ideas for easy, filling, and healthy evening snacks that might just make your kid sleepy below…

Get Inspired with These Evening Snacks for Kids: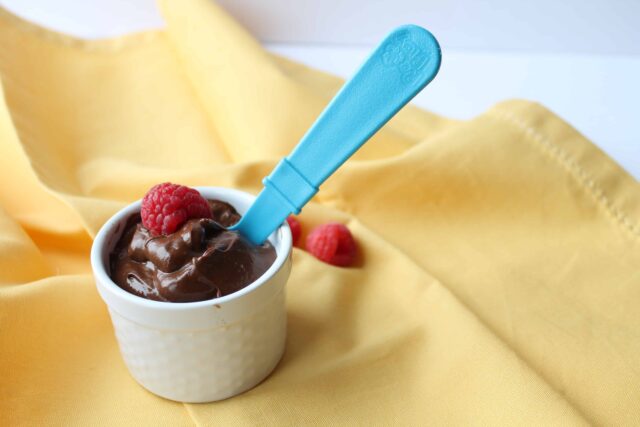 Hot oatmeal with extra milk and warm apples
Smoothie (Try whatever fruit you have on hand with some yogurt or even ice cream in a blender. Or, I love this carrot cake smoothie recipe.)
Fresh popcorn with olive oil and raisins
Warm banana bread with a smear of nut butter (peanut, almond, sunflower, etc.)
Hard boiled egg with crackers
Fruit and Nutella (serve family style like fondue!)
Roasted sunflower seeds and banana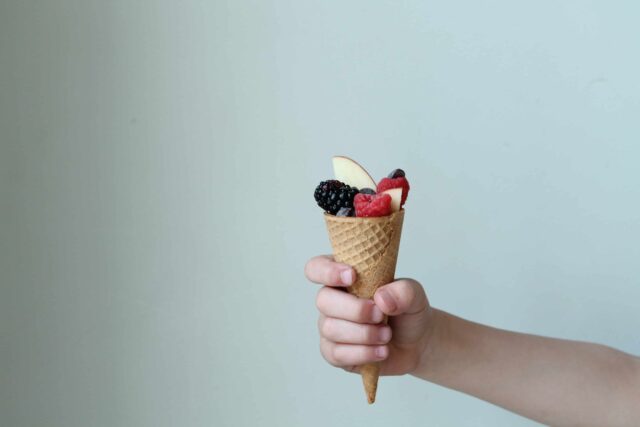 Fruit and yogurt cone (Above: this is so fun, just put yogurt or nut butter in the bottom of the cone and add whatever fruit you have on top. We stuck a couple of chocolate chips in too.)
Turkey and pickle roll-ups
Graham cracker, peanut butter, and banana "sandwiches"
Mashed avocado and potato chips
Toast with cream cheese and strawberries
Yogurt tube and sliced melon
Should You Even Serve an Evening Snack?
A question I get asked all the time: Should I give my kids a bedtime/evening snack?
To many parents surprise, there really isn't a right or wrong answer to this question. For some families, it's part of their routine, and in a lot of cases, it can be perfectly fine to have one on a nightly basis.
The trouble comes when kids learn that there's more food coming later and then don't eat their dinner.
The key to avoiding this is to make sure that the dinner and the evening snack is spaced out to be at least 2 hours apart, but up to 3-4 hours is fine as well. For example, if you're child starts dinner at 5:00, then an ideal time for their bedtime snack would be around 7 or 7:30 pm. This gives their food from dinner a chance to digest. See more healthy eating habits for kids.
Now, if you're using the evening snack as a dessert, that sort of changes things. Again, some kids handle this just fine, but if "dessert" or that last snack is just a treat, then it gets really hard to avoid pressuring kids into eating their meals. Parents usually cringe when their kids pass up the broccoli and chicken and then devour 10 brownies.
Even so, I don't like to pressure kids to eat, especially extreme picky eaters because it can snowball into them being even more restrictive with their food choices. You can read more about why in the Best Picky Eating Strategy.
I do want to stress that I don't think dessert is a bad thing, and I don't want us to send that message to our kids.
There's a right way and a wrong way to teach kids about nutrition. If you're feeling a bit uneasy about allowing dessert or a bedtime snack before bed, definitely head over to how to handle dessert for picky eaters.
But, let me sum it all up by saying that evening snacks and desserts are totally fine as long as you don't find yourself bribing or begging them to eat their dinner.
What's Your Favorite Evening Snack for Kids?
We all need inspiration and my guess is that you have at least one evening snack that your kid loves. Tell us in the comments below and we can all get even more ideas!
And, if you're new here, get my free printable: 9 Steps to Improve Your Child's Eating. These steps can be total game-changers in your home. Click here and I'll send them right to your inbox with a few more free printables!
More Snack Ideas for Kids
The Most Amazing Healthy Snacks for Picky Eaters
The Greatest Toddler Breakfast Ideas, Easy + Healthy
Fun Plates, Forks, and Other Cool Stuff that Get Kids to Eat
Mega List of Vegetable Recipes for Kids
Save it for later right here!
---
Alisha Grogan is a licensed occupational therapist and founder of Your Kid's Table. She has over 14 years experience with expertise in sensory processing and feeding development in babies, toddlers, and children. Alisha also has 3 boys of her own at home. Learn more about her here.