Discover the benefits of watermelon for kids and 7 fun and easy ways to serve watermelon to kids that will have them gobbling it up!
Affiliate links used below. See our full disclosure.
Want to get your kid interested in watermelon and have some inspiration for easy ways to serve it? You're in the right place!
Watermelon is an amazing fruit with many benefits and good reasons to include it in your kid's diet, some that I bet you'll be surprised to learn…
Why Watermelon for Kids?
As a pediatric feeding therapist and OT, I love watermelon because it's easy for kids to chew and has a natural sweetness kids tend to love without being overpowering or the least bit sour.
It's a perfect beginning food for babies learning to eat table foods, and it's often one of the first fruits I focus on with picky eaters that don't eat any other fruits, or at least a limited amount of them.
Plus, it's readily available, and often affordable, for a wide range of families! Most are now seedless watermelons, which is very helpful as well. So much to love about watermelon for kids.
Watermelon Benefits for Kids
Perhaps the biggest benefit to watermelon is that it helps keep kids hydrated and cool because 92% of watermelon is water!
It's a perfect food to pack up for your picnic on a hot summer day or take to the baseball field for a treat after long game. But, watermelon is also packed with nutrients like:
Lycopene – contains more than any other fruit or vegetable and is an antioxidant that fights cancer
Vitamin A – supports skin and eye health
Vitamin C – supports immune system and iron absorption
Potassium – supports low blood pressure and nerve function
Vitamin B6 – supports digestion, immune system, and nerve function
Watermelon has no fat, about 45 calories, and only 10 grams of naturally occurring sugars in a 1 cup serving! All the way around watermelon is a fantastic and beneficial food for kids.
7 Fun Ways to Serve Watermelon for Kids
Did you know there were lots of creative, but easy ways to serve watermelon that will interest kids, even picky eaters? All of these watermelon ideas are for seedless watermelons, if you have a regular black seeded watermelon, make sure you pick the seeds out for younger kids and that older kids know how to spit them out.
Check out these 7 fun ways to give your kid watermelon:
1. Classic Triangles with Rinds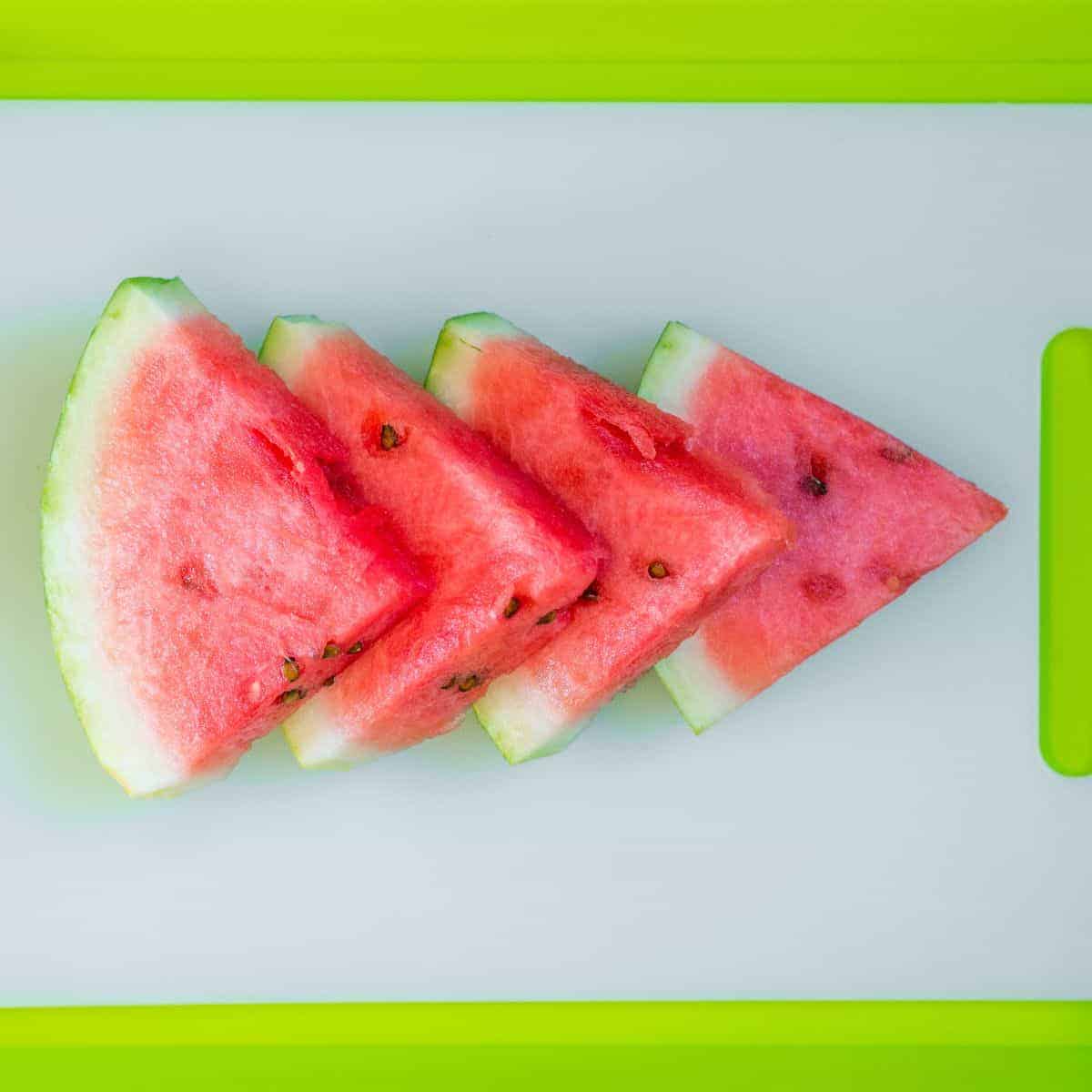 Slice watermelon into triangles and leave the rinds on. The rind gives a handle for your child to hold on to as they eat. Kids can bite into the watermelon themselves and have a sense of independence. If you're overwhelmed at cutting a whole watermelon, see this tutorial for the best way to cut one.
2. Cubed Watermelon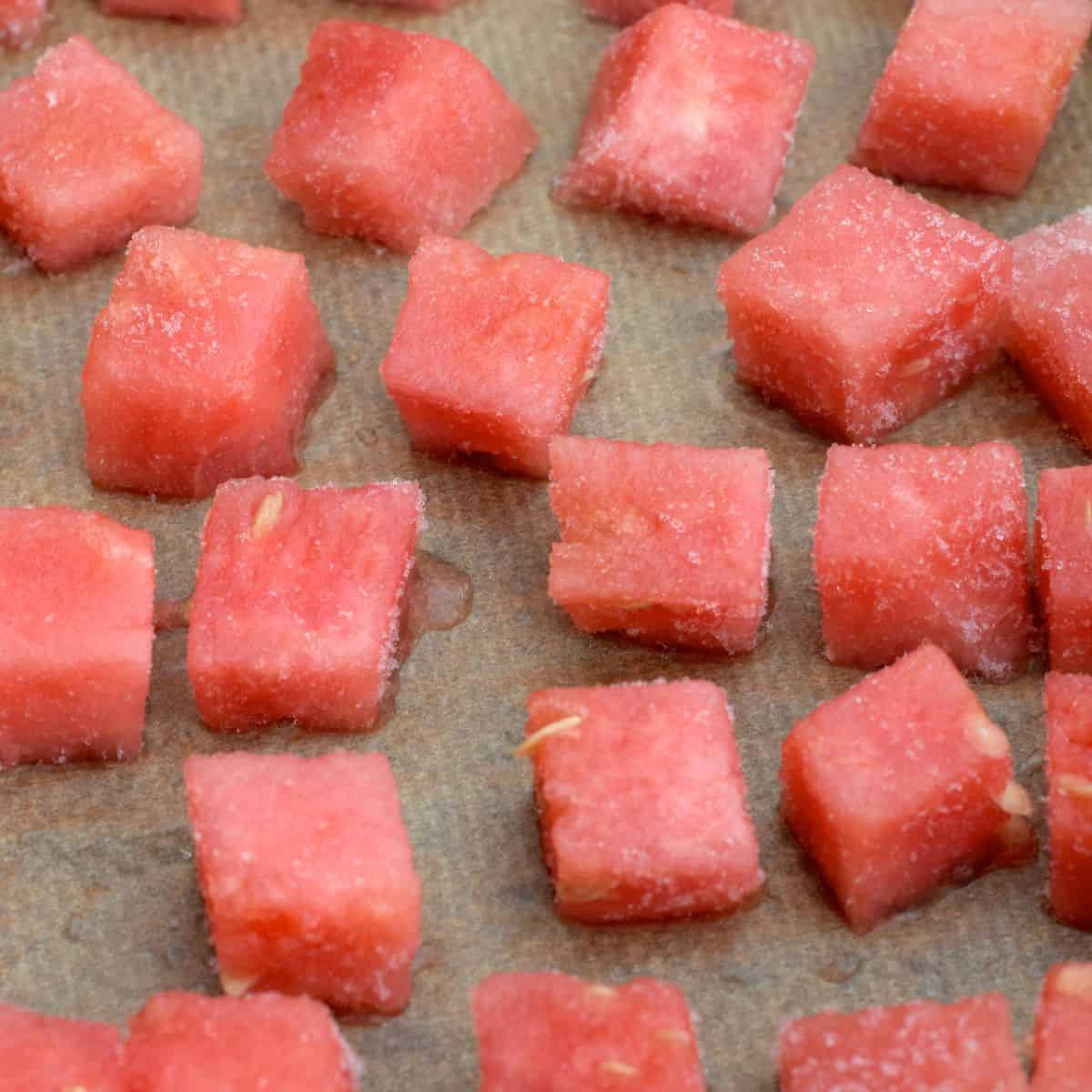 When cutting the watermelon, cut it into chunks with no rinds. The cubes are perfect for babies and toddlers working on feeding themselves bites of food, although the triangles above can work too.
If you have a picky eater, they may be overwhelmed by the large triangle though. The cubes are more manageable bites and allow picky eaters to get used to the new texture.
3. Balled Watermelon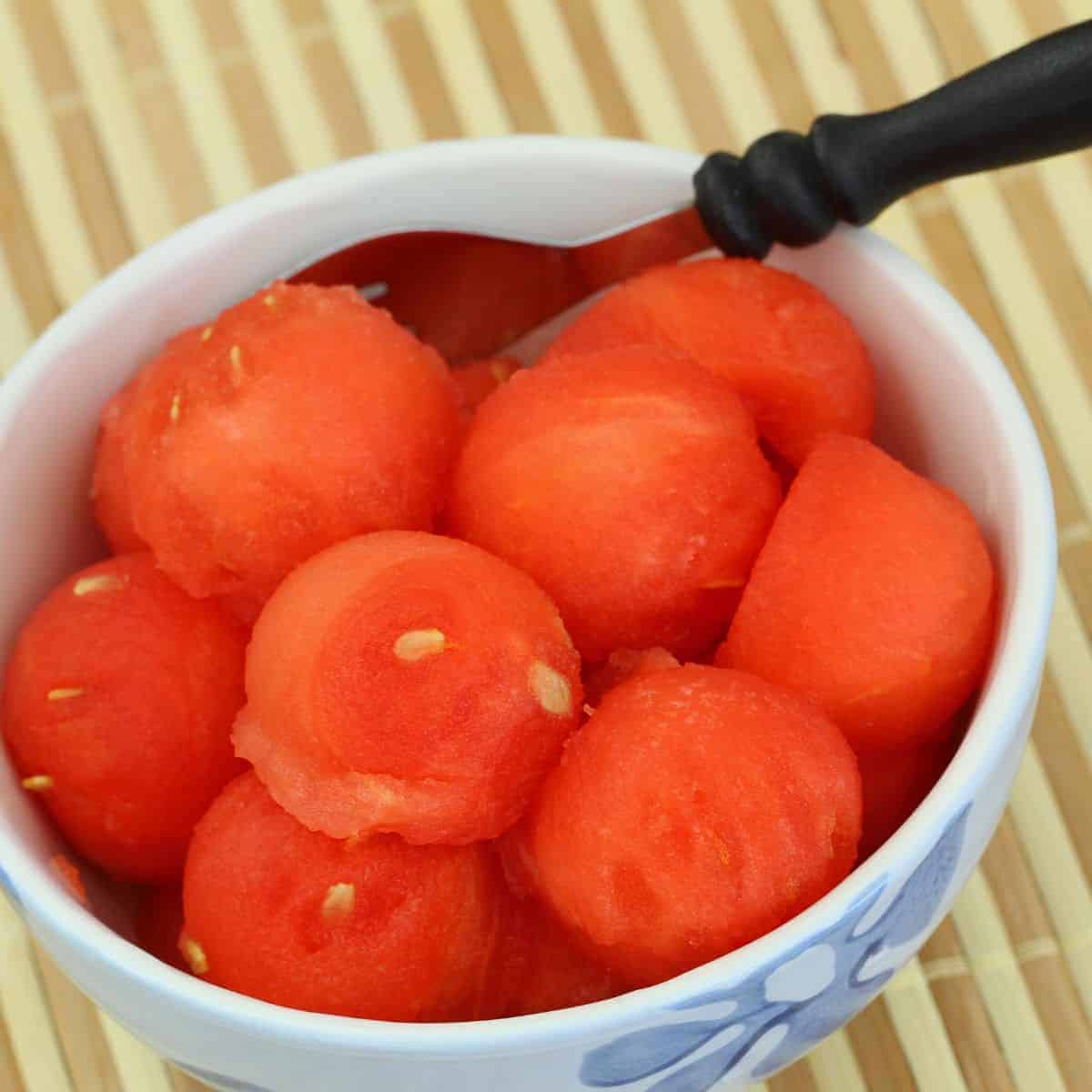 When I was a kid, I loved helping my mom use a little scooper to ball up the watermelon. I hardly ever see melon served this way anymore, but kids love eating the balls of watermelon! If you don't have a scooper, you can get one here.
4. Frozen watermelon popsicles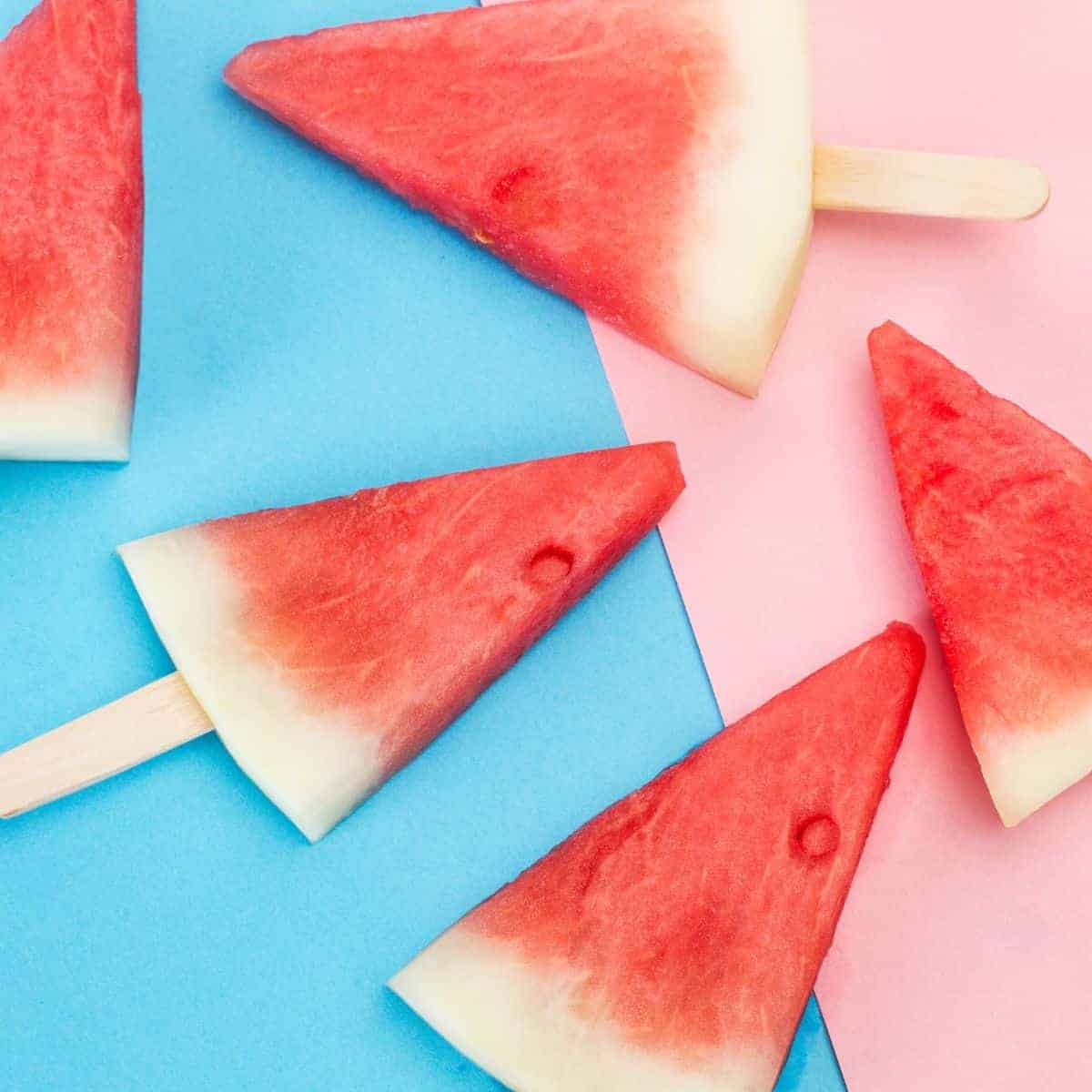 If you have more watermelon than your kid can eat, take some of your triangle slices, cut off the rind, and insert a popsicle stick into the wide bottom end of the popsicle. Then, put in the freezer for 2-3 hours and serve as a popsicle!
Picky eaters that have previously refused watermelon might give this a go because the juice doesn't drip on them and the freezing eliminates the texture.
You can also choose not to freeze and serve rindless with a popsicle stick at a party so you don't have big rinds all over the place when the kids have finished eating them.
5. Watermelon Kabobs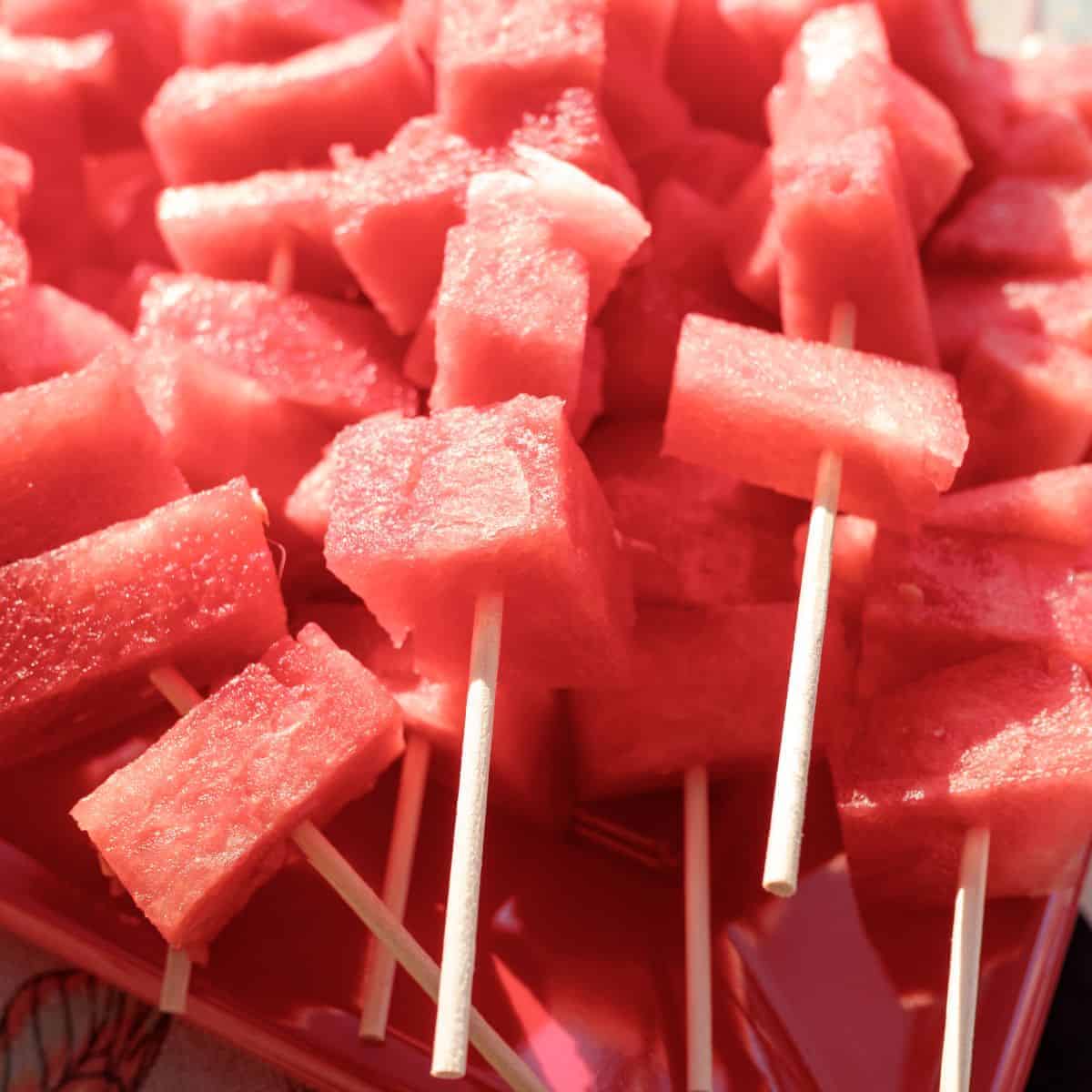 If your kid is old enough to handle a stick, putting cubed or balled watermelon onto a skewer can be very motivating for picky eaters and just plain fun for any kid! You can keep all watermelon on the skewer or add in some other fruits.
6. Watermelon Slushie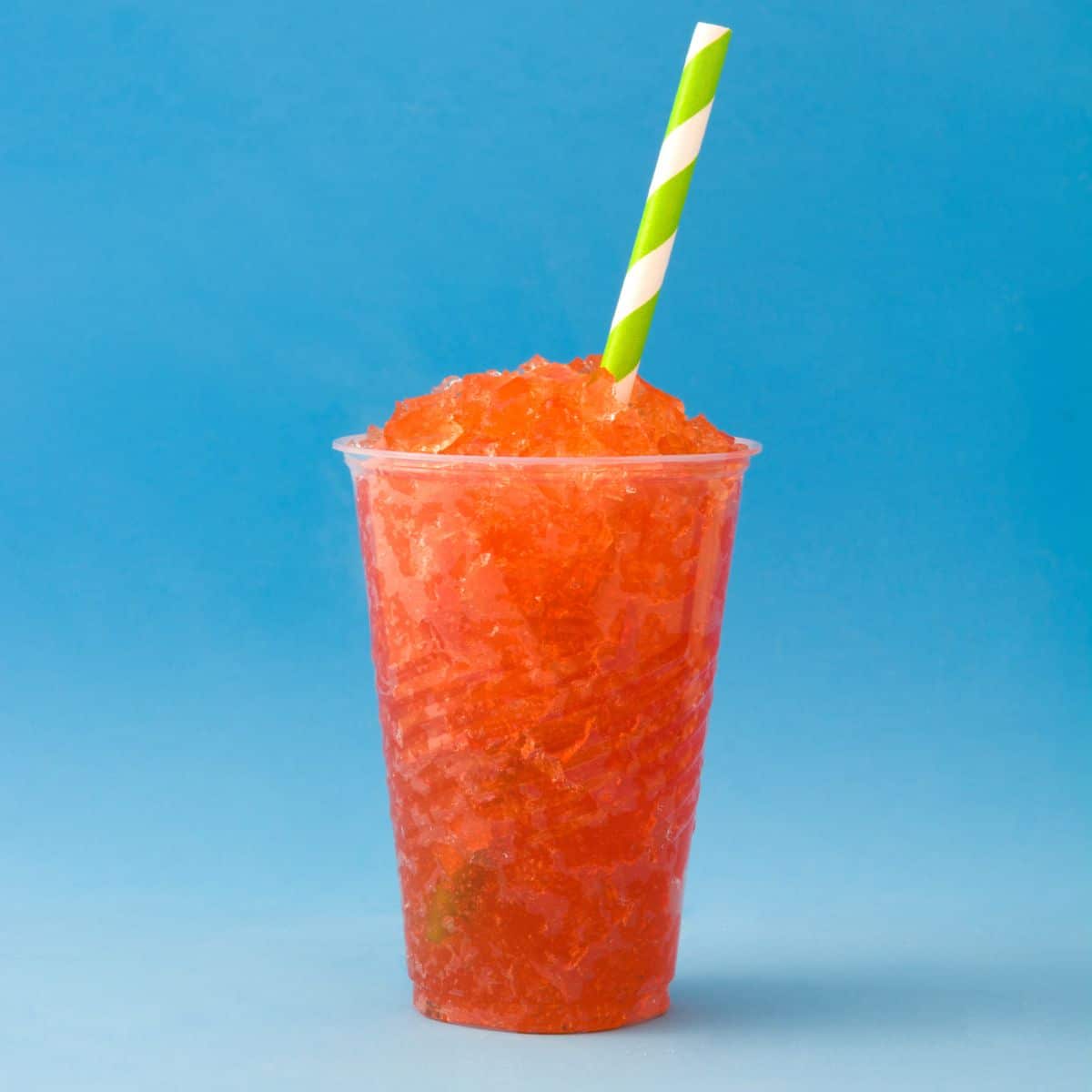 Toss some watermelon into a blender and blend until it makes a slushie. Kids can eat it with a spoon or you can add some sparkling water, ice, and/or other fruit juice to drink from a straw.
7. Watermelon Bowl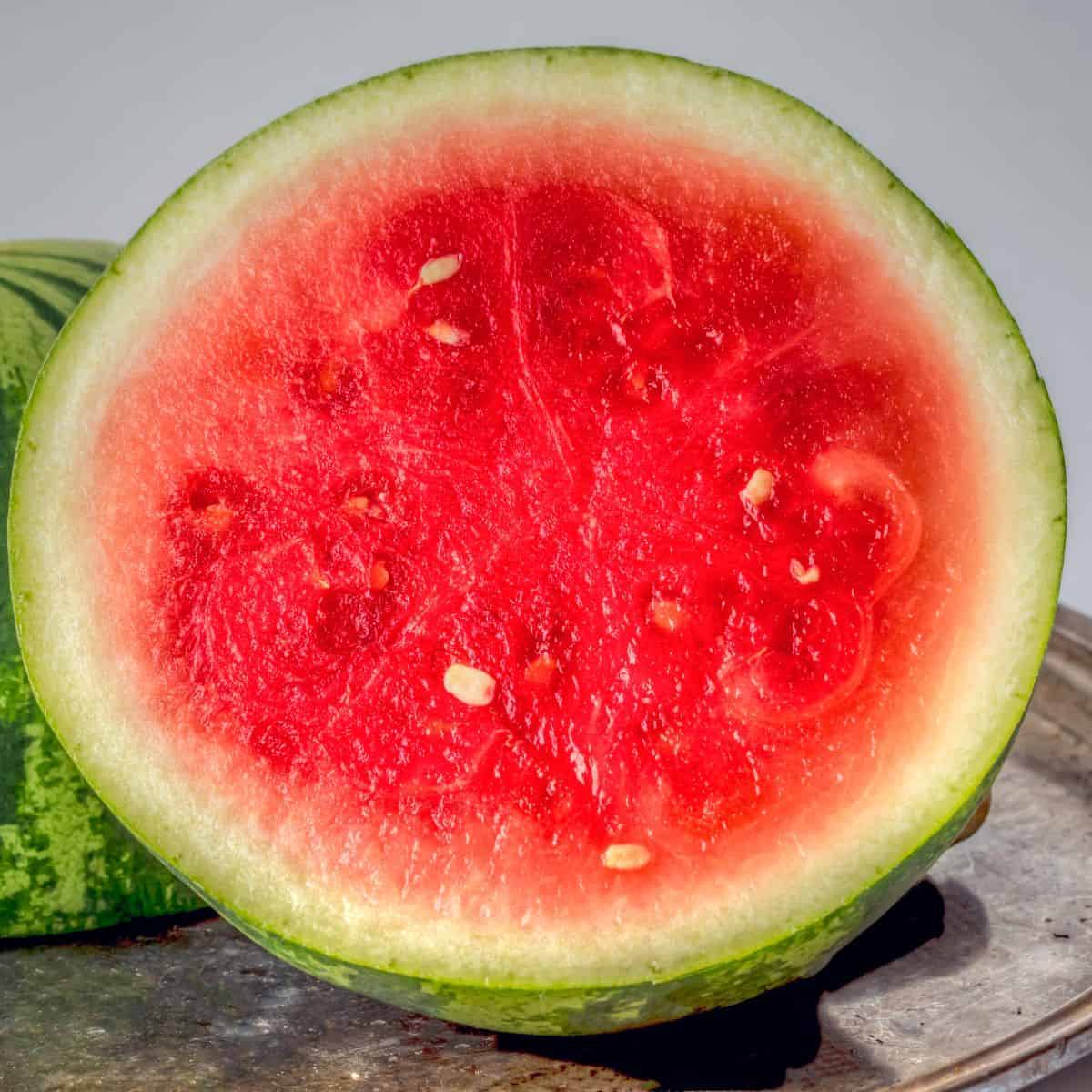 I have to give my son Isaac credit for this idea. He asked me last summer if we could cut a big section of watermelon like a bowl so that he could eat it with a spoon. He had so much fun eating it this way, he's requested it several times since.
To make a watermelon bowl, cut off one of the end of the watermelon and serve as is with a spoon. If the bowl keeps wobbling, you can cut a thin amount off the bottom to stabilize it.
If you have an adventurous kid or want to expose them to watermelon in a lot of different contexts, you can also try grilled watermelon or adding watermelon to a salad, it pairs great with feta cheese and nuts.
Get a Free 7 Day Menu Plan for Kids
Want more ideas of what to feed your kid from a feeding therapist/occupational therapist? Click here and we'll send out 7 days of meals (breakfast, lunch, and dinner all included).
More Food Ideas for Kids
Natural Weight Gain Smoothie Recipe for Kids
Perfect Lunch Ideas for Picky Eaters at School, Home, or Daycare
Brilliant Breakfast Ideas for Kids that are Nutritious too!
Green Bean Recipe That Kids Will Chow Down On!
---
Alisha Grogan is a licensed occupational therapist and founder of Your Kid's Table. She has over 18 years experience with expertise in sensory processing and feeding development in babies, toddlers, and children. Alisha also has 3 boys of her own at home. Learn more about her here.