This is the ultimate list of sensory diet activities for kids. Many ideas can be done with common household items and are easy to use and put into your routine!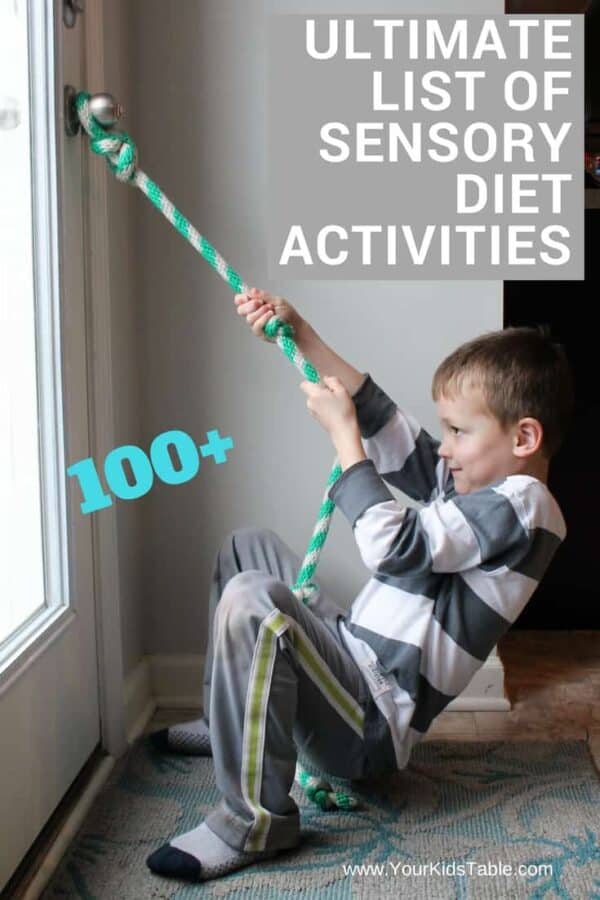 I've been wanting to write this post for a while now, its a big one, filled to the brim with sensory diet activities you can use for your child or toddler. Heck, many of these ideas work for adults, too. No matter what your age, the following list will be a great jumping off point for creating a sensory diet or for adding some new activities into the mix. If the whole sensory diet thing is new to you, make sure you read What is a Sensory Diet first!
I'm thrilled for you to check out this mega list of sensory diet activities, but there are a couple of caveats that are incredibly important to pay attention to first. Please read these before trying any sensory activities with your child…
Sensory Diet Activity Guidelines
1. Never ever ever force your child to do any sensory diet activity. Sensory activities aren't homework or medicine, and they work best when a child is motivated to participate in them. It's really important to keep in mind that in many cases, kids may be refusing a sensory activity because it is overwhelming to their unique sensory system, even if it isn't to yours. The finger paints that you may think aren't so bad to touch, can actually be perceived as painful to your child.
That's not to say that you can't demonstrate, model, and encourage. That's what we OT's do, we want to push kids out of their comfort zone just a little and follow THEIR lead as much as possible. Experiencing new sensory input can have wonderful effects on their development, but when we force them to do so, it's almost a guarantee that it will backfire.
2. This list is meant to inspire, not overwhelm. If you're just getting your feet wet with sensory diets, then take it slow and just pick a few activities that seem really manageable. Try them a few times and see if your child has a positive response. I have focused on keeping these activities simple, with little or no set-up.
3. Your child's sensory needs may change from day to day or even hour to hour, remember that just because a particular activity or strategy didn't work on this list today, doesn't mean it won't tomorrow. The idea is to have a toolbox full of sensory activities that you can pull from as you need to. However, not all activities will benefit your child. There will be some they don't like or seem interested in, ever. That's fine.
If you aren't quite sure what a sensory diet is or if your child needs one, then check out my last post where I explain what sensory diet's are all about. Understanding what they are, and who they're for, will help you create a sensory diet that is easy to manage and that really makes a difference in your kid's life. And, if you're concerned your child with sensory "issues" needs more help, then head over to sensory integration therapy to find out!
Affiliate links used below. See our full disclosure.
Sensory Diet Activities
You will find that all of the activities are organized into different groups, please note that there is some cross over, and duplications, as appropriate. Many of these activities give sensory input to several senses. While there are categories listed (calming, alerting, etc.), please note that these are generalizations. It is possible your child could have a different response, as everyone's sensory system is unique. Again, make sure you watch how your child responds during and after the activity:
Do they seem calmer?
More attentive?
Focused?
Are they sleeping better? (Check out sensory tips for sleeping)
Or eating better?
Are they interacting and communicating more with others?
Did they follow directions more easily?
Were they able to learn something quicker?
Making these observations will help you determine how they are responding to a particular sensory diet activity, and when you should use that activity or one similar to it again! AND, if you want a little more guidance and a nifty free printable check out my sensory diet template, and you'll be able to hone in on those beneficial activities even better.
And, you can snag my custom set of sensory diet cards, that include the most powerful and versatile sensory diet activities, for yourself!
*Get a seat in the free 3 Expert Secrets to Calm and Focus Your Kid with Sensory Activities. What you learn can change everything, you'll get a free workbook and checklist too!*
Sensory Activities That Improve Attention, Focus, & Engagement
Below, you will find many of the activities include a link to a DIY tutorial or an affiliate link, as some of these tools might be new to you. Everything on this list are sensory tools and toys that I love and use.
(Often called organizing activities because they typically allow kid's sensory systems to become more balanced which leads to improved learning, communication, sleep, eating, etc.)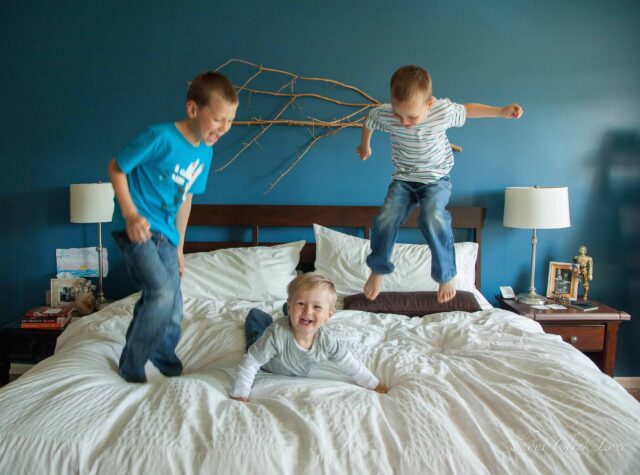 Jumping
Climbing
rock walls
jungle gyms
monkey bars
ropes
slides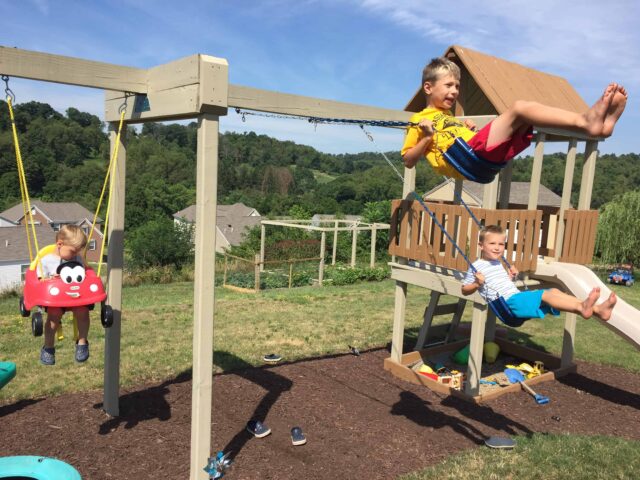 Swinging
outdoor swings
porch swings
swinging child in a blanket
Riding
bikes
scooters
skateboard
roller blades
sleds
any of the above over bumps or down hills
seesaw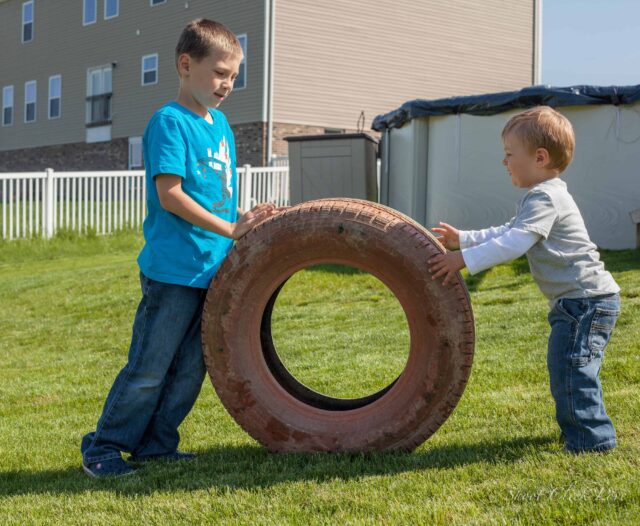 Pushing/Pulling Heavy Objects (Heavy Work Activities)
carrying groceries
pushing empty garbage cans inside
raking leaves
pulling weeds
shoveling snow
vacuuming
pushing grocery cart
carrying a laundry basket
a rope tied to a door knob or heavy object (see image at top)
Chewing
crunchy foods
gum
salty or spicy foods
Vibration (is alerting versus calming when used in short bursts)
Playing active games
running
obstacle courses
skipping
leap frog
tug of war
wheelbarrow walking
various animal walks (walking like a crab, hopping like a kangaroo, etc.)
Drinking something cold
Swimming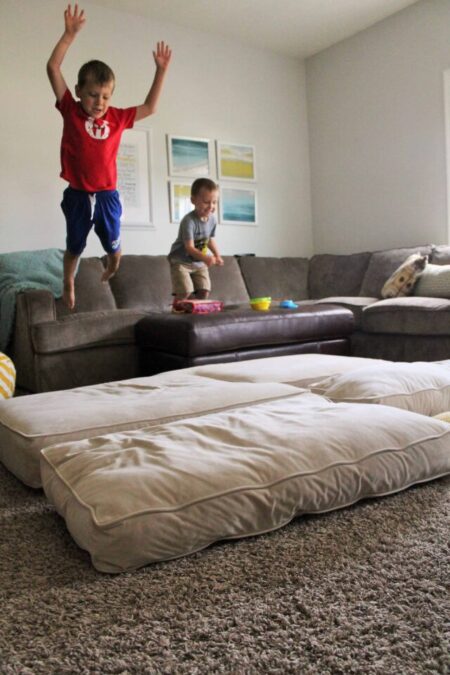 Crashing and jumping into pillows (put all of your pillows or stuffed animals in a pile on the floor)
Playing with textures (Stimulates the tactile sense)
shaving cream
finger Paint
mud
wet sand
water
ice
Blowing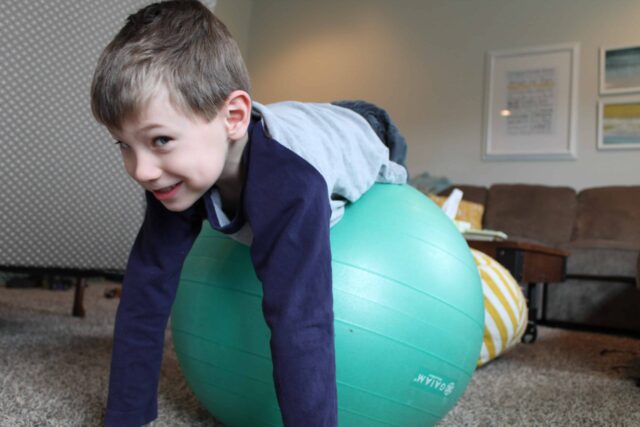 Rolling on a large ball on back or belly
Sitting on a large ball
during meals
for homework/in school
Scratching their back vigorously for a few minutes
Spinning (***a very intense sensory experience, best for kids to spin themselves even if they love spinning. Be very cautious of spinning a child, and only do so a few times in both directions. This is important because it will help balance out their system.)
swivel chair
while standing
Sensory Activities That Are Calming
Wearing Tight Clothing
Wearing compression or weighted vests for 10-20 minutes during difficult times of the day (i.e. transitions)
Quiet time in sensory tent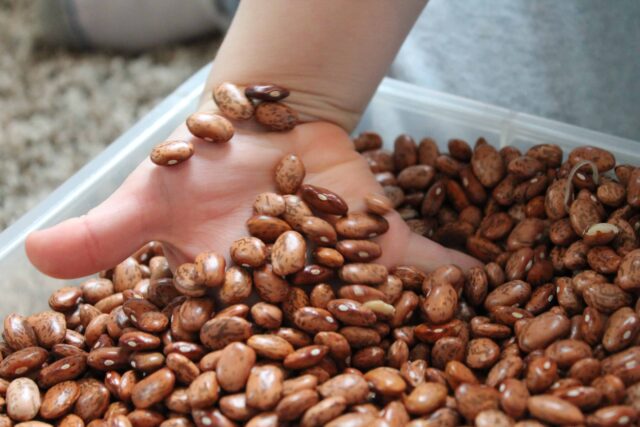 Playing in sensory bin (tons of ideas, the sky is the limit)
rice
beans
birdseed
sand
cloud dough
noodles
Massage
Kneading playdough or therapy putty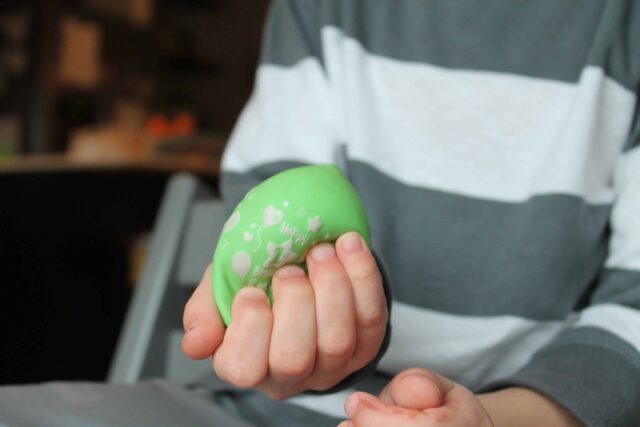 Handling fidget toys (a wide variety of options)
stress balls (my son's homemade version is in the pic above)
Squishing and squeezing
hugs
squeezing into tight spots or behind furniture
wrapping up tightly in blanket
sleeping in stretchy sheets that are tucked in on sides
laying under a large yoga ball
Sit or stand or a wobble cushion or wiggle seat (great for meals, homework, and crafts)
Using essential oils (different types of oils are used to calm or be alert, check out this get start guide)
in room diffusers
applying to skin
in bath
Listening to rhythmic or soft music
Wearing noise cancelling headphones
Watching slow moving or soothing images
Fish tank
Slow changing lights
Drinking something warm
Sucking on a piece of hard candy or a lozenge
Slow rocking
Rocking chair
Hammock
Glider
Using heavy or weighed blankets or lap pads (check out the whole guide for weighted blankets here and how and when to use weighted lap pads.)
Vibration (is calming rather than alerting when used for longer periods of time)
---
Now that you have this huge list of sensory diet ideas, what's next?
How do you know which activities to use with your child and when? How often should you do them?
Those are all very important questions, and to answer all of those, you'll want to grab a seat in the my new free workshop: Expert Secrets to Calm + Focus Your Child with Specialized Sensory Activities
As an OT, sensory is one of my specialties, in the workshop, we'll be giving you our expert know-how with the practicality of real-life mom. This sensory stuff can get overwhelming pretty fast, and for good reason, in the workshop, we're going to be putting an end to that! We aren't in the business of wasting time, we have been working hard for months on this for YOU, and it is worth every minute of your time because what you'll learn could be a total game changer for you and your child!
Click here to save your seat (we don't know when we'll be offering this opportunity again!)
More Sensory Diet Activities
Powerful Proprioceptive Activities that Calm, Focus, & Alert
Everything Oral Sensory: The Total Guide
Sensory Strategies for Wild Kids
13 Easy Sensory Strategies for the Classroom
---
Alisha Grogan is a licensed occupational therapist and founder of Your Kid's Table. She has over 17 years experience with expertise in sensory processing and feeding development in babies, toddlers, and children. Alisha also has 3 boys of her own at home. Learn more about her here.