Learn which essential oils for an anxious child may help them calm and relax. And, 4 easy ways to use essential oils that empower children and teach them how to self calm when their emotions feel bigger they are.
My husband had just come home and he plopped a small, brown paper bag on the table saying, "Allison sent this for you."
Allison's a good friend and the day before she listened intently as I explained the overwhelming anxiety my son recently began to feel. My first grader's new found anxiety was paralyzing him everyday when it was time to leave for school and as he settled down for bed each night.
That was three years ago. My heart broke watching my son struggle with worry, fear, and anxiety.
By the time that little brown bag arrived, I had accepted that there wasn't going to be a quick fix, but that it would take a combination of strategies and tips to help him learn how to cope.
Feeling hopeful, I immediately went over to the bag and found three small dark colored glass bottles, half empty. Allison had raided her essential oil stash and sent me some oils to try with anxiety.
Being an occupational therapist, I was familiar with essential oils. Heck, I used a roll on blend regularly for my own headaches. But, this was different. I needed to experiment with using them a variety of ways to see which would help my son.
We were desperate.
But, those oils were a start, another tool we could use.
We used those oils in 4 different ways, in this post, I'm going to show them to you so that you can experiment with your own child!
Safety First! Essential Oils Can Be Dangerous…
Generally speaking, at age 6 and older, most essential oils are safe to use on your child, but there are different age recommendations for children under 6 depending on the oil. This is a great safe essential oil guide for kids.
Beyond that, anytime you use essential oils with your kids, you always want to watch for side-effects. Good and bad. Does it help calm them? Does it seem like they developed a cough when you started using them (possible for younger kids, particularly with respiratory weaknesses or sensitivity).
If you have any concerns at all about essential oils before, during, or after use, then you should talk to your child's doctor.
Always, read the recommendation on the bottle. For instance, some essential oils need to be diluted by being added to a carrier oil (like almond or olive oil). The above guide also gives these recommendations. However, some essential oil producers create ready to use child friendly versions that already have the oil diluted for you.
Where to Get Your Essential Oils for An Anxious Child
Essential oils, when produced honestly should be the natural oil from the plant or flower. That's it. No other fillers, chemicals, or hidden junk. However, essential oils in the U.S.A. are categorized as a beauty product and aren't regulated.
That means ANY company can say their essential oils are 100% pure or therapeutic.
If you see a 3$ bottle of lavender oil next to the gum when you're checking out at the grocery store, it's a safe bet that it's not pure essential oil.
It's critical to do your research and buy from reputable companies that you trust. These are companies that I've used or trust because of their transparency. Ideally, that means they show reports of what is actually in their oils:
Unfortunately, most of these companies don't sell on Amazon, even if you find them there, they may be diluted. Read more about that here.
Types of Essential Oils for the Anxious Child
You can experiment with using any essential oils for children that feel anxious and see how they respond. They might surprise you and feel calmer after using a certain oil. But, if you're just getting started with essential oils, you might want to consider special children's "calming blends". Most of the companies above have their own unique combo.
But, you can also use any of the following oils alone or by making your own combination (make sure you read the next section about how to use these essential oils with a child):
Lavender
Peppermint
Wintergreen
Geranium
Ylang Ylang (from a flowering herb in Asia)
Patchouli (in the mint family)
Remember to check the safe use guide for how much to dilute these oils if you're not using a prepared blend that specifies it's safe to use on children. Peace and Calming* and Sleepytize* (particularly helpful for before bedtime or nap) by Young Living Oils have been designed to help kids calm.
*These essential oil links are not affiliate links, meaning I receive nothing in return if you purchase. They are linked to the representative that I order from so that you have access to a real person in case you have any questions.
Affiliate links used below. See our full disclosure.
How to Use Essential Oils for Child Anxiety
These are four common ways that essential oils are used with children. Note that ingesting is NOT one of the ways I've listed below. Do not allow your child to ingest any essential oil unless you've spoken to your child's doctor. Some oils are harmful to ingest. Always keep them out of reach.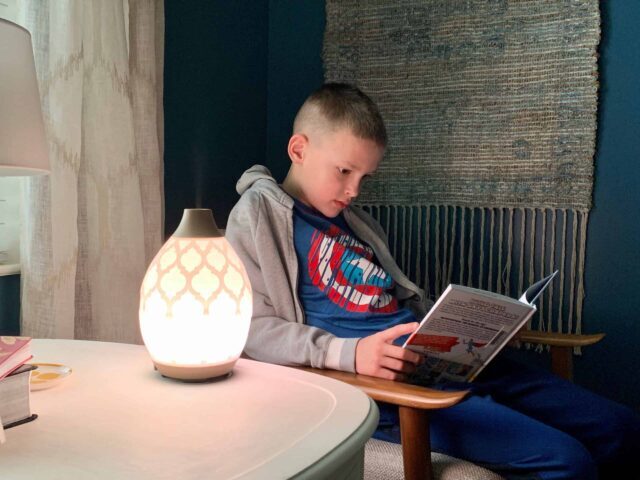 1. Diffuse it!
Perhaps the most popular way to use and benefit from essential oils is to place a few drops into a cool mist diffuser with the required amount of water.
Two of my kids have diffusers just like this one and we've been using them for years. Super inexpensive. Make sure that you don't use the oils with a humidifier as it can damage your machine and/or be totally ineffective.
Small diffuser's like the one I have only require 3-4 drops of oil. Larger diffusers will use 5-8 drops.
If your child is anxious or worried, you can set up the diffuser in a variety of ways:
20 minutes before bed, begin the diffuser and let it run throughout the night (most shut off on their own, make sure that's a feature of the one you use).
20 minutes before they wake up, turn the diffuser on in their bedroom, if morning is a time of worry and anxiety for them.
Have the diffuser running in the space they come into when they come home from school, if that's a stressful time for your child. Meaning, if they immediately come home and have a snack and unpack their book bag, place the diffuser in the room they eat. If they go to their room to unwind, have the diffuser running there.
Use as needed whenever your child appears anxious or tells you that they are! Simply go and turn it on. Kids often like being part of the process and it can serve as a bit of a distraction from their cycling anxious thoughts too. Let them choose which oil they'd like to use or have them fill up the water and dump it into the diffuser.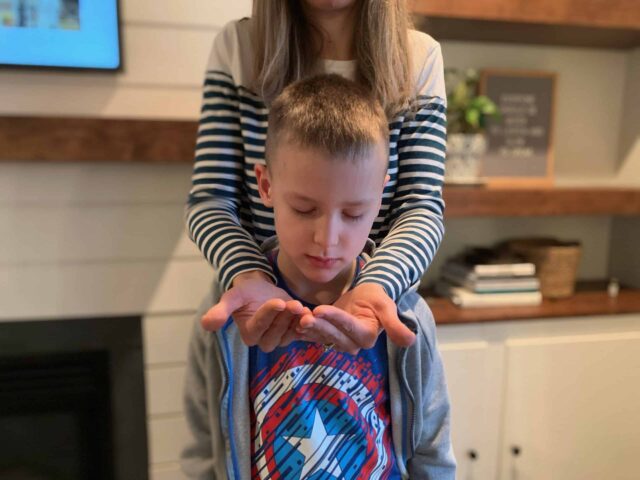 2. Inhale it!
Simply untwisting the lid of the essential oil and having your child take in several deep breaths of the essential oil can be very calming. The deep breathing in and of itself is a powerful strategy for anxiety. You can also place a few drops of oil onto your own hands rub it in, have your child close their eyes as you hold your hands about 6 inches away from their face so they can breathe it in.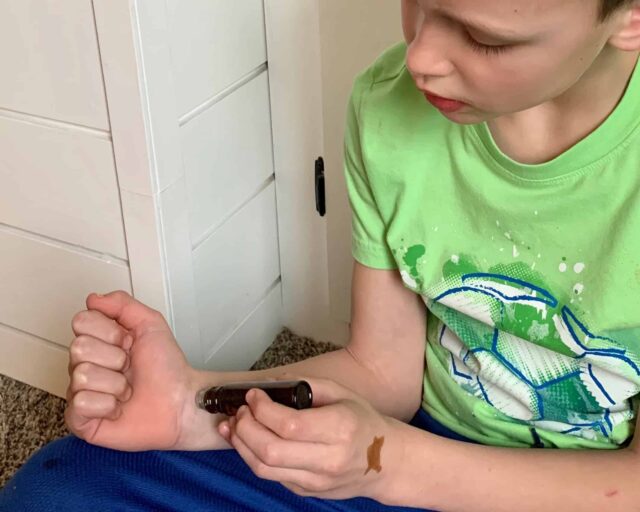 3. Roll it on!
Some essential oil blends are available in a roll on tube so that you can just swipe it easily. But remember that you must check if the oil or blend you're using is in a carrier oil, it will say so on the back of the bottle.
If it's not in a carrier oil, then you have two options.
First, as long as the oil doesn't provide any warnings against direct skin contact (some do and remember the oil use guidelines by age), you can apply a small amount directly to your child's skin in a very small area to make sure they don't react.
Actually, even if you are using a blend with a carrier oil like jajoba, almond, or olive oil, you'll still want to test a small patch of your child's skin first.
Second, dilution is often recommended. See the recommendations here. In this case, you'll want to get some carrier oil, like this one on Amazon. Then, add to some empty bottles like these, which come with the roller ball tops, which I prefer because they're so easy to use.
This allows you to make multiple bottles, which is great for having them in different spots. You can throw one in your kid's book bag, in your purse, on their nightstand, and in the medicine cabinet, so it's always accessible.
Where to Roll On The Essential Oil for Calming
When you use the roll on, you don't need a lot.
You can give a swipe across the wrists, back of the neck, across the chest, or on the soles of their feet.
4. Wear it!
You can also put a few drops of essential oils onto a leather bracelet, like this one, similar to the one my son has. The leather absorbs the oil and holds the scent for a long time. That way, if your child starts to feel anxious at school, daycare, or wherever they are, they can bring the bracelet to their nose and discreetly take a few deep breaths.
They inhale the essential oil, shift their focus, and may calm down.
---
Remember to make sure that you're watching for your child's reaction, no matter which type and how you use the essential oils.
It helped my kids tremendously. With two of my sons, using the diffusers at bedtime were calming. It didn't solve all of their anxiety, but it was a tool in our tool bag that they responded very well to.
Now we use the diffuser on an as needed basis. Sometimes they ask for it, sometimes they don't.
More Help for Kids with Anxiety
Another tool that helped my son with his anxiety was this powerful workbook: What to Do When You Worry Too Much. It helped him make sense of the overwhelming feelings that he couldn't quite express.
Anxiety expert and therapist Natasha Daniel's was a game changer for us as well. We took her anxiety course and it gave us all the tools we needed!
If you've got suggestions for what helps your anxious child calm down, share it in the comments below. I'd love to hear!
Read More About Anxiety Strategies for Kids
5 Important Signs That A Child Might Be Struggling With Anxiety
How to Make Creating Art With Kids Easy + Surprise Benefits to Art Time
What If Your Child Wasn't Anxious About Food Anymore?
---
Alisha Grogan is a licensed occupational therapist and founder of Your Kid's Table. She has over 15 years experience with expertise in sensory processing and feeding development in babies, toddlers, and children. Alisha also has 3 boys of her own at home. Learn more about her here.