Discover when, why, and how to use sensory body socks to help kids calm and improve body awareness. Perfect for sensory seekers, check out this OT's top picks.
Affiliate links used below. See our full disclosure.
Have a kid that's always bouncing off the walls? Do they love to crash into everything? Maybe they're clumsy? Then, a sensory body sock might be a great sensory activity to calm your child and even decrease their clumsiness too!
What is a Sensory Body Sock?
A body sock is a sensory tool or toy that looks like an enormous pillowcase, but the opening to the pillowcase has a slit in the middle and the fabric is stretchy. Body socks were designed for a child to climb inside of and stretch out the arms and legs, in doing so the fabric provides a lot of resistance. Kids often like to put their heads in as well.
That resistance stimulates their sensory system through powerful proprioceptive input.
Proprioception is one of our 8 senses that has receptors all throughout our joints and muscles. Those receptors send signals to the brain anytime they're squeezed or activated through pressure. Many kids that are sensory seekers love proprioceptive input which they get when they climb, jump, run, squeeze into a tight space, or hug somebody.
The sensory body sock is a direct way to provide that proprioceptive input that seekers crave.
Some kids that seek proprioceptive input don't seem to process it well. The reason we have a proprioceptive sense is to give us body awareness. Body awareness is understanding where our arm or leg is without having to look. It allows us to walk across a room full of furniture and not bump into anything.
If a child doesn't have a good sense of body awareness, they're often described as clumsy. A sensory body sock heightens the proprioceptive feedback and may help them improve their sense of body awareness and spatial awareness as well!
When to Use a Sensory Body Sock with Your Child
Sensory body socks can be used at various intervals throughout the day. Ideally, your child has access to it and and can use it whenever they want. However, you may also want to consider when your child is struggling to sit still or seems to be seeking that proprioceptive input, and offering it then, which is the essence of a sensory diet.
If your child struggles in school with hyperactivity, then give them 10 minutes to use the body sock before school. Or, are they a bundle of energy when they get home? Give it to them after school.
Check with your child's teacher if you think your child would benefit from using a sensory body sock at school as well. It could be a great way to incorporate a movement break. Body socks fold up easily and can fit in most backpacks.
They also help some kids calm down for sleep at night, so using one as part of your bedtime routine might also be helpful.
To learn more about using sensory activities to help your child calm and focus, take our free workshop here (includes a workbook)!
Getting the Right Size Body Sock for Your Child
Body socks do come in different sizes. You want to make sure you don't get one that's too big or your child won't be able to push on the fabric and get that proprioceptive input.
Instead, it will be like they're just wearing an oversized blanket.
Before purchasing a sensory body sock, make sure you know your child's height and then check the various sizes which are listed by height ranges. For instance, a medium might say for kids 46 to 53 inches and a large 54 to 61 inches
The 5 Best Sensory Body Socks in 2023
The Classic Body Sock – A traditional body sock without the Velcro that has an elastic opening long ways so it's easy to get into and out of – that's budget friendly too. Win, win!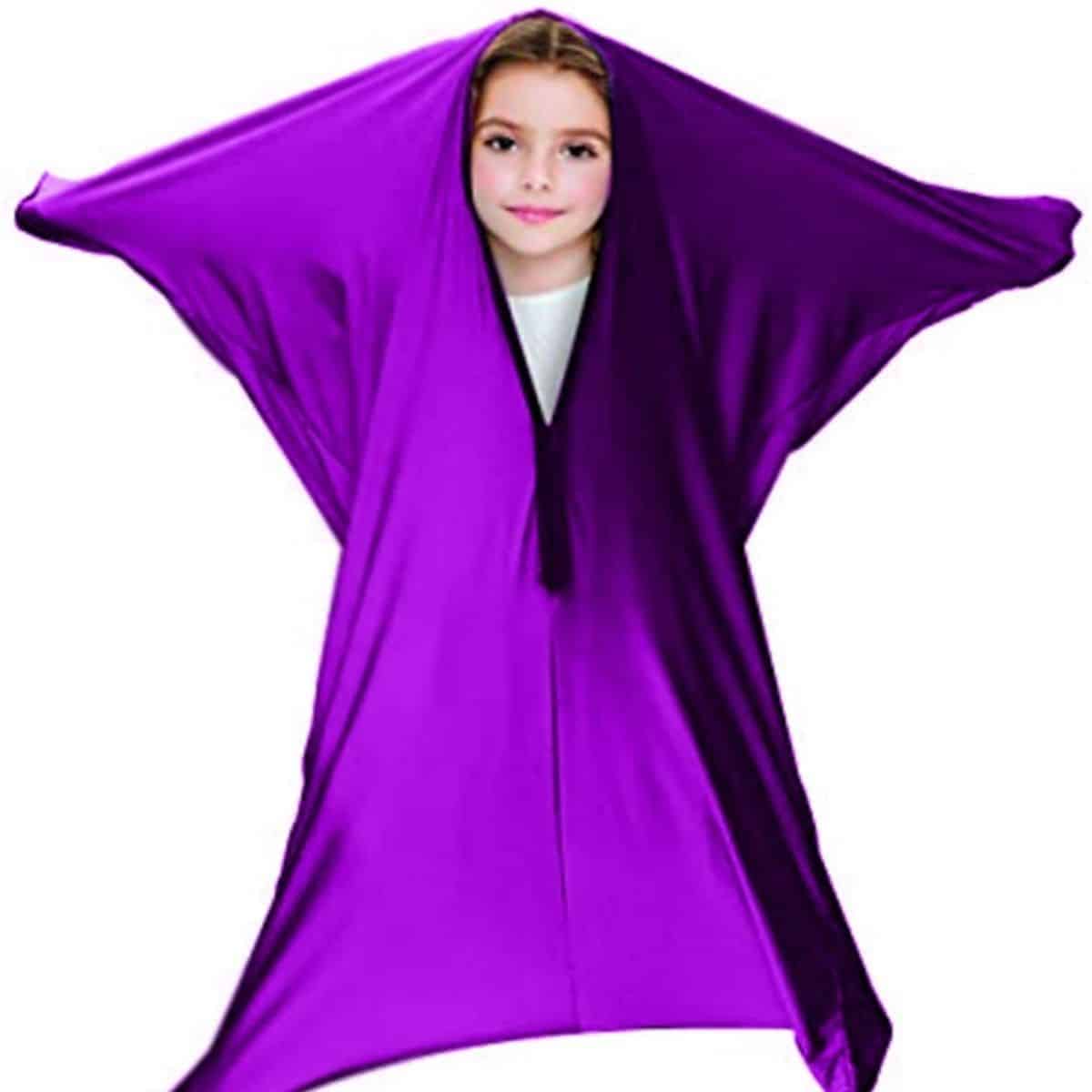 Harkla Snap Closure Sensory Body Sock – I love that this body sock doesn't have the scratchy Velcro that can irritate some kids. While it's a couple of bucks more, it has a lifetime warranty! It also comes in sizes small through x-large, which fits kids taller 5'2″, and could even be used for some adults.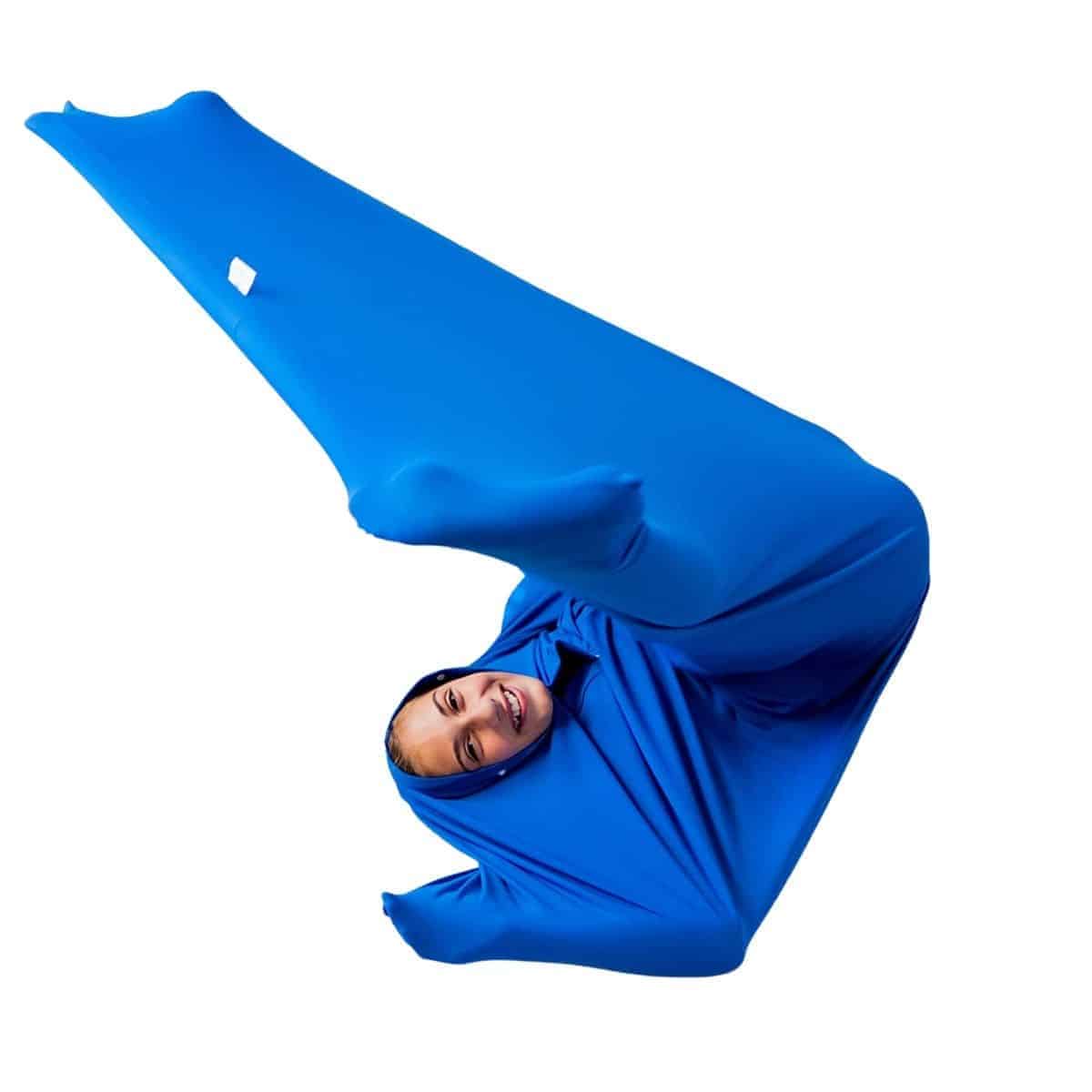 Tube and Tunnel Body Sock and Sack – If your child likes a lot of resistance, then this tube shaped sack that also functions as a tunnel might be a better option. It's very versatile, but does function a bit differently. It's long and can be tricky to get legs, feet, and arms inside, but if you want to use in a variety of ways this could be a great option.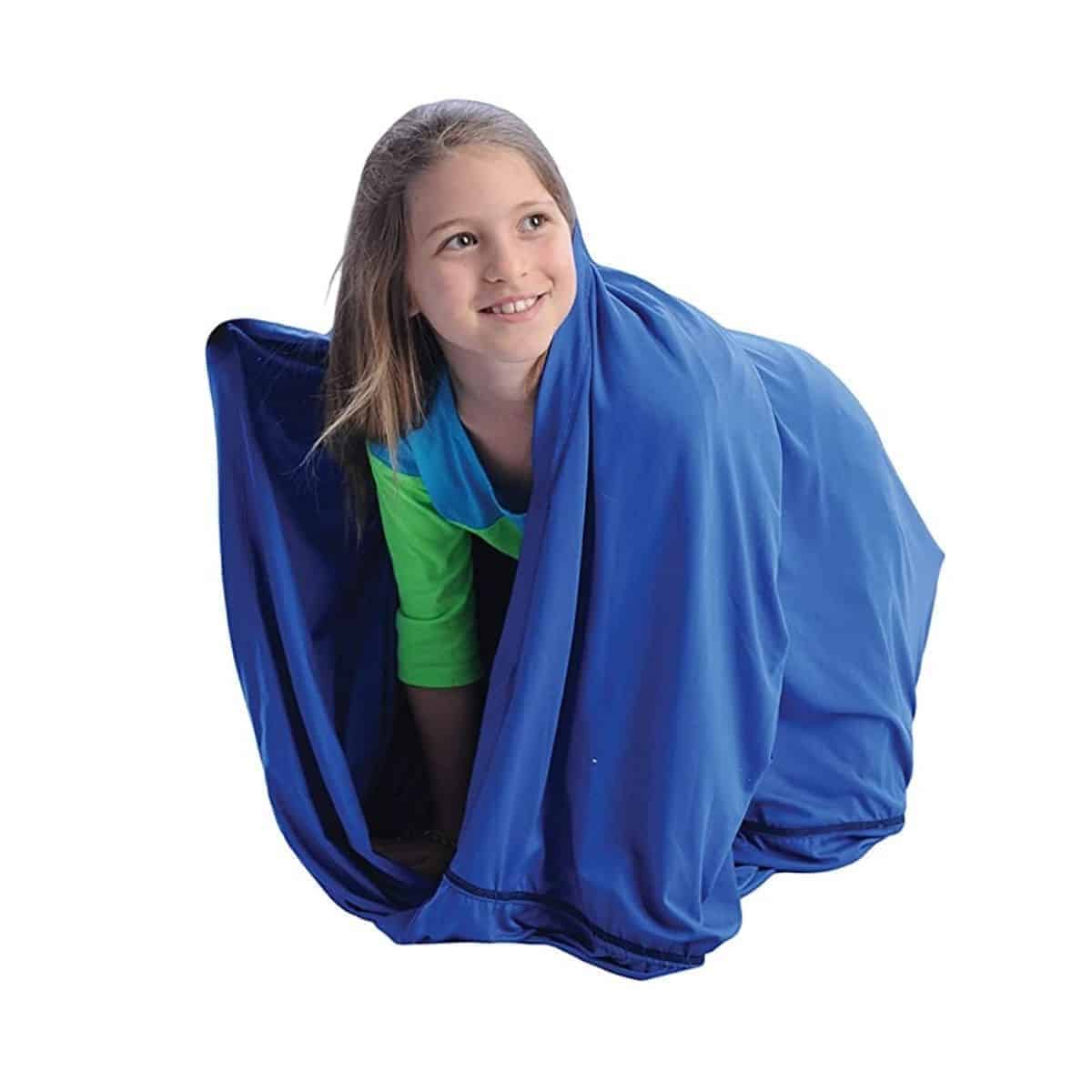 Sanho Body Sox – This body sock is like a sack and has no snaps or elastic openings at all. It has excellent reviews of Amazon and comes in a variety of colors!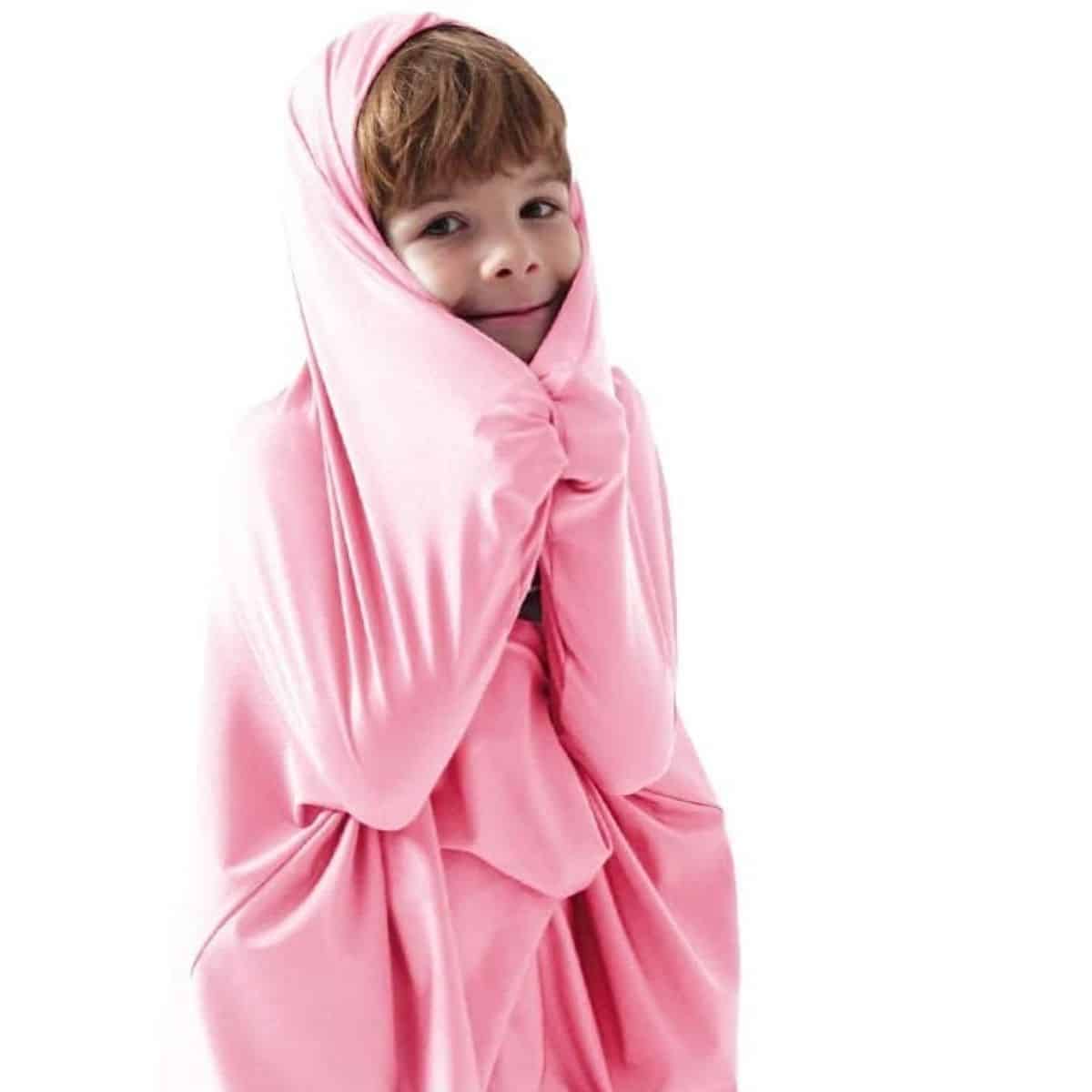 Fun and Function Body Sack – A bit of a different design that is not a traditional body sock. Instead, this is a body sack that fits adults and gives plenty of fabric to wrap around tightly. An alternative for kids and adults that want to have it wrapped with the flexibility to have some stretching as well.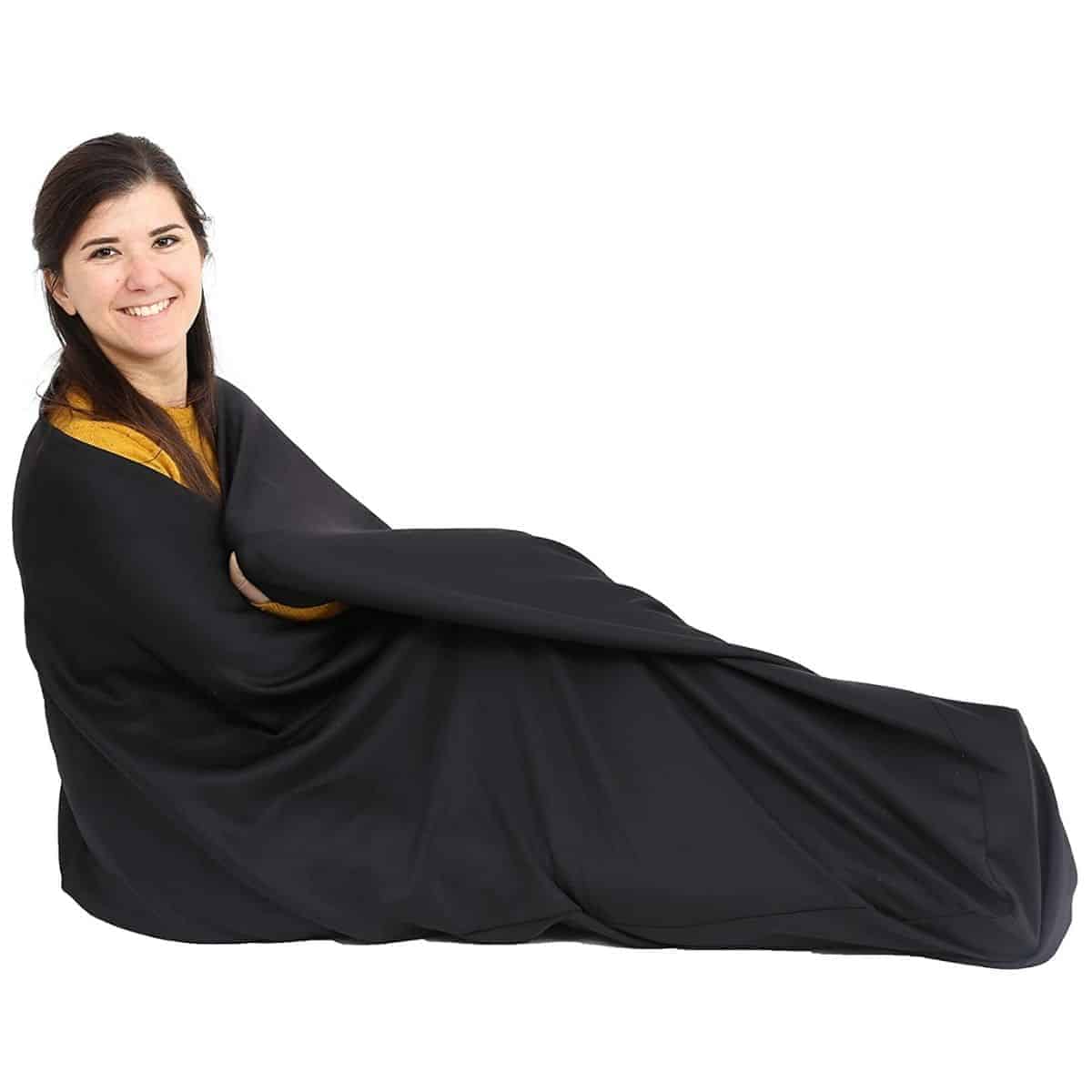 Learn How to Use More Sensory Activities to Calm and Focus Your Kid
Sensory body socks are just one of many tools and activities to help your child with their sensory "issues" or needs. To regulate and balance your child throughout the day, including all the difficult times, learning which activities are best for your child can change their life and yours.
Come learn how to use sensory activities to calm and focus your child in my free workshop!
More on Sensory Tools and Toys
Did You Say Wobble Cushion? What it is; How it Works
7 Weighted Blankets to Help Kids Sleep and Relax in 2022!
Top 10 Sensory Swings for Kid's Development and Sensory Processing
11 Fun Weighted Lap Pads to Help Kids Sit Still
---
Alisha Grogan is a licensed occupational therapist and founder of Your Kid's Table. She has over 17 years experience with expertise in sensory processing and feeding development in babies, toddlers, and children. Alisha also has 3 boys of her own at home. Learn more about her here.