Sensory swings can help a child calm down, improve attention, and following directions. Learn the top 10 sensory swings for kids and how to use them safely with your child.
Sensory swings are a powerful tool to support and encourage any child's development. They are even more powerful for kids that have sensory needs, SPD, ADHD, or Autism because they directly work to improve sensory processing. As a result, they can help kids calm down or get the sensations they're craving!
As a pediatric occupational therapist, I love using sensory swings with kids, but there are times when any given swing can be more harmful than good to a child. I'll explain how to safely use a swing with your child in this post while you learn my top 10 sensory swings.
What are Sensory Swings?
Sensory swings come in so many different shapes and sizes, but they all serve a purpose. Occupational therapists have been using them in therapy for years, but in the last 5 years, they've become readily available (and way more affordable) for families to use in their own homes.
But, really any swing is a sensory swing because anytime you get on a swing, your vestibular system gets a ton of sensory input.
The great A. Jean Ayres theorized that using swings in specific directions and rotations can actually decrease a lot of sensory related behaviors, like poor attention, body awareness, and motor planning (just to name a few). I'd agree as I've witnessed this in therapy repeatedly.
Caution: Use Sensory Swings Safely
In the last few years, I've seen a dangerous ad running on social media where a "dad" gets on the screen and says "this sensory swing" will instantly calm and eliminate any tantrums. It made my blood boil, because some kids are sensitive to the movement from swings and will FREAK OUT when they get in a sensory swing.
That sensory sensitivity is definitely something you want to work at overcoming. Through small steps, never forcing your child to get in the swing. If you do force your child to "just try" a swing, it's likely to make their sensory processing worse and leave them even more fearful.
Also, if you spin your child in a swing, use a lot of caution because it's VERY strong sensory input. Some kids will throw up, even kids that love spinning, which means their vestibular system has overloaded.
Either avoid spinning your child, and let them take the lead, or spin them just for a few seconds. Then, spin them in the other direction to help balance their system out.
Affiliate links used below. See our full disclosure.
The Top 10 Sensory Swings
Below you'll find my picks as an occupational therapist for the top 10 sensory swings, the benefits, and how to use each swing:
#1. Stretchy Swing (Most Versatile)
This is the perfect swing if your child loves big hugs, crawling into small spaces, and tight clothes. The stretchy fabric envelopes a child and, besides being able to swing in it and get loads of vestibular sensations, your child will also get lots of calming proprioceptive sensations from the fabric pushing against their body.

It also gives kids a place to retreat and escape any bright lights or other overwhelming stimuli in the environment.
Your child can stand, sit or lay down in this swing. Bounce, sway, or be pushed to swing back and forth. They also can lay on their belly in the swing, which is so good for their sensory processing, and use their hands to push themselves from the ground, if it's lowered close to the ground.
They can even bunch it up under their arms and hang from it. It's the most versatile of all swings and I highly recommend it, but remember some kids will be cautious climbing into a stretchy swing that doesn't have a firm bottom.
This lycra swing holds up to 240 lbs and comes with the eye hook, carabiner, and chain you need to hang it in your home.
Read more about proprioception and calming activities here
#2. The Platform Swing
This swing is a staple in every occupational therapy clinic because it allows children to comfortably lay down on their belly with firm support underneath them. Swinging in a back and forth motion while a child lays on their belly is a sensory integration treatment technique.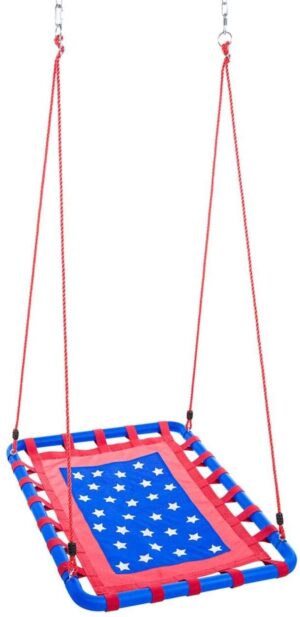 Either the budget swing or the traditional therapy version of the platform swing can also be used with multiple children. The swing above holds up to 250 lbs., can be used outdoors, and is recommended for 5 year olds and up. The swing below holds up to 300 lbs, is for indoor use, and is recommended for 24 months through adults.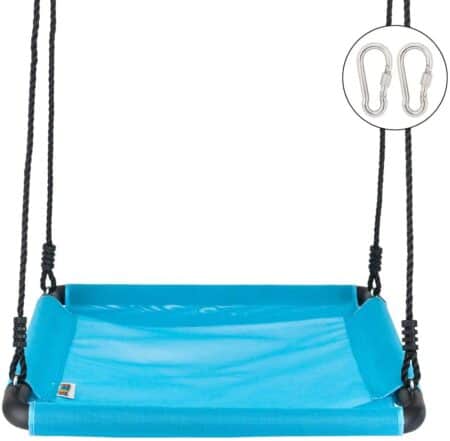 I like to encourage kids to lay down on their belly on the platform swings and place some bean bags or stuffed animals on the floor beneath them. When they swing past, they reach over and grab one (swing will need to be now to the ground). Then, when they've got a bean bag throw it a target while they remain on their belly. This encourages crossing mid-line and other sensory processing skills that kids with sensory needs often need.
Swinging a child as they lay on this swing can also be incredibly calming to kids that are always on the go or described as "hyper". Remember to never force, some kids will feel more secure sitting on the swing initially, they can work up to laying down to swing.
Learn more Crossing Midline Activities here
#3. Pod Swing
We have a sensory swing like this in my house, and my kids have loved it for years. The pod swing is a fun place to climb into and can be a hideaway when kids get overstimulated or need a break. Kids can spin in this swing or be pushed, but your child will only be able to sit in this swing, not lay down.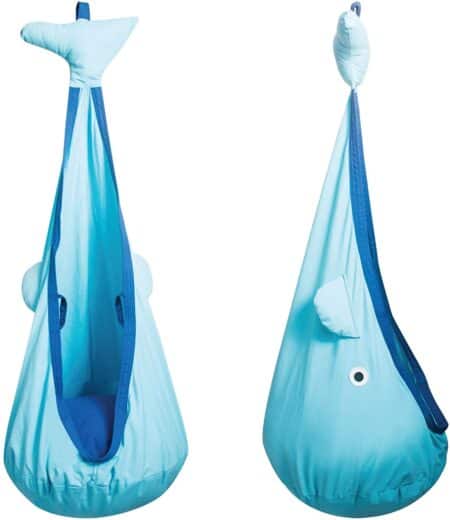 Another awesome benefit of sensory swings is that they can inspire your child's imagination and increase interaction. They can imagine they're climbing aboard a big whale boat and set off on an epic voyage across the sea, where they encounter storms and silly ocean creatures!
This pod swing is for indoor/outdoor use, holds up to 160 lbs., and comes with all the hardware you need to hang it up.
Head to how to Create a Sensory Space
4. Hammock Swing
This affordable hammock swing is relaxing and can go in any outdoor or indoor space. Kids will have to share this one, because adults will want to sit and sway too with its 265 lb. capacity.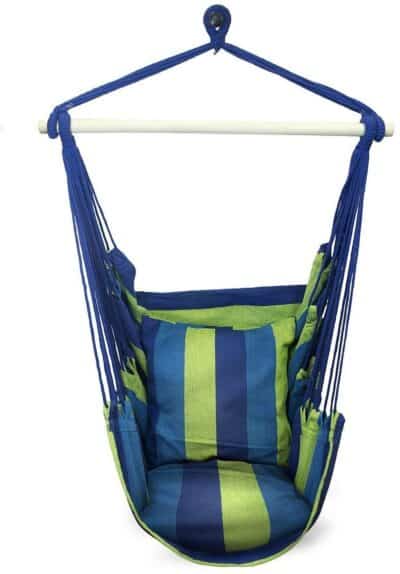 This type of swing is great for kids that want to see their surroundings while in a swing, but still giving some security with sides around them. It's perfect for relaxing with gentle sways back and forth.
Click here to discover more vestibular activities for kids
#5. Bolster/Log Swing
The bolster/log swing is another OT clinic favorite. This is a challenging swing that is meant to be played on. You will need thick mats, like these, on the floor under this swing, as it challenges a child's motor planning and core strength.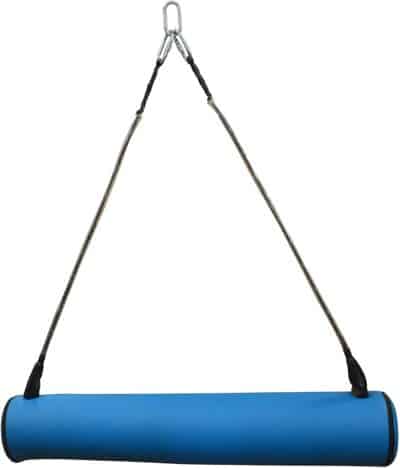 Use a step stool to have your child climb on and encourage them to either sit at one end and hold on to the ropes. Or, lay down on their belly and wrap their body around the bolster and you push them back and forth.
This swing is an investment for a sensory room or play space, but holds up to 650 lbs. That means two kids (or adults) can easily fit on this log.
#6. Disc Swing
The disc swing is great for kids 3 and up as it gives lots of vestibular input and challenges a child's core strength, motor planning, and grip! You can hang this from any outdoor swing set or tree, and with some additional hardware, it can be used inside too.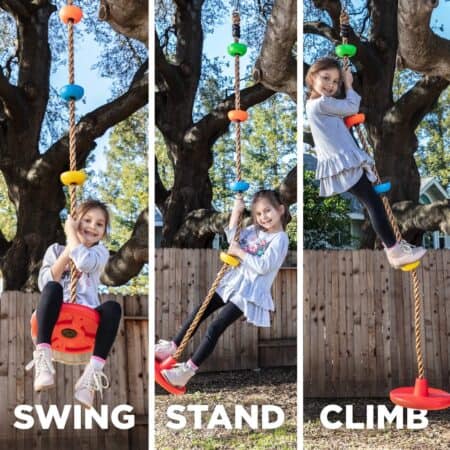 If your child is sensitive to movement, this isn't the swing I would start with, but for big movement seekers and dare devils, it's perfect!
#7. Skateboard Swing
Another outdoor swing meant to hang from a tree or swing set. This swing challenges your child's coordination, balance, core strength, and motor planning. It's recommended for kids ages 3 and holds up to 250 lbs.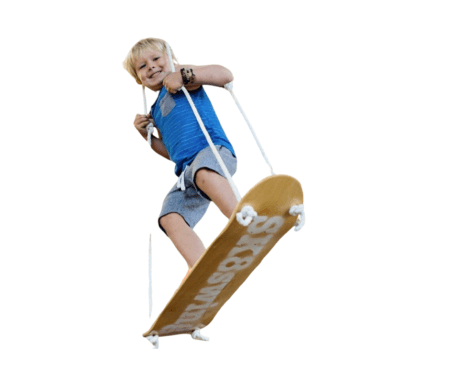 Your child can pretend that they are surfing a huge wave or blasting off to space on this simple, but fun, skateboard sensory swing.
#8. Square Platform Swing
OT's also love to use the square platform swing in therapy. Unlike the rectangular version, this one can spin and turn more easily as kids lay across it on their belly and use their hands to move the swing. You can easily clip a blanket around the ropes to make a little hideaway tent.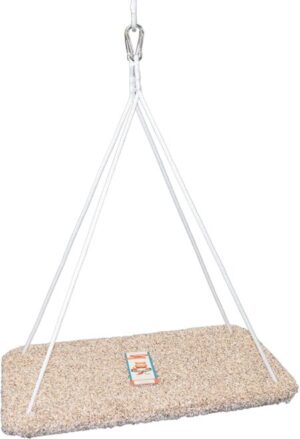 Push your child on this swing side to side, back and forth, and even in a circle, which is different than spinning. All of these different directions of movement stimulate different parts of the vestibular system and can greatly impact their sensory processing. These movements are possible with this type of swing because the ropes all connect at one point at the top.
This therapy-grade platform swing is comfortable, durable, and holds up to 300 lbs.
Learn more about the power of sensory intergration therapy
#9. Large Saucer Swing
These large saucer swings have been popping up in yards over the last few years and for good reason. Hang one of these in your yard and the children will come. Kids can climb onto this 440 lb. capacity swing together or alone. Sit, lay down, or pump on this swing for tons of sensory input!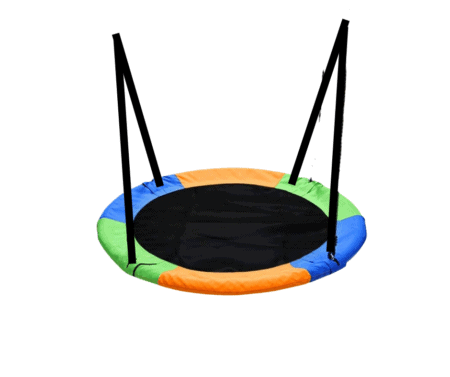 This swing is designed to hang in a tree, but can be adapted to work indoors.
#10. Mesh Swing
Last, but certainly not least, is a mesh or net style swing that gives a child options. You can spread out the mesh so it fits like a seat or spread it out to lay back or cozy up inside.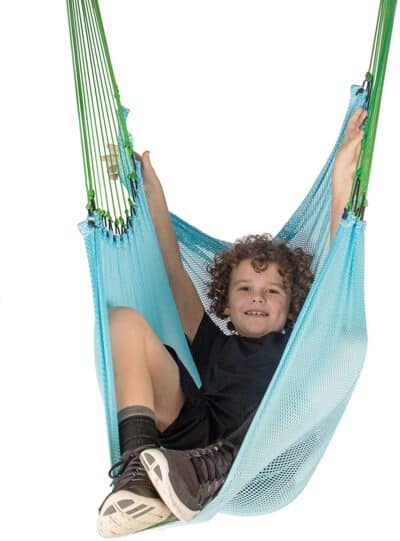 It holds up to 200 lbs. and is great for kids 3 and up. But, this swing does require hooks. Perfect if you have multiple swings and you're changing this one out. Or, grab a set of hardware here.
**As noted above, most of the swings come with all the hardware needed to hang a swing and safely install them in your home. But, outdoor swings would need additional hardware to hang inside. Follow instructions to hang all swings safely and supervise when they're being used.
Have you used any sensory swings before? If so, tell us what you loved about it in the comments. If you're looking for your first sensory swing, tell us which one you're interested in and any questions you have. We love to hear from you and these comments help others as they look for helpful sensory tools!
Grab This Free Printable
Swings are fun and can be a used to help kids calm down, get their sensory needs met, and as you saw with some of the types of sensory swings, be a place to "get away". Use our free printable on how to create a small sensory space or tent to help your child. This sensory space can be the sensory swing itself.
Click here to get the free sensory space printable!
More on Sensory Toys
37 Sensory Toys to Help Kids Learn, Communicate, and Calm Down
How to Choose the Sensory Toy for Your Child
10 Awesome and Cheap Sensory Toys
---
Alisha Grogan is a licensed occupational therapist and founder of Your Kid's Table. She has over 15 years experience with expertise in sensory processing and feeding development in babies, toddlers, and children. Alisha also has 3 boys of her own at home. Learn more about her here.