Research shows that kids learn, attend, and follow directions better with movement. Get your kid moving with these 50+ movement break ideas for kids that are perfect for online learning at home or in a traditional classroom.
Sitting in front of a screen or at a desk for the better part of 6-7 hours everyday for school can be hard for kids. Heck, it's hard for a lot of adults.
Many teachers have learned that giving kids movement breaks in between learning activities makes the whole day easier. Now, with more kids than ever learning remotely online, as a parent, you might be wondering how your kid is ever going to handle it long term.
Or, you've already noticed that your child is distracted, not following directions well, complaining, or melting down.
Using movement breaks can help. In fact, as an occupational therapist, it's the very first strategy I'd try because it works for so many kids
What Are Movement Breaks Exactly?
Movement breaks are simply an opportunity to actually move instead of sitting stationary either at specific increments or as needed. They can be as short as 30 seconds and as long as 10 minutes. Mostly, they're used in short bursts several times throughout a period of time when a child or adult is required to sit for long periods of time like in a classroom or when learning from home online.
Movement breaks should be easy and require little, if any set up. That way they're easy to follow through on and use consistently. Kids can even learn to use movement breaks themselves without any adult supervision.
Head over to How to Keep Kids Focused for Online School for more ideas!
Why You Should Try Movement Breaks with Your Child
Countless research studies have proven that children learn better when they move. Having movement built into a child's school day improves attention, the ability to follow directions, and behavior!
Even if your child is making it through their day without any obvious signs of poor attention or learning, providing movement can help them complete learning tasks more efficiently, as well as retain new concepts better.
It also meets many children's sensory needs, which leaves their sensory system balanced and regulated, which is directly correlated to mental health and well being too.
Basically, movement breaks are beneficial for every child!
Affiliate links used below. See our full disclosure.
How to Use Movement Breaks for Kids During Online Learning
While there's no specific instructions you need to follow, you'll want to think about making time for movement breaks for your child throughout the time they're being required to sit and complete work. A good starting point is every hour. But some kids may only need a break every 90 minutes, or they may need to get up every 30 minutes.
Kids may also benefit from beginning their day with a movement break before they do any learning. Ending the day with one can also helps kids transition out of learning and into other activities more easily too.
You have a few choices for how to implement movement breaks:
#1: Parent Directed
In this approach, you'll remind your child when it's time for a movement break. It's usually most effective to do them in between classes activities. Meaning, if Social Studies ends at 9:50 and math doesn't start until 10:00, you can use that time for a movement break.
When you tell your child it's time for a movement break, it's often helpful to tell them what to do, "We have ten minutes before math, let's do 3 yoga poses after you get back from the bathroom."
#2: Child Directed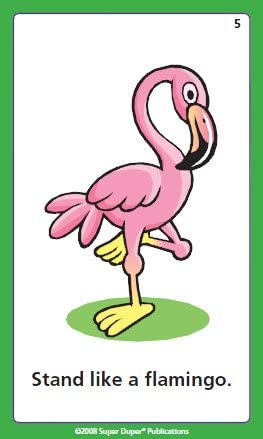 In most situations, you'll need to start off with a parent directed approach so that your child understands and adopts movement breaks as part of their routine. Once they've used some different movement breaks, then you can give them a list, create flash cards, or grab these movement cards on Amazon. They have simple pictures on them too, for kids that can't read.
Your child may need some prompting, but ultimately, they're responsible for choosing and doing the moving breaks.
Some kids may need a visual or written schedule they can follow for their whole school day with the movement breaks included on that schedule.
Of course, most kids, especially under 5th grade, will probably have the most success with a combination of the two approaches.
How to Use Movement Breaks in a Classroom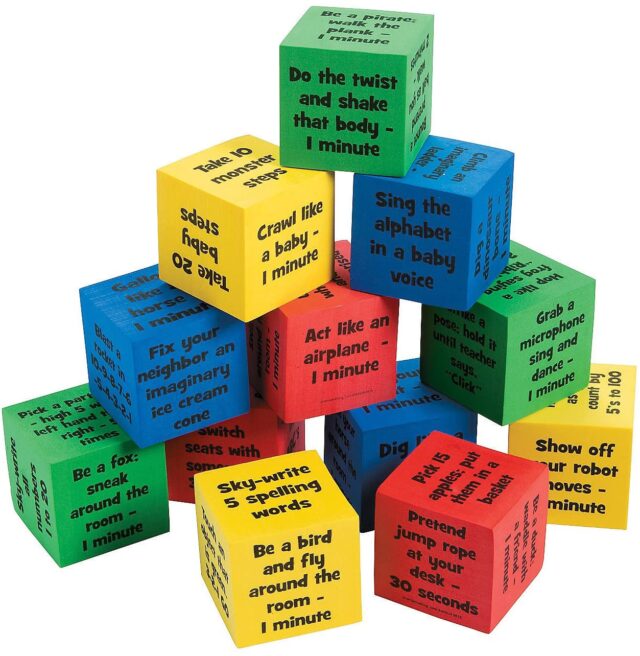 Movement breaks in a classroom work much in the same way as at home, but in a classroom, all the kids are doing the movement together. Teachers can have the movement break pre-planned or write the movement breaks on popsicle sticks and kids can take turns selecting one out of a jar for the whole class to do.
I also found these awesome movement dice that give kids a movement to complete at random when rolled.
As an OT, I'd encourage at least 2-3 movement breaks throughout the day, but they could be done as often as every 30 minutes. Remember, they only need to take 30 seconds. And, an added benefit is that it creates a fun and bonded classroom. My kids have been blessed by some teachers in the past that use movement breaks really well, and it brings such a joy to their day.
Kids love movement!
50 Easy Movement Break Ideas for Kids
Let the list below inspire you, because there are countless movement breaks you can use at home or in the classroom. Kids respond and often find the greatest joy in the simplest of activities.
Adjust any of these activities to make them longer or shorter based on the time frame you have available:
Crouch low on the ground and jump up trying to touch the ceiling
Somersault
Slither on your belly like a snake
Do 10 jumping jacks
Skip around the room
Push something heavy (filled laundry basket, toy shopping cart, etc.)
Touch fingers to toes and reach up to the sky 5 times
Hang upside down
Cartwheel
Spin in a circle
Play Ring Around the Rosie
Jump on a trampoline
Jump on a bed
Jump on the couch
Jump in place
Jump rope
Jump up and down the stairs (if you feel your child can do this safely)
Do 10 windmills – touch your right hand to your left toes with straight arms and legs. Repeat on the other side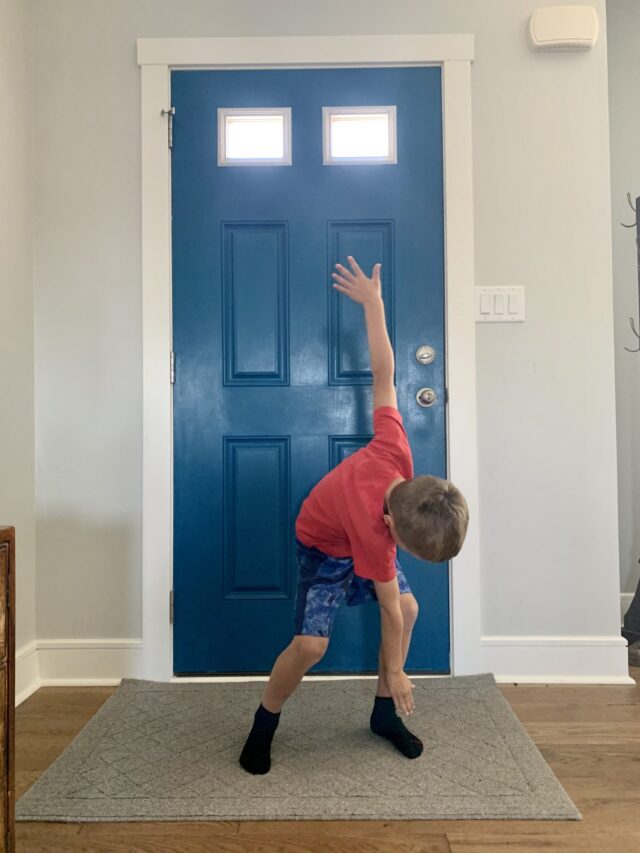 Run a lap around the house
Run in place for 30 seconds
Scooterboard on your belly
Put on the music and have a 5 minute dance party
Leap like a frog
Crawl like a crab
Gallop like a horse
Hop like a bunny
Soar like a bird around the room
Bounce on a yoga ball
Play hopscotch
Do downward dog or other yoga poses
Do a hook up– This is very organizing to the brain and is a great sensory activity. Have you child stand with legs together, cross one leg in front of the other. Then extend arms out in front with thumbs facing towards the floor, cross arms over top of each other and interlock fingers. Next, with fingers still interlocked and fingers crossed pull your arms towards you chest in a downward motion. Stand in this position for up to 1 minute. It will be challenging for some kids, so work your way up to this length of time. See the pic below of Isaac doing a hook up: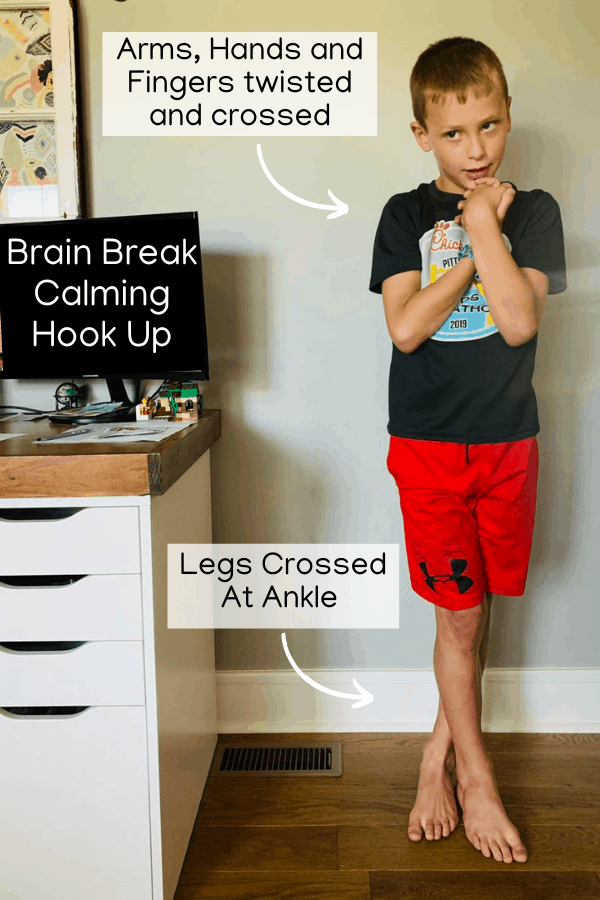 Get squished under a pile of pillows
Walk across on a balance board, balance beam, or jump rope lying on the ground
Stand on one leg as long as you can, switch legs
Run back and forth between two spots
Shake or wiggle your whole body for 15 seconds
Kick a ball back and forth
Pull and stretch out a yoga or exercise band ten times
Pick up 1-3 lb weights
Do a push up
Do a chair push up
Do a wall push up
Run in place for 30 seconds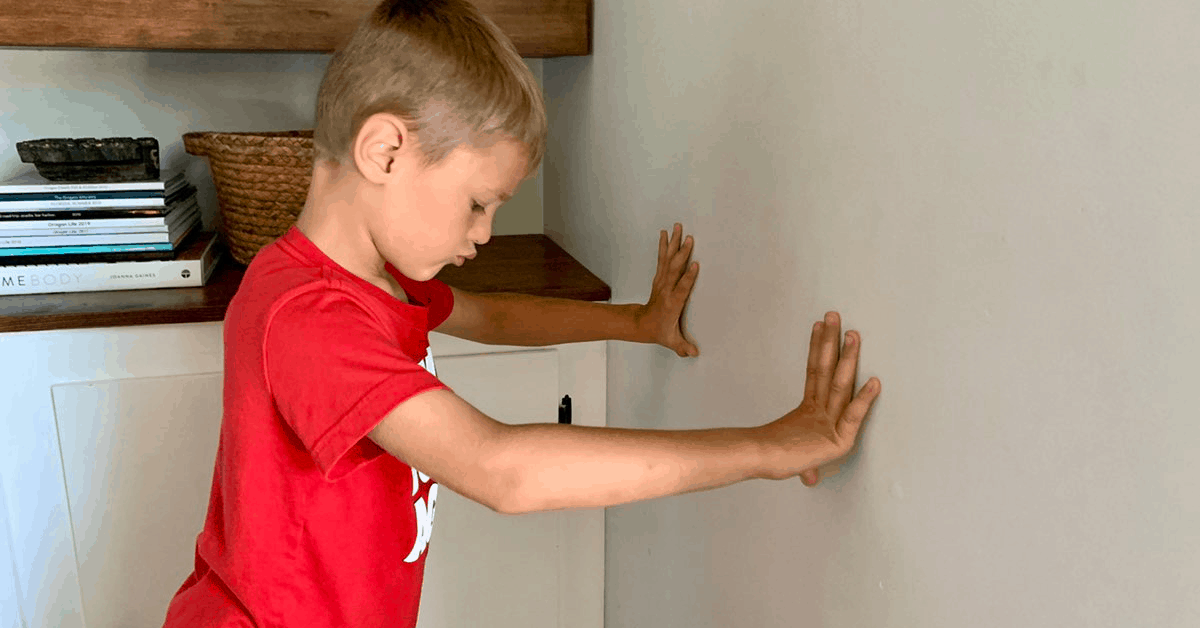 Do sit ups
Do 10 squats
Hula hoop, or pretend to hula hoop
March around the classroom or living space
Plank for 10-30 seconds
Play Simon Says
Wheelbarrow walk – With the pandemic, this will only work at home, but typically kids can pair up and do this in a school environment too, depending on their age and space restrictions.
Jump into a pile of pillows or a crash mat
Pass a medicine ball or weighted balls back and forth
Use joint compressions – See the detailed post on how to use joint compressions 45 second sensory tool that calms some kids. This can't be done independently, and would work best in a home environment.
Free Printable of Activity Ideas
All movement breaks are also sensory activities. You can't move without giving sensory input to the brain. That movement is so good for kids development. So, I wanted to share with you a brand new FREE printable of 25 of my favorite sensory activities. Get it right in your inbox:
Click Here to Get 25 Powerful Sensory Activities to Calm and Focus Your Child
And, if you have any other movement break ideas, share them in the comments!
More on Movement Activities for Kids
7 Mealtime Rituals That Keep Kids at the Table Longer
The Ultimate Parenting Guide to Thriving During Quarantine
5 Ways to Use a Scooter Board for Sensory Input
7 Awesome Sensory Activities Using a Yoga Ball
---
Alisha Grogan is a licensed occupational therapist and founder of Your Kid's Table. She has over 15 years experience with expertise in sensory processing and feeding development in babies, toddlers, and children. Alisha also has 3 boys of her own at home. Learn more about her here.