Kale is an amazing super food and this kale chips recipe is a perfect way to get it into your kids, even if they're a picky eater. Enjoy these kale chips as an after school snack or side dish!
In the chaos of getting a 4 year old out of the door after a playdate, my friend leaned in and said, "I made kale chips with the kids for a snack, and James loved them."
At the time, James ate very little veggies, so I was particularly excited about the development, while being fully aware that it may be a one hit wonder situation.
I had never tried serving my kids kale chips, so the next week I casually pulled some fresh kale out and asked James if he wanted to help me make the chips.
He promptly dragged the stool over to our island, declaring he would show me how to make them because Mrs. Whitsel had taught him. Once they came out of the oven, he gobbled them up along with his two older brothers who don't usually consume kale in any fashion.
A total win.
Why Kale Chips Are Awesome for Kids
Over the last couple of years, we honed our recipe in and I wanted to share it with you because these chips are packed with big nutrition, kids tend to give them a try, and they are super easy to make.
When I say big nutrition, I'm not kidding. In one cup of raw kale, you'll find these incredible vitamin percentages of the recommended daily value:
Vitamin A: 206%
Vitamin K: 684%
Vitamin C: 134%
Manganese: 26%
It's a super food, with many more vitamins and nutrients, including antioxidants and fiber to combat constipation that so many kids struggle with. Learn more about the health benefits of kale here.
Plus, kale chips for kids are the perfect afterschool snack or dinner side dish.
Why Your Picky Eater Might Even Eat These Kale Chips
Your picky eater is going to be 10 times more likely to try kale chips over a kale salad or sautéed kale.
Why?
Because Kale chips are crunchy and crunchy is key for picky eaters. The crunch is often the preferred texture as opposed to something that's chewy or soft.
Plus, kale chips are roasted and seasoned, which makes them more palatable.
If you have a picky eater, you'll want to have them help make the chips, and serve them many times to give them a chance to get used to them. You can even crumble the kale chips up and mix in with popcorn or on top of a sandwich.
What to Serve With Kale Chips for Kids
I love to serve kale chips as a side dish during dinner, but it's such a great afterschool snack too. Kale chips can be surprisingly filling, but you may want to add to your kale chips snack:
Nuts or seeds
Small beef stick
Yogurt tube
Crackers and hummus
Cheese stick
Other After School Snack Ideas for Kids
And, if you're looking for other after school ideas, check out: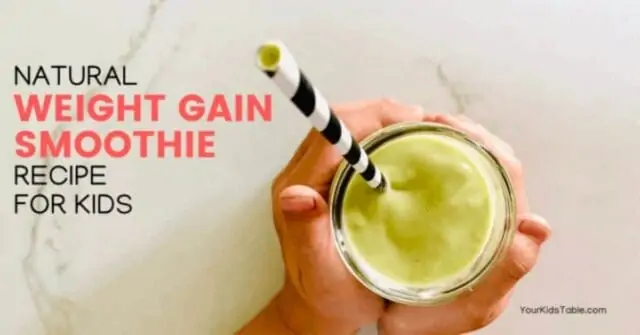 The Natural Weight Gain Smoothie (Super healthy and only includes a few ingredients, even if your child isn't trying to gain weight)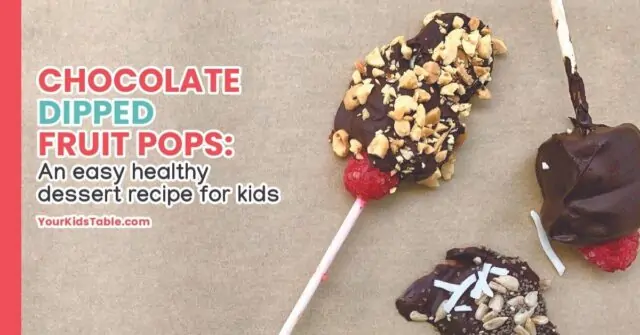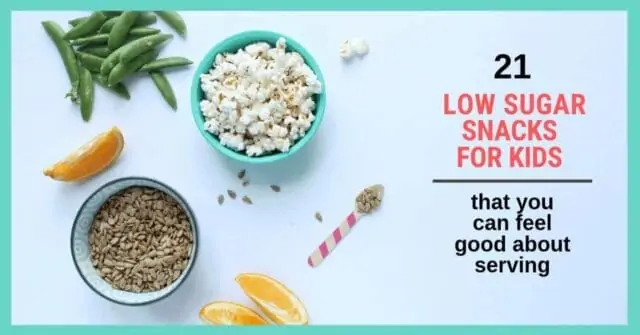 Low Sugar Snacks That You Can Feel Good About Serving
Homemade Kale Chips for Kids Recipe
You're going to love how easy this recipe is. Start by setting your oven to 325 degrees. Next, you'll need the kale. I like to buy a bag of pre cut kale, if you go the same route, you'll need about 9-10 ounces. This will be a serving for about 4.
Or, you can get a bunch or two bunches of kale. Pull large chunks of leaves off and discard the stems. Either way, rinse the kale under cool water and pat it dry.
Once it's dry, put all your torn kale leaves in a large bowl. Drizzle 4-5 tablespoons of oil over the the kale. I recommend using avocado, olive, or coconut oil. If coconut oil is hard, melt it before adding it to the kale.
Then, sprinkle the sea salt and optional garlic powder on top. My kids love garlic, but you could also add some onion powder, paprika, or even cayenne pepper if your kid likes some heat.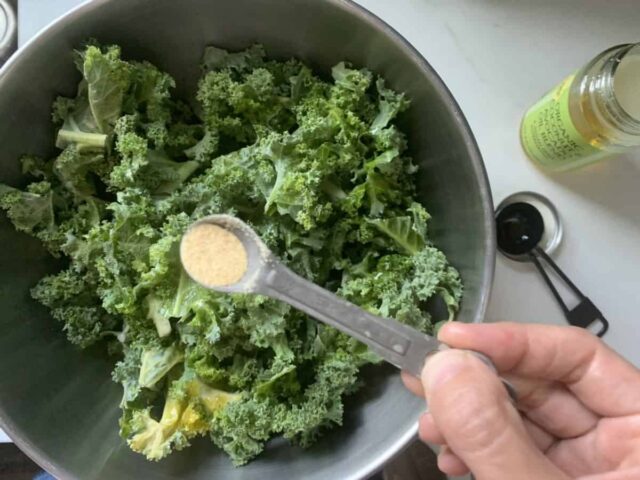 Roll up your sleeves and toss the kale with your hands until it's all fully coated with the oil. Then, dump onto a baking sheet, spreading the leaves out in a single layer.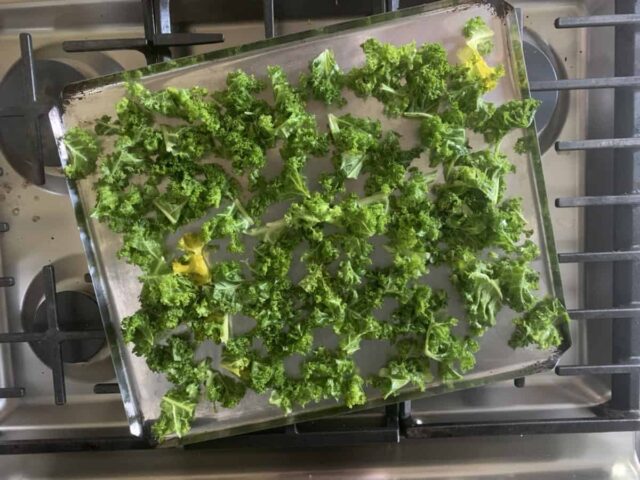 Roast in the over for about 15 minutes. Turn the kale over about halfway through and keep a close eye on them because they can burn easily. You're looking for totally crispy (no soft parts) and lightly browned chips.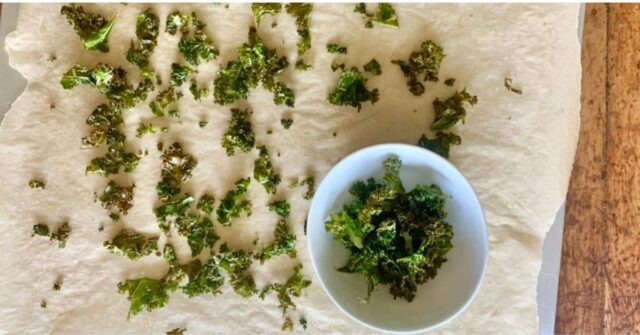 Delicious!
You can store these in an air tight container for 2-3 days.
Are you excited to try kale chips, tell us if you think your kid will give these kale chips a try in the comments!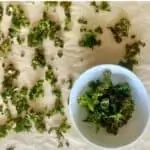 Healthy Homemade Kale Chips
Ingredients
10

oz

Precut Kale

(or 1-2 bunches with leaves torn into bite sized pieces)

4-5

tbsp

Avocado, Olive or Melted Coconut Oil

1/4

tsp

Sea Salt

1/2

tsp

Garlic Powder

Optional
Instructions
Rinse kale, pat dry, and place in a large bowl

Pour oil, salt, and garlic powder over kale and use hands to toss until the oil and seasonings are evenly coated.

Spread kale leaves out in a single layer on a cookie sheet and place in oven

Turn kale over at about 8 minutes, and continue cooking for a total of 15 minutes or until kale has lightly browned and is crispy
---
Alisha Grogan is a licensed occupational therapist and founder of Your Kid's Table. She has over 17 years experience with expertise in sensory processing and feeding development in babies, toddlers, and children. Alisha also has 3 boys of her own at home. Learn more about her here.