Check out these 5 slam dunk holiday family meals that your picky eater will devour and the rest of the family will enjoy too! Leave the worries about what your kid will eat this holiday behind.
If you've got a picky eater, they you already struggle on the daily with planning family meals. Or, you might not even go there and just give your child the same food everyday, because that's all they'll eat. Either way, you've got your routine, that you and your child are used to.
Even though it's a source of stress, you don't have to worry about what anybody else thinks or says about it when you give your child that one specific type of macaroni and cheese for the 3,417th time.
But, around the holidays, you're probably going to find yourself surrounded by well-meaning friends and families that can't help but notice that your child is NOT eating. Some will make a comment or suggestion on how to help your child, as if you haven't tried, with the best intentions. Let's face it, others think that if you just did something different this whole picky eating thing would go away!
Hard not to take it personal, but know that they truly don't get picky eating and all that it means.
You can learn more about how to help picky eaters through the holidays here. In that post, you'll read that one of my suggestions is to take or make something that your child eats as a side dish, even if it's peanut butter sandwich's.
The Power in Taking or Making One of Your Picky Eaters Favorite Foods
Why peanut butter sandwich's? Because, if that's the only thing your picky eater will eat, then you take it. If possible though, you want to try to make something that adults and everyone at the dinner or party will enjoy.
Work with what you've got!
Of course, feeding them before you attend the party is also an option, but I think giving the meal a fighting chance by having a picky eater approved food available is even better. That's because your child has a chance to have a positive experience socially with food.
That's important for a picky eater.
Sometimes picky eaters will branch out at these parties when they don't feel pressured and nobody's paying attention much to what they're doing. That's more likely to happen with thoughtful food choices.
And, that is what this post is all about. In it, you'll find 5 simple, but creative, ways to incorporate your child's "picky eater food" into a meal that everyone can enjoy. Not only will this get your kid's stomach full, but it will also help you breathe a little easier and dodge some of those judgy suggestions.
What If My Picky Eater Doesn't Like These Foods?
I know better than anyone that there's no such thing as one or two types of food that every picky eater will eat. I fully expect that some of the options you find below may not work for your kiddo, especially if they're an extreme picky eater. Even if you scroll the list below and think, "Nope, my kids not eating any of that," use it as inspiration for using foods that your child does eat.
How you're preparing the foods that your child likes stays the same. Think of different types of food bars, stations, or platters that involve a food that your child actually eats on a regular basis.
However, these 5 meals will pass for a lot of picky eaters! I've taken into consideration what most picky eaters tend to avoid and gravitate towards. What textures and flavors they readily eat. And, foods that are fun for adults too.
Affiliate links used below. See our full disclosure.
5 Holiday Meal Ideas That Picky Eaters Will Love
Every one of these ideas can be elevated for an elegant dinner when you start to think about the ingredients you'll use. Or, they can be so darn simple and easy, whichever works for you.
Remember to get creative and adapt any of these 5 holiday meals to mesh with the foods your picky eater is already eating: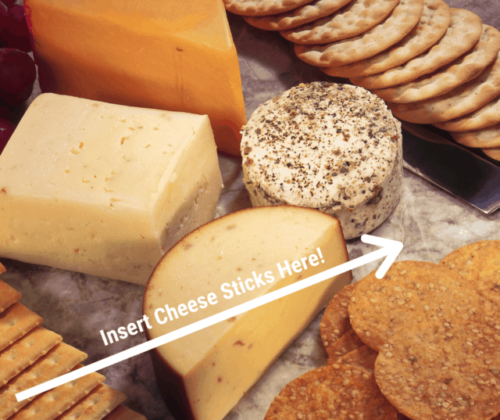 1. Cheese, Cracker, and Fruit Tray
Classic right? At holiday parties, it's common to see beautiful platters of Gruyere, Gorgonzola, and Brie scattered in between big bunches of grapes. Or, maybe your family keeps it more simple and buys the pre-made packages with Pepper-Jack, Swiss, and Cheddar. Either way, you can create your own cheese board to include a type of cheese your child eats.
Even if it's mozzarella sticks or american cheese slices.
Using a tray with compartments, or placing bowls on the tray to house certain cheeses is even more helpful because picky eaters may still turn down their beloved cheese stick when it's bumped against a fig.
This is also a great opportunity to add any fruit or raw veggie they may eat. Think apples slices, watermelon, raw carrots, or pickles!
And, hello, the crackers! A huge win for lots of picky eaters. Put the goldfish or Ritz crackers right next to those fancy water crackers.
Since you're child isn't used to seeing their favorite food prepared in this way, get them in the kitchen with you when they're assembling it. It's a perfect activity for any kid, and anytime they feel some ownership over the meal, the more likely they'll be in general to eat it anyhow.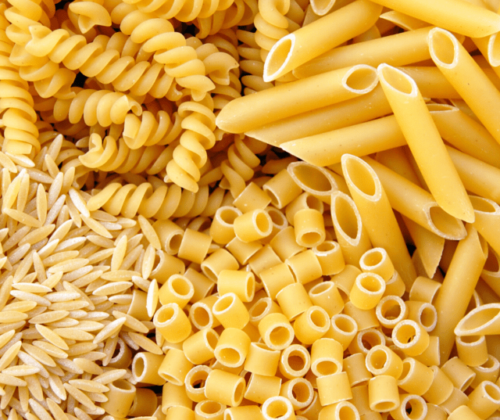 2. Pasta Bar
This is so much fun for kids and adults at parties and dinners. Since many picky eaters have at least one type of pasta they eat, even if it's that special kind of mac and cheese, this is an easy way to make sure something's being served that they'll eat.
Think about boiling several different types of pasta that are various shapes and colors. Have at least two different sauces, on the side (Marinara and Alfredo work well). And, you could even add meatballs or Chicken Parmesan as an option too. (See my meatball recipe and get tips for how to get picky eaters to them.)
Have cheese available to sprinkle on top as well.
Again, you can make this meal as sophisticated or as simple as you want. A pasta bar works even as a side dish for you to take to a dinner. In that case, you'll want to make 1-2 kinds of pasta, including one of your kids favorites, and bring two different sauces as options. You can even make a simple garlic olive oil for folks to drizzle on top. Heck, a bottle of that could be a great holiday present for the host!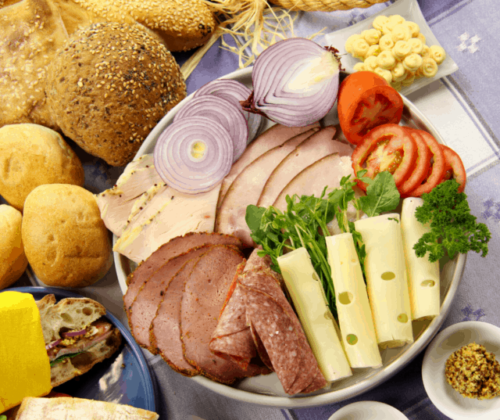 3. Sandwich Station
Does your picky eater like sandwiches of any kind, yes, including that PB & J? Then, a sandwich bar could be the winning meal to serve!
You can go traditional and serve all sorts of deli meats and sliced cheese with a few different types of buns and bread. If you've got a bread kid, this is soooo much better than pre-made sandwiches as many picky eaters won't eat the bun if it's touched the meat, lettuce, or tomato. Even if your child just eats the bread, it's filling and they're eating!
On the other hand, you could also include any filling your child eats (pepperoni, bacon slices, peanut butter) alongside chicken breasts, turkey cutlets, or breaded fish.
Put out the cranberry sauce and horseradish, but mindfully keep them in those separate containers.
To take this a step further, you can also have a panini maker or a warm griddle going to make grilled cheese or hot smashed sandwiches! Perfect for the grilled cheese picky eater lovers!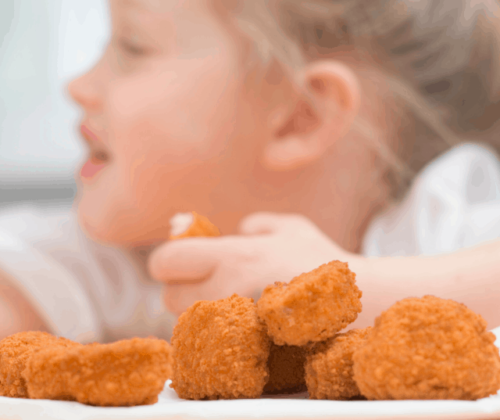 4. Breaded Chicken or Turkey (with some small nugget size pieces)
One of the reasons picky eaters often love breaded food is because it gives foods a crunch. It also keeps the food moist. But, you may have wondered why your child will gobble up chicken nuggets, but not a whole breast. Or, maybe your kiddo will eat frozen or fast food nuggets, but not homemade.
For picky eaters, big pieces of meat are way too much texture and sometimes really hard to chew.
I've got one trick that helps A TON with getting picky eaters to eat home-made chicken nuggets: pound your meat out. You want your meat to be as thin as possible (less texture and chewing) and moist. Pounding your meat first does both.
For this holiday dinner for picky eaters, I'd suggest making a bunch of full sized chicken or turkey breasts/tenderloins, but also cut some that are about the size of a quarter! Like a chic-fil-a nugget. Get the full homemade chicken nugget recipe here.
The smaller size is easier for picky eaters to eat and often intrigues them. Of course, if this is a brand new food for your kid, don't set your expectations high, but with serving it regularly you could have success.
Heck, you could even make the full sized breasts and also have your kid's favorite frozen nuggets on the side! This way, it doesn't seem like the frozen nuggets are out of left field when you serve those dino nuggets too. And Aunt Norma is way less likely to make a comment about what your child isn't eating!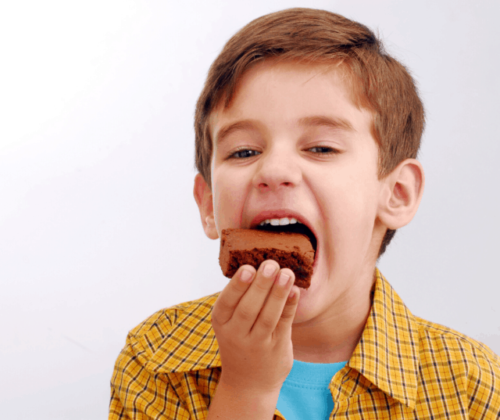 5. "Healthy" Brownie Bar
Okay, technically not a meal.
But, with picky eaters, we've got to think creatively about how to get them interested in some aspect of the meal. Use one of the 4 ideas above as your main meal and finish it off with a low sugar homemade brownie that also has some avocado, beans, or sweet potato in the mix.
While I'm never for tricking out kids with hidden fruits and veggies (read why here), I think there's a way to serve a "special" brownie without tricking them.
If your kid eats brownies all the time, you're going to want to have them help you make it so they can see the ingredients or at least tell them, "Hey, I used a different recipe for these brownies."
Here are a few different "healthier" recipes you can use as well:
Have some additional toppings on the side as well, starting with nuts. Why? Because nuts are packed with nutrition and they're crunchy, often a win for picky eaters. Think about slivered almonds, salted and roasted sunflower seeds, and roasted peanuts. Avoid whole nuts that will are usually too much texture.
Instead of sprinkles, think slices of strawberries, fresh sliced cherries, or pomegranates.
Unsweetened coconut flakes are a great option too. If you have the option, get the wide slices of coconut, they can pick those up like a small chip and will be more willing to try them.
Chocolate chips and whipped cream can help too!
Lastly, unless your kid loves icing, keep your brownies icing-free, it's a whole other texture your kid will have to fight through!
That's the 5 Holiday Meal Ideas for Picky Eaters!! Do you have a meal that you've made for a big dinner or party that has worked for your kid? Tell us in the comments so we can all be more inspired!
Want to REALLY Help Your Picky Eater?
I love sharing recipes and food ideas as an occupational therapist and mom, but to really help our picky eaters overcome it so they can have a healthy relationship with food throughout their life, I believe you need a plan! A plan to address the real reason(s) your child is a picky eater. If you're looking to end all the worry and stress about what your child is not eating, then grab a seat in my free workshop: 3 Keys to Turn Around Picky Eating.
You'll learn 3 powerful strategies that every picky eater needs. (And, it's the foundation of that plan for picky eaters!)
More on Picky Eating
Will Your Child Outgrow Picky Eating: The Surprising Truth
Perfect Lunch Ideas for Picky Eaters at School, Home, or Daycare
---
Alisha Grogan is a licensed occupational therapist and founder of Your Kid's Table. She has over 14 years experience with expertise in sensory processing and feeding development in babies, toddlers, and children. Alisha also has 3 boys of her own at home. Learn more about her here.