Discover how to use dips to help picky eaters actually eat new foods and get inspired with 47 different dip ideas that you can try with your picky eater. You'll learn what to do if they refuse, too!
Affiliate links used below. See our full disclosure.
My youngest son has definitely gone through an average picky eating phase. Part of that picky eating has been that he refuses to eat meat unless it's breaded or on a bun. The latter of which we had to work up to over time.
To expand his variety, and because I'm gluten free and don't want to bread all our meat, I decided to employ some other picky eating strategies to help him learn to enjoy meat. These strategies can work for ANY food your child doesn't eat… vegetables, fruit, whatever.
If you're a regular reader here, you may remember that a few weeks ago I shared a recent big breakthrough on the meat front with James. I made chicken (not breaded) on skewers and he devoured them.
There are a few reasons he finally made the leap to eating plain chicken.
First, we don't pressure him to eat and have been keeping him on a schedule for meals. These are parts of the Mealtime Works pyramid, from my picky eating program.
Second, I made sure the meat was delicious (there's a special twist to this recipe that makes the chicken really juicy). Third, I used two of my favorite picky eating tricks: sticks and dips.
Anytime you put anything on a skewer, toothpick, or bento pic, kids are intrigued. Eating off of a stick is fun. It's different.
But, I always offer meat with a dip my son likes. I made a sweet peanut sauce he dipped those chicken skewers in (all in that recipe), but his go to is BBQ sauce. Ideally, Chick-fil-a BBQ sauce.
After he ate the skewers for the first time, he's now gone on to eat chicken every time I've served it – with a dip.
He even ate pork chops (a first) the other night with a toothpick as his utensil and his BBQ sauce!
I know what you're thinking though. This all sounds great…
But, My Picky Eater Hates Dips!
I bet your picky eater does hate dips, most do. My son wasn't interested in them at all. We've been offering and exposing him to dips for years – not that it needs to take that long.
The individual serving size of the Chick-fil-a dip was what finally won him over.
It might not be BBQ sauce for your child or any dip from Chick-fil-a, but even if you have a VERY extreme picky eater, dips can help your child eat new foods!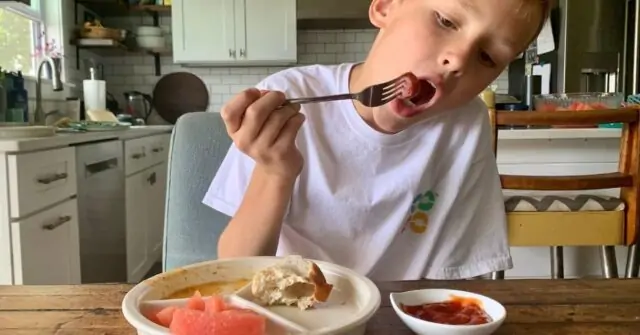 Why Dips are Worth YOUR Effort
That's why it's totally worth finding a dip or two that your picky eater enjoys and serving it alongside any foods that they don't typically eat. This is such an effective picky eater strategy because when a picky eater gets used to the flavor and texture of a dip, they feel safer trying new foods.
Think about it for a second.
Your child has some broccoli in front of them. A food they haven't touched since they were a baby. In the last few months, you worked on them enjoying and liking Ranch dressing as a dip. They now have it on the side of many meals.
They decide to try their broccoli in the ranch. Instead of being overwhelmed by the distinct and bitter taste of broccoli, they first taste their familiar and preferred Ranch.
Of course, they'll taste the broccoli, but the texture and flavor will be minimized because of the familiar ranch taste.
That means they're more likely to eat more. It means they're more likely to give food a try because they have a buffer.
Are you seeing how this can be such a powerful strategy, and that it's worth getting your kid to learn to like at least one dip!?
How to Serve Dips to Picky Eaters
Picky eaters do best with compartmentalized food. If your child isn't used to dips or refuses them, you'll want to use a side plate, bowl, or dip cup to put their dip in.
This will reduce the likelihood that they'll freak out when you start offering the dip.
It also adds in that fun element that piques a kid's interest.
These are a few of the fun dip containers for picky eaters: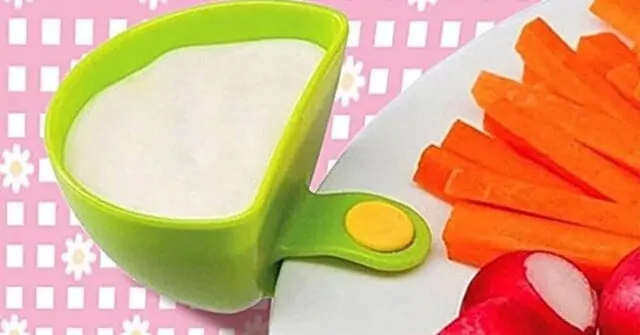 Stainless Steel Bento Box Bowls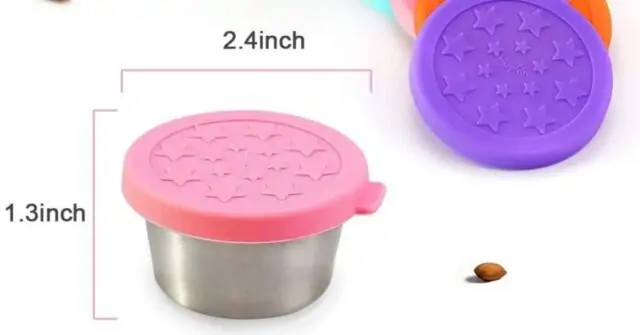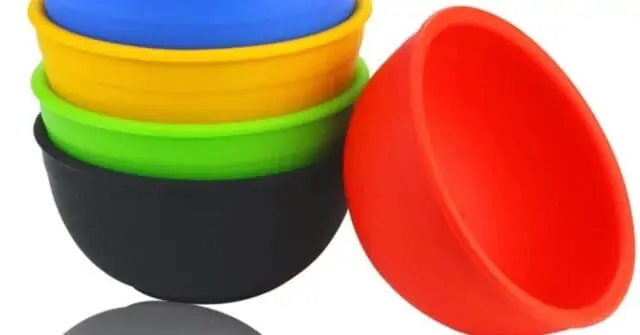 Which Dip Should You Try With Your Picky Eater
What types of food does your picky eater like?
Are they predominantly sweet, salty, spicy, or milky? Use that as your starting point for offering a dip. For instance, if your child loves creamy, milky foods like macaroni and cheese and grilled cheese, then Ranch might be a great dip to start with.
Or, if your child likes spicy foods, you might try some BBQ sauce or a vinaigrette dressing with a kick to it.
For kids that love sweet foods, you might want to try honey, Nutella, or a nut butter.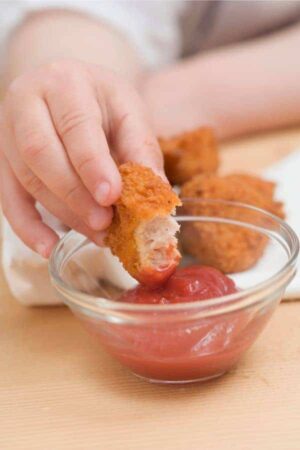 47 Dip Ideas to Try With Picky Eaters
Classic Dips:
Ketchup
Ranch
BBQ Sauce
Honey Mustard
Sweet Dips:
Honey
Maple Syrup
Jam or Jelly (try different flavors)
Caramel
Chocolate Sauce
Strawberry Sauce
Applesauce (try flavors with other fruits mixed in)
Pudding
Yogurt
Sweet and Sour Sauce
Marshmallow Fluff
Nut and Seed Butter Dips:
Peanut Butter
Sunflower Seed Butter
Cashew Butter
Hazelnut Spread (Nutella)
Salty or Savory Dips:
Mayonnaise
Mild Salsa
Balsamic Vinaigrette
French Dressing
Blue Cheese Dressing
Spaghetti Sauce
Spinach Dip
Sour Cream
French Onion Dip
Cream Cheese
Hummus (assorted flavors)
Tzatziki
Pesto
Melted Butter
Alfredo Sauce
Queso
Cheese Dip
Tangy or Spicy Dips:
Italian Dressing
Medium Salsa
Yellow Mustard
Dijon Mustard
Lemon Juice
Guacamole
Red Wine Vinegar
Catalina Dressing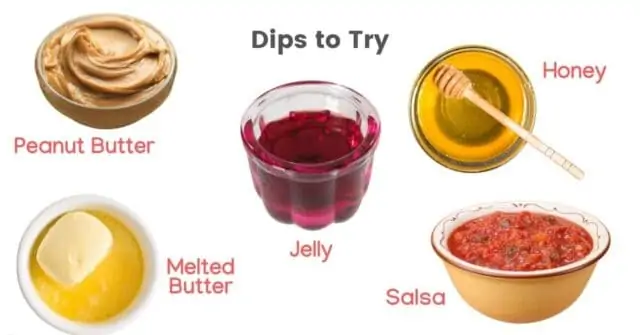 What to Do When Your Picky Eater Refuses to Try a Dip
The first couple times you serve a dip, your picky eater will likely refuse to eat it. Don't be alarmed. This is part of the process. Simply serve them a small amount of the dip so they aren't overwhelmed and you don't waste a lot.
Even better is if they're able to serve it themselves.
If your child is old enough to understand, describe what the dip tastes like without any pressure. Imagine you're writing an explanation for the dictionary. Describe if it's sweet, tangy, etc. Is it smooth or chunky? Cold or warm?
Keep this description brief and then model trying the dip without asking your child to try it.
Pulling out a toothpick and using a small piece of food can help a lot to. But some kids may want to just stick their finger into the dip at first, which is totally encouraged!
Choose 1-2 dips from the list above to focus on and serve them regularly for 3-4 weeks.
Don't Give Up!
Parents of picky eaters often feel hopeless because nothing seems to work. Time and time again, I've seen the most severe picky eaters learn to eat new foods. And that the stress at meals decreases, even evaporates. Using dips is one tool, it's not the whole picture though. Be consistent and if you want more of my strategies that have worked for thousands of other families, join me in my free picky eating workshop here.
More Help for Picky Eaters
Unbelievably Easy Healthy Meals for Picky Eaters (+Free Printable)
5 Weight Gain Tips for Picky Kids & Toddlers
The Picky Eater Approved Chicken Nugget Recipe
---
Alisha Grogan is a licensed occupational therapist and founder of Your Kid's Table. She has over 17 years experience with expertise in sensory processing and feeding development in babies, toddlers, and children. Alisha also has 3 boys of her own at home. Learn more about her here.