Does your kid hate or freak out when it's time to get their hair brushed? You're not alone! Try these 7 ways to help kids with sensory issues and needs with hair brushing. Get the best hairbrush and detangle picks too!
Affiliate links used below. See our full disclosure.
A lot of kids don't like getting their hair brushed, but some kids have a down right freak out, scream at the top of their lungs, or run and hide in terror when the hairbrush comes out.
As frustrating and exhausting as it is if that's your child's response to hair brushing, then something deeper may be going on.
Understanding what that is allows you to help them, instead of fight against them, all while you manage to get their hair brushed!
Why Do Some Kids Hate Getting Their Hair Brushed??
While it might seem like your child is just trying to make your life more difficult, the reality is that if they hate and refuse to get their hair brushed, then it's likely because they have at least one sensory sensitivity. Any of the following are possible sensitivities related to hair brushing…
1. The tugging of the brush or comb in the hair hurts their head or is very uncomfortable.
2. The sensation of the brush bristles on their scalp is painful or intolerable. Both number 1 and 2 are related to the tactile, or touch, sense specifically.
3. If your child is standing in front of you and you have to work through a lot of knots, they could sway back and forth which could make some kids feel uneasy, dizzy, or motion sick. This is due to the brain having difficulty processing vestibular (or movement) sensations. Kids with this sensitivity will often avoid or dislike riding swings or climbing playground equipment too.
4. Sitting or standing still to get their hair brushed is very challenging. This is common for kids that are sensory seekers. Sensory seekers love movement and may have a difficult time sitting for so long.
If your child is old enough, when you aren't brushing their hair, ask them why they don't prefer it. Their answer could give you insight into why they're avoiding it. The tips you'll learn shortly will help you hone in on their sensitivity!
Keep in mind that kids can have sensitivities to other hygiene activities too like washing their hair, cutting their nails, or brushing their teeth, as well.
Does Sensitivity to Hair Brushing Mean My Kid Has Sensory Processing Disorder?
If you've never heard of sensory processing, it may be worrisome to hear your child may have a "sensory sensitivity." However, lots of kids and adults have these sensitivities. They can't help them, it's all related to how their brain works.
However, the brain can always make new connections so they can become desensitized to these sensations and potentially not even mind hair brushing in the future!
While any child can have a sensory sensitivity, it's very common for kids with Sensory Processing Disorder (SPD), Autism, or ADHD, as all of these diagnoses have difficulty with sensory processing.
My son has some sensory needs, which has helped me understand and help him in many areas of his life, but it's not impacted him so much that he needs an SPD diagnosis.
If you're wondering if your child has other sensory needs, check out this list of 21 other sensory red flags that are easy to miss!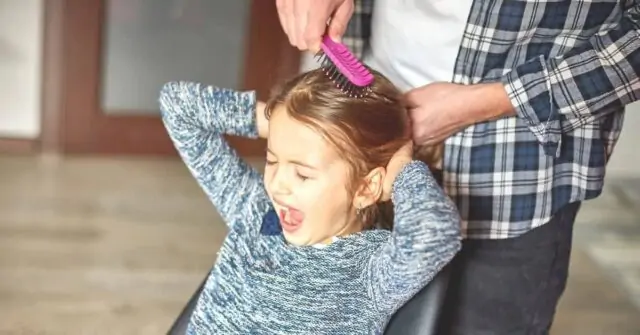 7 Ways to Help Kids Sensitive to Hair Brushing
There's a lot you can do to help your child tolerate getting their hair brushed, as well as a few work arounds! As an occupational therapist, these are my top 7 tips you can start using today:
#1. Massage their scalp, use deep pressure, or joint compressions
Before you start to brush their hair, you can use some sensory activities to help ground or regulate them so they can tolerate the brushing more easily. Here are a few ways you can do that:
Massage their scalp with your hands, deep under their hair
Push down on their shoulders with deep pressure for a few minutes
Use joint compressions on their joints
Have them do 5, 10, 20 jumping jacks before sitting down
Only use any of those preparatory activities IF your child likes them. If they complain they don't like you massaging their scalp or pushing down on their shoulders, stop.
#2. Have them lean up against something or sit in between your legs
A lot of times, we try to brush hair when our kids are dripping wet out of the bath while they stand in front of us.
Instead, make sure your child is comfortable, dry, and try having them sit in front of an arm chair or couch so they can lean back into it. Bring your legs around their sides, and give them some deep pressure, which is calming and feels more secure for the majority of children.
This is VERY important for kids that have any dizziness or feel unstable during hair brushing. It may even help to give them a stuffed animal or stress ball to squeeze as you brush.
Tell your child to close their eyes if they still feel dizzy or ungrounded and try to keep tugging to a minimum so they don't sway out of their control.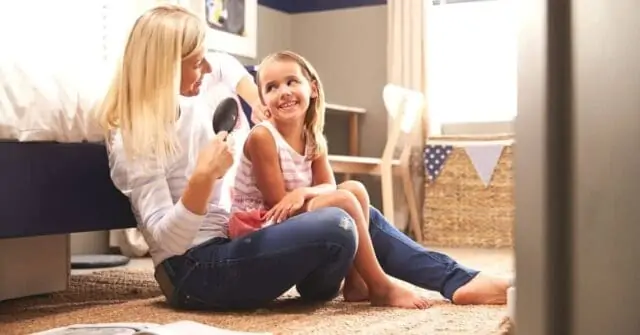 #3. Put them in front of a mirror or selfie mode
While your child is seated, if you can place a mirror in front of them, or let them use a device on selfie mode so they can see what's happening as you brush their hand. When a child can't see what's happening, it's naturally more anxiety producing and it also further challenges their sensory system.
This simple tip can help some kids tolerate hair brushing with much more ease!
#4. Hold one hand firmly on their head while brushing
The tugging of hair brushing is probably the most aggravating aspect of hair brushing for kids. To help minimize that sensation, put one hand firmly on the child's scalp as you brush down with the other hand.
For straight or wavy types of hair start at the top of the hair and gently brush down. Move your hand down, continuing to push on the scalp as you move further down the hair. Curly, coiled or African hair types will do better to start at the bottom and move your way up as you brush.
#5. Use detanglers and sensory brushes
If your child is sensitive to the way the brush feels on their scalp or has a lot of knots in their hair, you may want to consider using some special brushes designed to minimize the sensation or detanglers to decrease the amount of knots.
See our list of recommendations below!
#6. Let your child choose the brush
Letting your child choose which brush or comb you use has two benefits. First, it gives your child a sense of control. If you have a variety of options, try to give them 2-3 to pick from so they aren't overwhelmed with the choices.
Making a choice also shifts their attention off of getting their hair brushed and onto making a decision.
Second, your child may not be able to articulate which brush feels better to them, but they may be able to choose it when they see the options laid out. Chances are the brush they pick will be the least assaulting to their senses, which is what you want!
#7. Spray water on dry hair
Sometimes, it's helpful to spray some water on a knot or tangled hair when you're trying to brush it when it's dry. The water helps the brush or comb glide through the hair more easily. This can be especially helpful for curly haired kids!
Bonus tip: Keep hair cut shorter
This is a "work-around" strategy. I know you or another parent may have visions of a child with long beautiful hair, but the shorter the hair is, the easier it is to brush.
I know this won't be an option for everyone, but it's something you may want to consider. It's also something you may want to ask your child about. They very well may want to have shorter hair.
You could search Google for different shorter hairstyles to give them an idea of different styles to inspire them.
Best Hair Brush and Detanglers for Sensory Issues + Needs
There are about a million hairbrushes and detanglers on the market, how do you know which one to choose for your child? It may take some experimentation. If you're in a store, let your child feel the brush or comb bristles on their hand and see if there's one they prefer.
Here are some of our recommendations:
The Wet Brush: A hairbrush designed to detangle. Andrea, a fellow OT and Your Kid's Table team member, says this is her top pick after huge hair battles with her daughter!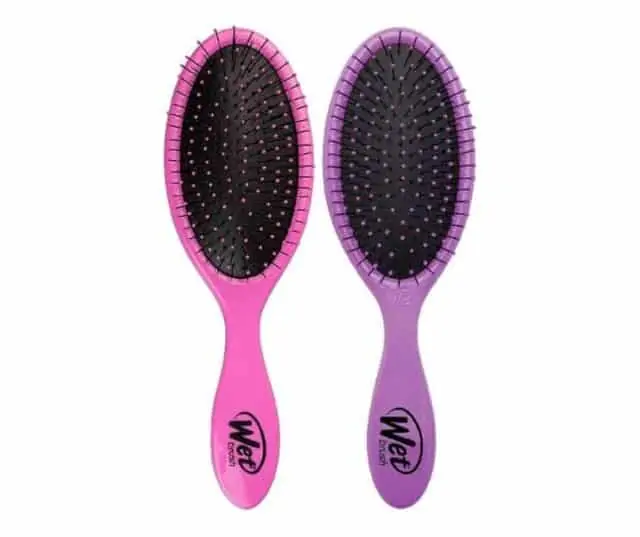 The Honest Company Conditioning Detangler: Another product tried and tested by Andrea and 33,000+ on Amazon with 4 and 1/2 stars! Use this to help prevent knots that you'll have to work through.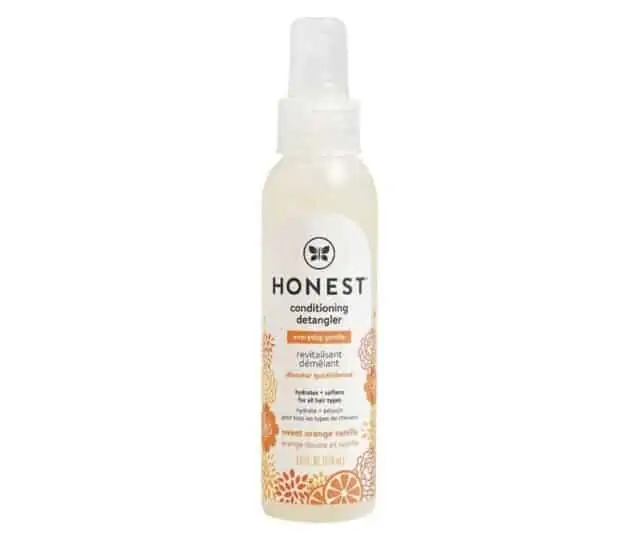 Basic Wide Mouth Comb: These are great for working through knots without snagging up other hair. Some kids may prefer this to a brush. Bonus, they're super inexpensive!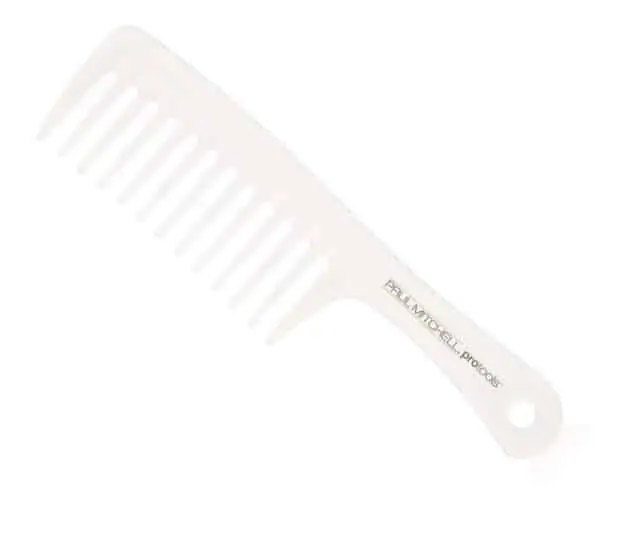 FridaBaby Thick or Curly Hair Detangler: This brush is perfect for thick or curly hair, as well as young children. Easy to manipulate and can help minimize knots!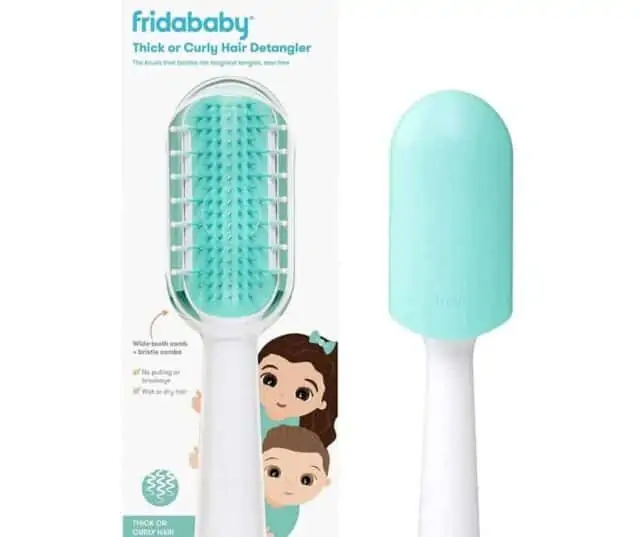 Help Your Kid With Other Sensory Needs, Too!
Often times, when a child has a big sensitivity to hair brushing, there are other sensory needs present too. Some you might be aware of, some you may not. Unfortunately, sensory processing isn't well explained to parents, even though it affects just about everything kids do!
The REALLY good news is that sensory processing CAN BE IMPROVED.
Get a free seat in my workshop: 3 EXPERT SECRETS TO CALM AND FOCUS YOUR CHILD WITH SPECIALIZED SENSORY ACTIVITIES to learn how to use sensory activities to help your child in all different areas of their life that are impacted by sensory needs.
More Sensory Strategies for Kids
How to Potty Train a Child with Sensory Issues
8 Quick Tips for Kids that Hate Getting Sunscreen Put On
The Hidden Reason Your Kid Is Lethargic, Unmotivated, and Spaced-Out all the Time!
Awesome Sensory Room Ideas That Calm Kids
---
Alisha Grogan is a licensed occupational therapist and founder of Your Kid's Table. She has over 17 years experience with expertise in sensory processing and feeding development in babies, toddlers, and children. Alisha also has 3 boys of her own at home. Learn more about her here.