Get immune-boosting ideas, tools for meal planning with kids, beneficial developmental activities, and strategies to help your child overcome their challenges with all the extra time we have during the coronavirus quarantine. Our kids can thrive during this challenging time!
As most of the country and many parts of the world accept mandatory "stay at home" mandates, parents are faced with a lot of questions. Last week, I shared 10 Ways to Save Your Sanity During the Coronavirus Quarantine.
That post gave you some coping skills, and some broad activities to start putting in place to help you and your child with social distancing. I used a lot of those strategies myself last week, and they made a huge difference. We had a great week with little fighting or yelling.
We had a lot of fun together, and I was able to juggle work too.
Without a few of those strategies in place, I know our week would've looked a lot different.
But, as the week progressed, I realized there were other concerns we were all facing:
How to effectively boost our kids immunity so if you are exposed to COVID-19, you have the best chance to fight it off
What to feed your child now that their at home for all of their meals
What specific activities would be best for your child's learning, development, and behavior
How to overcome your child's challenges, like picky eating, anxiety, and sensory needs.
In this post, you'll find answers and lots of resources to all of those questions! Because I believe (and am already witnessing) that although their are many challenges and very legitimate worries during the coronavirus pandemic, there's also an opportunity.
An opportunity to thrive, and not just survive this challenging time!
Affiliate links used below. See our full disclosure.
Resources to Boost Your Child's Immunity During Coronavirus!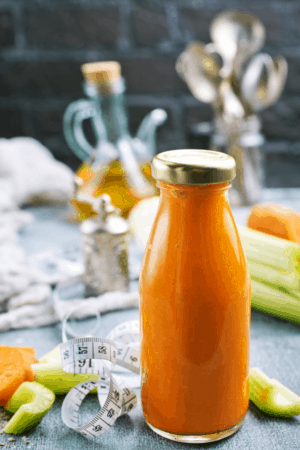 Most of us aren't 100% quarantined.
At a minimum, most are still going to the store and gas station.
Some, are still working (and we thank you, deeply, for that).
You may have others coming into your home to watch your kids, or you may need to take them somewhere. Anytime we leave the house and go to a place where there's other people, we're at risk of "catching" the virus our self and sharing it with our loved ones at home.
However, if we can focus on boosting our immune system during this time, we may fight it off or not experience any symptoms, if we end up exposed!
One of the best ways to do that is by what we eat! Some quick tips are:
Make sleep a priority! Keep your kids on a nightly schedule and let them sleep as long as they're able to in the morning. Check these sleep guidelines to see how much sleep your child needs
Give them specific immune boosting foods like oranges, elderberry, and wheat germ, which you can mix into other foods in small amounts.
It might be hard to get your hands on Elderberry this time of year. If so, an alternative is to make elderberry tea, hot or cold! This is a loose leaf variety from Amazon. You can add some honey too. If your kid won't drink a cup of tea, use it in the Popsicle recipe below.
You can also try elderberry syrup or gummies too! Always run any concerns you have past your doctor before use.
For some simple kid friendly recipes with simple ingredients try:
Read more tips in 5 Ways to Make Sure Your Kid's Immune System is Strong
Tips for Feeding Your Kid During Quarantine
One of things that absolutely saved my sanity last week was our menu plan! I'm not going to lie, it's a task. You'll need 15-20 minutes, at least, to pull it together. But, it is so worth it. On the second day of us all being in the house together last week, my kids learned to just go look at the menu I had posted on the fridge and didn't even ask.
Here's a snap shot of our menu plan that was hanging on our fridge this week: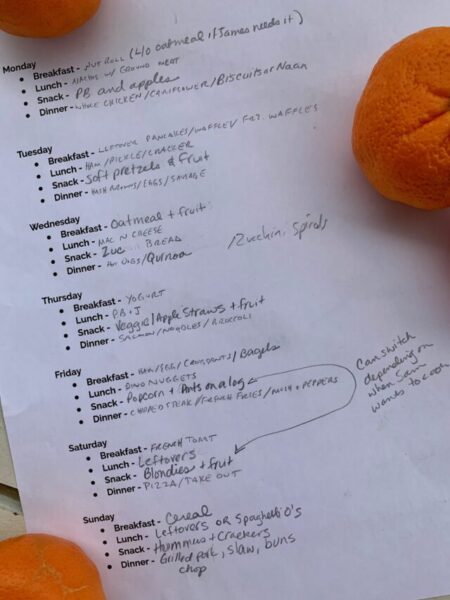 This way, I made sure we were eating a variety of foods that were supporting their immune system too!
If cooking, or having food prepared for your child 4-5 times a day including snacks is daunting, I've got some helpful resources:
Here's a tutorial on how to set up a menu plan and get a free printable of a month planned out for you. Your family might not eat the same food, but it will give you a great starting off point!
Are you rolling your eyes because you've got a picky eater? I get it. Menu planning is a super effective strategy even for the pickiest of eaters. Just make sure you include something they typically eat at each meal. If you need some inspiration, check out Picky Eater Meal Ideas. This list includes foods that picky eaters tend to try. You'll find a free printable there too!
Got a toddler? Check out Toddler Meal Ideas. I've got a ton of inspiration for foods that will not just satisfy your toddler, but the whole family. There's also another free printable 🙂
And, if you're looking for specific recipes that were designed with kids in mind, check these out:
Kid Activity Ideas During Coronavirus "Stay at Home"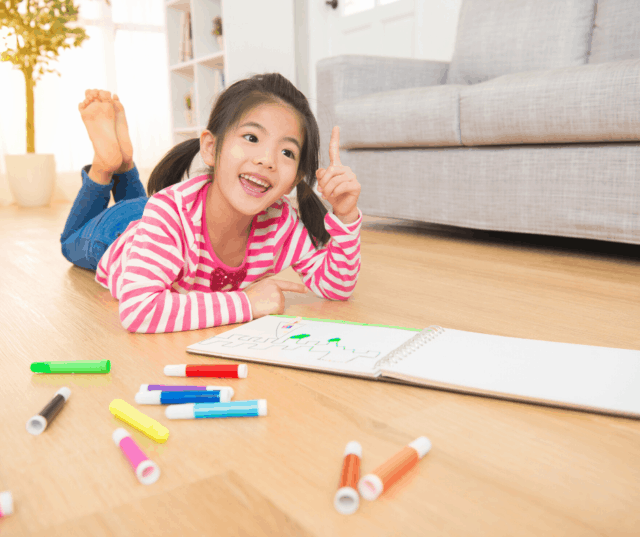 In last week's post, I gave you a few key kid's activities that benefited their overall development and kept them busy. They're a great place to start, check them out here. But, I wanted to give you some more ideas since it looks like we're going to stay at home for the next 8-12 weeks – at least.
You'll want to pin this post so you can refer back to it as needed!
Activities are helpful because they promote learning, allow our kids to use their time productively, and give us a second to breathe. That doesn't mean that you need to schedule this all out. Remember, a loose routine is best, and then having some of these ideas to use as needed.
Aim to strike a balance between letting your child figure out how to spend their time and offering choices that can enrich them!
Here are some activity ideas:
Free Online Resources During Coronavirus Quarantine
Get art activities and printables with the KIDS ART SPOT, an online art club for kids and families by The Artful Parent. They have many art video tutorials, a library of drawing prompts, holiday arts & crafts (including Easter ideas!) and an app. This is usually a paid program, but due to the coronavirus, they're offering a free 14-day trial. Check it out here.
Watch whales, jelly fish, and other marine animals on the live webcams from the Georgia Aquarium.
Take you kids to a Broadway show right from your couch. Some are available on Netflix! Click here to find a list of all available online.
For preschoolers through 9th grade, find educational videos and guided learning activities. Find it here.
Got a free online resource you're using while your kids are home? Share it on our comments below and we'll add it here.
Sensory + Movement Resources
Getting our kids moving is so important. As I shared last week, going on walk, doing some yoga, or running around in the backyard are all perfect. Feel free to hit a trail, but remember that if you see a lot of folks at your favorite spot, you should skip it.
I was shocked last week when we went out to a local park to walk and their were hundreds of people all walking and running in the same area.This is defeating the point of all the other isolation we're doing.
The CDC also recommends avoiding children's equipment since they're a hotbed for germs.
Think isolated walking, running, throwing/caching, playing sports, skating, and biking with just your family.
If you can't get outside (it's currently raining most of the week here in Pittsburgh), then use these activities to get your kids moving easily inside. This is especially helpful for kids with hyperactivity or sensory needs.:
Heavy work activities that calm kids down (lots of chore ideas and ways kids can help clean and take care of your home)
Handwriting obstacle course for preschoolers and kindergartners (you can use any one of these activities in the obstacle course on it's own)
Seize the Opportunity to Overcome the Challenges…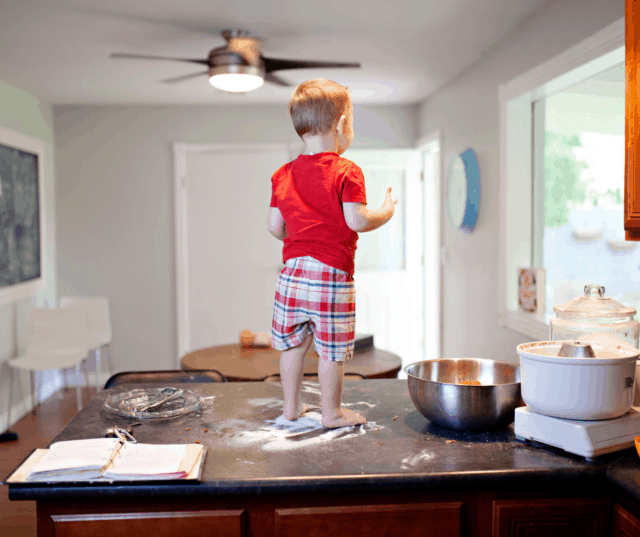 Lastly, I wanted to give you some resources to help your child overcome a challenge they might be facing. One thing I hear from parents continuously is that they're stressed finding time to deal with picky eating, sensory issues, anxiety, or feeding problems.
We don't have that time issue anymore, even if you're still working. Outside of work your schedule has been cleared.
This could be an opportunity.
The silver lining.
Check out these tools and resources to make the most out of this time:
If you've got other challenges you're facing, then let us know in the comments so we can keep the strategies coming! We read and respond to every single one.
I hope this list of resources, tools, recipes, and strategies helps you breathe a little easier. I hope it gives you some confidence in creating new and enriching experiences for your child, even if that's not in your wheelhouse. I hope that we all are able to deepen our relationships with our kids as a result of so much quality time together!
Join Me Live to Learn More!
I'll be live Wednesday, March 25th at 2:30 EST/11:30 PST on the YKT fb page talking about how to use these activities so they're the most beneficial during the quarantine. Hope you can come! Click here to join me.
---
Alisha Grogan is a licensed occupational therapist and founder of Your Kid's Table. She has over 15 years experience with expertise in sensory processing and feeding development in babies, toddlers, and children. Alisha also has 3 boys of her own at home. Learn more about her here.