It's not at all uncommon for kids to refuse to eat casseroles and other mixed foods. Get 3 simple steps to help your child learn how to eat a casserole, plus another way to serve a casserole that could have your kid gobbling it up…
Have you ever noticed that some kids, especially picky eaters, don't like casseroles or other mixed foods. They may eat spaghetti noodles, but not with meatballs cut up and mixed in. Or, maybe they'll eat the meatballs and noodles, but won't touch lasagna or even yogurt with chunks of fruit all mixed together?
It's not a coincidence.
Kids have a few reasons for passing up the casserole, but that doesn't mean you can't serve a casserole. It just may require some creativity, that I'll explain below. I also have a few tips to help your child learn to eat foods mixed together.
Why Kids Don't Want to Eat Casseroles and Mixed Foods
Is it annoying that kids don't want to eat some of your favorite foods like chicken pot pie, beef stroganoff, or tuna casserole?
Yes, it is.
But, it's actually understandable.
Even if your kid eats all the ingredients inside the casserole, it's an entirely different texture when they're all cooked together. Many casseroles also include a sauce of some sort which adds another layer of texture for a child to overcome.
And, picky eaters may not eat many of the ingredients inside a casserole, so they're going to be doubly leery or trying that casserole.
In fact, from a feeding therapy standpoint, casseroles and mixed foods are the most challenging foods for kids to learn how to eat. Besides the texture, it also requires advanced oral motor skills. Young children, in particular, may have to focus on moving different shapes and textures of foods around in their mouth all at the same time.
For all of these reasons, kids may take one look at that casserole you slaved over, and turn their nose up at it.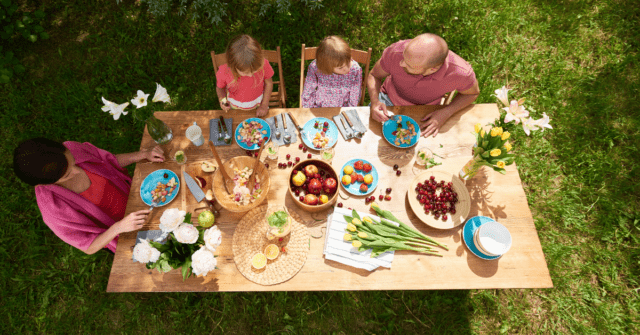 How to Get Kids to Eat Casseroles and Mixed Foods
Of course, just because your child says they don't like it, doesn't mean you still aren't going to try. But, you do need to be realistic with your expectations. (Find out exactly what to say when your child says they don't like food.)
If you're making that chicken pot pie and the only ingredients your child usually eats are bread and chicken, then they probably will pass on it, once they see the inside of the pot pie.
Kids don't have to eat casseroles and mixed foods, they're relatively easy to avoid, but if it's important to you for them to eat them because you enjoy cooking and making lot of casseroles, then it's worth working on.
Here are some steps to help kids learn to eat casseroles:
#1. Start by taking two foods your child eats separately and placing them together. Just a small amount, and don't fully mix them together. For instance, if your child likes rice and they like peas, sprinkle a few peas on top of their rice, so they can easily be picked off.
Make sure you do the same to your food, and demonstrate how you eat both together. Tell them you can taste both foods at once. If you feel like they need a nudge, use a simple positive direction, "You can try too." Be careful not to say, "Can you try too?" There's a big difference between these two statements, as the second one gives them a chance to say, "No!"
Hint: You may need to repeat this step many times before they eat the foods together.
#2. Once your child eats the two foods placed together, it's time to fully mix them together. Using the same example, you'd mix the peas and rice completely together. Continue to offer these foods together occasionally, and move onto Step 3 when they are regularly eating 2 foods mixed together.
#3. Now that your child is tolerating 2 foods mixed together, can you guess the next step? That's right, you're going to add another food they usually eat in the same way as Step #1.
If you have a casserole recipe that you really want to get your child to eat, then you can focus on adding those ingredients one at a time. Eventually, they'll have to take a bigger leap when it all comes together, but these small steps will help them feel comfortable in giving it a try.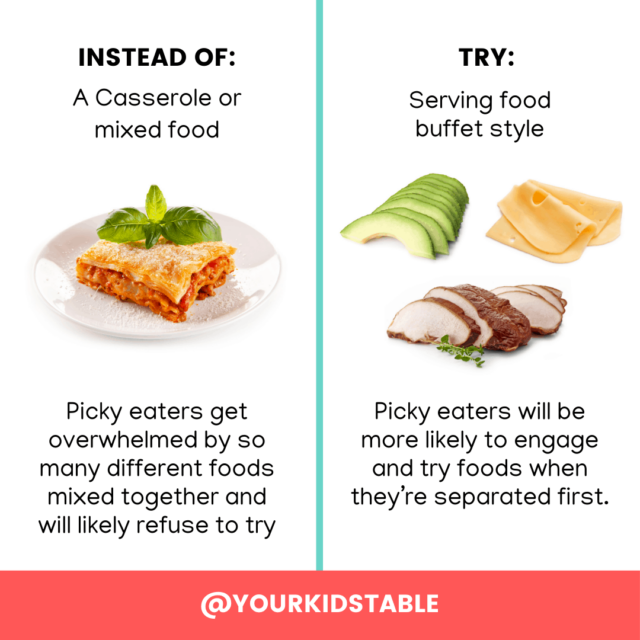 How to Make a Casserole for Dinner Without Short Order Cooking
Another option, and one you'll likely need to use in the meantime because the above steps can take months, is to just go ahead and make your casserole even though your kid won't eat it.
It's still a valuable experience for them to be exposed to mixed foods, even if they don't eat them.
You might be tempted to just make them an entirely separate meal, but I'd encourage you to instead make them a "side" that they typically eat. For example, if you're having that chicken pot pie, you can also serve a side of crackers and fruit. Here are a few other examples:
Tuna noodle casserole + pita wedges and sliced cucumber
Mexican casserole + nachos or tortillas chips and sliced avocado
Egg and sausage casserole + toast with cream cheese and cantaloupe
Chicken tetrazzini + rolls and roasted green beans
Beef Stroganoff + baked potato skins and sliced apples
Chicken soup + crackers and baby carrots
While you're giving your child different sides, you also still give your child some of the casserole, but just a little bit so they don't get overwhelmed.
If you know your child likes a certain part of the casserole, try to serve that to them. That could be a piece of the crust from the pot pie, or mostly noodles that you scooped out of your mac and cheese and broccoli casserole. Or, even broth.
Affiliate links used below. See our full disclosure.
A Clever Way to Serve Casseroles While Keeping the Peace
Still another way you can help your child with casseroles is to serve them deconstructed. Take lasagna for example. While your making the lasagna, keep the broken noodles you don't use off to the side. Also, reserve some sauce. Then, when you serve the lasagna, also have the plain noodles and plain sauce on the side.
In the pic below, I made a sheet pan meal with potatoes, peppers, onions, and zucchini all mixed together. When I served my kids, I made sure to separate these out.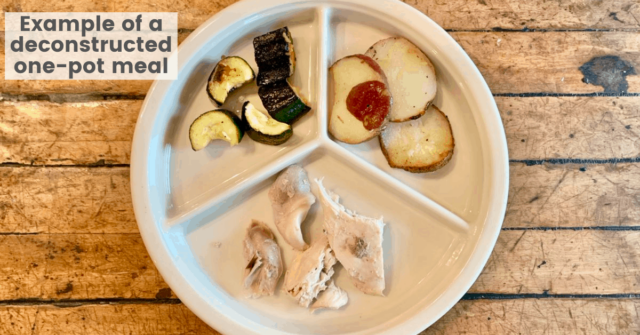 This is only effective, of course, if your child is likely to eat the noodles.
This method works with just about every casserole, as long as your child eats at least one of the ingredients inside the casserole or mixed food!
It saves your sanity, but you can also talk about how the foods that are separate are also inside the casserole. Still, serve your child some of the casserole, again just a small amount. Using a divided plate like these (on Amazon) is very helpful. Since those casseroles are messy they don't have to worry about other foods touching the casserole.
With the casserole on the plate, your child is way more likely to try some then they would be if they had to ask you for a serving.
With three different ways to work on serving and accepting casseroles, which are you going to try first? Tell me in the comments below. We love to here from you.
Join Me Live to Learn More
Have more questions about serving casseroles and picky eaters. Join me live on our facebook page on Thursday, December 17th, 2020 at 2:00 pm EST/11:00 am PST to get some more tips and ask any questions you have!
More Healthy Eating Habits for Kids
The Best Eating Habits for Kids
Common Mistakes Parents Make: How to Start Good Eating Habits
How to Get Kids Eating at Meals Instead of Snacking All Day
---
Alisha Grogan is a licensed occupational therapist and founder of Your Kid's Table. She has over 15 years experience with expertise in sensory processing and feeding development in babies, toddlers, and children. Alisha also has 3 boys of her own at home. Learn more about her here.