Picky eating can feel like a huge burden on parents, but Dabbldoo's fun food picks and brush are helpful tools to help kids explore and eat new foods!
I'm proud to say that Dabbldoo is sponsoring this post, because their mealtime tools are one of a kind. Affiliate links are used throughout. See our full disclosure. I personally used these product with my kids with an honest review below. Click here to check out their picky eater mealtime tools.
After 10 years of blogging and Your Kid's Table reaching millions of families around the world, you can imagine that we get A LOT of emails asking us to share or promote a wide array of products, articles, and more. The vast majority of these requests are declined.
But, a few weeks ago, we got an email that made us stop in our tracks. My picky-eating-specializing eye immediately knew the mealtime tools, utensils of sorts, from a small business called Dabbldoo, were something special.
Dabbldoo was created by a pediatric dietician, Ellie, who's passionate about helping picky eaters eat well. One of her go-to tools for picky eaters was food picks. (Smart, me too!) Food picks are great because they're engaging and help kids start to interact with the food in a playful way.
But, the picks are often really small and can be hard to handle and break easily.
Ellie had the brilliant idea to create ergonomic and durable food picks that actually pick up a lot of foods. But, she didn't stop there, what got me the most excited was a mealtime tool I've never seen before, but I'll tell you as a feeding therapist, it is GENIUS… it's a mini food paintbrush.
Wondering why that's so epic, I'm about to tell you. Let me break down why these tools can help even the pickiest eater and a bunch of creative ways you can use them.
(Psst… these are a great gift for Christmas and other holidays, they can be slipped right into a stocking. Or, as a gift set, they come in a sturdy and fun box.)
Why Fun Tools like Dabbldoo Can Help Even the Pickiest Eaters
No single picky eating tool or strategy will be a magic trick to get your child to eat any food you desire. But, Dabbldoo's picks and brush can help your child explore, try, and learn to eat new foods.
Think of them as a tool in your tool belt on your journey to help your child learn to eat a variety of foods.
Here are some of the reasons I think Dabbldoo's tools are effective: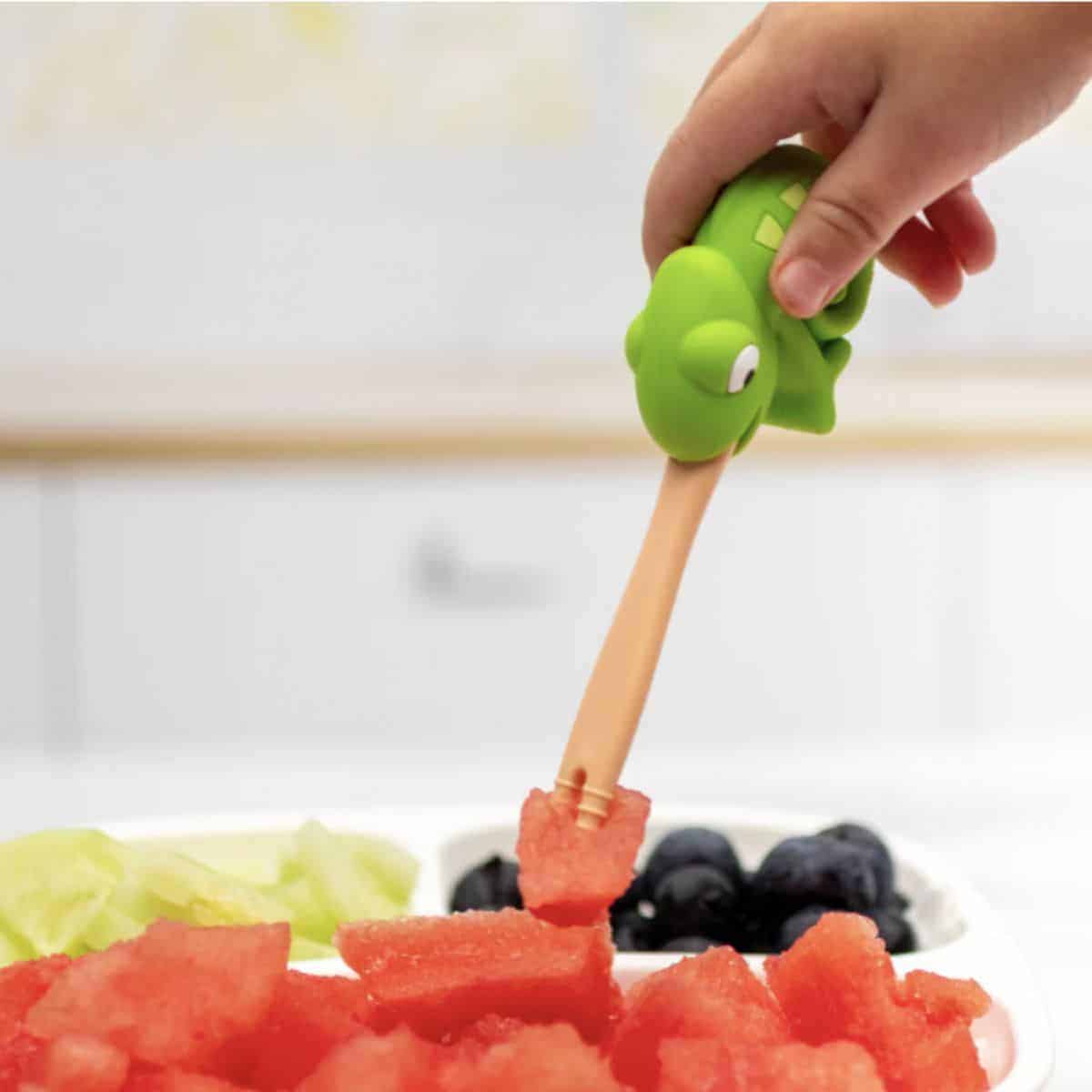 #1: Kids are more likely to engage with food when it's fun!
One of the best ways for a child to learn is through play, it's their primary language. When we meet them on that level, it can open up all sorts of new skills and development. That holds true for our picky eaters. Dabbldoo's picks and brush have a brightly colored animal at the end, and kids can't help but want to pick one up.
Their design also immediately inspires use. Kids will see them as toys more than a utensil. That's a good thing because we want them to engage with the food in a new way, even if it means just poking the broccoli they always refuse onto a pick or dipping the brush in the ranch dressing you put out and they always ignore.
#2: They're a "safe" way to interact with food they're fearful of
Touching a new food is a big deal for a lot of extreme picky eaters, and is a huge hurdle for them to overcome before they can even think about putting it in their mouth. As an OT, my job is to figure out how they can take smaller steps as they work towards the goal of first touching the food and then ultimately eating the food.
While a regular fork or spoon can also serve the purpose of a buffer before having to touch a food, kids often aren't as motivated because they know utensils are for eating.
A playful tool like a food pick or brush often helps them take the leap and begin interacting with the food without having to touch it.
For example, your kid might paint apples with peanut butter using the Dabbldoo brush, or pick up a banana slice with their food pick. They could bring the banana to their nose to take a smell or even give it a lick because their sensory system isn't being overwhelmed by also touching the food.
#3: They provide a purposeful action they can take with food, even if they don't eat it
Even if your child doesn't eat the food they're using with the food pick or brush, the purposeful action they're taking is helping to break down mental barriers about what they can and can't do with new or different foods than they're used to eating. They're also participating in the meal in a way they likely weren't before and this builds comfort and self esteem around their interactions with food.
It also means that they can build on the skills they're developing. For instance, the first couple of times you put out the brush tool for your child to use, they may just dip it in their yogurt. But, after several times of just playing, you show them how they can paint some yogurt on their strawberry or pretzel.
They then imitate that every time you pull out the brush. After several more play times, they are then wanting to try a lick or bite of food they've been painting.
Of course, this process can vary from child to child, but my point is that it's common to see this progression to eating over time.
What is the Age Range for Dabbldoo Tools?
Dabbldoo picks and brush are recommended for use at age 2-6+, and have a rounded — not sharp — end.
If you have an older child, you know their personality best, but my 8 and 11 year old were eager to try out the set Dabbldoo sent us and had fun using them while they ate. I'd definitely use these as a tool for kids up through this age range as an OT as well.
Ways to Use Dabbldoo Food Picks and Brush
Let's talk big picture first. When you're using fun tools at meals, I use them in 1 of 2 ways. Either I put them out right from the start of a meal to help draw kids in, this is helpful if you're serving a challenging food or your child struggles to come to the table.
I also like to pull them out in the middle of a meal, to help get a meal on the right track. Sometimes a meal you thought was going to be easy turns into a battle. If that happens you can say to your child, "Oh, here's frog/snake/chameleon (the animals that are on Dabbldoo tools), let's push that apple on frog", "Would you like to use the frog or chameleon with your dinner? You get to choose" or "Let's have the frog/chameleon take a fast bite, they stick out their tongues so fast!"
This serves as a sort of reset to the meal, especially helpful for younger kids.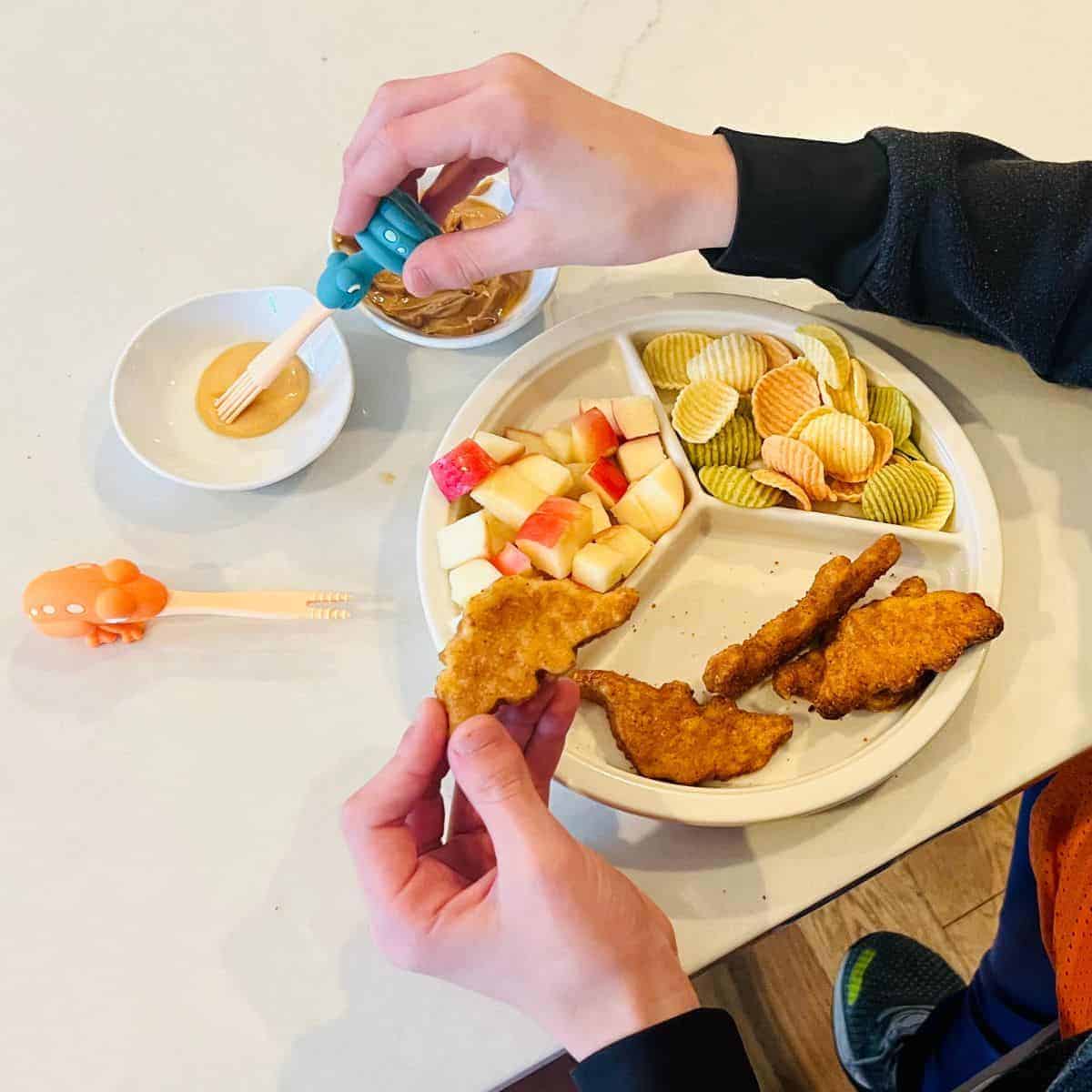 I also want to give you some specific ways to play and use these fun tools. Let's start first with ideas for using the snake brush:
Paint apples with peanut butter or nutella
Paint crackers with alternating stripes of two different colored yogurts (Have a water bowl to rinse the brush in between colors)
Paint a picture with dips on a plain side plate
Paint their lips, tooth/teeth, or tongue with broth, soups, yogurt, applesauce, or dips (Check out our giant list of different dip ideas)
Paint letters or numbers on bread or toast with a nut butter, jelly, spaghetti sauce, or Nutella
Paint alfredo or spaghetti sauce on bread sticks or rolls
Paint melted or softened butter on foods like breads, cooked vegetables, baked potatoes
Trying a "snake lick" of new beverages. For example, to go from chocolate milk to white milk using the snake brush to stir in less chocolate or maybe a new strawberry flavor. This technique could also be great for new versions of smoothies or even just slightly flavored waters with different things (i.e fruits, cucumber, mint leaf, etc.) to expose to new flavors in a very subtle way.
"Paint" water on fresh produce to help "wash" for mealtime
Paint condiments on pancakes/waffles or muffins (i.e. syrup, nut butter, jam, whipped cream, etc.).
The chameleon and the frog have the pronged end and you can use them differently at meals. Here are some ideas:
Chop up or slice fruits your kid typically won't eat and encourage poking. Instead of a large banana, try slicing it. Or dice apples instead of slicing them
Push food onto the pick and then put it in a dip
Pretend the stick of the food pick is the frog or lizards tongue and that they are licking up the food as they push each piece onto the pick
Use as an alternative utensil to a fork
Serve a meal or snack on a platter and give everyone their own food pick to use. Kid's love this change up in routine and it's fun to have a casual shared meal around one large plate of food.
I encourage you to think of your own ideas and as you use the food picks and brush that follow your child's lead in how they're playing with these fun tools! Have any ideas, I didn't list? Share them in the comments so you can inspire other mom's and dad's!
My Overall Review of Dabbldoo Food Picks and Brush
Let's talk about the quality of Dabbldoo…
I was immediately impressed with the quality and durable feel of the picks and brush. They went through my dishwasher without any fading or change in shape. You very much get the feeling that you'll have these for a long time.
They feel well made, and arrive in sturdy protective packaging, each of the picks and brush being in its own cardboard and plastic container.
The size of the Dabbldoo tools is also right on, as an OT, that also considers fine motor skills these picks and brush are easy for little hands to manage and are still appropriately sized for older kids that have a little more finesse in their movements.
The picks also have little rings around the picks which help them grip foods more easily, WITHOUT having a sharp pointy end. Overall, I was impressed with the quality and functionality of the picks and brush.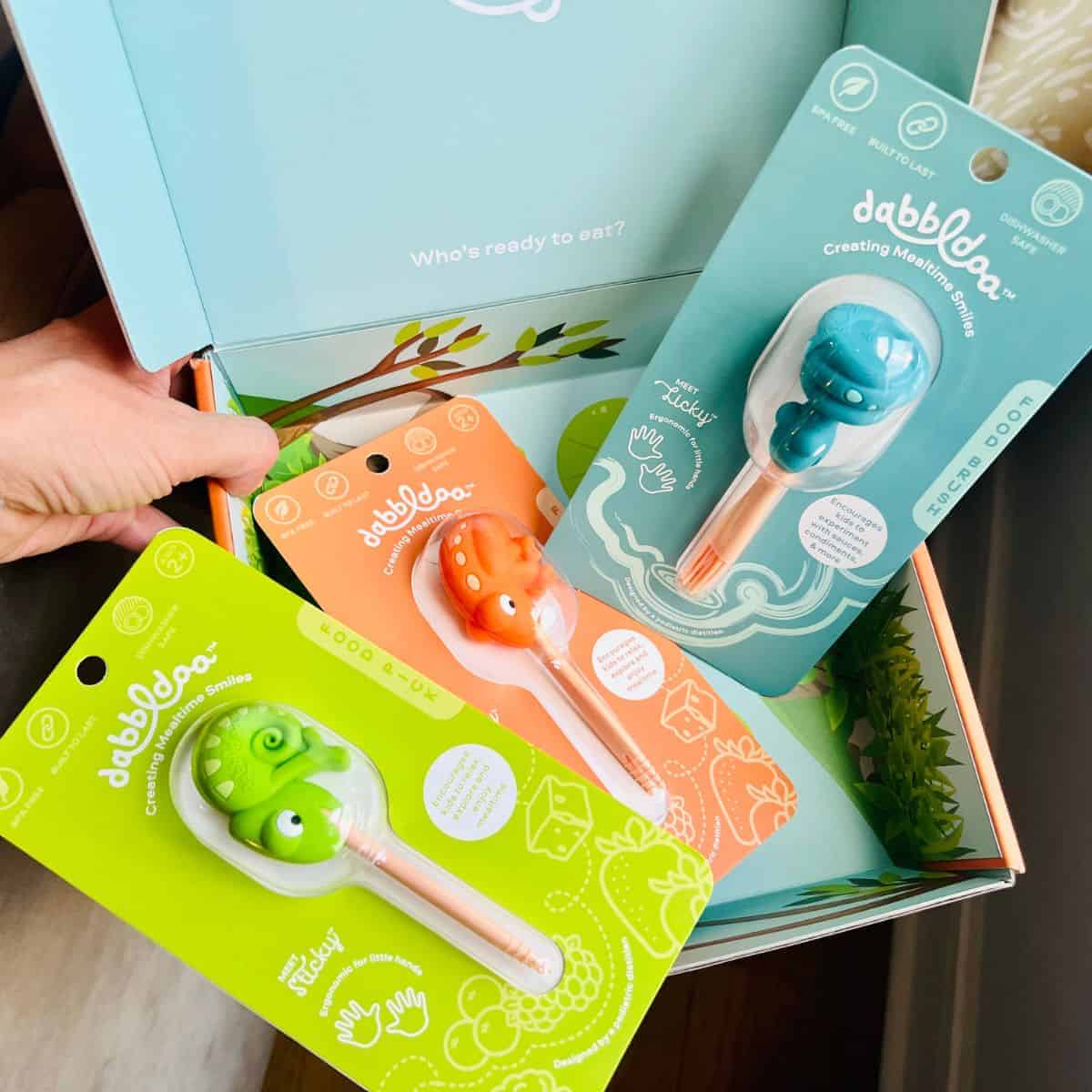 Where to Get Dabbldoo
This post is sponsored by Dabbldoo with Affiliate links utilized throughout. See our full disclosure.
Dabbldoo picks and brush are sold in three different set options on their website only. You will not find them anywhere else. Remember that each tool is individually packaged so if you want to order a set and then give each child a tool or two as a gift or in their stocking, you'll be able to do that.
*Currently Dabbldoo only ships in the U.S. but will be expanding soon!
Head here to check out the dabbldoo sets!
Any questions about Dabbldoo or using food picks and tools? Ask them in the comments, we answer every single one!
More Tools for Picky Eaters
How to Use Food Chaining to Expand Your Picky Eater's Diet
Everything You Need to Know About Feeding Therapy
---
Alisha Grogan is a licensed occupational therapist and founder of Your Kid's Table. She has over 18 years experience with expertise in sensory processing and feeding development in babies, toddlers, and children. Alisha also has 3 boys of her own at home. Learn more about her here.