Family friendly, easy, budget friendly, kid-approved, monthly menu plan with regular food from a mom of three and pediatric OT.
For quite some time I have wanted to share my monthly menu plan with you all, and today I FINALLY get to do that. In this post you will find a family friendly monthly menu plan. I have the calendar set up for April, but it can be easily adapted for any month. I have listed breakfast, lunch, and dinner for every day of the mon. These meals are what I serve my whole family.
If you haven't done a menu plan before, I know it can seem intimidating. My hope is that you can either print my plan out and follow it with a few adjustments, or use it as inspiration to start your own customized menu plan.
Benefits of Meal Planning
Still on the fence about this whole menu plan thing? Let me tell you about some of the advantages:
Saves me a TON of time in the long run. It can be work up front (unless you are using mine!), but there is no time wasted every day as I decide what my family eats.
My family eats more variety and more nutritiously. When I don't have a plan I end up grabbing things in a harried frenzy at the last minute, which means a lot of nights of frozen chicken nuggets and french fries.
Saves money! You have a plan and know just what you need at the grocery store, which inevitably keeps you on budget.
Helps manage picky eating. With every meal I plan, I think of what my kids eat consistently and make sure there is one item at each meal they will eat, especially my more selective eater, even if it doesn't necessarily make a lot of sense. This creates a healthy balance between parent and child control at the dinner table, which helps a positive eating environment. Read more on that here. To read more on the benefits of menu planning and picky eating click here.
About My Monthly Menu Plan
There are a couple of things you need to know about my menu plan.
First, it is low-dairy. Cheese is kept to a minimum, sadly, because of constipation issues with my kids. If you don't have this problem, you can definitely insert it into the plan more often. Click here to read more about constipation.
Second, I use a mix of prepared and home-made items. Mostly everything I have listed can be made without a recipe, what I've listed is just regular food. I hate when I click through on a sample menu plan and then have to click 20 links for all kinds of different recipes. Maybe it's just me, but I get really overwhelmed. I have a few recipes that I really love, but there is almost always a store bought version available as well. Do what works for your family and don't feel guilty about not making too much from scratch or vice versa. Most of the foods I share are just regular, classic type foods, so even if you need a recipe you can find one quickly. I love cooking but life with a 6, 4, and 1 year old doesn't allow a lot of time for that. I need to be smart about how I'm spending my time and realistic in this season of my life.
Third, in every meal, I include a carb, protein, and fruit/veggie. You will see I don't list specific fruits because that changes based on cost and availability. We typically rotate between strawberries, melon, apples, pears, oranges, raisins, and grapes. We limit bananas, again because of the constipation. You will also notice that I keep meals the same every day of the week for breakfast, they eat something different from day to day though. Again, this just helps keep me sane.
Fourth, this is a budget friendly meal plan. I can't guarantee a certain price, but I make very conscious choices about the proteins I'm using. Lastly, I have balanced and thought about variety a lot with this plan, that's where all my feeding therapist stuff comes in. I think about textures, flavors, and types of food so that you don't have too!
Without further adieu here is the printable family friendly Menu Plan. Grab your copy here.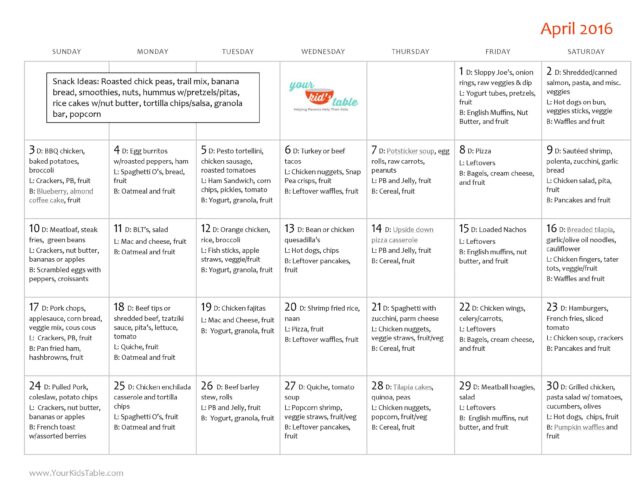 Let me know if you like the menu plan and I'll share more in the future, and I'm always looking for new inspiration, if you have something your family loves to eat, please let me know!
Did you pin this?
Pin it here to save for later!