Yeah! Today is the first day of October, we are now into the full swing of fall!  There are so many wonderful opportunities to explore new sensory experiences in this season of change.

10. Blindfold the kiddies and have them reach them into Guess Bags filled with fall finds, like The Pleasantest Thing did. Wonderful for developing tactile discrimination.  Love this one!



11. Use black beans and Halloween inspired toys to make a go to sensory bin like H is for Homeschooling. You will get a lot of use out of this bin throughout the month and more!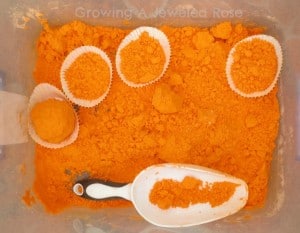 12. Make "pumpkin cake" in A Jewled Rose's Pumpkin Scented Cloud Dough.





13. Get messy in Halloween Jelly from Nurturestore.


14. Explore Fall Seeds with tweezers, magnify glasses, and petri dishes from Teach Preschool.

15. Roast a pumpkin and use to mix in with pancakes, waffles, or oatmeal.  Canned pumpkin works fine though, too! Pumpkin is a unique flavor that kids often enjoy.




16. Set up Autumn Mini Discovery Boxes for your child to find and explore through.



17. Make Dry Leaf Confetti and use it to make some fun fall crafts, from Cute and Peculiar.

18. Bake and eat apple chips like the ones from Dream Kitchen.  Talk about how the texture and taste of the apple changes before and after cooking.

19. Create Acorn Paintings with recycled containers, it will be hard to avoid getting messy with this activity. Kids will get deep pressure from shaking the containers up to make their art!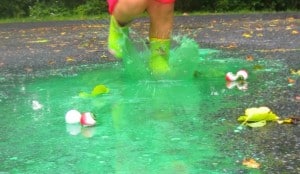 20. Turn fall puddles into Monster Puddles and go splashing!


21. Pretend the kids are squirrels to assemble a Fall Sensory Bin that they dig through while playing outside, from The Pleasantest Thing.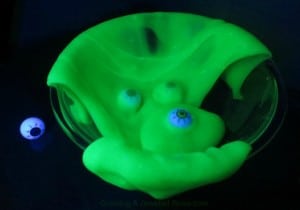 22. Make glow in the dark slime from A Jeweled Rose!






I have even more pinned at Pinterest, come follow along!

Have more ideas or links you would like to share? Please let me know in the comments!  What will be on your list this October?