Help kid's pencil grasp and handwriting with the 7 best pencil grips that are perfect for school and home. Learn which pencil grip is the best one for your kid!
Affiliate links used below. See our full disclosure.
When I started working with kids as an occupational therapist around 2004, pencil grips weren't being used as often as they were needed. They were hard to come by, having to order them out of specialty therapy catalogs.
Thankfully, that's no longer the case. You can find some basic pencil grips for kids at Target or Walmart, and order a wide variety on Amazon and various other sites around the web.
With so many to choose from, how do you know which pencil grip is best for your kid? For that matter, how do you know your kid even needs a pencil grip?
That's just what you'll find out in this blog post!
When Does a Child Need a Pencil Grip?
Pencil grips can be a helpful tool to help any child that's having a hard time holding their pencil, crayon, or any writing utensil correctly.
Occupational therapists call this their grasp. Ideally, we want kids to hold their pencil with a dynamic tripod grasp which is their index finger, middle finger, and thumb holding onto the pencil only. See the examples of the proper grip in this picture: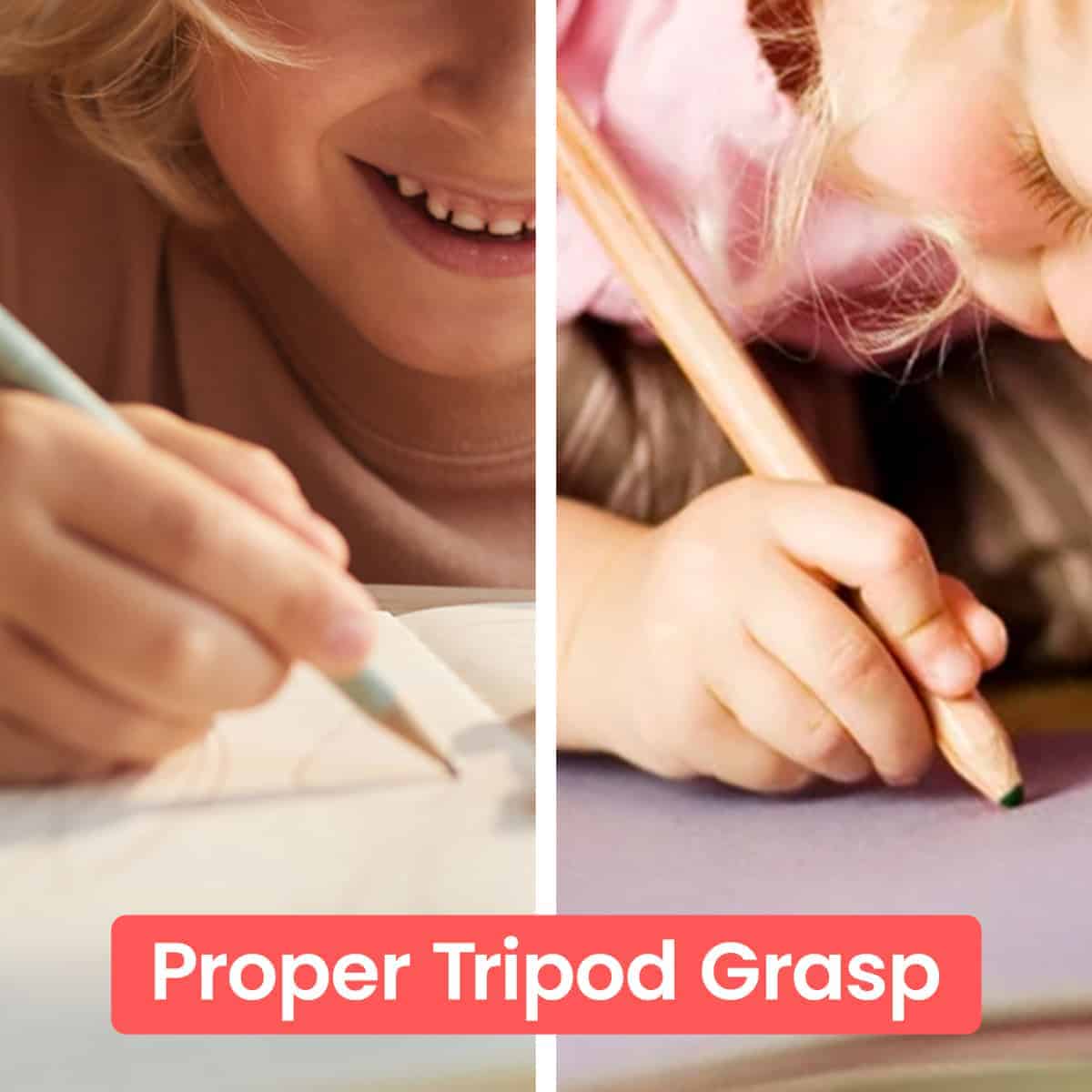 More kids than ever hold the pencil though with three fingers and thumb, called a quadrupod grasp. Or, a thumb wrap where they wrap their thumb around the front of the pencil to stabilize it. These incorrect pencil grasps and a variety of others often make for sloppy or poor handwriting, which you can see in these examples: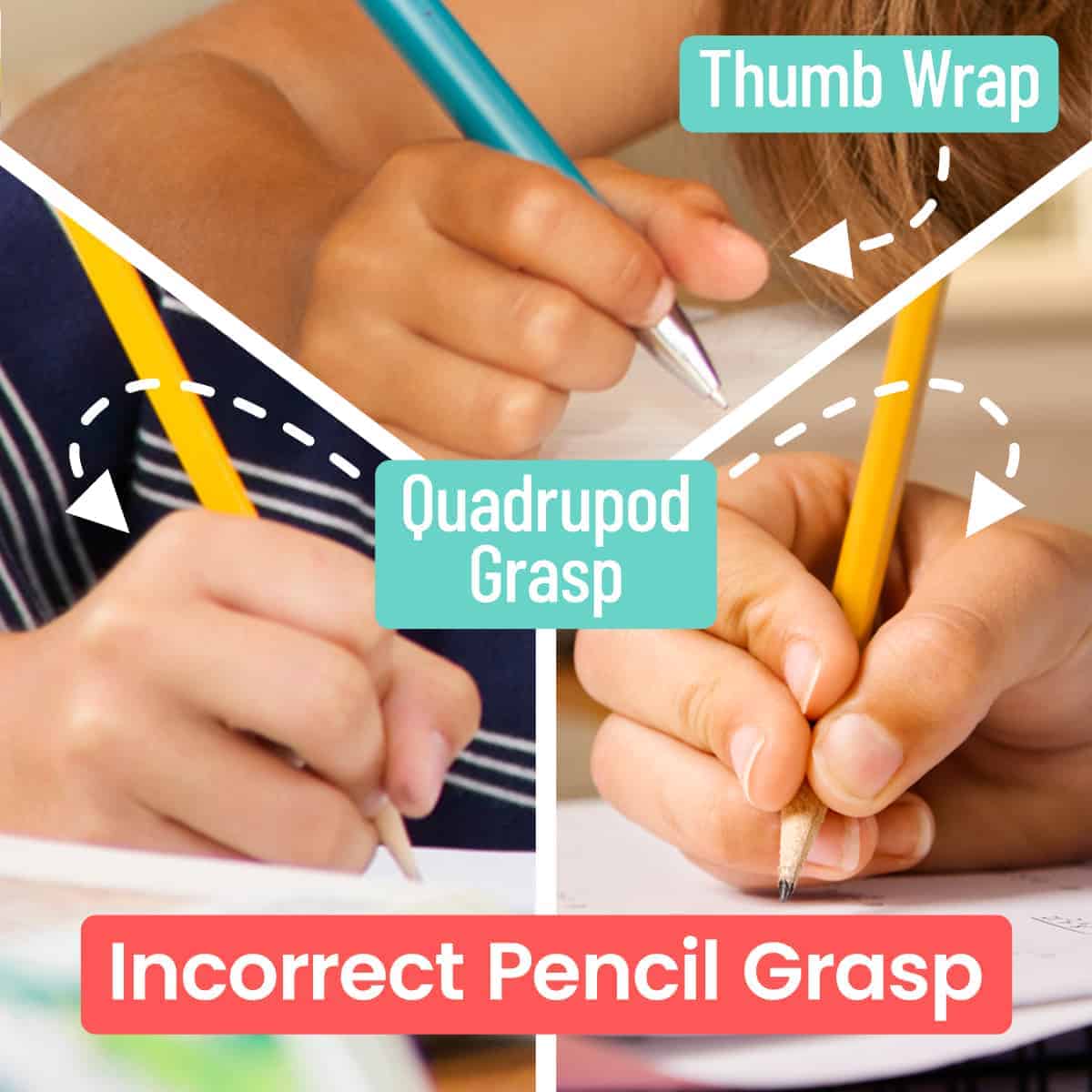 Notice the difference between the tripod grasp and the others, you can almost see the hand seems more cramped up.
However, some kids have handwriting that is just fine despite using these other grasps. That means that a pencil grip for a child is necessary if they aren't holding the pencil in the tripod position AND their handwriting is suffering.
Why Do Some Kids Have a Poor Pencil Grasp?
Many kids struggle with their pencil grasp and handwriting. The causes are all related to fine motor weakness and/or coordination which may be caused by a developmental delay, sensory processing difficulties, low muscle tone, neurological disorders like Autism, and prematurity.
If a child is struggling with handwriting, it's likely because of their grasp or how hard or light they're pushing on the writing utensil.
Using the best pencil grip for a child can help, but if there's still underlying difficulties with grip strength, hand fatigue, and/or correct letter formation the pencil grip will only frustrate your child in the long run and not address the root of the problem. More on how to do that later.
What Age to Use Pencil Grips for Kids?
It's important to know what to expect of pencil grasp development in younger children. While pencil grips for toddlers is a popular Google search, it's not until 3 that we start to see kids using a static tripod grasp, which means their 2 fingers and thumb are in position, but they hold them in a still or static position.
It's also appropriate to not develop this grasp until the age of 4. However, if your child is three and they aren't even using their 4 fingers, a pencil grasp might be helpful.
At 5-6 years of age is where we look for a dynamic tripod grasp. See this helpful grasp development chart from Growing Hands on Kids as a reference.
Of course, older children and even adults may still need or benefit from pencil grips to help them learn to hold their pen or pencil correctly and improve their handwriting.
In short, younger children, some preschoolers, through adults may use or need these pencil grips.
7 Best Pencil Grips for Kid's Handwriting
Using a pencil grip for a child's pencil grasp will support or place their fingers in the tripod grasp while keeping the fourth and little finger out of the way.
Also, most kids will do better with a traditional pencil, but in some cases, mechanical pencils may be beneficial. If your child is using other writing utensils, the pencil grips below can also function as a pen grip!
I've personally used most of these pencil grips with past kids on my occupational therapy caseload and/or my own kids. If you have any questions about your child, ask us in the comments below the post.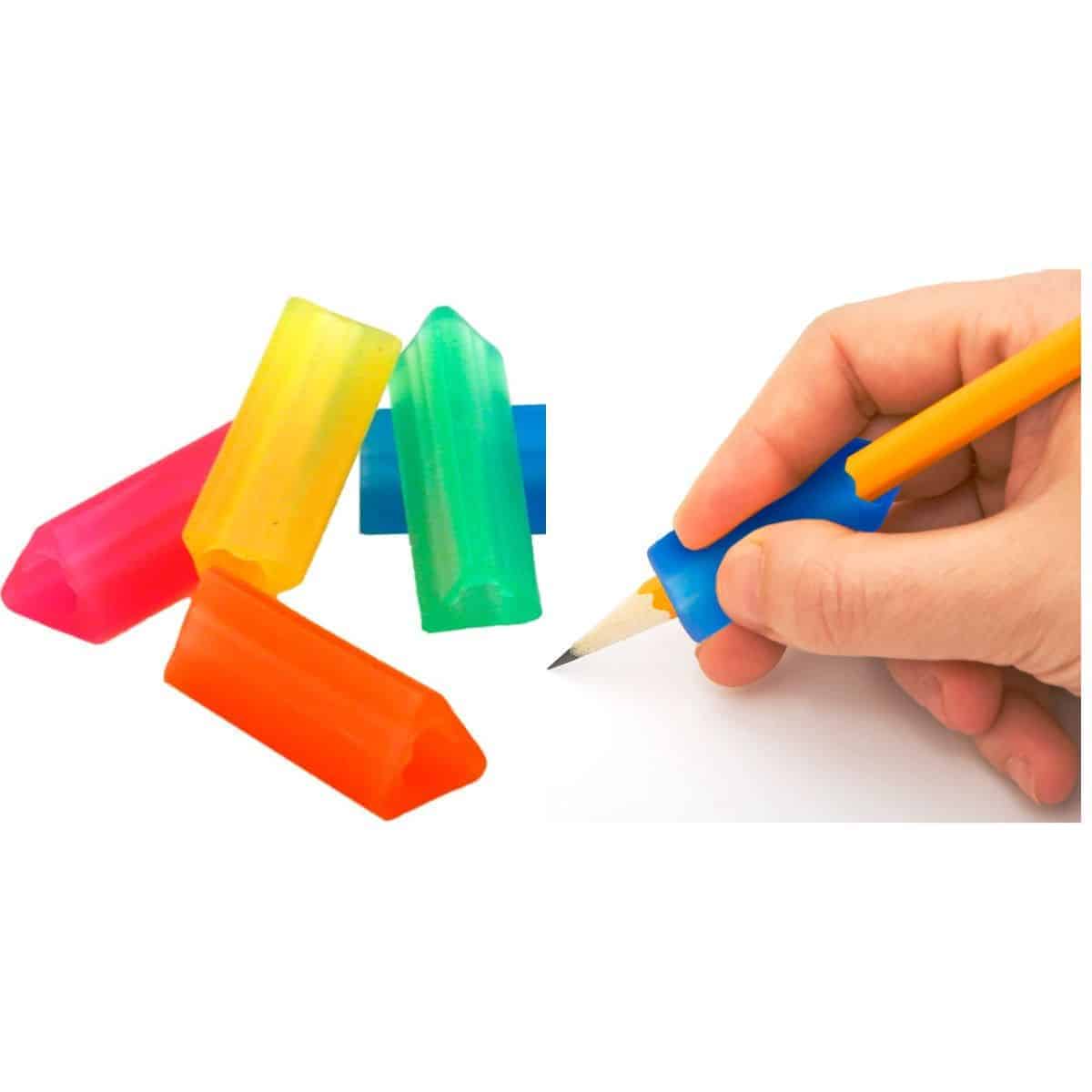 This is the old school pencil grip that still can get the job done. Super affordable and great to have on hand, the three sides of this pencil grip help kids feel where to place their first and second fingers, as well as their thumb.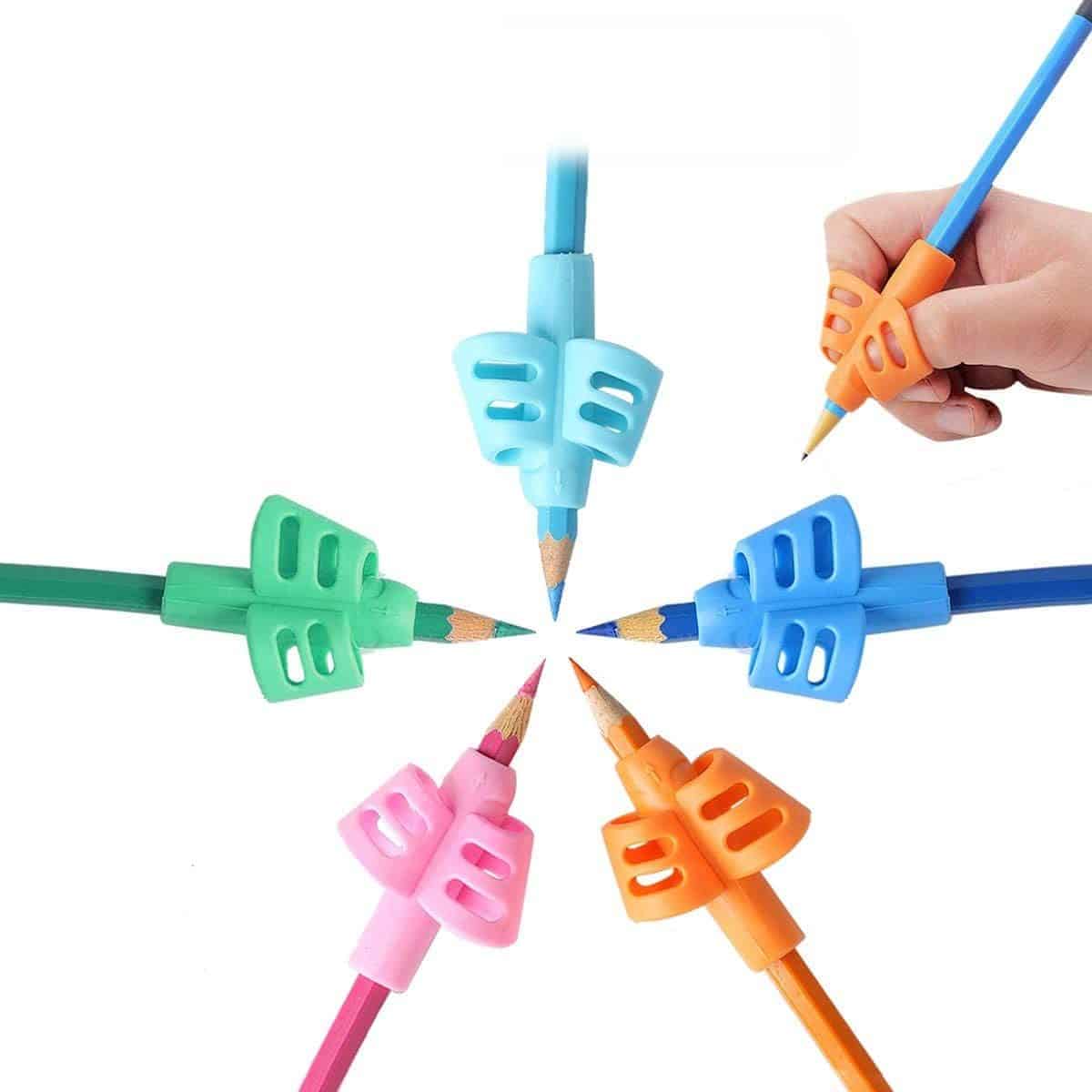 This may be my favorite pencil grip for kids, and the Amazon reviews would agree. A lot of times kids figure out a work around to their pencil grip so they can hold the pencil in a way that's comfortable, but that defeats the purpose.
This grip makes it hard to do that because they have to slide their pointer and middle fingers into the slots. Then there's a groove on the back of the grip let the thumb rest!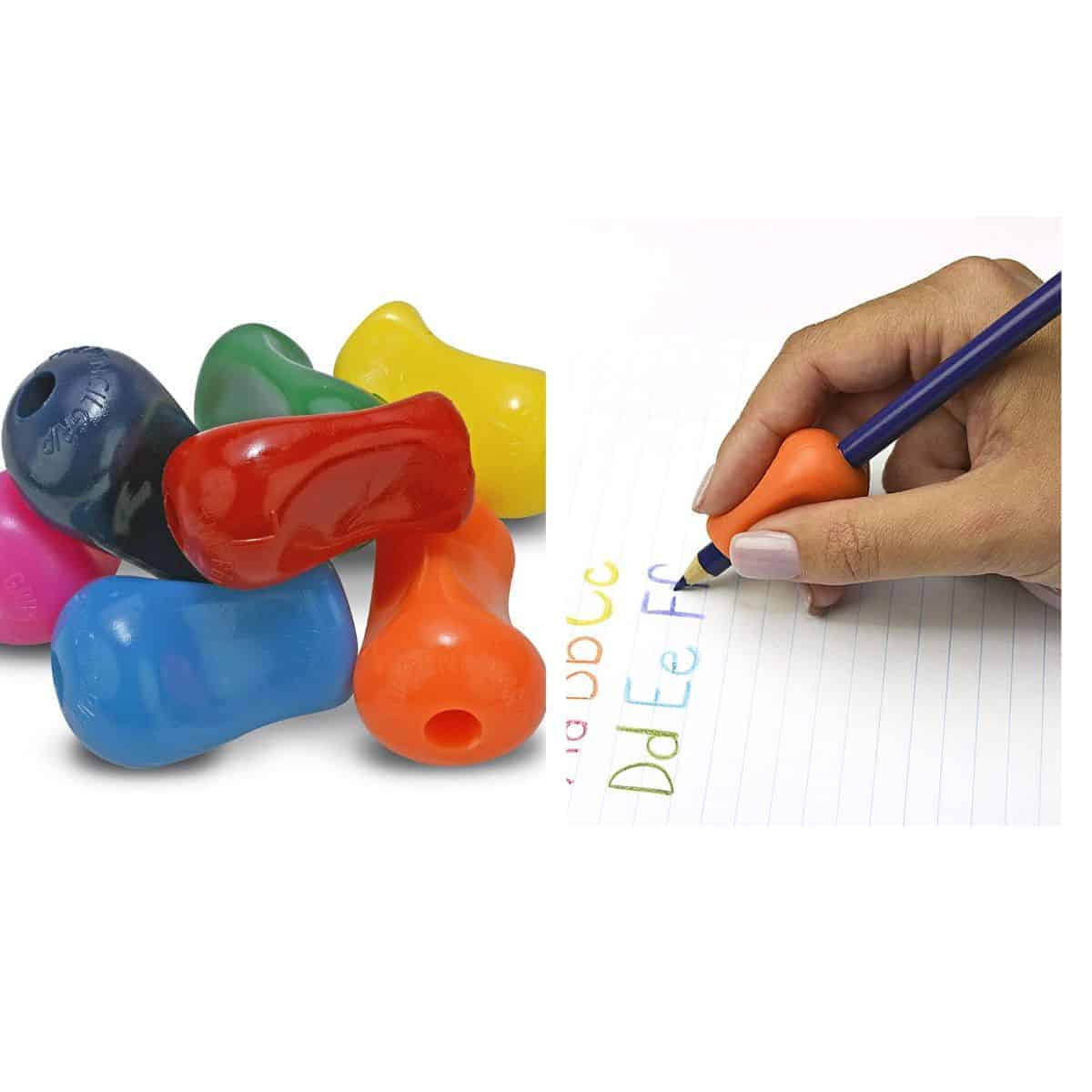 This uniquely designed pencil grip is perhaps the most comfortable to use and has special versions for left-handed or right-handed kids. The deep grooves create natural resting places for the tripod grasp.
Pencil Grip for Kids #4: Mr. Owl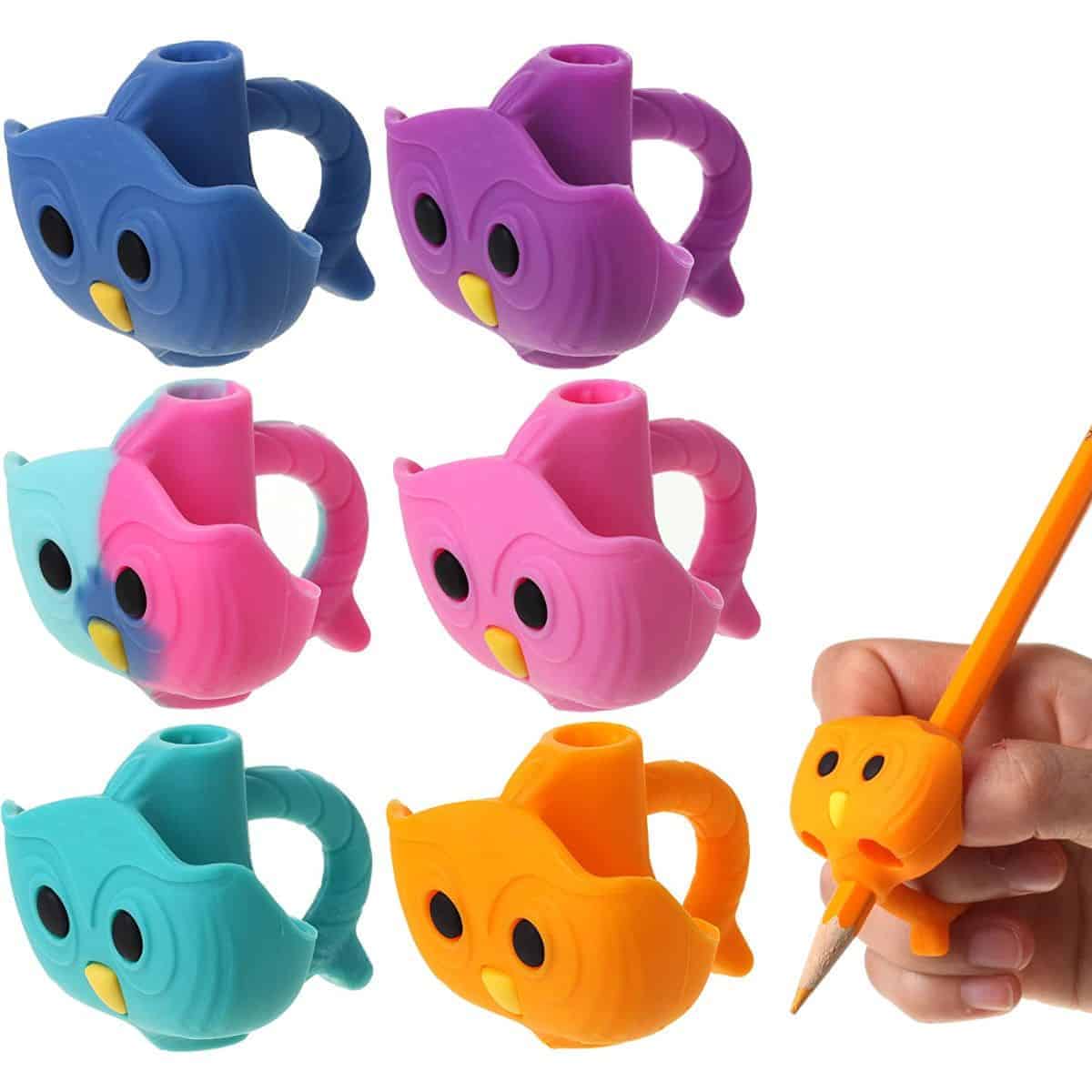 Besides being a fun way to motivate kids to use a pencil grip, the little loop in the back of this pencil grip for kids is helpful for kids that can't keep their thumb in place. It's also a sort of incognito pencil grip, looking like a cute bobble on a child's pencil, if they're self conscious about using a pencil grip.
Pencil Grip for Kids #5:

5 Fingers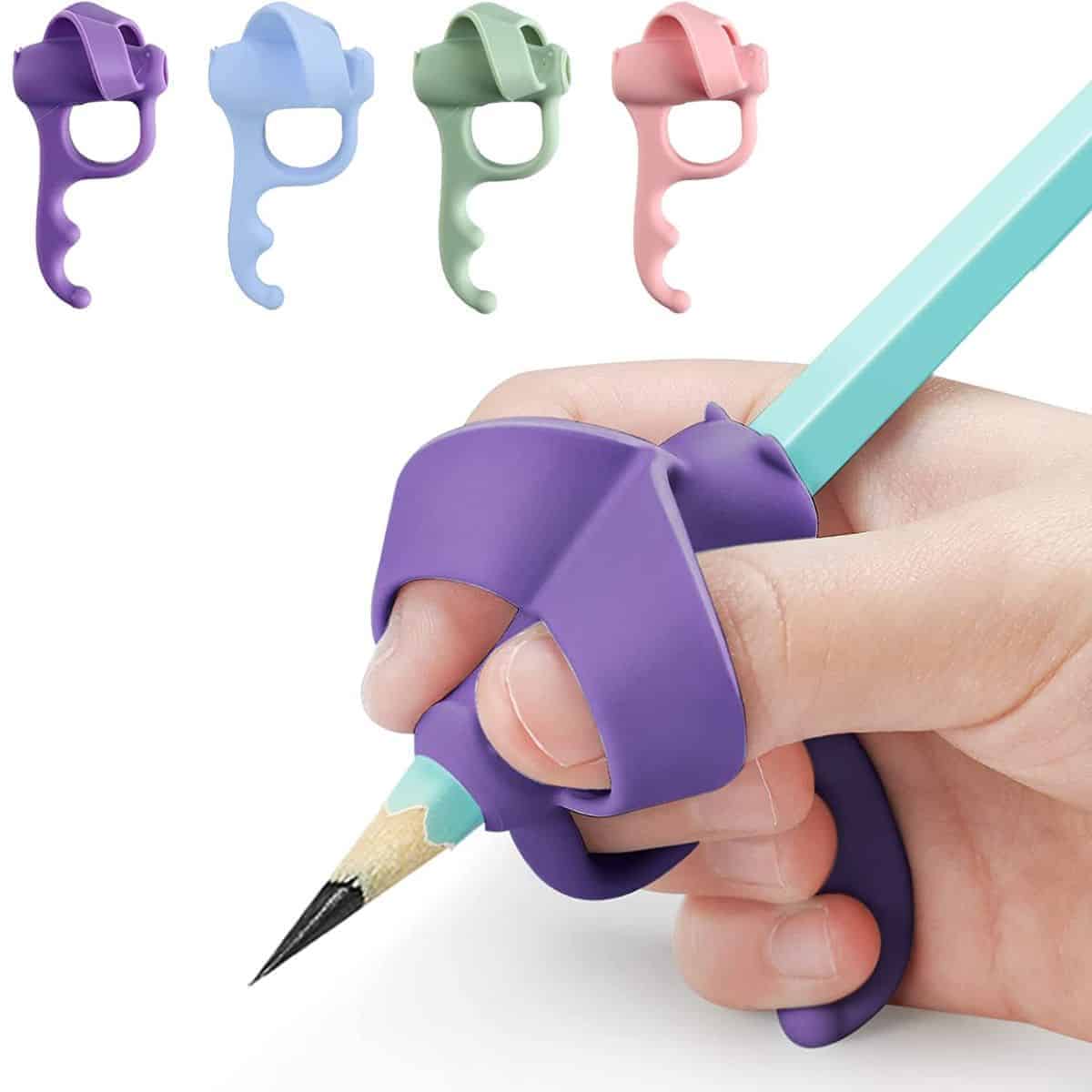 If your child can't help but get their 4th and 5th fingers involved in holding the pencil, this grip might be for them. While also having slots to put the index and middle fingers in, and the thumb loop, it also has an indented hook at the bottom that the last two fingers can hold on too.
Pencil Grip for Kids #6:

Spiky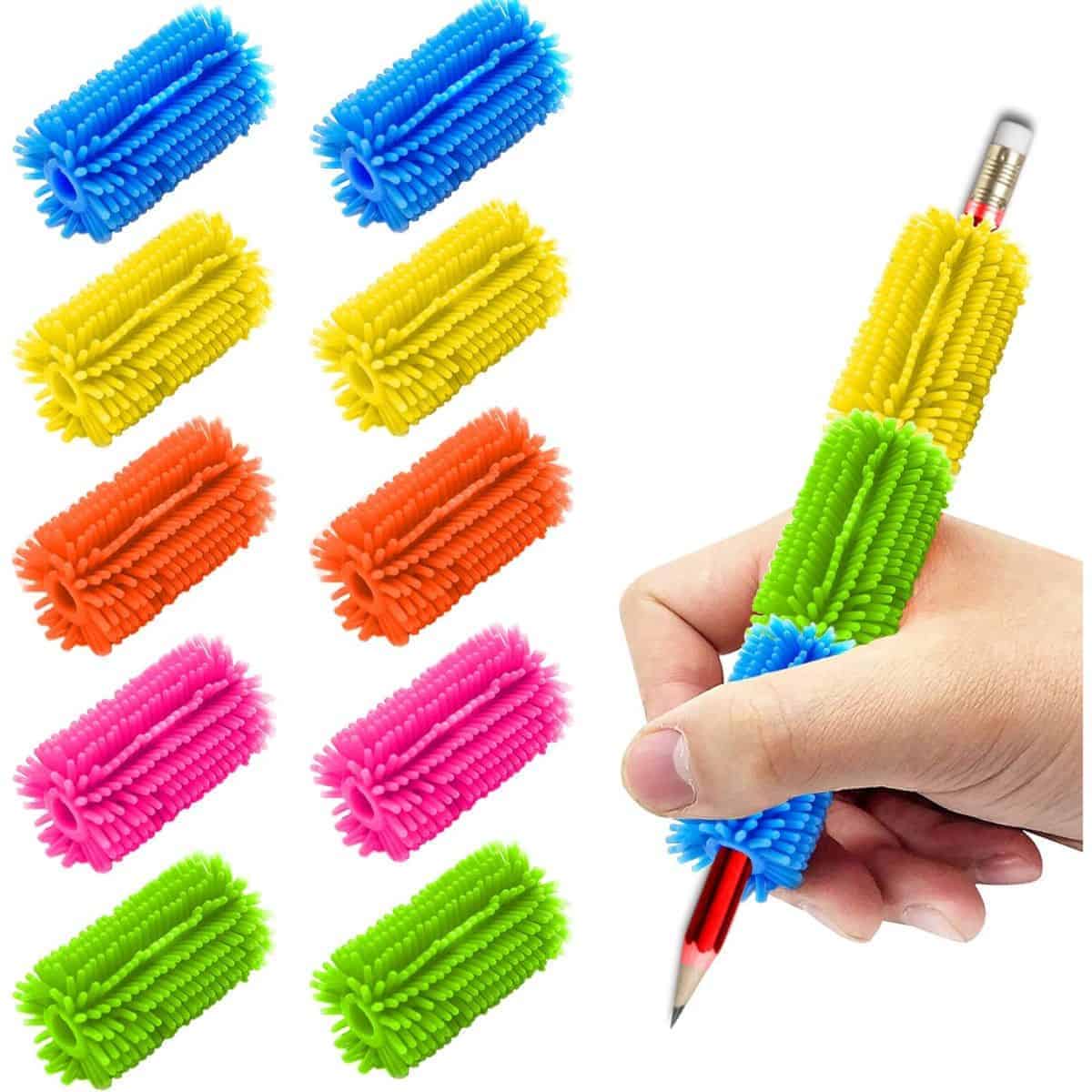 These spikey pencil grips in different colors could be helpful for kids with sensory "issues" that like the touch a lot of textures or have low awareness of where their hand is on the pencil. These also look like a fun accessory and can be stacked on pencils!
Pencil Grip for Kids #7: Weighted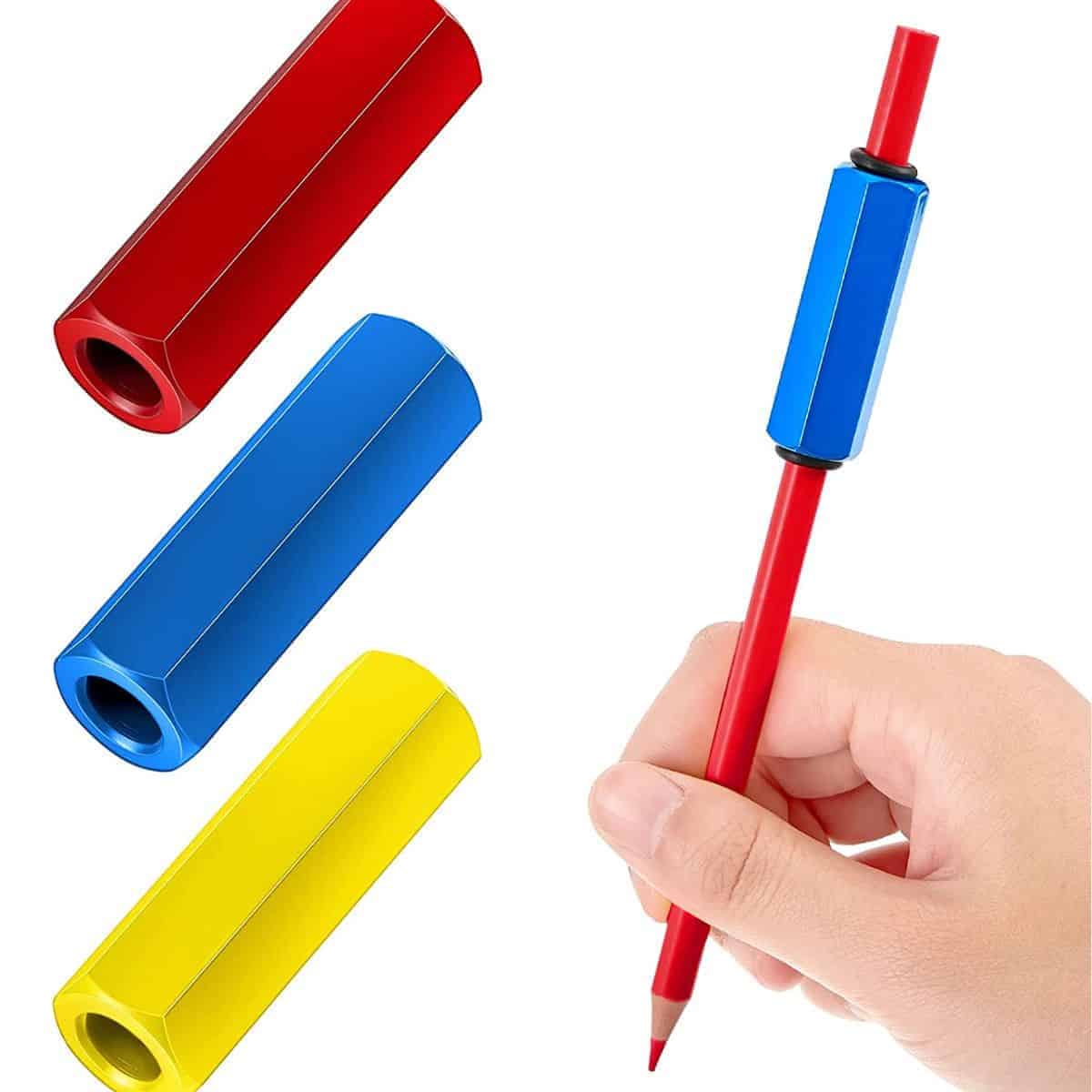 Some kids apply too soft a pressure when writing and a weighted pencil grip can help them feel the pencil better and write harder. Also, some kids need the weight to help keep their letter formation steady. Depending on your child's handwriting difficulties, this can be slid to the end of the pencil as well.
For all of the pencil grips above, except #5, some kids will need to hold a penny or a pom pom in their last two fingers to resist the urge to have them "help" hold the pencil.
Does Your Child Have a Fine Motor Weakness?
If your child has difficulty with their fine motor skills, it's important to address the weakness, processing, or coordination challenges. Schools provide occupational therapy evaluations for handwriting and you can also seek out private OT through your doctor or in many cases, self refer.
Check with your doctor, in the mean time, check out our post on fine motor activities for handwriting.
And, think about having your child pick up small objects like coins, beads, game board pieces. Encouraging them to write on vertical surfaces like a chalkboard or a piece of paper taped to the wall can also be helpful. Also, using very short pencils or crayons if they try to wrap their whole hand around the writing utensil.
If you're new here and want to keep the good info coming, grab our 25 Powerful Sensory Activities to Calm and Focus Your Child
Get Gift Cards for School Supplies with our Easy Giveaway! – *GIVEAWAY NOW CLOSED*
We're thankful for you and want to help get you ready for school. Leave a comment below about which pencil grip you'd like to get by midnight on August 31st, 2022 and we'll randomly select two comments to receive a 50$ Amazon gift card.
You can use it to stock up on school supplies, or anything else!
Easy, right? Comment below!
More on Handwriting for Kids
Does Hand Dominance Matter? 5 Activities to Encourage Hand Dominance
16 Fun & Easy Core Exercises for Kids
Hey OT's and PT's: Why you need to test for Retained Primitive Reflexes
Must-Know Executive Functioning Skills by Age & Activities To Improve It in Your Child
---
Alisha Grogan is a licensed occupational therapist and founder of Your Kid's Table. She has over 18 years experience with expertise in sensory processing and feeding development in babies, toddlers, and children. Alisha also has 3 boys of her own at home. Learn more about her here.