Find the perfect fidget toy for school to help your child focus and sit still while they're learning in the classroom. You'll also learn what fidget toys teachers can't stand and usually ban from their classrooms!
Affiliate links used below. See our full disclosure.
It's time for back to school, and while you may be excited to embrace that school routine again, you also want to give your kid some tools to help them while they're at school.
A fidget toy could be the perfect thing!
With dozens and dozens of fidget toys available though, how do you know which type will help your kid pay attention and sit still while they're in school? And, is your child allowed to have them in class?
I'll give you the inside scoop as an occupational therapist in this post and my top fidget toys for school!
What Are Fidget Toys?
Fidget toys are small handheld toys that kids can manipulate. They might spin, squish, light up, click, or simply have a different texture to feel or squeeze. While fidget toys were originally only used by kids with special needs, the fidget spinner and pop it trends have made them common in every house.
I think that's a good thing, because a lot of kids benefit from fidget toys in school even if they don't have special needs.
Does Your Kid Need a Fidget Toy for School?
Some kids are wiggly, have a hard time paying attention, or have sensory issues and a fidget toy can help them stay focused and pay attention while they learn in class. If your child constantly taps their pencil on their desk and is often reprimanded for disturbing the whole class, a fidget toy could still meet that need they have while not distracting anybody else.
Since kids with ADHD, Autism, and Sensory Processing Disorder (SPD) all could have difficulty with sitting still and paying attention in a classroom setting, fidget toys could be a great tool for them too.
Basically, fidget toys could be helpful for any child that has trouble calmly sitting and focusing in class.
Will the Teacher Approve of Your Kid's Fidget Toy?
Many teachers are fine with your child using a fidget toy in their classroom as long as it isn't distracting. If other kids are turning to see or hear a fidget toy your child is using, it's probably going to get nixed.
Use the list below as a good starting point for having some options while your kid is in school. But, if you're using a fidget toy during school to help your child calm down, then bring the teacher into that conversation.
Ask them what they're comfortable with, send them the link to this blog post so they can see that there are non-distracting fidget toys for school. Their only experience might be with fidget spinners and pop its, which are both very distracting.
If I were a teacher, I wouldn't allow them either.
The Best Fidget Toys for School!
On this list, you'll only find fidget toys that don't light up or make noise because the best way for your child to benefit from a fidget toy in school is to discreetly play with it in their hand. Others shouldn't even really notice them using it.
If it lights up or spins, kids will want to look at it. That's why fidget spinners are out.
If it makes noise, kids will turn to see what it is, so noisy pop its are a no go too.
And, if you've ever searched Amazon for fidget toys, you're likely to find large variety packs, a lot of those fidgets might not be beneficial or are distracting. Most kids will do better to focus on selecting one or a few fidgets that work well for them and the classroom.
Here's 11 fidget toys for school that your kid's teacher will likely approve of:
#1. Fidget toy for school: Stress Ball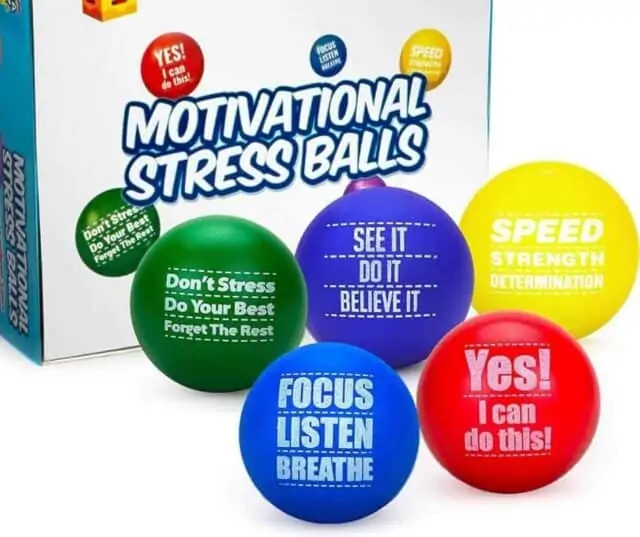 The classic fidget toy is the stress ball and it's one of my favorites because it's simple and all kids need to do is give it a squeeze. It's not distracting at all, but gives kids lots of proprioceptive input that is generally calming. Better still is you can DIY one yourself by taking a balloon you haven't blown up and using a funnel to pour sand, flour, or rice into it and tying it off.
Or you can buy one here.
#2. Fidget toy for school: Tangles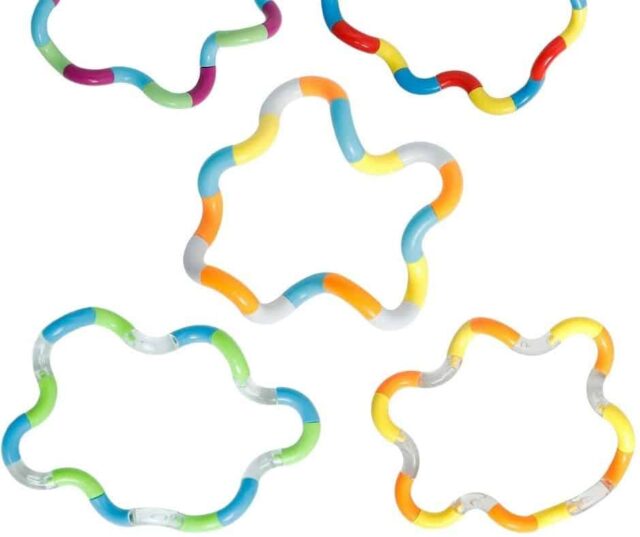 Another quiet fidget toy for school are these tangles. They give varying types of movement and keep kids busy, while not needing to look at the fidget. However, these work best with two hands.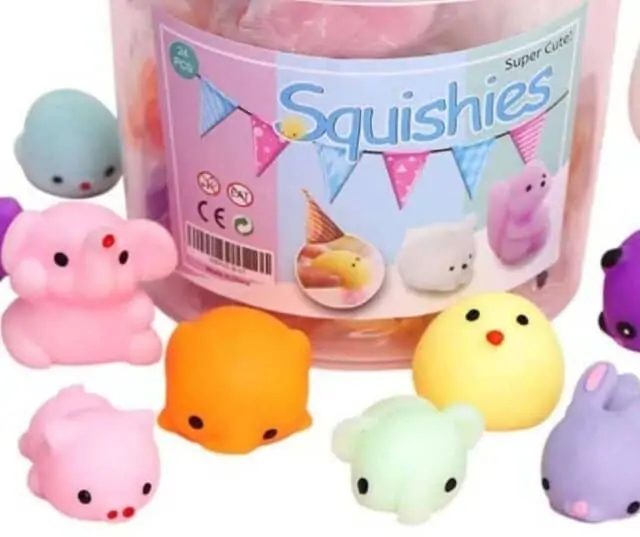 I love these out of the box fidgets because they don't look like a fidget. These little Moochi's are popular among kids and when you can get a whole bucket, your kid can share with classmates (if teacher allows). They have an interesting texture and are super squishable, so they too give that calming proprioceptive feedback and pleasant tactile input.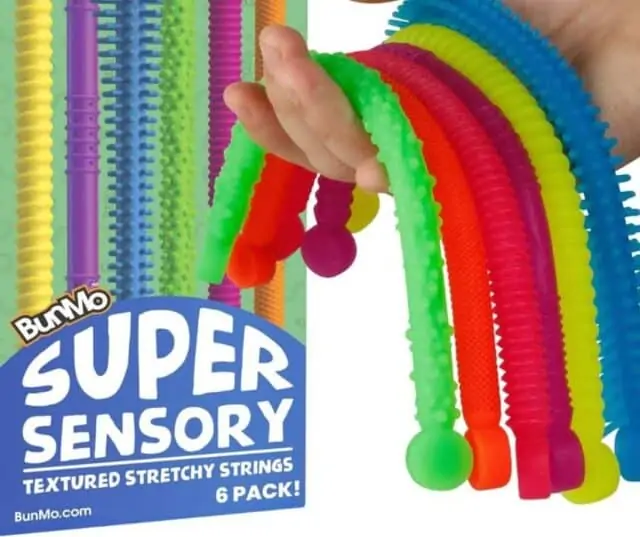 Get an assortment of textures for your kid to feel with these textured stretchy strings. I like the idea that they can choose which one they want that day or have a couple in their backpack to decide between. The stretching and pulling is again that important proprioceptive feedback!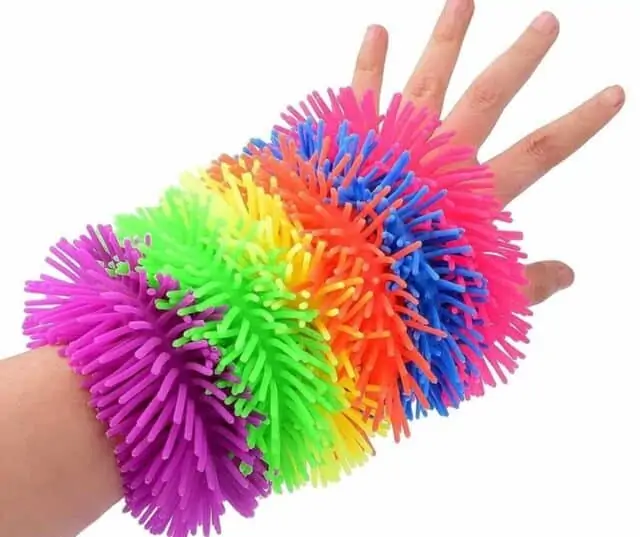 Your kid can always have their fidget toy accessible by wearing it as a bracelet! This fuzzy band bracelet has an interesting texture and is 100% squishable. They can just wear it and feel the pressure on their wrist. Or, they could reach over and softly touch the fuzzy texture. Still, they'd have the option to take it off and tug, pull, and squeeze it.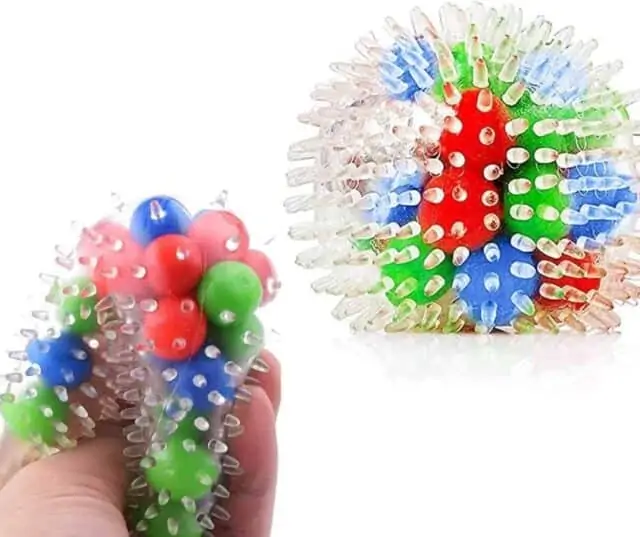 If your kid likes something that gives harder input, then this spikey ball could be perfect for them. It gives more tactile input, but also has smaller colored balls inside that create an unique texture when squeezed.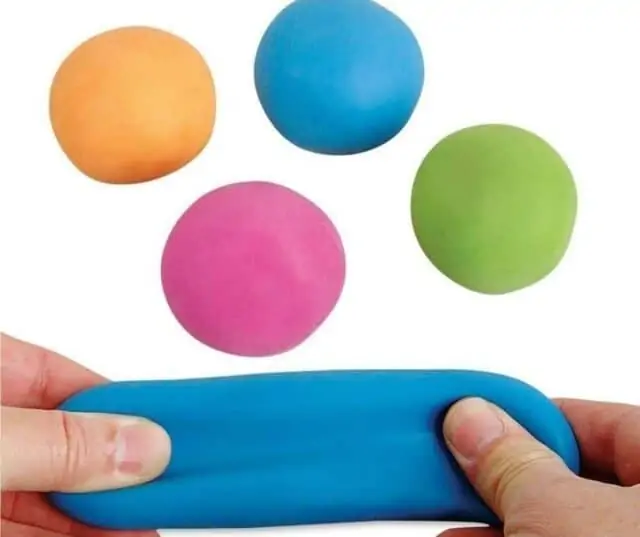 This fidget is another type of stress ball, but instead of just squeezing, it can also be pulled! Pulling gives a different sensation than squeezing and may be more satisfying for some kids.
#8. Fidget toy for school: Gel Shapes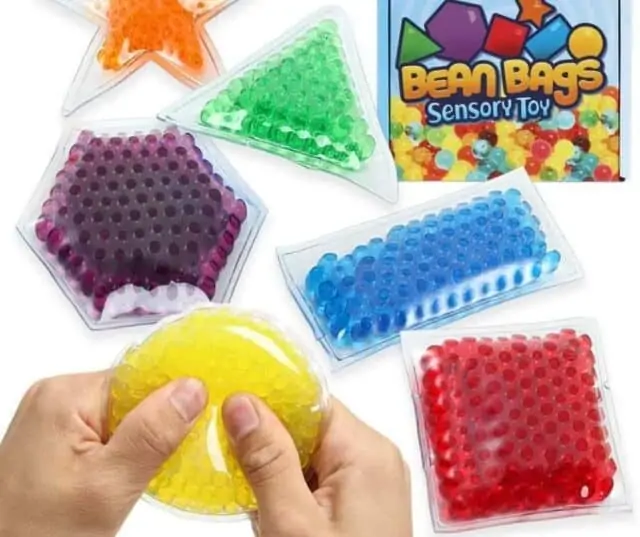 This fidget is nearly flat and has a very different sensation because it's stuffed with small water beads. Great for kids to hold in their hands and just push the beads around without even looking.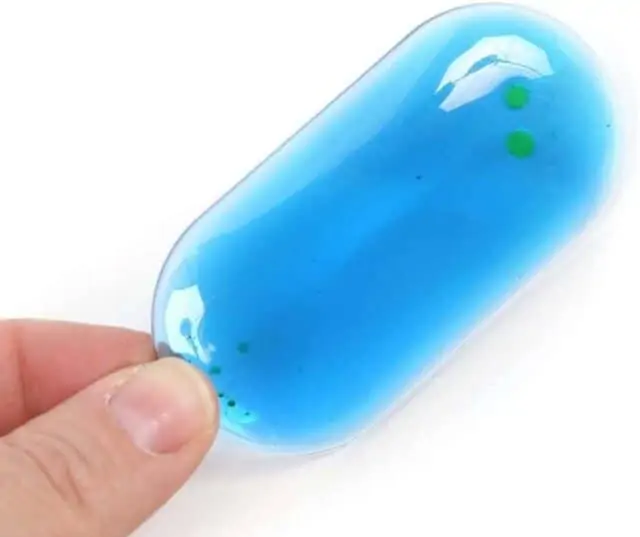 This little fidget is perfect for slipping in your child's pocket. They can just slip their hand into their pocket and discreetly squish away. This fidget gives a cool slippery feeling as the gel moves around.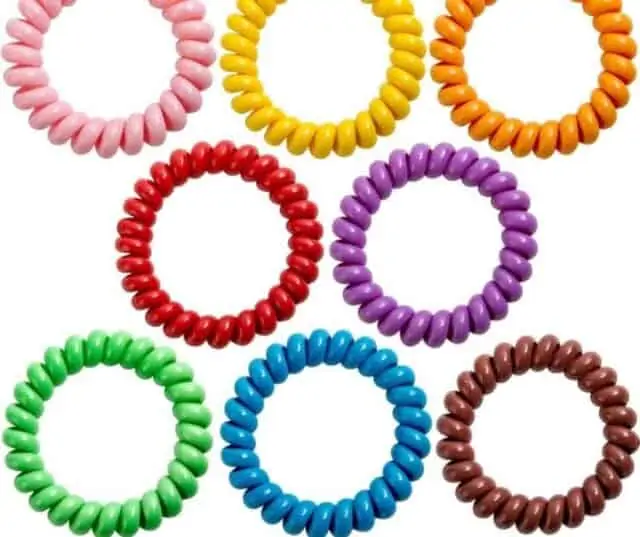 Another fidget that can be worn on the wrist as a bracelet. Coil fidget bracelets also work really well just pulling, stretching, and for running their fingers over the coils.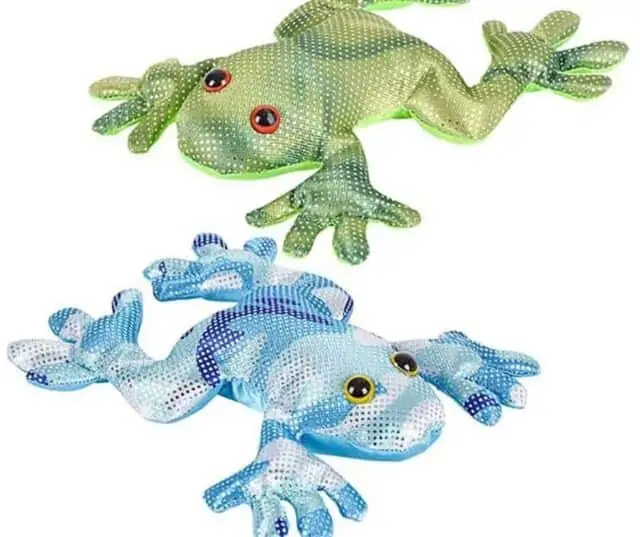 Weight and pressure is very calming for some kids because of all the proprioceptive input it gives. These little bean bag frogs could be laid on a leg, across a hand or just held for some of that weighted pressure. See more in weighted lap pads that are also great for school!
How to Encourage Your Child to Use Fidget Toys in School
When you give your child the fidget toy let, them know that it's to help them when they feel like they can't sit still or pay attention. Also, tell them that it will be on a trial basis that it's used.
If it's causing more distraction, then commit upfront that they'll stop using it and try something else.
Explain to your child before they take their fidget that it's distracting to throw and catch the fidget toy, to use it above their head, or bang it off their desk. Then, show your child how to hold the fidget toy and play with it calmly on their desk or in their lap.
Alright, you're all set! I shared a lot in this post, what fidget toy for school stood out the most to you? Which one are you excited to try and why. Tell us in the comments below. We love to hear from you!
*Click here to get the 25 Sensory Activities to Calm and Focus printable to use with your child today!*
More Sensory Tools to Help with Attention and Focus in School
Did You Say Wobble Cushion? What it is and How it Works
37 Sensory Toys to Help Kids Learn, Communicate, and Calm Down
13 Easy Sensory Strategies for the Classroom
The Quintessential Guide to Fidgets for Kids
---
Alisha Grogan is a licensed occupational therapist and founder of Your Kid's Table. She has over 17 years experience with expertise in sensory processing and feeding development in babies, toddlers, and children. Alisha also has 3 boys of her own at home. Learn more about her here.