With each new season comes unique opportunities for sensory play. At the start of each season I kind of have a mental bucket list of all the fun sensory things I want to expose the kids to (remember my fall sensory post?) Obviously, because of the warm temperatures summer offers, my bucket list can get pretty long!
Sensory play is so important because it helps kids learn about their
environment
and their own bodies. There is all kinds of
neurological
development going on when they interact with different textures or move their bodies in new ways. We also know that sensory play can ultimately induce more relaxation and improved attention because their little bodies (in most cases) are getting their needs met. If you are looking for some more details on sensory play and development, check out Sensory Basics here.
Most of you probably already know some simple sensory play ideas for summer between sandboxes, swimming pools, and playgrounds (all of which give loads of sensory input). But, don't stop there. Think nature hikes,
finger painting,
or body painting in bathing suits, you can literally hose them down!
Rachel from Babysitting gets even more creative with these next three suggestions in her guest post here today. I love all these ideas and they are definitely now on my summer bucket list (I guess I should actually write the list down), I can't wait for the kids to try them out!
Let us know what your favorite sensory play idea is for summer so we can keep those bucket lists growing! Without further
ado
, I will hand it over to Rachel…
When summer time rolls around it is a great opportunity to get your kids outdoors and into the sunshine. Sensory play does not have to be limited to indoor activities either. Here are a few ideas for great sensory play outdoors in the warmth of summer.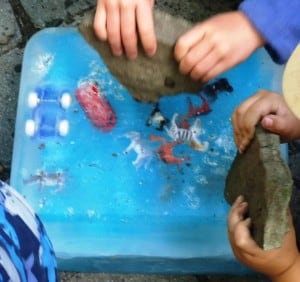 Help your child explore their inner

archaeologist

! Get a large plastic bin and fill it with water. You can dye the water if you would like but I find it a bit messy. Drop in a few small plastic figurines like dinosaurs, farm animals or even army men. Let it freeze completely and then dump the large ice cube outside. Hand the kids spoons or other kid-friendly digging tools and let them go to work uncovering the hidden treasures. For the widest spread of toys to dig up try to add toys as the ice freezes so the entire block has something to uncover. Kids love to watch the ice melt under the hot sun and it is a great way to keep them cool. Keeping it Beautiful did an ice dig, check it out here.

I ran across this

clever idea this winter and I can't wait to try it out with my kids! We all remember Slip and Slides from our childhood, but this creative idea combines that with sensory bags. All you need is a plastic tarp and duct tape. You can create any size bag you want, but a 10 by 10 square is usually about right. Simply tape the edges of the tarp together well, leaving a small hole to fill the bag with water. You can also add soft toys, balls, leaves, foam cutouts and anything soft without sharp corners. Fill the bag with water and seal the opening with tape. Make sure the bag is filled and sitting on a flat surface so the water distributes evenly. It is also best to get the bag full before letting the kids play on it to avoid rips and tears. You can double the tarp to create a thick and long-lasting bag. Spray with water for a slippery effect or just let the kids play cool and dry on water! You can check one out at

Momma's Fun World

.

3. If you have a little talent with a drill then you can make your kids their very own water park. Plastic piping and water hoses are all you need for this sensory activity. After all, what kid doesn't like to play in the sprinkler? Make a 'car wash' with an arch of plastic piping with holes drilled in it. Kids can drive their Big Wheels through for a cool shower. Punch holes in a two liter soda bottle and attach the hose for a homemade random sprinkler. Make your own Slip and Slide with wet tarp or turn the slide you already have into a water slide. Use kiddie pools as splash zones to avoid mud puddles. There are tons of ways to turn your backyard into a water park! If you want the specifics check out 2 Little Superheros.
These are just a few of the fun ideas you can do with your kids to stay cool this summer with sensory activities. From digging to splashing water, these are great sensory tools in your arsenal. Have fun, apply the sunscreen and get wet!
Rachel is an ex-babysitting pro as well as a professional writer and blogger. She is a graduate from Iowa State University and currently writes for
www.babysitting.net
. She welcomes questions/comments which can be sent to rachelthomas.author @ gmail.com.