How to support your school aged child to help them print easier, neater, faster and with less frustrations and freak-outs!
When it takes an hour for your child to write one or two sentences, and you've used all your energy encouraging, and even bribing , and they still refuse to write!
When your child has written a sentence and it is so messy and the letters are all over and completely disorganized it can be frustrating and discouraging.
You and your child are NOT alone!! While your child's handwriting may feel totally overwhelming … There is hope!
Heidi Garcia is a mom and occupational therapist who has been supporting children to help make printing easier for nearly 20 years and she's here on Your Kid's Table to share some practical tips that she has learned to help your child's writing be easier, faster, and neater while having fun!
Why is Writing SO Slow, Messy and Hard for My Child?
Printing can be challenging and frustrating for many kids. Some of the most common reasons for the handwriting struggle are…
1. Children are expected to print letters before they are developmentally ready… or before they have mastered some of the skills they need to make it easier.
For instance, they might not have been given the chance to develop the pre-printing skills they need first (i.e. draw and connect lines before making letters).
But, those same kids may have strong visual skills, so they draw the letter to "look right" with their own invented way of forming that letter, instead of learning correct letter formation, which supports legible and more efficient writing.
2. Some children simply weren't interested or paying attention when correct printing formation was taught. That could lead them to use creative, but less efficient ways of forming letters that slows them down as they are expected to write more and also write faster and smaller.
3. For some children, writing has become a trigger and a stressor. They simply see a pencil and paper and they think they can't do it and begin to shut down, and that has now become an ingrained pattern.
4. Writing feels hard to some children and it can feel easier to avoid things that are hard. Because it is not yet automatic, they have to think more about how to form the letters, and they forget all their ideas, how to spell, punctuation, and all the other things that are also required at the same time!
5. Finally, many teachers report they never learned how to teach printing, and their confidence and ability is highly variable… so they may not be teaching your child how to print.
Fortunately, printing can become easier!
You might be thinking… I already have so many demands as a parent, now I have to help my child learn to print again too? I don't need any more responsibilities!!
All absolutely and totally true!
But what if you could connect with your child, have fun… and help make the challenge of printing easier at the same time?!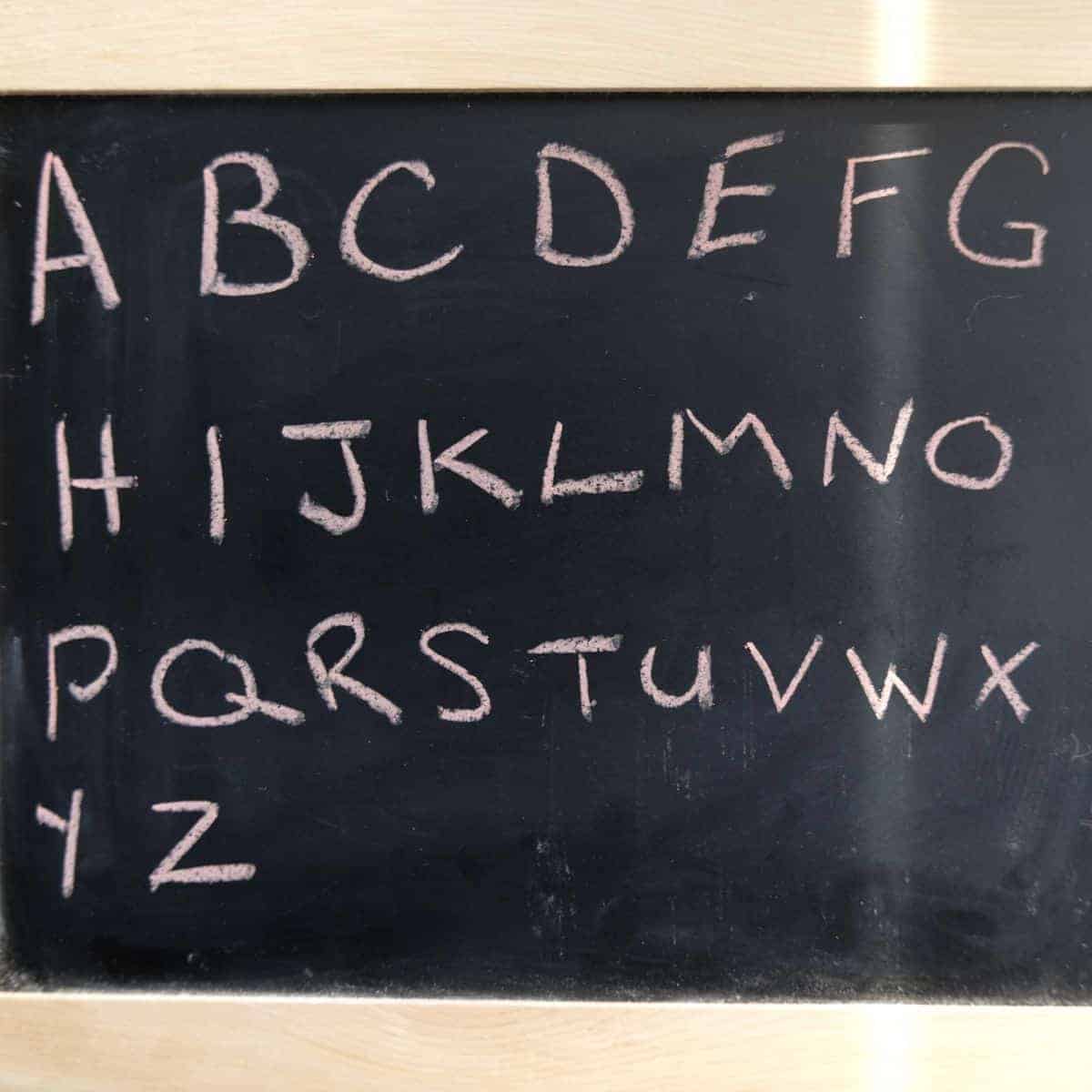 How to Help Kids with Their Printing One Step at a Time
We need to start with the basics. Consider, for a moment, if you have ever learned to play a musical instrument (or dreamed about learning one) – a piano, a violin, flute, trumpet… did you begin by playing a six-page Bach Concerto?
Of course not!
In the same way, when learning to print, we don't expect our children to write a six-page essay to begin with!!
First, you must learn the correct position to hold your violin or trombone… in the same way we must teach our children to hold a pencil correctly.
There are many different ways of holding a pencil, but the most useful way is called a tripod grip. It allows for the most movement of the fingers for speed, agility and movement.
Learn more about the most useful pencil grip and how donuts can help make grip easier HERE!
Second, you learn how to sit properly to ensure the best flow of air for wind instruments or seated posture for ease when playing other instruments.
When printing, posture is important too! If you are slouched, or leaning, or not well supported – that will make the task of printing even more challenging!
Next, you learn how to play individual notes… The musical "alphabet"… in the same way our children learn and practice printing individual letters.
After they've mastered the correct formation of letters, we begin to combine them to write words, like in music we combine notes to make chords.
And finally, we begin to write sentences, then paragraphs, then stories in the same way a musician will begin to play short musical phrases, simple songs, then longer more complicated pieces.
What is the Correct Formation of Letters?
Not sure what the correct formation of letters really is? It's all about PATTERNS!! Our brain LOVES patterns and consistency and things that are the same and predictable (and this frees up space for thinking and expressing all those creative ideas)!
Did you know that of ALL the CAPITAL LETTERS, lowercase letters and 10 basic numbers in printing in the English Language there are only THREE that don't start at the top? Only THREE? Any idea which ones they are?
I'll give you a hint… they are lowercase letters… near the beginning of the alphabet…
The lowercase letters "d", "e" and "f" are the only three, of 62 that DON'T start at the top!
And, for the lowercase letters, there are only five basic patterns for ALL the 26 lowercase letters! Once kids learn these patterns, the brain doesn't have to work so hard and it makes printing SO much easier!
This top-down letter formation is one of the main ways that kids struggle with letter formation, often starting from the bottom or some other position.
Curious about the five patterns and those letters that start at the top? Build your confidence in supporting your child in my "Let's Make Printing Easier Webinar". Together, let's start making printing easier and more fun for you and your child today!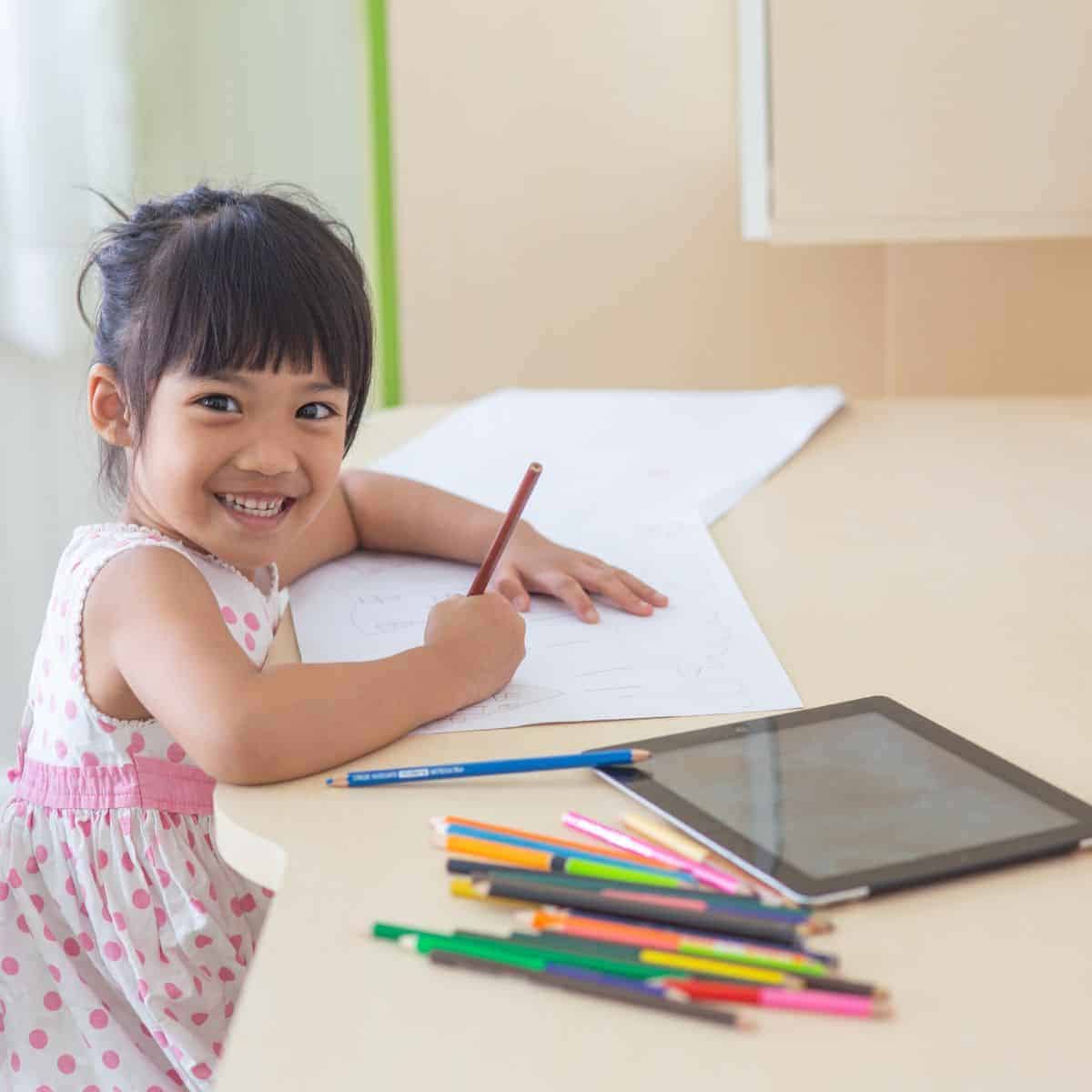 Games for Making Printing Fun
Still not sure how you could make printing fun? Here are a few ideas:
Play Tic-Tac-Toe, but with different letters of the alphabet instead of "x" and "o"…and a little extra tip:

make sure they are using the correct letter formation when playing!

Copy their favorite jokes or parts of a book (copying is sometimes easier than writing from memory or writing their own ideas).

Write "notes" back and forth with your child. You could find an old mailbox (or use a shoebox) and ask simple questions or silly short stories.

Practice printing correct letter formation with their eyes closed, instead of open! This eliminates the pressure of writing on the line, but encourages making correct formation more automatic!

Write with a whiteboard marker on windows (it does come off very easily!)

Write with different "pencils" – chalk, in dirt, with water and a paintbrush outside, markers, pastels, Squiggle wiggle (vibrating) pens, black light pens, rainbow pencils, Scented pencils… the options are endless!
5 Tips to Help Your Child Learn How to Print Well
These tips are great for helping kids that fight to practice their printing, but they're also helpful for any developmental challenge you're working on with your child…
Keep it fun.

We all learn best when our brain is calm & organized, when we feel connected and regulated and we are in a positive, supportive environment.

Find a rhythm.

Is there a time of day that you both feel you might have more capacity? Maybe after a meal, or after playing outside? Where would be a relaxed and comfortable place for both of you? Maybe you have cuddle time or some trampoline time just before to help regulate your child's body and brain. It may take a little exploring and experimenting, but once you've found a time and place it can make a big difference in your child's willingness to participate.

Be consistent.

A little practice everyday is better than a lot once a week. Kids also come to depend on this as part of their routine, and this too decreases the battles!

Focus on quality over quantity

… Again, a few very well printed letters correctly is far better than one hundred poorly printed with less focus. Keep it short and sweet!

Use rewards and celebrate success!

The brain absolutely LOVES being celebrated! Maybe you play a game together after the practice, give stickers, play with Lego, dinosaurs or Paw Patrol. … You know what would be motivating for your child, and having a positive experience helps the brain remember that it felt good and makes it easier to come back next time!
Printing Isn't the Same Thing as Writing…
Finally, PRINTING is the mechanics of writing or forming letters, but please remember that "writing" is really the output of your child's amazing and creative ideas, from the wonders of their brain out into the world.
While your child is working on the mechanics of printing, you might consider exploring other ideas to get your child's ideas out so they still view themselves as a writer with creative ideas. A few ideas to support your child's "writing" could include:
Be their pencil… they dictate and you write (exactly what they say without editing).

Have them record their ideas by audio or video… This is so easy these days with the devices we have – use a "voice memo", or a video recording on a mobile device.

Explore having your child type their ideas (though typing takes practice too). If you're curious about how to support these, please reach out! There are so, so many technology supports and even word prediction programs to support written output!

Use an app to practice printing letters or words with the correct formation (e.g. Touch & Write – $3.99), this way YOU don't need to be the one to encourage correct formation. This app won't allow your child to print a letter with the incorrect formation… plus they can "write" with things like whipped cream, ketchup, paint or icing!

You could occasionally use an app to create quick worksheets that they can type into instead of printing (e.g. SnapType – Free lite version; $20.99 for Pro).

Explore cursive writing. For some children, learning a completely new motor plan gives them a fresh start, is more fun and motivating… Plus… Something that MANY children are fascinated by is cursive – reading it, having a signature… it makes them feel so grown-up, plus it can actually improve printing skills!
I hope some of these tips begin to help decrease the stress and frustrations your child is experiencing with printing. It DOESN'T have to be this challenging!!
If you are interested in diving in a little more, I'd be honored to share more about these and other tips for a proven printing path to making printing easier for your child, and give you the confidence to support them… while connecting and having fun! JOIN ME now for an on-demand "Let's Make Printing Easier" webinar HERE.
---
Heidi Garcia is a registered occupational therapist and owner of Blooming Abilities. She has nearly 20 years of experience in making daily life easier by supporting children, families and teachers with printing challenges, sensory processing differences and emotional regulation skills. Heidi also has 2 boys of her own at home where she practices what she teaches everyday! Learn more about her and her work on her website https://bloomingabilities.com, and follow her on Instagram and Facebook @bloomingabilities.ot