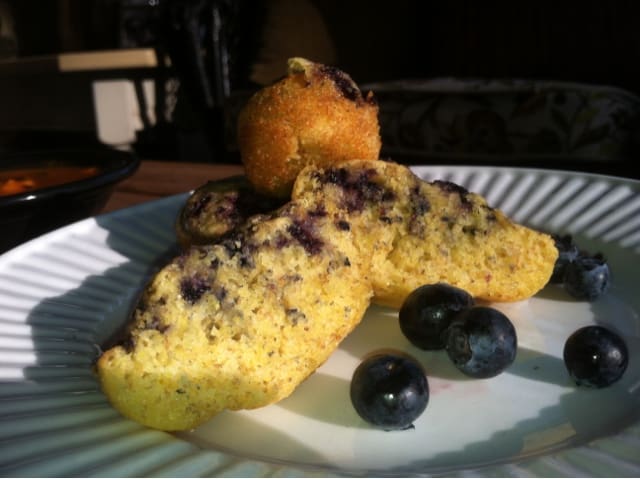 It is Memorial Day Weekend and while we pause to remember the brave men and women that have honored our country, we naturally want to eat that which symbolizes Americana. Cornbread, is one of the first things that comes to mind. Of course, I wanted to up the nutritional value, and with fresh blueberries purchased at the farmer's market, I was inspired!
Now that Isaac is nearly 10 months old, I am really starting to move him onto table foods and many of our meals are revolving around what he can eat with us. Soft fruits and vegetables, and  breads and muffins (i.e. zucchini bread, banana muffins, etc.) are perfect transition foods for your baby, once they are chewing and managing  soft melt-able foods well. I wanted Isaac to be able to eat small pieces of cornbread with us, so I pureed the blueberry's before mixing them in. By doing that, he wouldn't get any large unexpected chunks that he could potentially choke on. If you aren't feeding a baby, you could place whole or chopped berries into the bread, but the puree makes the bread sweeter and also looks very pretty.
I'm happy to report that it worked wonderfully well as a recipe. I had never heard of blueberry cornbread and thought naively that I had a novel idea. 
I can hear some of you laughing now, obviously, as my Google searched proved, this is not a novel idea. However, I didn't see anything with a puree in it, which is perfect for a baby and is just as good for the big kids and adults. 
I do have to admit that this wasn't a big hit with Isaac, in fact it wasn't a hit at all. He is just coming off of a bad stomach virus and is slowly getting back into eating. Cornbread is a little coarse by nature and crumbles everywhere, so Isaac was a little overwhelmed by the texture  It was very frustrating to go through the trouble and have him not eat it, but I have to remind myself that teaching a child to eat is a process! I still think cornbread is a great idea and I will try it with him again soon, maybe with some melted butter on it. Yes, try and try at least 12 times applies to babies, too! 
As far as Sam was concerned I didn't want to "trick" him with the puree, which would have been hard to do anyways with the sharp contrast in colors. He was busy in his sandbox and not interested in helping me make these, so I made sure to point out that the corn bread had blueberries in it, especially because blueberries are really hit or miss with him. He loves most anything related to bread and gobbled them up. Again, because he liked them so much I highlighted how good the blueberries were that were in the bread. If you think your kid might pass on them definitely try to get them involved in cooking these with you.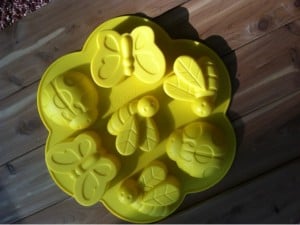 Silicone Mold for Muffins
I made my cornbread in a mini-muffin tin and a  kid-tray of larger insect shaped muffins (see above). I knew Sam would love eating a butterfly so I did this just for fun, don't feel like you need to purchase something like this. Although, this could be a great hook to get your kid to try something they normally wouldn't.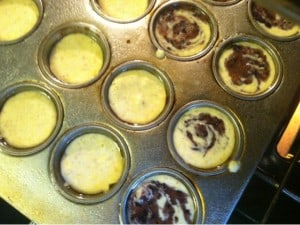 I left some of my muffins plain. The blueberry was an experiment after all.
Blueberry Cornbread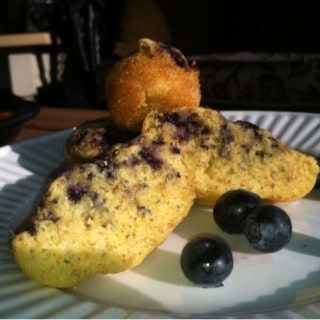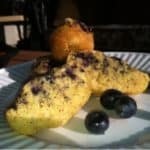 Blueberry Cornbread
Blueberry Cornbread Recipe
Ingredients
1

cup

Cornmeal

3/4

cup

All-Purpose Flour

1/4

cup

Whole Wheat Flour

4

tsp

Baking Powder

1/4

cup

Honey

1/2-3/4

cup

Pureed Blueberries

1

tsp

Salt

2

Egg Whites

1

cup

Skim Milk

1/4

cup

Applesauce

(or 1/4 cup Low Fat Mayonnaise
Instructions
Preheat oven to 400 degrees.

Combine dry ingredients and mix.

Combine wet ingredients and mix.

Slowly pour wet ingredients into dry. Fold in gently. Take care not to over-mix.

Bake in preheated oven for 20 minutes if using 8x8 pan,
15 minutes for muffins, or 12 minutes for mini-muffins.

Let cool and cut into 20 squares or remove from muffin tins.

** If you want there to be a swirl in your cornbread pour blueberry puree in while almost done folding wet and dry ingredients. If you want to pour puree on top of the bread and use a butter knife to swirl through. if you are using a mini muffin pan pour a small dollop on top of each muffin and stir through with a toothpick.
Some Tips on Improving Your Kid's Eating:
Kids of all ages may have some difficulty with the texture of cornbread, as Isaac did. A different texture like this, can catch them off guard, and then they may refuse to eat it. As you present cornbread to your kid, try to describe what it is going to feel like in their mouth, when they take a bite. You might say something like, "This bread falls apart very easily so little pieces will go all over your mouth and might fall on your lips and chin. The little crumbles melt quickly and are easy to chew."  If your kid seems nervous, you might say something like this first, "Let's try a little bite first, with some butter on it."  By taking a small bite, the texture won't be as overwhelming, initially. Also, the butter will change the texture a little, making it less harsh. This tactic can apply to any new or non-preferred food you are giving your kid.
As I have mentioned before, I am not a big fan of hiding food as purees in other highly desirable foods. It is necessary in some instances, and is appropriate in some recipes like the Blueberry Cornbread. Since Sam liked the blueberry cornbread so much, I took the opportunity to use this as a door into eating fresh whole blueberries:

I served Sam fresh blueberries the next morning along side his whole grain bagel, which he initially ignored. It had been quite a while since he had them since they are so tart our of season. I nonchalantly asked him to try a blueberry half way through our bagels. He nonchalantly replied, "I am eating my bagel."  I gave him another reminder a few minutes later, to which he said, "I don't like blueberries."  I ignored this statement and calmly grabbed the cute little green carton of berries. I looked in to the carton and acted like I was searching for something. I knew I had his attention. Then, I said, "Hmm, I wonder, if I can find a little baby blueberry in here?"  What a surprise (sarcasm), I did! I pulled it out and put it on his plate, saying, "Oh, look at this cute little baby blueberry. I am going to find one and eat one too!"  Next, I pulled one out for me and said, "Okay, let's eat this little baby blueberries." And, we did! Notice, I didn't ask him if he wanted to eat it, I just set it up as an assumption (of course, he still might have said no). The blueberries were so sweet and ripe, I was fairly certain he was going to like them. I then continued our little game, finding little boy, mommy, and daddy, blueberries. In all he only ate 5 blueberries, but that was a success. In fact, if he had only eaten one it would have been a success. I will try and build on this the next time we have blueberries, trying to get him to eat more with less effort. However, he may very well refuse the next time, and if he does, I will try again. 
There were a few things that I think made this experience really successful:  I was giving him my full attention, we ate it together, and I remained calm. I was prepared to be disappointed, but not discouraged!
The example above is just one example. My hope is that you get the idea of what I was doing and adapt it to your situation with your kid!
Enjoy the grilling, swimming, and hopefully blueberry cornbread. Happy Memorial Day!