How to Get Your Child Eating Table Foods Like a Champ!
Never dread mealtime again
Do you ever worry that your baby or toddler…
Isn't learning to eat the right foods and never will?
Will be stuck on milk or formula forever?
Isn't getting the nutrition they need for growth and development?
Is going to gag or choke on foods?
Shows no interest in food?
Only eats crunchy foods?
Only eats pureed foods?
Won't learn to eat on their own?
Food falls out of their mouth too often?
What if you didn't need to worry?
What if your child…
Learned how to eat more foods and didn't have to

rely

solely on milk or formula
Tried and ate new foods
Ate their food safely
Got all of the important nutrients they needed!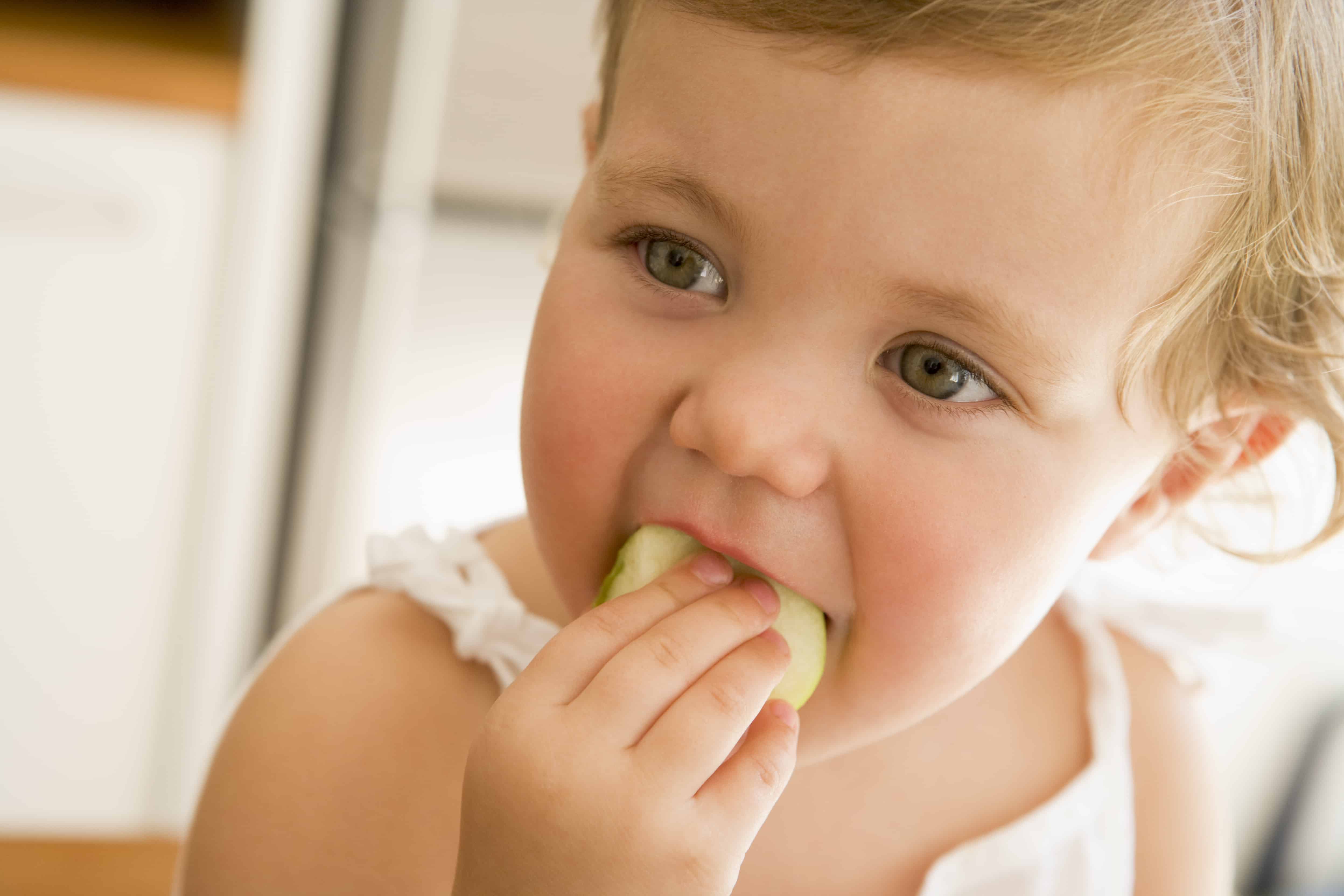 LEARNING TO EAT TABLE FOODS IS POSSIBLE
With the powerful online class designed to help parents teach their babies and toddlers to eat: Table Food School
The fact is that some babies and young toddlers need some extra help. Eating is a skill, just like learning to talk or walk, and there are a variety of challenges a child could face that make it difficult for them to learn to eat or accept table foods.
Table Food School is a complete step-by-step plan for parents to learn simple, but proven strategies from a licensed occupational therapist with over a decade of experience helping hundreds of children.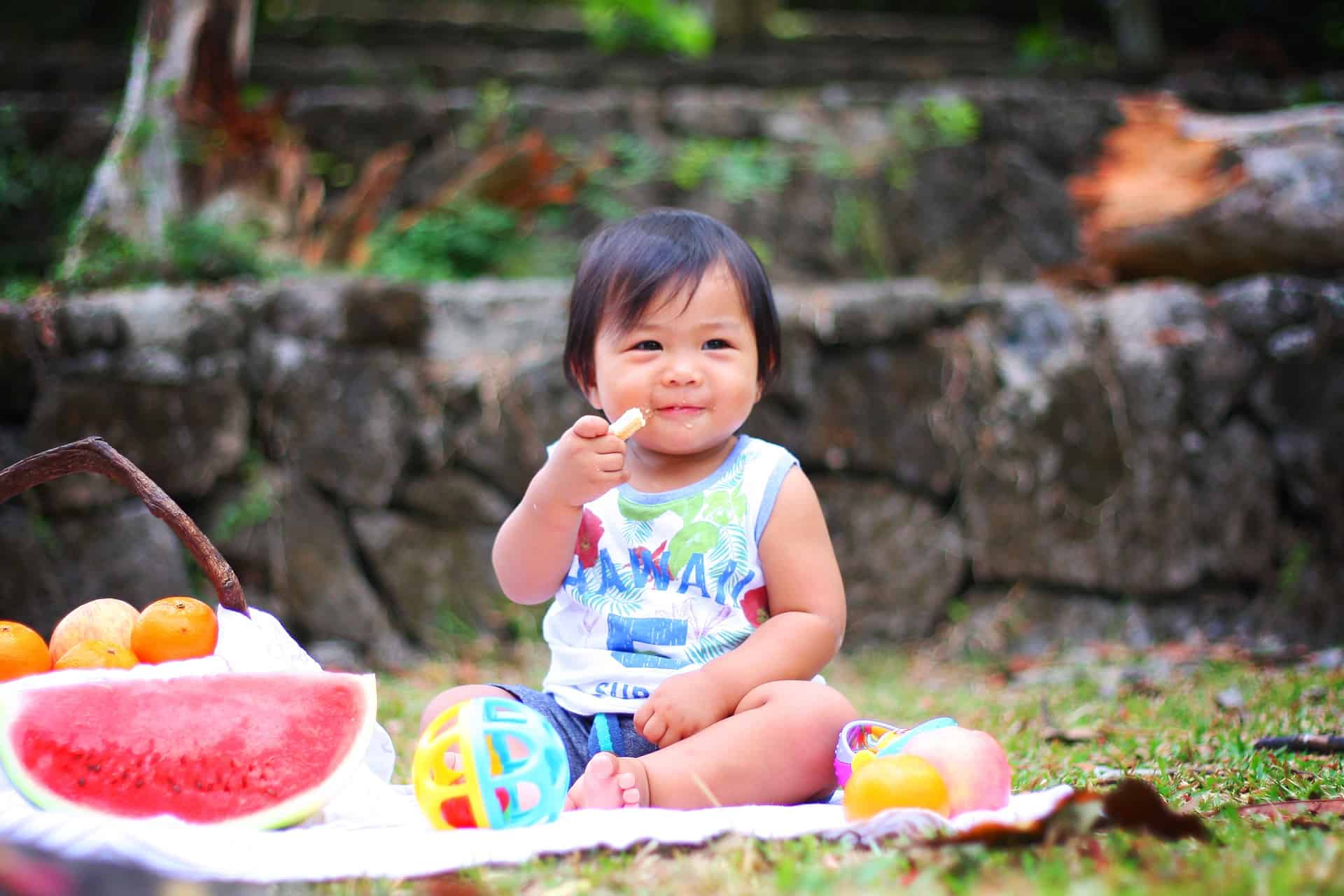 My 13 month old is up from the 2nd percentile in weight to the 9th percentile! He is eating so well now! The biggest plus is that I'm not dreading mealtimes anymore!
But, you may be thinking…
"You don't know my child."
Whatever table food trouble you're facing, I've likely seen before as an occupational therapist, which includes everything from babies that eat NOTHING to vomiting every time they try to eat.
Besides my OT-know-how, I've lived this challenge personally, with one of my three sons. I know what it's like to feel hopeless at the end of another failed meal, to watch as your baby throws everything you've carefully prepared quickly to the floor, or for your child to purse their lips and violently turn their head away from the food that will nourish their growing body.
You have tried all the foods. You've asked the doctor and friends for advice, but nothing seems to help.
YOU. ARE. NOT. ALONE.
If you've ever felt like you don't know how to help your child eat solids, finger, or table foods, know that lots of parents are facing the same challenge because some babies and toddlers need specific therapeutic steps to learn the skill of eating.
It's not rocket science, but it is backed by research and hands on work.
It's do-able and is perfect for implementing in the home.
Table Food School is a Step-By-Step Plan that parents and professionals working with babies and young toddlers can follow in their home. You'll learn secrets that are rarely shared outside of the feeding therapy community…
Knowing which foods to serve when
How to set up your meals to be a time your child enjoys and is ready to explore in
Learning and addressing your child's challenges so they can eat solid, table, and finger foods well.
It's all organized and simplified for you to put into action right away!
In this Class You'll Learn Through
Video Lessons
Pre-recorded lessons that you can watch anytime, anywhere.
(Valued at 250$)
Printable Slides
Download, print, or view the slides as you watch or listen to the lessons
(Valued at 50$)
Handouts, worksheets, and checklists
Access these time-saving printables to streamline everything you're learning inside of class and share cheat sheets and simplified guides from the lessons with other caregivers.
(Valued at 100$)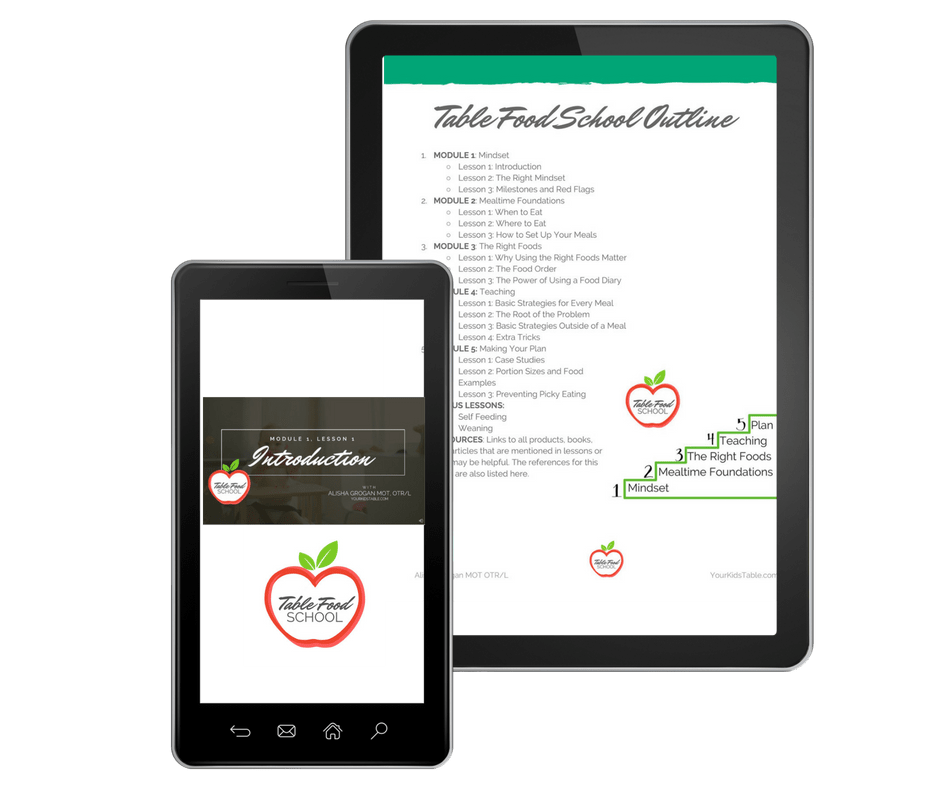 Over just the last 3 weeks I'm really seeing mealtime improvements, from shifting my mindset to make the meals an enjoyable time as well as my little one is really starting to interact and become much more interested, including tasting so many more new foods!
There are 5 modules, or think of them as units, that each have several lessons, most of which are around 15 minutes in length. Every one of these modules lines up with a different step in the Table Food School framework to give you a complete plan, one step at a time.
MINDSET
How to have the right mindset to help your child in the best way possible
The importance of a positive environment
Eating milestones
Possible red flags
Myths about table foods
Printables: Quick Guide for Spouses and Caregivers, Eating Milestone and Red Flags Checklist, and More!
MEALTIME FOUNDATIONS
The best time to feed your baby
Feeding schedules
Where to feed your child
How to set up your meals for success
The golden mealtime rules
Printables: The Mealtime Checklist, Feeding Schedules Template, and More!
THE RIGHT FOODS
Why using the right foods matter
Learn the "Food Order"
The power of using a food list or diary
Printables: The Massive Food List Vault, Food List Template, and More!
HOW TO TEACH THEM
Strategies to use at every meal
Uncover the root of the problem
Tips and tricks to use outside of mealtime
Extra tools and ideas to help your child learn to eat table foods
Printables: The Nuk Brush Cheat Sheet, Oral Motor VS Sensory Strategies Quick Guide, and More!
NEXT STEPS
Meal examples and portion sizes to serve
How to prevent picky eating
Examine case study examples and apply to your child
HOW TO VIDEOS
4 special videos with live demonstrations of more advanced techniques to show you exactly what they look like in real life and give you the confidence and support you need to implement in your own home.
2 bonus lessons on weaning from the breast/bottle and teaching your child to self-feed.

Weaning + Self-Feeding Bonus Lesson
Learn how to easily teach your child to feed themself and safely wean from the bottle or breast inside these valuable bonus lessons that will save you time and frustration!
(Valued at 200$)

Watch actual demonstration videos of the therapeutic techniques you'll learn inside of class so you can quickly and easily replicate them in your own home.
(Valued at 100$)

Download the Table Food School workbook that includes all of the handouts and lesson slides in one place!
(Valued at 100$)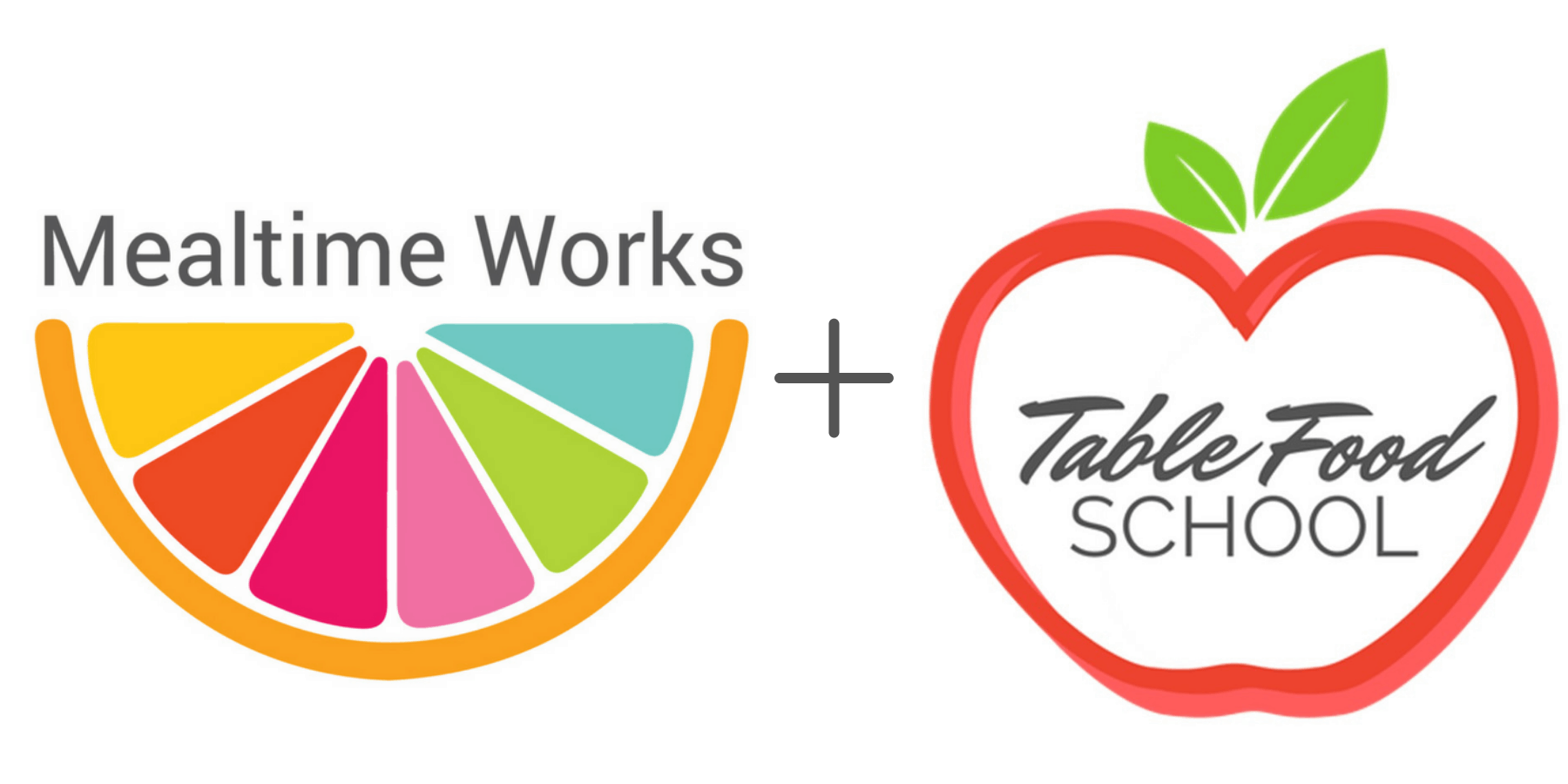 PLUS, AN EXCLUSIVE BUNDLE!
Worried your child might be a picky eater after you've overcome table food challenges? Or, that they'll grow into one?
That's a valid concern and we want you to have every trick, tip, and tool in your back pocket. And, it's why we're including Mealtime Works, Alisha's best selling picky eating program with the bundle enrollment when you join Table Food School.
With this special enrollment, you'll also get:
The entire Mealtime Works class so that you're able to avoid and overcome picky eating throughout all of childhood
Daily guidance and coaching in a student-only private facebook group, guaranteed for one year
12 monthly live Q and A sessions with Alisha to answer your specific questions about your child's eating and nutrition.
Mealtime Works is valued at over 1000$ on it's own! With this exclusive bundle opportunity, you save an additional 100$ off the regular price of 247$.
Table Food School Was Created for You If…
You have a baby or toddler (20 months or younger) that shows no interest in table, finger, or solid foods.
You want to help your child learn to eat a wide variety of foods and decrease the chance of more feeding problems in the future.
Your child frequently gags or has food fall out of their mouth while trying to eat.
You aren't looking for a quick fix, but welcome simplified step-by-step feeding strategies to help your child overcome not eating table foods.
You want to eliminate stress and enjoy mealtimes in a way you haven't been able to before.
You're ready to focus on helping your child over the next 4-6 weeks, knowing that the powerful table food strategies have the power to change both you and your child's life.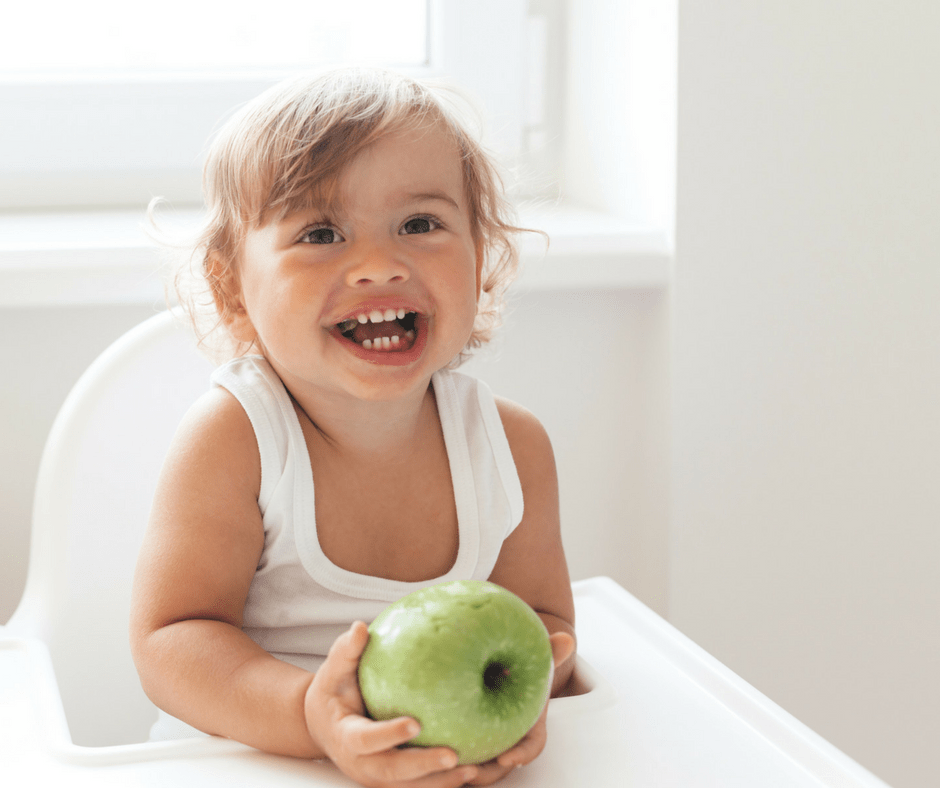 I am thrilled to have this resource and feel like I'm truly helping my child now. I love the ease of pulling up a website at anytime to review the wealth of information. This course allows for you to benefit from a professional's knowledge around your schedule which is what any parent wants!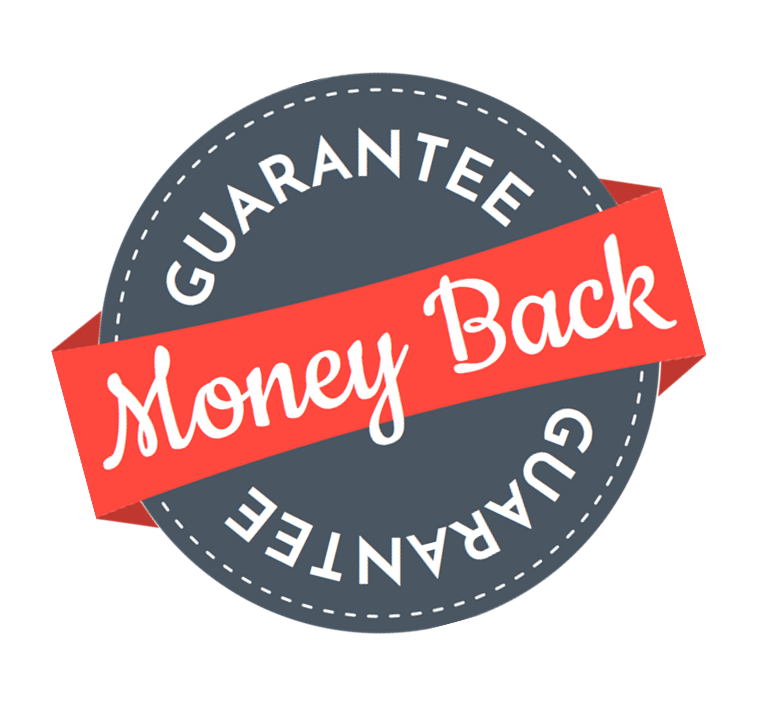 30 Day Money Back Guarantee
I believe in Table Food School's step-by-step plan, but I want you to feel confident, so I welcome you to take 30 days to learn the strategies and begin to implement them. If, after those 30 days, you aren't seeing any results, then show me the strategies you've implemented and the homework you've completed. I will gladly give you a full refund.
Get Started Today
Bundle Valued at 1,851$
Single
√  50$ Off with the Workshop Discount
√ 16  Table Food School video lessons + slides
√  16 + time saving Worksheets, Handouts, and Checklists
√  Learning-Enhanced Digital Workbook

√

  How-To Video Library

√

  2 Bonus lessons

√

  Guaranteed 1 year access to all materials

√  

Optional 3 month payment plan

X

 

 Mealtime Works Picky Eating Program (20 additional lessons valued at 1051$)

X

  Student only facebook group with daily guidance

X

  12 Interactive monthly live Q and A's with Alisha

X

 17 Additional bonus lessons + invaluable resources

X

 Menu Planning Printable Pack
Bundle
√  147$ Off with the Workshop Discount
√  16  Table Food School video lessons + slides
√  16 + time saving Worksheets, Handouts, and Checklists
√  Learning-Enhanced Digital Workbook

√

  How-To Video Library

√

  2 Bonus lessons

√

  Guaranteed 1 year access to all materials

√  

Optional 4 month payment plan

√

  Mealtime Works Picky Eating Program (20 additional lessons valued at 1051$)

√

  Student only facebook group with daily guidance

√

  12 Interactive monthly live Q and A's with Alisha

√

  17 Additional bonus lessons + invaluable resources

√

  Menu Planning Printable Pack
Frequently Asked Questions
How long should it take to see results?
Generally speaking, you will likely begin to see positive changes within a few days to a few weeks, and while results differ depending on the child and family circumstances, on average most parents can expect to see significant changes to their child's eating in 2-5 months.
What if I don't see results?
While I think it is highly unlikely that you won't see any results, if you've applied the strategies and followed the Table Food School suggestions, I will give a full refund in 30 days if you aren't satisfied and can show me the work that you've done to put this plan into action in your home. If you feel you need specific attention from me, ask questions on the discussion board.
How long do I have access to the class materials and discussion board?
You will have access to all of the course materials and discussion board through the class site for 1 year, but the slides, workbook, and handouts are all downloadable and printable.
What age is this class geared towards?
Any toddler that has never learned to eat table foods and is still relying on a milk source as their main nutrition is appropriate, but general guidelines for age are about 8 to 20 months old.
Can professionals (OT's, SLP's, PT's, DV's) take this course?
Absolutely! Professionals are most welcome and a course certificate is automatically generated upon completion of the class that includes the date and hours completed. 6 hours are given for the full class after review of all videos, PDF's and quizzes (.6 CEUs). 
This course is appropriate for occupational therapists, speech and language pathologists, developmental therapists, physical therapists, teachers, social workers, psychologists, pediatrician's, and any other professional that works with children or families from ages 9-21 months that are having difficulty learning to eat food.
This is an introductory course with no prerequisite required. This class is approved from AOTA for 6 hours (.6 CEUs). All lessons must be completed and quizzes must score 80% or higher to complete the course with a certificate for 6 hours.
Course Objectives for Professionals:
Identify strategies to engage families in positive mealtimes with children 9-21 months old that don't want to eat or are having difficulty chewing and swallowing food.

Apply safe strategies for babies and toddlers that gag frequently when eating

Modify family's feeding schedule and routine to obtain optimal appetite during mealtimes

Employ tools for helping parents eliminate relying on distractions for their child to eat during meals.

Describe and instruct parents on appropriate safe foods based on their child's skills and how to progress to new textures.

Justify specific tools to identify patterns in their child's eating and new foods to introduce at mealtimes.

Apply various methods to teach babies and toddlers to learn how to chew foods during mealtimes.

Describe a clear step-by-step plan for families to follow daily during mealtimes.

Compare the typical picky eating stage and how that differs from difficulty eating table foods.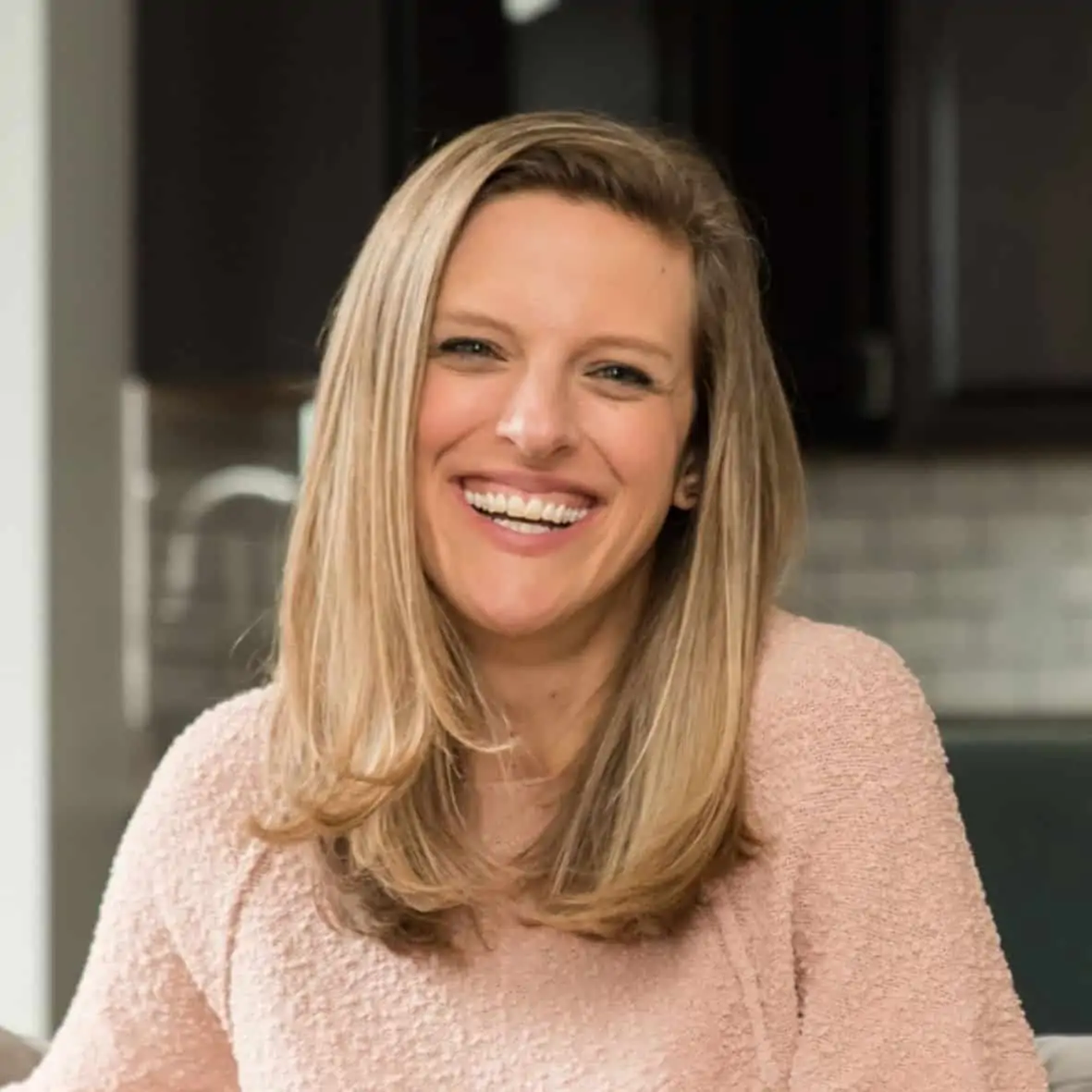 Alisha is the creator of the popular website Your Kid's Table, where she writes about all things kids and food, as well as sensory processing. She is also a pediatric occupational therapist with over a decade of experience working directly with families to improve how and what their children eat. Alisha is a mom to three young boys that have given her the chance to put her strategies and feeding solutions into practice on a daily basis. Alisha has provided occupational therapy in school, homes, and virtually around the world. These experiences solidified the plan she teaches today in Table Food School. She is also the creator of Mealtime Works, an online class to help kids overcome picky eating.
Table Food School is amazing for a first time Mom with a one year old with feeding issues!
Get Started Today
Bundle Valued at 1,851$
Single
√  50$ Off with the Workshop Discount
√  16  Table Food School video lessons + slides
√  16 + time saving Worksheets, Handouts, and Checklists
√  Learning-Enhanced Digital Workbook

√

  How-To Video Library

√

  2 Bonus lessons

√

  Guaranteed 1 year access to all materials

√  

Optional 3 month payment plan

X

 

 Mealtime Works Picky Eating Program (20 additional lessons valued at 1051$)

X

  Student only facebook group with daily guidance

X

  12 Interactive monthly live Q and A's with Alisha

X

 17 Additional bonus lessons + invaluable resources

X

 Menu Planning Printable Pack
Bundle
√  147$ Off with the Workshop Discount
√  16  Table Food School video lessons + slides
√  16 + time saving Worksheets, Handouts, and Checklists
√  Learning-Enhanced Digital Workbook

√

  How-To Video Library

√

  2 Bonus lessons

√

  Guaranteed 1 year access to all materials

√  

Optional 4 month payment plan

√

  Mealtime Works Picky Eating Program (20 additional lessons valued at 1051$)

√

  Student only facebook group with daily guidance

√

  12 Interactive monthly live Q and A's with Alisha

√

  17 Additional bonus lessons + invaluable resources

√

  Menu Planning Printable Pack
Still have a question? Get in touch at hello@yourkidstable.com