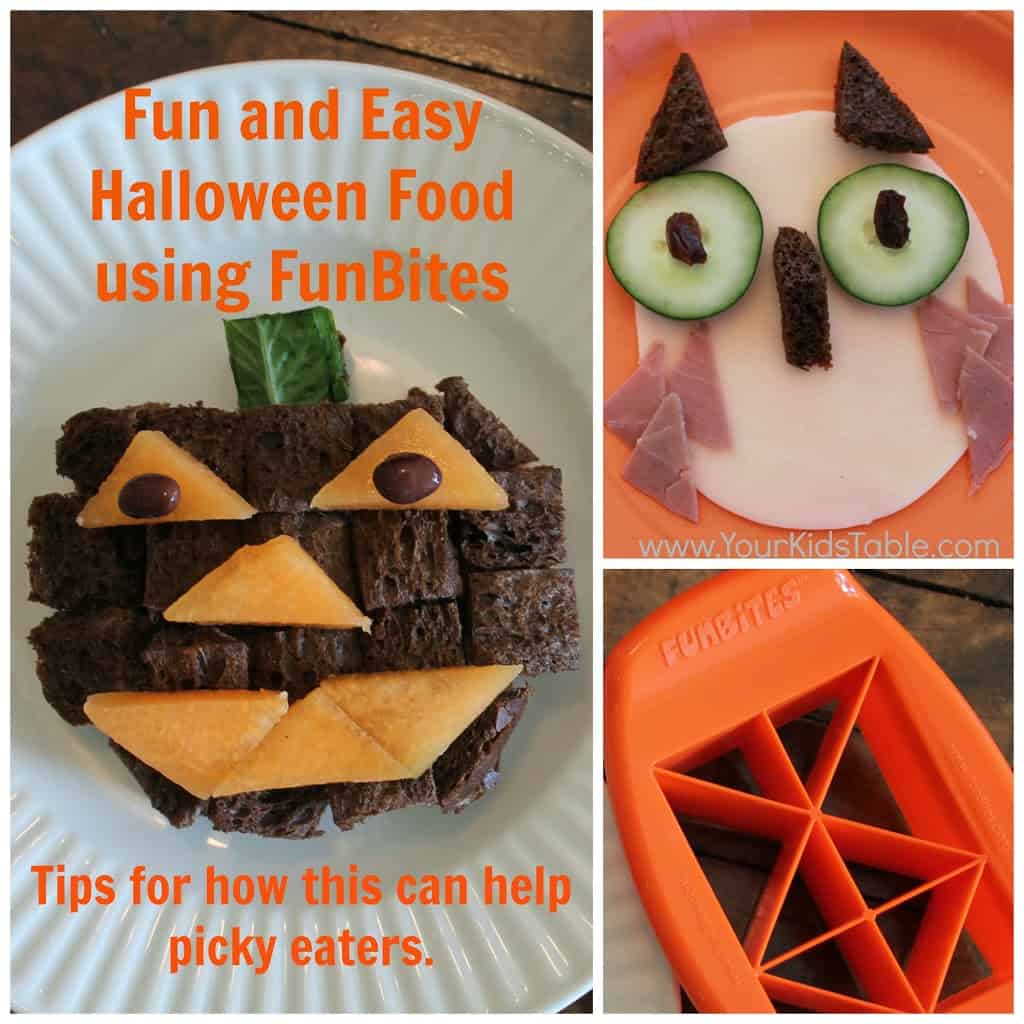 I am very excited that Your Kid's Table is hosting its very first giveaway!  Last month I reviewed a fantastic little gadget, FunBites, see that post here.  FunBites gave me another shape to try out, triangles, for some inspiring Halloween foods, as always full disclosure. In addition to a great coupon that can be used directly on their site for 20% your entire order, they are also going to give one of you a free triangle FunBites to make all of your own fun Halloween foods!  The coupon and details for entering are at the end of this post.

As an occupational therapist, I really love FunBites– as I mentioned in my review, I actually sought them out. I'm so impressed with this mom that designed this tool for her "picky" eater.  I saw an add on another website and immediately thought, "Oh, what is that? It will be perfect for the kids I work with!" To briefly re-cap, kids with difficulty chewing or textures can handle small regularly shaped pieces of food better than large irregular pieces.  It not only gives them a sense of comfort, but is physically easier for them to eat. Plus, it is fun!

It was great to have both the triangle and square to work with, it definitely allowed for some more creativity.  The triangle worked just as well as the square, but had different sized triangles.  I did cut up some actual sandwiches this time and I had to really rock and push to get it to cut through all of the layers, especially the roast beef and ham.  I quickly had to use a knife to completely separate a few meaty strands that were still stuck, which wasn't a big deal.

I have to admit coming up with some Halloween themed foods was quite challenging for me. I usually don't get in to making elaborate themes and as you can see, mine are fairly simple.  I honestly can't believe some of the foods I see people pinning, the time and amount of ingredients is overwhelming to me.  But, if it is fun for you and your little one appreciates it, then that's great. Once I figured out what I was going to do, it was really easy and my older son loved it, like I said, I kept it simple.  I was careful to use only a few ingredients and you'll see that I repeated them in both Halloween scenes.  Obviously, I didn't want to waste the food, but it was beneficial for my kids to have repeated exposure to non preferred foods.

It was most important to me to incorporate some foods my kids refuse or rarely eat.  I wanted to see how FunBites could help them with their variety.  At the same time, as I talk about in, Basic Strategies to Improve Eating, I had to make sure that there was some familiarity.  It is really important to strike that balance or you could lose them all together.  



My kids are so young, 3 and 2, that they don't really know a lot about spooky Halloween. I made an owl and a jack-o-lantern.