Did you know that art has A LOT of developmental benefits for kids? Learn what they are and how to make art easy and doable in your home!
Affiliate links used below. See our full disclosure.
One of my earliest memories is of me asking my grandmother to fold a piece of paper into a book so I could draw more pictures. I can still remember waiting as she folded, my anticipation spilling over for the life I would bring to the paper with my crayons.
At 8 years old, I was drawing cartoons and scenic pictures everyday, and as a pre-teen, I designed new outfits in my art pad. I was practicing fashion design, for my so-thought future profession.
Art was an enormous part of my own childhood.
It fueled and grew my creativity, but it also helped me cope with stress, anxiety, and worry as a child and teenager.
I've tried to pass my passion for creating art onto my children, and one of my favorite resources for keeping art with them easy is The Artful Parent, the blog that was created by Jean Van't Hul over a decade ago. As one of the most popular kid's art blogs, Jean has just released her updated version of the book The Artful Parent: Simple Ways to Fill Your Family's Life with Art and Creativity.
In celebration of the new release, the childhood art expert has stopped by for an interview and has a special giveaway for us (details below). In it, she's sharing some amazing tips, surprise developmental benefits to creating art, and some of her favorite art activities that are incredibly easy!
My Interview With the Author of the Artful Parent
Jean is the online authority on children's art, so I wanted to pick her brain on the amazing ways she's witnessed art help kids. She also knows what it's like to make art a part of daily life with kids. And, how to do it easily.
ALISHA: As an occupational therapist ,I get really excited about making art because it's incredible for kid's development in so many ways. You've taught tons of little kiddos in art classes, and have helped thousands of parents all over the world through your popular blog. What would you say the additional benefits are to giving kids the opportunities to express themselves through art?
JEAN: The benefits of art are tremendous. I think of creativity as the ultimate long term side effect of art, but the more immediate and obvious benefits are equally important. Plus, I think that the biggest benefit of art is that it's FUN.
Art helps kids develop both fine and gross motor skills.

Art helps children develop their problem solving abilities.

Art helps kids connect with others.

Art is a safe outlet for processing and expressing ideas and emotions.

Scribbling is a precursor to writing and so art is also tied to literacy.

Depending on the situation and the activity, art can help children calm down and focus, or can excite and energize.
ALISHA: I couldn't agree more! I have to add that creating art also gives lots of sensory input in the form of touching, smelling, seeing, and even proprioception. While art activities can be used as part of a sensory diet, they help all kids further develop their sensory processing.
Alisha: Sometimes I think we get caught up in cute craft ideas on Pinterest, which often require a lot of planning and set up, so we don't make time to do art with our kids. But, the activities you share in The Artful Parent take a different approach. Can you tell us about that approach and why it makes art time so much more do-able for busy parents?
JEAN: I believe in the power of process-oriented art that is much more open-ended and yes, easy.
Instead of creating a cute craft with an end result in mind, I encourage kids to simply create their own thing as they explore art materials, art techniques, their own capabilities, and their current ideas and interests. There is a lot of enjoyment in the process, as well as learning, that takes place as they experiment and create.
And, while the focus is on the process rather than the end product, that's not to say that the end product won't be amazing. Sometimes it will go up on the wall, sometimes it might end up in the recycle bin. Either way is totally okay.
There are countless benefits to process art, but one key benefit is that it takes the pressure off everyone involved. It can be easy and quick to set up and incorporate into a busy family. It's flexible, and the child is free to create and experiment while developing self confidence, creativity, and knowledge about himself and the world.
Alisha: What's the first step a parent could take if they wanted to encourage creativity with their child, but already feel overwhelmed by their to-do list?
JEAN: One easy first step is to make sure that their kids have access to basic art materials and a space to do their own child-led art making, whether it's at the kitchen table, their own desk, or at an art table. Then art is no longer something the parent has to facilitate necessarily, but that the child can do on their own whenever the urge strikes.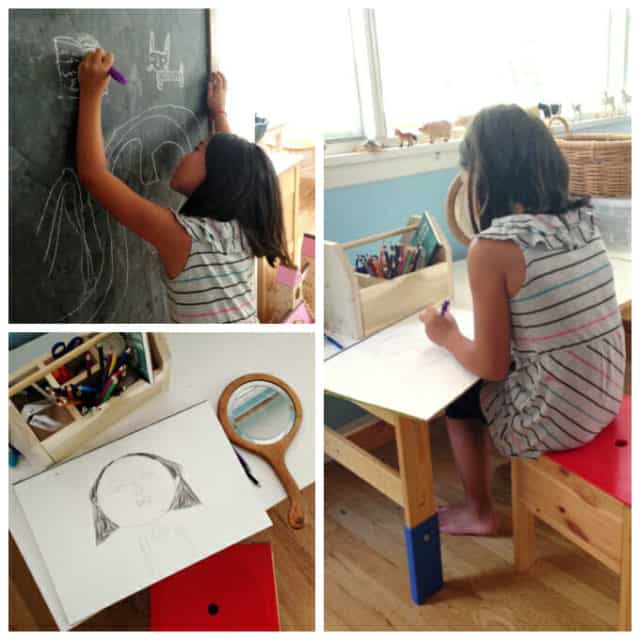 From artfulparent.com
Another easy step is to set up a simple art invitation to bring out when it would benefit the whole family. For example, set up a tray with a glue bottle, a sheet of sturdy paper, and a bowl of colored tissue paper cut or torn into small pieces. Or set up a tray with a ball of playdough, an egg cup filled with toothpicks, and a bowl of beads.
Set up takes 5 minutes tops and the time and peace it can bring to the family at a transition time during the day can be invaluable. I think it's 5 minutes well worth spending, and you'll soon find yourself with 2-3 trays of art invitations in reserve on top of the fridge or on a shelf.
You can find 10 invitations to create art ideas over on The Artful Parent here.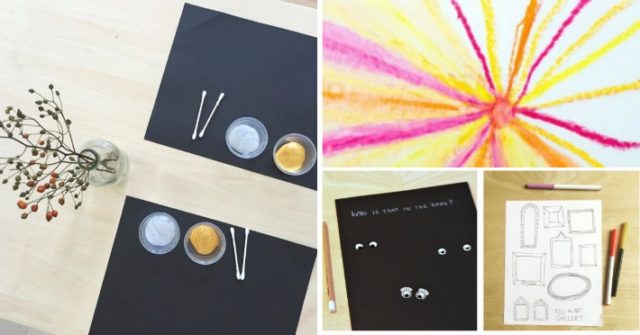 From artfulparent.com
Alisha: Do you have any tips for parents whose child either doesn't show any natural interest in art or has difficulty sitting still?
JEAN: I have a few ideas for the child who hasn't shown an interest in art. First of all, consider that it may be the kind of art you are offering or the way you are doing art. Try to do art that is more FUN and more open-ended. Explore process art, art games, action art, working BIG, etc.
Secondly, incorporate their interests into the art activities. If the child is into boats and sea creatures, encourage him to make his own play mat of the ocean for playing with his boats and sharks. Build a boat out of cardboard and foil. Make prints with animal figurines.
And third, do art with a friend or in a class. Enthusiasm is contagious and everyone wants to do fun stuff with fun people.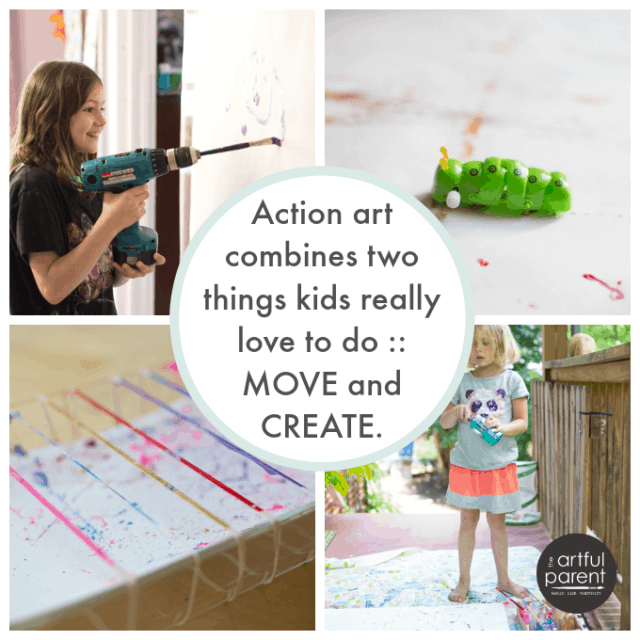 From artfulparent.com
Try these action art ideas from the Artful Parent to get your child engaged and moving!
JEAN: (Cont.) The child who has difficulty sitting still is a completely different issue in my mind. As humans who are meant for living an active, outdoor life, we are increasingly living a sedentary indoor lifestyle. And I personally think that the solution is to allow for more exercise opportunities rather than expect more sitting still. Consider a mini indoor trampoline, a big outdoor trampoline, swings, gymnastics, sports, more time at the playground, and more walks.
As the parent of a child who has had a higher than average need to move her body, I can say that it isn't necessarily easy to see your child constantly doing flips off the sofa, etc, while her best friend sits absolutely still. Or, to have her stand and dance while doing homework, jump on the mini trampoline between each math problem, or (literally) climb the walls when there's a 3 day stretch of rain. But the more exercise she got, the easier it was for her to focus (gymnastics was excellent for this and she loved it).
Obviously sitting still is expected in the classroom and in certain situations (the dinner table is where I always requested it in our family). We used a wobble cushion when she was younger and that helped. Incorporating stories or music can help at art time.
But really, I don't see any reason a child needs to sit to create art. Young children, especially, work best when standing as they are still using their whole bodies and big arm movements. Children can stand at a table, at an easel, at a chalkboard, or at a piece of paper taped to the wall.
Alisha: How can parents create a space where it's easy to make art a part of everyday life?
JEAN: The biggest tip I can give is to make the art space where everyone gravitates already. Kids want to be near the family action and the art space will be used if it's in a prime location. Get some specific ideas here!
Alisha: What are some of your favorite art activities from your new book, The Artful Parent?
JEAN: Toothpick Construction (page 144) is a big-time favorite that all kids love. Plus, if you do it with grapes or cheese cubes, it can double as a snack!
Symmetry painting (page 120) looks like it's meant for toddlers and preschoolers, but is actually super fun for all ages.
Back-and-forth drawing (page 229) is an easy and fun way to connect with your kids. It's one of our favorite low-key activities for waiting rooms and coffee shops.
You can find all of those specific activities and more in the newly revised The Artful Parent: Simple Ways to Fill Your Family's Life with Art and Creativity on Amazon here.
The kids and I loved doing the open ended oil pastel with oil art. My 9 year old set it up on his own and all three of my kids (ages 4-9) were engaged and each made several unique pictures. My favorite part was that we took time out of an otherwise ordinary day to create something alongside each other.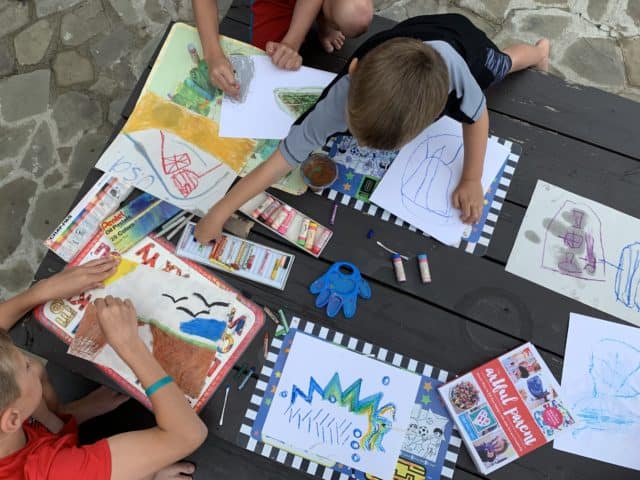 Thank you Jean for sharing all of your wonderfully easy art activities that can help our children explore, learn, and support their development in ways we can't even imagine!
Get a Free Copy of The Artful Parent
Would you like to win a free copy of The Artful Parent: Simple Ways to Fill Your Family's Life with Art and Creativity? Jean is giving away a free copy for us. If you'd like to enter to win, all you have to do is leave a comment below telling us why you'd like to have the book. On Tuesday, July 2nd, we'll randomly draw a winner and will announce it here in the comments and contact the winner via email.
More Ways to Help Kids Calm, Focus, and Learn
Powerful Proprioceptive Activities that Calm, Focus, & Alert
Easy Ways to Help Your Kid Focus on Homework
Simple Calming Activities for Active or Overwhelmed Kids to Start Today!
---
Alisha Grogan is a licensed occupational therapist and founder of Your Kid's Table. She has over 14 years experience with expertise in sensory processing and feeding development in babies, toddlers, and children. Alisha also has 3 boys of her own at home. Learn more about her here.