Super easy homemade mild taco seasoning recipe with ingredients you already have in your cupboard with no added preservatives! Easily adjustable recipe that's perfect for kids.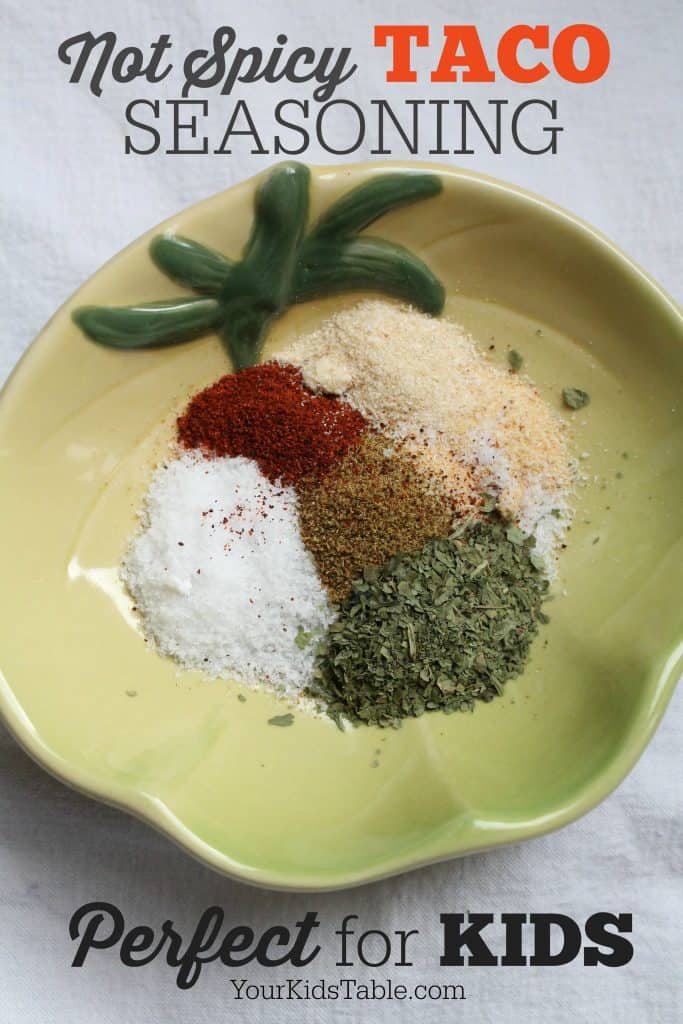 A staple around our house is tacos. We typically make them with ground turkey, but will also do fish, beef, and shredded chicken. I love them because they are easy, cheap, and really versatile.  A few years ago I stopped buying the pre-made packets and began making my own mild taco seasoning for a few reasons:
Most were pretty spicy, even the mild ones, and my kids were sensitive to that.
I often ran out and didn't have one on hand.
Most varieties had preservatives in them, which I would rather skip.
Today I wanted to share this staple with you, because I know many of you are eating tacos in your house on a regular basis. Because this is Your Kid's Table, you know I'm going to hook you up with some picky eater tips! (affiliate link used in this post)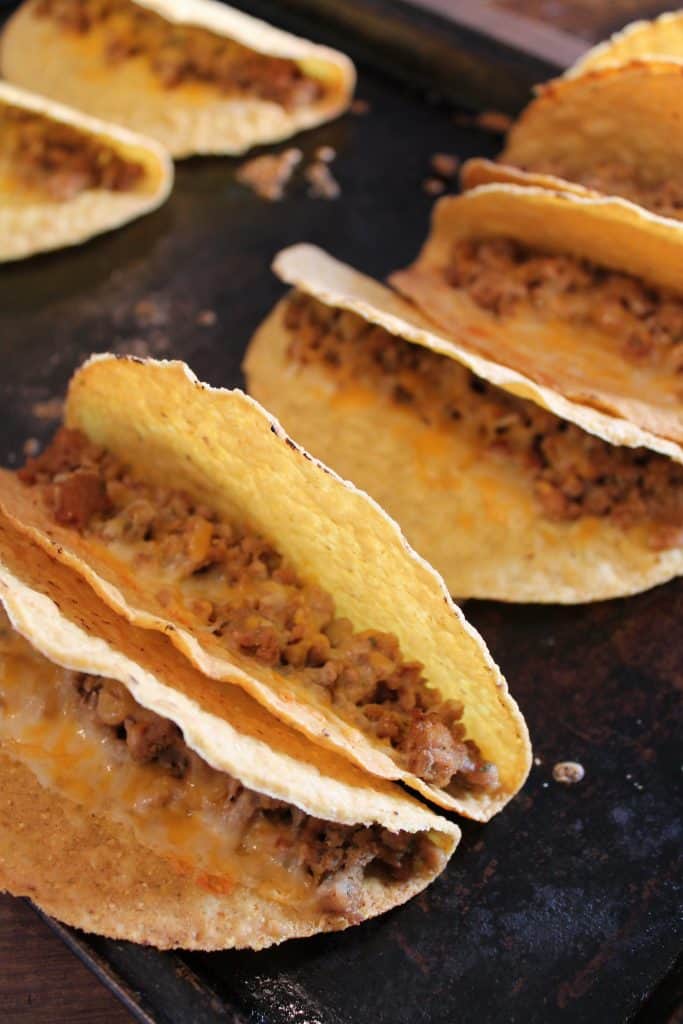 Why Tacos Might Be a Win…
Most picky eaters respond really well to crunchy foods so it can be really helpful to serve these on hard taco shells or as quesadillas. Many picky eaters tend to favor the cheese over the meat, in the beginning it would be helpful to go lighter on the meat and over time build up how much is in there.  Now that my former "picky eater" devours tacos (ground meat used to be a no-no) we pile the meat in hard tacos, cheese on the top, an then baked all together in the oven. This is great because it is all set up and you can moderate how much meat is on the shell.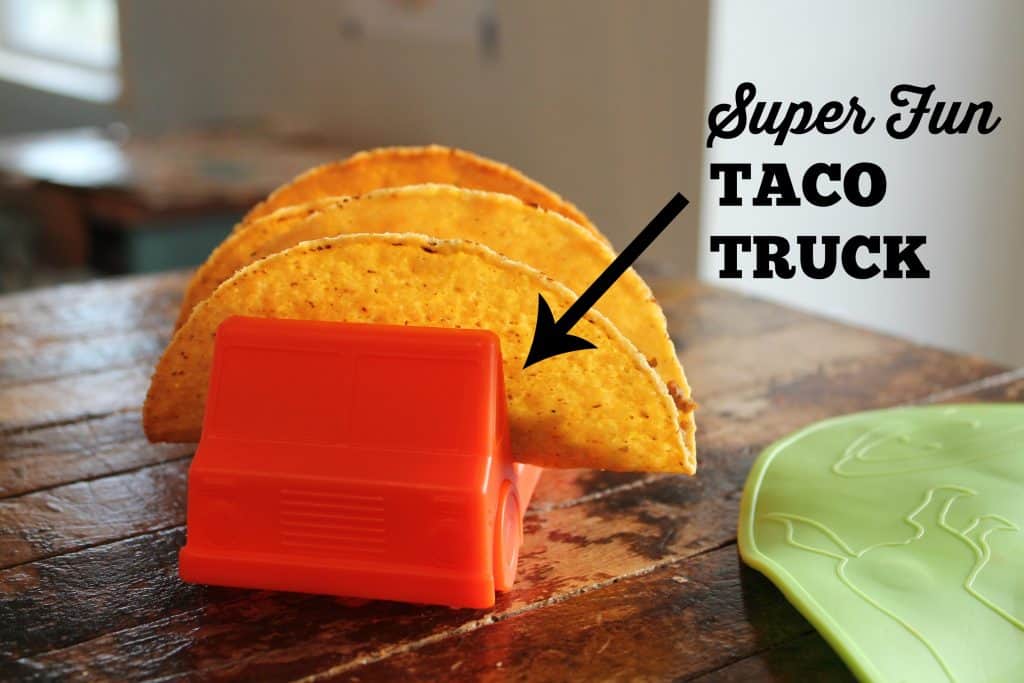 My kids are extra motivated by these fun taco trucks. I love them because they are functional, but also because they are really fun for the kids and add that extra bit of motivation, if they need it!
Taco Seasoning for other Dishes…
Quesadillas are great because you can use the taco meat, cheese, and whatever else to make it very crunchy and thin, which picky eaters are usually more open to.  Although, keep in mind that the more foods you add, the more overwhelming it might be for them. It is better to keep it simple in the beginning, even if it is just meat and cheese. You can serve tomatoes, avocado, etc. on the side.  Or, better yet, set up a taco bar and let your kiddo make their own!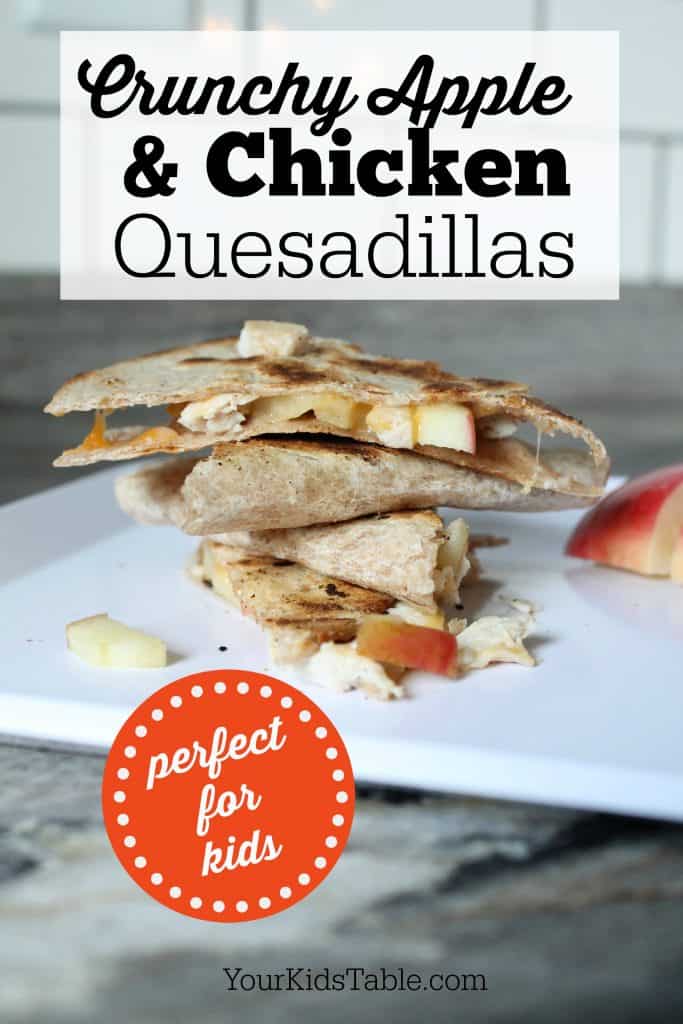 Recently, we made apple and chicken quesadillas. They were fantastic and had just three ingredients: apple, chicken, and cheese.  But, if you have a more adventurous eater you can experiment with adding black beans and tomatoes, too. You can totally use the taco seasoning for these, but you'll want to add a little less water than when using ground meat.
Homemade Mild Taco Seasoning Recipe
So, about that Taco Seasoning Recipe, let's get to it: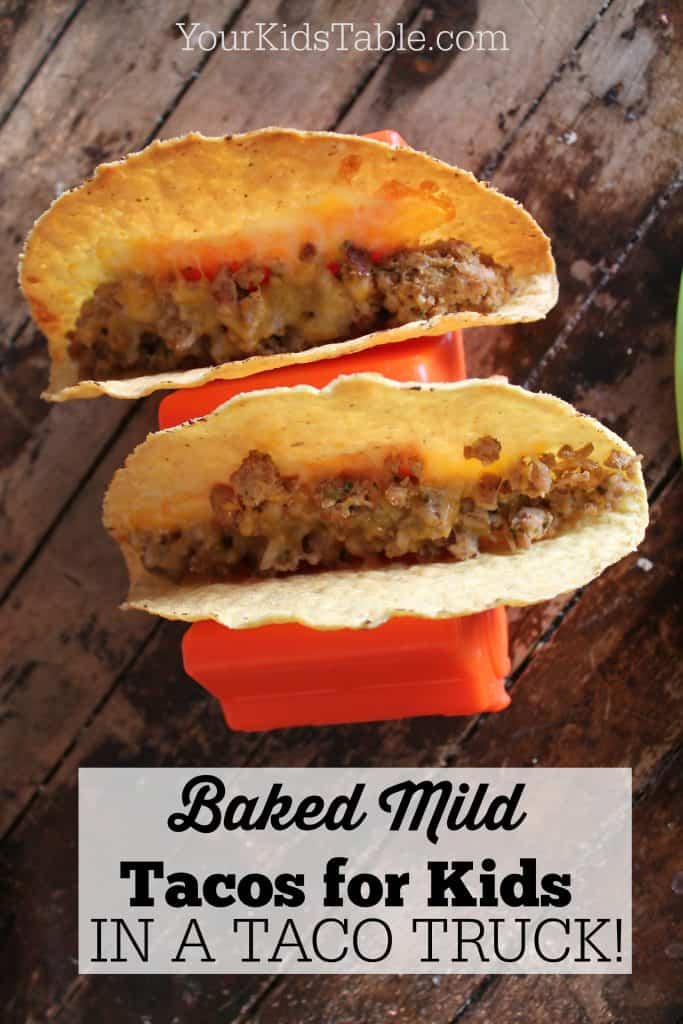 Mild Taco Seasoning Recipe for Kids
Prep time:
Cook time:
Total time:
A mild but completely adjustable Taco Seasoning Recipe.
Ingredients
1 tsp of salt
1 tbsp of cumin
1 tsp of cilantro
1 tsp of garlic
1/2 tsp of onion powder
1/4 tsp of paprika
Dash of chili powder (optional)
1 lb of ground meat, shredded chicken, fish, shrimp
2/3 cup of water for ground meat (add a few tbsp at a time for other proteins until desired consistency is reached)
Instructions
Cook or heat up meat/fish
Put all spices in a bowl and mix together
Add mix onto cooked through meat and stir until coated
Add water and stir until mixed through
Simmer on low heat, stirring occasionally, until sauce reduces
Ready to serve!
Notes
This recipe is extremely adjustable. You can add more or less of particular spices to your liking.
Like what you see here? Get more easy and do-able recipes for kids, plus lots of tips for picky eaters, and my FREE Printable: 9 Steps to Improve Kid's Eating by joining our weekly newsletter below! [et_bloom_inline optin_id
Veggie Quiche
Did you pin this?
This is a recipe worth saving!